GPP Stacks, Fades and Leverage Plays: Week 1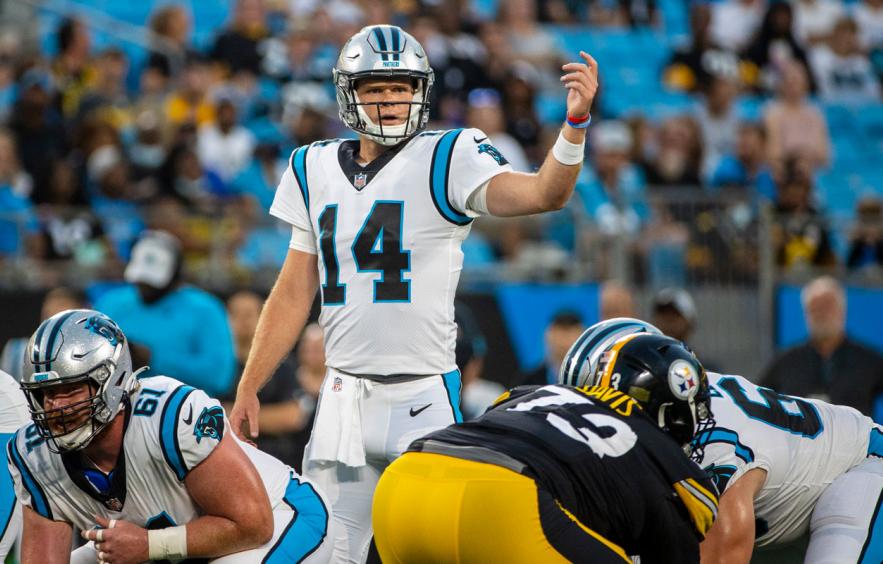 Chris Keane/Getty Images
This is a free sample of premium weekly content contained in the 4for4 DFS subscription. Not a subscriber? Sign up now!
Week 1 is finally here, and I could not be more excited to give you guys my first GPP Article with 4for4.
The layout is simple: you have the two-player pools that I am using between each site, a dive into each player, my top three stacks, and top three leverage spots. The player pool is designed to simplify lineup builds, and if you feel like playing someone that fits into the lineup, but isn't in my pool, then go for it.
My idea for DFS is to be a helpful guide for you to build your lineup and be a resource to help identify matchups to attack. Week 1 is always challenging because of the lack of recent data. For me, the more that data comes out, the better I get in my process. The dive into each player contains Z-Score based on our projections and quick reasoning for making the player pool. If you don't know what Z-Score is, check out the preseason article I wrote by clicking here.
When building lineups in Week 1, I wait until Sunday, so all the news is as up-to-date as possible. In the premium discord chat and during the Sunday show, I will be providing any additions or subtractions to the player pool based upon changes in ownership over the weekend.
Game stacking is essential for Week 1, and the game that is catching my eye is the Seattle Seahawks versus the Indianapolis Colts. With Carson Wentz in the lineup, it opens up the door for a shootout and a lot of cheap game stacks you can utilize to get the elite-level plays inother games. Also, Jonathan Taylor gets a chance to become a leverage spot against a subpar Seahawks run defense. The two tools I am using the most when considering building my lineups are the DFS Correlation Tool and the Stack Value Report we have at 4for4.
If you haven't checked out the DFS Playbook, please do so because it will guide you on how to approach each position, and you can align that with some of the plays you will read below.
For up-to-the-minute and Sunday morning updates, be sure to join the 4for4 DFS subscription-only Discord channel.
---
Jump to: DraftKings Player Pool | FanDuel Player Pool | Favorite Stacks | Stars that Disappoint
---
Quarterbacks
Patrick Mahomes

,

Chiefs

($8,800 FD/$8,100 DK)

The Kansas City Chiefs have the highest implied total on the slate and the highest over/under in a game. I am not three stacking Mahomes unless one of the players is from the Cleveland Browns. Using our stack tool, two of the highest projected ceilings contain the Kansas City Chiefs and running it back with Odell Beckham.

DK Z-Score: 2.27, FD Z-Score: 2.28
Russell Wilson

,

Seahawks

($7,800 FD/$7,000 DK)

Shane Waldron comes over as the new offensive coordinator for the Seattle Seahawks, and there has been a ton of praise throughout the offseason with him. As a result, I expect this offense to be more methodical and consistent with their approach. That opens the door for Tyler Lockett to get plenty of targets over the middle. This game could sneakily be one of the highest-scoring games with Carson Wentz good to go for Indianapolis, so I love to run it back with Michael Pittman or Parris Campbell.

DK Z-Score: 0.75, FD Z-Score: 0.73
Ryan Tannehill

,

Titans

($7,700 FD/$6,500 DK)

The Arizona Cardinals secondary did not get much better this offseason, while the Titans turned Corey Davis into Julio Jones. So I am going three-man stacks with Tannehill and focusing on Anthony Firkser as the player to round it. I was initially on the side of running this back with the Arizona Cardinals, but this Titans defense made the right additions to slow down the Cardinals more than expected.

DK Z-Score: 0.85, FD Z-Score: 0.84
Trevor Lawerence,
Jaguars

($6,800 FD/$6,200 DK)

The reason Trevor Lawerence is a play on FanDuel and not on DraftKings is because of his pricing. They went extremely cheap on FanDuel, and you can fit some of the high-volume running backs with a Lawerence stack.

FD Z-Score: 0.08
Carson Wentz

,

Colts

($6,500 FD/$5,600 DK)

The negative Z-Score is reflective of a lower projected point total from Wentz, which I believe he will outperform, but as I said before, this game could become the highest-scoring game on the slate. These are also the cheap plays to afford the expensive running backs.

DK Z-Score: -0.67, FD Z-Score: -0.76
Sam Darnold

,

Panthers

($6,500 FD/$6,500 DK)

The only thing that scares me about the Carolina Panthers is their offensive line, but the New York Jets have one of the worst defensive lines with some of the Injuries that have recently occurred. I am looking to do a three-person stack with Darnold snagging Christian McCaffrey and one of the three wide receivers. Using 4for4 projections, Darnold is a part of some of the best-valued stacks on the slate.

DK Z-Score: -0.27, FD Z-Score: -0.30
Running Backs
Christian McCaffrey

,

Panthers

($10,400 FD/$9,500 DK)

When Christian McCaffrey is under $10,000 on DraftKings, you should find a way to play him. He is coming in at projected ownership between 30-35%, but he could be in line for a 40-point performance in Week 1 and break the slate. The Jets defense is in a rebuilding stage, and I expect Robert Saleh to struggle like he did his early years in San Francisco.

DK Z-Score: 2.48, FD Z-Score: 2.34
Dalvin Cook

,

Vikings

($9,400 FD/$9,100 DK)

Dalvin Cook has a very good spot to explode against the Cincinnati Bengals Week 1, and the only negative to be said is how expensive he is. Early on in the year, I don't jam two studs into my lineups, but when I can't get up to Christian McCaffrey, I won't be mad to come down and get Cook here.

DK Z-Score: 2.26, FD Z-Score: 2.29
Alvin Kamara

,

Saints

($8,600 FD/$8,600 DK)

I understand Jameis has not historically targeted running backs, but I trust Sean Payton to scheme up plays for his best player. Alvin Kamara is more of a play on FanDuel than he is on DraftKings for the price savings. If I am playing the elite running back, I am pivoting to Jonathan Taylor or paying up to Christian McCaffrey.

DK Z-Score: 1.87, FD Z-Score: 1.68
Jonathan Taylor

,

Colts

($7,900 FD/$8,000 DK)

Jonathan Taylor is a pricey play, but I love the spot with Wentz being the QB again and a Seattle defense that is not very talented. His projection isn't among the top, but his ownership is coming very low, and if you game stack with the Seattle passing game, I love it. Again, this isn't someone I am playing in every lineup, but the spot has much leverage.

DK Z-Score: 0.86, FD Z-Score: 0.87
Clyde Edwards-Helaire

,

Chiefs

($6,800 FD/$6,600 DK)

Clyde Edwards-Helaire on DraftKings is a good pivot off the passing game and a great spot as a midrange running back with a high upside. He has projected a little less ownership than Joe Mixon, and if he does get more of a passing role for the Chiefs, he can get you massive leverage of the points he takes away from Travis Kelce or Tyreek Hill.
Joe Mixon

,

Bengals

($7,200 FD/$6,200 DK)

Joe Mixon has hurt me plenty in my time, but he's going to see a snap share close to 90%. He will get a similar number of touches to any running back on the slate, and he's the cheapest potential bellcow. I don't see Burrow running around too much, which will lead to many check-down opportunities.

DK Z-Score: 0.83, FD Z-Score: 0.98
Najee Harris

,

Steelers

($6,500 FD/$6,300 DK)

I expect this to be the cheapest Najee Harris is all year long because of the pure volume he will be getting in 2021. The Steelers are not the most trustworthy offensive line, but volume is king for running back, and the price tag isn't high enough.

DK Z-Score: 0.26, FD Z-Score: 0.49
Raheem Mostert

,

49ers

($6,100 FD/$5,800 DK)

I am going to Raheem Mostert over Trey Sermon because of what I saw in the preseason. Mostert is a home run hitter and can quickly get the 100-yard bonus in rushing Week 1 versus the Detroit Lions. Mostert is a cheap play at running back with 5% ownership.

DK Z-Score: -0.26, FD Z-Score: 0.23
James Robinson

,

Jaguars

($5,900 FD/$6,400 DK)

I don't expect James Robinson to get the similar volume as he got last year, but he will be in a much more efficient offense, and a $5,900 price tag for someone who is a lead running back against one of the worst teams in the NFL is way too low. I love him on FanDuel but see a good leverage spot away from him on DraftKings.

FD Z-Score: 0.77
Damien Harris

,

Patriots

($5,800 FD/$5,200 DK)

Damien Harris should get the first attempt at majority carries for the New England Patriots in Week 1. The matchup is solid against the Miami Dolphins, who don't have an elite run defense. Harris can get close to the 100-yard bonus in this game.

DK Z-Score: -0.70, FD Z-Score: -0.09
Wide Receivers
Davante Adams

,

Packers

($8,600 FD/$8,300 DK)

I was more into Davante Adams with the idea of Marshon Lattimore not playing Week 1, but even with Lattimore, LaFleur will scheme things to get Adams free. If I go cheap at QB, I love the idea of finding a game stack of Alvin Kamara and Davante Adams.

DK Z-Score: 2.96, FD Z-Score: 3.07
Tyreek Hill

,

Chiefs

($8,500 FD/$8,200 DK)

Tyreek Hill should be in every single tournament player pool because of what he's capable of, and with this offensive line, every single game will allow a huge TD. This week I prefer the Mahomes and Kelce stack but will dabble with some builds of Tyreek Hill.

DK Z-Score: 2.36, FD Z-Score: 2.74
Stefon Diggs

,

Bills

($7,900 FD/$7,600 DK)

Stefon Diggs torched the Steelers last season. I expect the volume to be there for another huge game, but I am not looking to stack because I believe this game will be lower scoring than anticipated. Pittsburgh will be able to get pressure without blitzing and control the ball with Najee Harris. I like a game stack of just Diggs and Najee for Week 1.

DK Z-Score: 1.64, FD Z-Score: 1.47
A.J. Brown

,

Titans

($7,800 FD/$7,100 DK)

This Tennesse Titans offense will be deadly, and the Cardinals will sell out on loading the box and making Tannehill beat them through the air. Julio Jones may limit A.J. Brown's upside, but I believe Brown will have more of a reception role in the offense now.

DK Z-Score: 0.72, FD Z-Score: 1.24
DK Metcalf

,

Seahawks

($7,700 FD/$7,500 DK)

DK Metcalf is projected a little low, but with the ownership and how I anticipate this game being more of a shootout, he is in play for me.

DK Z-Score: 0.72, FD Z-Score: 0.85
Julio Jones

,

Titans

($7,000 FD/$6,300 DK)

Slightly cheaper than A.J. Brown and going up against one of the worst secondaries in the league, this is a smash spot for Julio Jones. I am not worried about him not practicing because he simply shows up for every game.

DK Z-Score: 0.64, FD Z-Score: 0.66
Tyler Lockett

,

Seahawks

($6,800 FD/$6,700 DK)

Lockett isn't a preferred play in Week 1, but he will be included in the pool with my love for Russell Wilson and the game. The Colts primarily run a Cover 2, and it's going to keep things underneath for the most part unless you exploit the soft spots in the zone.

DK Z-Score: 0.52, FD Z-Score: 0.41
D.J. Moore

,

Panthers

($6,700 FD/$6,100 DK)

Sam Darnold should push the ball down the field on those deep crossers a lot better than Teddy Bridgewater did last year, which will result in a better stat year for D.J. Moore. Look for Moore to have a big day to start his season, looking for that extension in Carolina.

DK Z-Score: -0.11, FD Z-Score: 0.01
Robby Anderson

,

Panthers

($6,200 FD/$5,700 DK)

Last season, Robby Anderson had some big plays for the Carolina Panthers and showed he could be a possession wide receiver. Of course, it is the preferred play if you can get Moore, but if the lineup can only afford Anderson, I like the play.

DK Z-Score: -0.48, FD Z-Score: -0.58
Odell Beckham

,

Browns

($6,500 FD/$5,400 DK)

Odell Beckham hasn't been able to show his talent for quite some time, but in lineup builds where I am playing Patrick Mahomes and Travis Kelce, I am trying to jam Odell Beckham in there as the run-back player. He's a better play on DraftKings than FanDuel if you just want to take Tyreek Hill or Kelce and him from the same game. The Stefanski news does carry concern, but if he is healthy I am playing him.

DK Z-Score: -0.59, FD Z-Score: -0.54
Corey Davis

,

Jets

($5,800 FD/$4,900 DK)

Corey Davis is the player I am targeting on the New York Jets offense in Week 1. I believe he will be the alpha wide receiver in this offense and dominate the target share. With Jamison Crowder being ruled out, it does make Elijah Moore a better value than Davis on the slate.

DK Z-Score: -0.46, FD Z-Score: -0.58
Tee Higgins

,

Bengals

($6,000 FD/$4,700 DK)

Tee Higgins should be in the $5,300 range, and it's just a miss price by DraftKings that will be popular. On FanDuel, he's priced better, but on a site where I want the touchdown upside, I am going to him for $100 more than Tyler Boyd.

DK Z-Score: -0.13, FD Z-Score: -0.10
Marvin Jones

,

Jaguars

($5,800 FD/$3,600 DK)

To afford those elite players, you will need to consider some of the cheap tournament targets, and D.J. Chark's coming back hurts the play's idea but lowers the ownership and creates more leverage if he does have a big play. He is a DraftKings play more than a FanDuel play because of pricing; on FanDuel, he is $200 more than Laviska Shenault, while on DraftKings, he is $1,400 less.

DK Z-Score: -0.79
Laviska Shenault

,

Jaguars

($5,600 FD/$5,000 DK)

I don't love the coaching staff for the Jacksonville Jaguars, but I do love how they are utilizing Shenault. He's $200 cheaper than Marvin Jones. I believe they will manufacture touches for Shenault, and with Etienne going down, I could see more usage from the running back position.

DK Z-Score: -0.59, FD Z-Score: -0.65
Michael Pittman

,

Colts

($5,300 FD/$4,100 DK)

With Wentz being healthy, it opens the door for Pittman to be a great value play and stack option in Week 1. Seattle's secondary also has many question marks, and the game has a good point total.

DK Z-Score: -0.68, FD Z-Score: -0.76
Marquez Callaway

,

Saints

($5,200 FD/$3,400 DK)

FanDuel caught up to the Marquez Callaway hype before DraftKings could, and for Week 1, he is going to be the most owned sub $4,000 player. He will be getting a ton of volume in Week 1, but if the Packers decided to travel Jaire Alexander with him, it could be a sub-10 point performance. I believe they will use Alexander there, but at this price, I can't leave Callaway out of the pool.

DK Z-Score: -0.65
Terrace Marshall

,

Panthers

($4,900 FD/$3,000 DK)

I am only targeting Terrace Marshall in Sam Darnold stacks with Christian McCaffrey because it is a salary saver and allows me to get another elite player into the lineup.

DK Z-Score: -1.19, FD Z-Score: -1.27
Elijah Moore

,

Jets

($5,000 FD/$3,000 DK)

Elijah Moore was the hype before preseason camps kicked off and now is in a prime position to get enough targets to be a tournament slate winner. He's only $3,000 and with A.J. Bouye out he will get a matchup in the slot that he can take advantage of. This game is the game that I am targeting the $3,000 play for Week 1, and I will be over the field on Moore and Terrace Marshall.

DK Z-Score: -0.76, FD Z-Score: -0.83
Tight Ends
Travis Kelce

,

Chiefs

($8,500 FD/$8,300 DK)

He is simply worth the pay-up and will put up the numbers to pay up the value of his price tag. I am looking to pair him with Patrick Mahomes rather than play him as a one-off.

DK Z-Score: 2.38, FD Z-Score: 2.38
Kyle Pitts

,

Falcons

($6,000 FD/$4,400 DK)

Kyle Pitts is just way too cheap on DraftKings for Week 1 and will be heavily utilized against this Cover 2 defense the Eagles will be running. On FanDuel I prefer to go play Jonnu Smith or Gerald Everett at the cheaper price tag.

DK Z-Score: 0.57, FD Z-Score: 0.44
Jonnu Smith

,

Patriots

($4,900 FD/$4,100 DK)

The Dolphins linebacking core is the defense's weak point, and I truly believe they will give up some big plays to either Damien Harris or Jonnu Smith.

DK Z-Score: -0.17, FD Z-Score: -0.27
Gerald Everett

,

Seahawks

($4,800 FD/$3,400 DK)

He's been a target of mine in every redraft league, and I believe his talent will be on display in Week 1. Shane Waldron comes over from the Rams and brought over Everett.

DK Z-Score: -0.39, FD Z-Score: -0.54
Anthony Firkser

,

Titans

($4,700 FD/$3,200 DK)

The Arizona Cardinals have been one of the worst teams in football against tight ends, and with all the attention towards Derrick Henry, Julio Jones, and A.J. Brown, I love Anthony Firkser to score in Week 1.

DK Z-Score: -0.64, FD Z-Score: -0.75
Mo Alie-Cox

,

Colts

($4,700 FD/$2,900 DK)

Alie-Cox is only in play with the Carson Wentz stacks as a complete punt at the position.

DK Z-Score: -1.65, FD Z-Score: -1.77
Tyler Kroft

,

Jets

($4,700 FD/$2,500 DK)

If you want to punt the tight end position, and not play Carson Wentz this is the perfect place to do so. Tyler Kroft is going to have close to 100% snap share, and played well in the preseason.

DK Z-Score: -1.13
Defenses
Play the defense that allows the rest of the lineup you have to work and don't try to pay up for the 49ers unless you went cheap enough to afford it.
Favorite Stacks
QB
Patrick Mahomes

,

Chiefs

/WR

Tyreek Hill

,

Chiefs

In Week 1, I expect this revamped Chiefs offensive line to get the chance to put the NFL on notice for what is to come when Mahomes has time in the pocket. The beneficiary of that will be Tyreek Hill because he can outrun any single coverage, and with enough time, Mahomes can give him a 60-yard dime. They are a very expensive duo, but in Week 1, there is a lot of mispricing to afford the pair, and I prefer the stack on DraftKings for the bonus potential.
QB
Sam Darnold

,

Panthers

/RB

Christian McCaffrey

,

Panthers

/WR

D.J. Moore

,

Panthers

/WR

Elijah Moore

,

Jets

After last season, the ownership of a three-man stack with the Carolina Panthers may go towards Robby Anderson or Terrace Marshall instead of D.J. Moore. The narrative revenge game is one factor in this thought process, but mainly how the season totals looked for these two wide receivers. The Carolina Panthers will look to throw the ball downfield, and D.J. Moore was the player running the deeper routes, which led to him reaching over 1,000 yards on fewer than 60 receptions last year. Originally I had Corey Davis as the run-it-back man as he is the true alpha, but the salary savings with Elijah Moore is helpful in lineup builds. Another side note is, A.J. Bouye is suspended for Week 1, and Elijah Moore should have a matchup he can take advantage of.
QB
Russell Wilson

,

Seahawks

/ WR

DK Metcalf

,

Seahawks

/ TE

Gerald Everett

,

Seahawks

/WR

Michael Pittman

,

Colts

This game is my pick to be a shootout of the week, and this game stack fits when I am paying up for one of the elite running backs. Michael Pittman came on towards the end of the year, and I expect him to be the favorite target for Carson Wentz early on. Gerald Everett has gotten a lot of hype out of Seattle's camp, and Russell Wilson will put his talents on display in Week 1. DK Metcalf will be the big target in the holes of this Cover 2, and they will utilize him heavily in the red zone.

Stars That Disappoint
Calvin Ridley

,

Falcons

He is projected to have a great game across all platforms, but I have been preaching the Cover 2 defense to limit Ridley's explosive plays. I lean towards Kyle Pitts to be the guy who leads the Atlanta Falcons in receiving production for Week 1. At Ridley's price point, a 13-15 point performance will not get you to big cash in tournaments this weekend.
Derrick Henry

,

Titans

I am more than aware that this one could be an awful take, but I believe Arizona will sell out on the run and force Ryan Tannehill to beat them. JJ Watt and Chandler Jones control the edges before Derrick Henry gets to the second level. The Titans may even look to save Henry for the end-of-season stretch after a tremendous workload in recent years.
Josh Allen

,

Bills

The Pittsburgh Steelers can establish the run and control the time of possession against this Buffalo Bills front. Unfortunately, this will limit Josh Allen's volume and will not give him the ability to pay off that price point against a very good Pittsburgh Steelers defense.
Eagles

Offense

Dean Pees comes over to the Atlanta Falcons as the new defensive coordinator, and I believe he will turn the defense around a lot quicker than people expect. While he has been in some great situations, Pees has had a top-15 defense in yards or points in the 10 out of 12 years he has been labeled DC. I also expect Arthur Smith to call a much slower game to give the defense more rest and time to adjust to the new offense the Philidelphia Eagles have put together.
---