FanDuel Week 1 Cash Game Picks and Strategy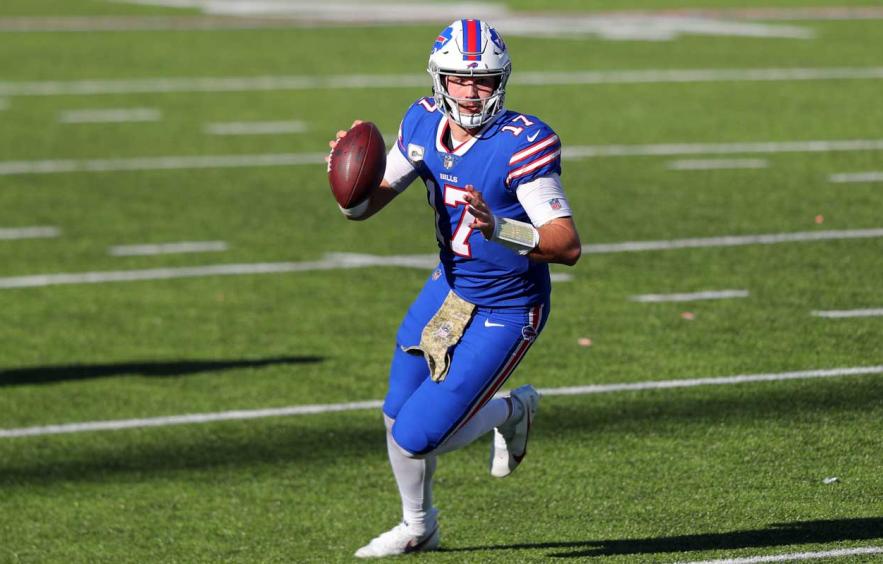 Timothy T Ludwig/Getty Images
This is a free sample of premium weekly content contained in the 4for4 DFS subscription. Not a subscriber? Sign up now!
In this space each week will be the top cash plays on FanDuel with strategies on how to build a profitable cash lineup. The backbone of 4for4's cash game approach is our proprietary value metric, which goes beyond simple point per dollar projections. That value calculation extends to a player's odds of hitting cash game value based on their implied volatility according to their floor, median and ceiling projections.
For up-to-the-minute and Sunday morning updates, be sure to join the 4for4 DFS subscription-only Discord channel.
---
More Cash Game Strategy: DraftKings Breakdown | Optimal Values | Core Plays | WR/CB Matchups
---
Quarterbacks
Even on a slate where basically all of the premier quarterback options are available to fantasy gamers, Josh Allen ($8,100) stands out as the best value play at his position, possessing QB1 overall upside while only costing the third-highest quarterback salary. The Steelers defense is formidable and ranked third-best in the NFL in adjusted fantasy points allowed to the position a season ago, but Allen's volume as both a passer and rusher, as well as his sky-high ceiling, makes him stand out among the top options. He has essentially the same floor and ceiling as Patrick Mahomes ($8,800), Lamar Jackson ($8,600), and Kyler Murray ($8,400), but at a lower salary.
In the mid-range salary tier, both Jalen Hurts ($7,600) and Ryan Tannehill ($7,700) stand out as quality starts. Hurts was a highly inefficient passer last year, ranking outside the top 40 quarterbacks in catchable pass rate a season ago, but makes up for it with his rushing ability and for his high-quality matchup against an Atlanta defense that ranked second-worst in aFPA last year. He averaged nearly 24 rushing yards per game and was top-13 in his position in carries per game, and we could easily see those rankings improve this season.
Tannehill presents much more safety at just $100 more in salary, facing the Cardinals' below-average secondary in a game with the second-highest Vegas total on the slate. Tannehill has been one of the most efficient passers in the NFL since joining the Titans, ranking first, ahead of Patrick Mahomes in QB Composite Efficiency grades, which combine Expected Points Added and Completion Percentage over Expectation.
Salary-saving options this week include Sam Darnold ($6,500), facing his old Jets squad that ranked 27th in aFPA against the position last season, and new Washington signal-caller Ryan Fitzpatrick ($6,600), who faces a Chargers defense that was middle of the road as a secondary a season ago. The re-addition of all-pro Derwin James to the Chargers' secondary (and how it should markedly improve the entire unit) makes Fitzpatrick a thinner play on paper than the numbers would suggest, but he still ranks eighth among all quarterbacks in 4for4's value metric.
Running Backs
In a main slate rarity, the entirety of the "big four" at running back will be available to FanDuel players this weekend, and in short, we're going to want to try our absolute best to play two of them.
As it should in just about any week he's healthy, my cash lineup will begin with Christian McCaffrey. Even in limited work last season, McCaffrey had the highest expected fantasy points per game of any running back in football last year, more than a full point higher than Dalvin Cook. And more remarkably, McCaffrey smashed the rest of the field in efficiency, ranking number one in fantasy points scored over expectation by a country mile. While there may be an appeal, at least from a game theory perspective, to fading McCaffrey, you won't find this article's author doing any such thing.
Dalvin Cook has a nearly identical floor and ceiling projection as McCaffrey, but comes in at $700 less in salary, a significant discount. Facing a Bengals defense that ranked outside the top-20 in aFPA to running backs, Cook arguably has an equally good chance as being the RB1 overall as McCaffrey, which is why getting both into lineups is just so advantageous (especially with the plethora of value options at wide receiver this week). No one could be faulted for choosing Alvin Kamara against a weak Packers defensive line, or Derrick Henry in a likely high-scoring affair against the Cardinals, but even at their exorbitant salaries, Cook and McCaffrey look like stronger plays.
If searching for lower-salary options at the position, James Robinson looks appealing at $5,900. The Jaguars are road favorites against the Texans, who ranked dead last in aFPA against running backs a season ago. With Carlos Hyde expected to get plenty of usage, the concern for Robinson is that he loses precious goalline work to Hyde, or new coach Urban Meyer chooses to call Trevor Lawrence's number inside the red zone to get his rookie quarterback more in-game reps.
Najee Harris, at $6,500 is also viable, even if the Steelers are expected to be playing from behind against Buffalo this weekend. The Bills ranked 20th against opposing running backs last season, and Harris is competing with absolutely no one for touches in the Pittsburgh backfield. He should command 90%-plus of the Steelers' quality backfield opportunities (targets and carries inside the five).
Wide Receivers
Davante Adams ($8,600) is in a league of his own in terms of his combination of floor and ceiling. His floor projection is over a fantasy point higher than any other wide receiver on the slate, and even though Tyreek Hill ($8,500) possesses slate-winning upside against a below-average Cleveland squad, Adams is entirely unique as a fantasy asset due to his unbelievable usage at the goal line. Adams saw over 42% of his team's red zone targets last year. No other player saw more than 33%. While Stefon Diggs ($7,900) and Hill have a ton of appeal for tournaments, there seems to be little reason to fade Adams in cash lineups, even if he will see plenty of Marshon Lattimore in coverage. The Packers will do what they need to do in order to get him open looks.
If you're finding that you can't quite get to Adams in your lineup, pivoting to any of Calvin Ridley ($8,100), DeAndre Hopkins ($8,200), or Justin Jefferson ($8,000) is entirely viable. Hopkins draws a Tennessee secondary that ranked third-worst in aFPA to wideouts last season, and Ridley's matchup is equally strong, as the Eagles ranked seventh-worst in that same metric.
In the next salary tier, Julio Jones looks like a very solid play at $7,000 against the poor Arizona secondary. A.J. Brown ($7,800) is already missing practices again, as he did for much of last season, and while he's still expected to suit up for the Titans, Jones might currently be the healthier of the duo at this time, and he comes at an $800 salary reduction compared to his teammate. Jones averaged over 100 receiving yards per game in games that he played in full last season, and though his volume is likely to drop in Tennessee, the high-quality playmaking around him should result in higher efficiency on a per-target basis.
Where we really find this slate's value, however, is in the mid-tier wide receivers. There is an abundance of options available for cash game lineups at $6,000 and below, where in typical weeks (where salary isn't released weeks in advance like it is for Week 1), they would be well above that salary. The Saints' Marquez Callaway, the expected number-one wideout while Michael Thomas recovers, is likely to be a chalkier option at $5,200, but the 4for4 projections don't see him as the most valuable play in his salary tier this week. Instead, consider rostering DeVonta Smith at $5,300 against Atlanta's below-average secondary, in a high-total game where he could easily lead his team in targets. Tee Higgins ($6,000) and Tyler Boyd ($5,900) are also viable options against Minnesota's bottom-12 secondary.
At the lower-tier, where salary-based expectations are lower, Week 1 provides an array of high-quality options to choose from, but Elijah Moore at $5,000 is hard to ignore. With Jamison Crowder ($5,900) still in COVID-19 protocols, the Zack Wilson-led passing attack may be heavily concentrated towards Corey Davis and Moore, who should be utilized quickly in offensive coordinator Mike LeFleur's quick-pass focused offense. Jerry Jeudy ($5,500) presents a slightly higher floor at a similar price range, as well.
Tight Ends
It will be tough to get all the way to Travis Kelce ($8,500) but he has a projected two FanDuel point lead on the field for good reason. Kelce ranked first in expected fantasy points per game and second in fantasy points scored over expected (and out-produced those in-season numbers in the 2020 playoffs), and now faces a Brown's defense that ranked bottom-three in aFPA against tight ends last year.
George Kittle ($7,000) is luckily available at a $1,000 discount and is facing the hapless Lions, arguably the worst defense in the NFL a season ago in a smash spot for the entire 49ers offense. As the DFS playbook series showed, a large majority of 20+ FanDuel point games come from favorites, and the 49ers are most certainly favorites this weekend.
Despite having a significantly higher relative salary on FanDuel than other platforms, Kyle Pitts ($6,000) still emerges as the third best value for tight ends. Pitts should see heavy usage in the slot and even out-wide. Expect the Falcons to create mismatches all over the field for Pitts against an Eagles defense the ranked seventh-worst against tight ends a season ago.
Besides the aforementioned three, only four other players, Dallas Goedert ($5,900), T.J. Hockenson ($5,700), Logan Thomas ($5,600), and Noah Fant ($5,400) have a floor of 1.5 fantasy points. Thomas stands out as a decent option from this group, especially if Curtis Samuel ($5,500) misses Sunday's game for Washington.
Defense and Special Teams
The 49ers ($5,000) are very difficult to get to in most cash game builds, but—similar to what we saw with Travis Kelce and the rest of the tight ends—San Francisco's projection is over a fantasy point higher than any other DST on the slate, making them far and away the safest play.
4for4's Value metric indicates a "big three" of mid-salary defenses if we can't fit the 49ers. The Bills ($3,600) are nearly touchdown favorites against the Steelers, who have been turnover prone when playing from behind. The Chiefs defense and Bengals defense also pop here, but these two squads are a bit more high-risk/high-reward than the ideal cash game defense. Instead, consider the Patriots ($4,400) in what is likely to be a lower-scoring contest or the Broncos ($4,100) against the Giants and their far-less-than-100% skill position group.

Cash Viable Plays