DraftKings Week 1 Cash Game Picks and Strategy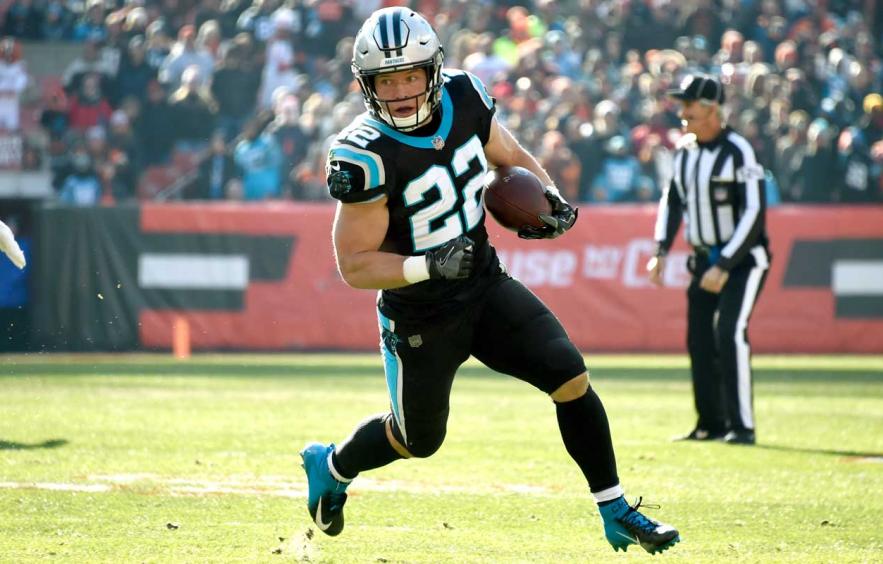 Jason Miller/Getty Images
This is a free sample of premium weekly content contained in the 4for4 DFS subscription. Not a subscriber? Sign up now!
In this space each week will be the top cash plays on FanDuel with strategies on how to build a profitable cash lineup. The backbone of 4for4's cash game approach is our proprietary value metric, which goes beyond simple point per dollar projections. That value calculation extends to a player's odds of hitting cash game value based on their implied volatility according to their floor, median and ceiling projections.
For up-to-the-minute and Sunday morning updates, be sure to join the 4for4 DFS subscription-only Discord channel.
---
More Cash Game Strategy: FanDuel Breakdown | Optimal Values | Core Plays | WR/CB Matchups
---
Saturday Update: I am adding Alvin Kamara ($8,600) to my player pool only in the case of an extreme stars-and scrubs build where he is used with McCaffrey AND Dalvin Cook. Additionally, Marvin Jones ($3,600) has ascended the DraftKings value report in recent days and could be useful as a pivot off of players that saw spikes in ownership projections such as Elijah Moore and Marquez Callaway. Some small differentiation is especially useful for cash players playing high-volume head-to-heads who benefit from top-end scores and sweeping their opponents—cheap, chalk pass-catchers are almost always good candidates to consider fading in GPPs, and to some extent in these cash scenarios. Kyle Pitts ($4,400) also fits nicely into CMC, Dalvin, Kamara builds.
Sunday Update: Trey Sermon is OUT. WIth Raheem Mostert left to carry the load in a game where the 49ers are favored by 8.5, he is one of the top values on the slate.
Quarterbacks
This offseason I noted the importance of the dual-threat, efficient passer and why they should be a priority in your redraft leagues. Targeting these players is equally as important in DFS—their floors and ceilings can't be matched by pocket passers and even quarterbacks with near-minimum salaries are tough to justify with the elite quarterback tier running seven or eight players deep depending on the slate.
With value pass-catchers galore this week, it's relatively easy to pay a mid-to-high salary at quarterback and still lock in whoever you want at running back.
Josh Allen ($7,400) leads the way in odds to hit cash game value this week and despite having the second-highest point projection at quarterback—just a fraction lower than Patrick Mahomes—Allen comes at a $700 discount to the Chiefs quarterback with a salary lower than Kyler Murray as well. Buffalo is one of three teams on the main slate with an implied total—the most important number for quarterback projections—of at least 27 and Allen is likely to occupy a huge portion of that scoring. He is the only active quarterback in 2021 that accounted for at least 75% of his team's total yards and 80% of total offensive touchdowns last season and little has changed in this offense to suggest even a minor shift in philosophy.
Priced almost identically, both Ryan Tannehill ($6,500) and Jalen Hurts ($6,400) offer relatively safe floors with tremendous upside.
Tannehill has thrived off of efficiency in Tennessee with the second-highest touchdown rate (7.2%) in the league since becoming the Titans starter in 2019. With Arthur Smith no longer calling plays and the addition of Julio Jones to the roster, Tannehill might finally see a slight uptick in passing opportunities, starting with a game projected for over 52 points with Tennessee carrying an implied point total near 28. Even if Tannehill's passing volume remains moderate he offers enough on the ground to be a reliable cash play—he had six games with 35 rushing yards or a rushing touchdown last year.
Hurts played a limited number of snaps last season but in his small sample, he was among the most efficient fantasy scorers at his position. Only six quarterbacks averaged more DraftKings points per snap than Hurts, putting him on par with signal-callers such as Lamar Jackson and Kyler Murray. In a potential shootout against the Falcons, Hurts may be the only double-bonus candidate on the slate besides Christian McCaffrey—in Hurts's three full games last year, he averaged 282 passing yards and 79 yards on the ground, including a 100-yard rushing game and two 300-yard passing games.
Running Backs
There is enough value on this slate to comfortably hit the lock button on both Christian McCaffrey ($9,500) and Dalvin Cook ($9,100), the running backs ranked as the top two values on the slate and the highest-floor build for cash games.
Since the beginning of 2019, McCaffrey has averaged an astounding 30.7 DK points per game—he's matchup-proof and virtually salary-proof in cash games. Cook isn't quite as dominant as McCaffrey, but he is second among running backs in DK points per game over the last two years. He's in a tremendous spot with the Vikings favored against a defense that is full of holes.
Depending on how low you are willing to go at wide receiver, James Robinson ($6,400) fits in as the third running back alongside CMC and Dalvin or as the preferred RB2 in a balanced build. Jacksonville is a small road favorite but facing a Houston defense that ranked last in schedule-adjusted fantasy points allowed (aFPA) to running backs last season and might be even worse in 2021. With Travis Etienne sidelined, Robinson is set up to see the near-80% backfield share that he saw in 2020, at least in Week 1.
Based on dollar per projected touch, Mike Davis ($5,400) and Antonio Gibson ($5,900) stand out as two sub-6K running backs that can make any type of roster construction work.
After showing that he can handle a full workload last season, including a significant target share, Davis should start the season with the majority of the Falcons backfield touches. With a rookie tight end as the presumed number two pass-catcher, Davis could have a significant role in the passing game while new head coach Arthur Smith could lead a slightly more run-first offense than the pass-happy Falcons that we have grown accustomed to.
In his second season under Ron Rivera, Gibson is expected to play the "McCaffrey role". If that statement comes to fruition, this is the lowest Gibsons's salary will be all season, especially if he's featured heavily in the passing game—Justin Edwards suggests that Ryan Fitzpatrick could be looking to get the ball out quickly when he does throw against a defense that ranked in the bottom 10 in aFPA to running backs last season.
Wide Receivers
Anyone who foregoes the McCaffrey-Cook build should be using the salary savings to roster Davante Adams ($8,300) or Tyreek Hill ($8,200), the top two non-running back values on the slate. Paying up for Adams rarely needs much discussion—he is the most likely player in the league to lead his team in target share and he is the most heavily used pass-catcher near the goal line. DFS players might be hesitant to use Tyreek in cash, not wanting to predict when it's a "Tyreek week" or "Kelce week". The 4for4 Correlation Tool shows that Patrick Mahomes and Hill have a massive 0.50 correlation when it comes to DraftKings scoring. In a game with huge shootout potential—both teams carry an implied total over 24 with Kansas City projected for 30 points—a likely big game for Mahomes suggests a "Tyreek week"
The key to making two to three studs with a premier passer work is some combo of sub-4K wide receivers—Elijah Moore ($3,000), Rondale Moore ($3,000), Terrace Marshall ($3,000) and Marquez Callaway ($3,000) all pop as top-11 wide receiver values with E. Moore and Callaway ranked in the top five. Each receiver has a floor close to zero but that's the nature of a true stars-and-scrubs build—their floors are more than made up for by the top-end players that this build allows. R. Moore and Callaway likely have the safest floors of the group in potential shootouts—Moore could start the season as the WR2 behind DeAndre Hopkins while Callaway may see the second-most targets behind Alvin Kamara.
Cash game players that prefer balanced builds can look to two top-seven values in Stefon Diggs ($7,600) and A.J. Brown ($7,100). Both are tied to uber-efficient passers on teams with high implied totals on home favorites, underrated pre-game data points for wide receivers. After leading the league in targets last season, Diggs's floor is clear while Brown's typical target share should lead to increased targets in a game that will likely require more passing than Tennessee is used to.
Tight Ends
The low-salary receivers mentioned above allow for Travis Kelce ($8,300) or George Kittle ($6,300) to fit into lineups but it's Kittle who fits seamlessly into CMC-Cooks builds. With Jimmy Garoppolo under center for Week 1, it's likely that Kittle maintains the high target share that we've seen him command in the past, especially with Brandon Aiyuk fighting through a hamstring injury. The 49ers likely positive game script as 7.5-point favorites and relatively high point total (26.0) both bode well for Kittle.
Curtis Samuel is out, meaning Logan Thomas ($4,600) should be a relatively safe bet to meet or exceed the 20% target share he maintained in 2020. With Fitzpatrick at quarterback, the entire passing game gets an immediate upgrade over the embarrassment they rolled out in 2020.
For a full studs-and-scrubs build, Tyler Conklin ($2,900) will allow for a roster that includes McCaffrey, Cook and Adams/Hill. In the four games that Kyle Rudolph missed at the end of last season, Conklin averaged over five targets and 40+ yards. Now he has the tight end role to himself in an efficient, albeit low-volume, passing attack.
Defense and Special Teams
The strategy for selecting defenses will stick to the guidelines laid out in the DFS Playbook more than any other position—we want favorites, preferably at home, against offenses that already pass a lot or will be forced into passing situations. A defense with a great pass rush is a huge bonus.
The favorite with the lowest salary on the slate is the Falcons ($2,000) who are at home. Their salary fits well with the preferred build laid out in this article. While the Bills ($2,500) aren't quite as cheap, they are the second-largest favorite of the week (-6.5) and at home against a Steelers offensive line ranked as a bottom-five unit entering the season. The extra $200 to get to the Jaguars ($2,700) from the Bills might prevent one of the CMC-Cook-Adams/Tyreek/Kelce studs but if they fit into your preferred build, Jacksonville likely has the highest ceiling of this group against the woefully untalented Texans.

Cash-Viable Plays
---
Full-Slate Notes
Only three teams on the Sun-Mon slate have a higher implied point total than the Ravens (27.25). Lamar Jackson ($7,700) could draw relatively low ownership with a similar salary to Josh Allen while Ty'Son Williams ($4,500) is a free square after Gus Edwards tore his ACL on Wednesday and it's unlikely any new signees play a big role immediately.
Robert Woods ($5,700) and Cooper Kupp ($5,500) are both top-10 values, typically combining for nearly 50% of the Rams targets. Their outlook is boosted with the addition of Matthew Stafford under center.
Chicago finished 2020 as a bottom-two defense against tight ends and Tyler Higbee ($3,900) is the likely number three after Woods and Kupp. His unpopular salary range could help with a unique lineup construction in GPPs.