4for4 Dynasty Round Table: Post-2021 NFL Draft Edition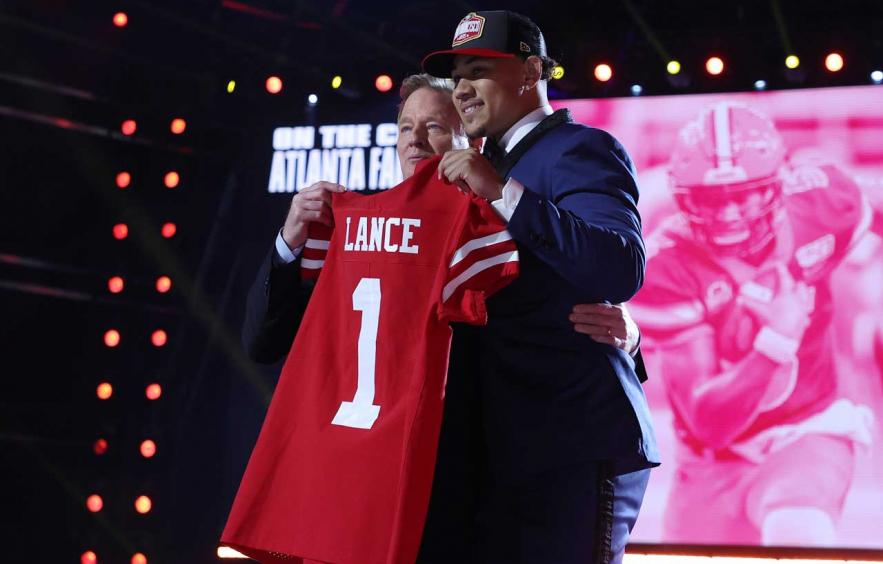 Gregory Shamus/Getty Images
We spent a lot of time worrying about potential landing spots and draft capital leading up to the 2021 NFL Draft and how it would all impact fantasy. Now that the draft has come and gone, we have a whole new set of conundrums to deal with. Amari Rodgers was a third-round pick? Travis Etienne was selected by the Jaguars in the first round? The Atlanta Falcons didn't draft a single running back? Josh Palmer and Dez Fitzpatrick were drafted before Amon-Ra St. Brown? What does this all mean for dynasty rookie drafts? Let's find out what the 4for4 dynasty staff has to say in the final Dynasty Round Table of the year. This month's special guest at the head of the table is Heath Cummings of CBS Sports. If you want more in-depth dynasty analysis from Heath, including profiles, trade charts, and more, check out his Dynasty Hub.
---
More Dynasty Round Tables: January (with guest Ryan McDowell) | February (with guest Ben Gretch) | March (with guest Peter Howard)
---
Post-2021 NFL Draft Dynasty Round Table Q+A
Question #1: Who are your biggest dynasty draft winners?
Andrew Fleischer: It was no surprise Jacksonville went with Trevor Lawrence at No. 1 overall, but the fact remains that D.J. Chark and Laviska Shenault should benefit significantly from this quarterback change in an offense that passed for the highest percentage of total plays in 2020, while the Jaguars didn't add any receivers that are likely to challenge either receiver for snaps. From the rookie pool, the NFL draft worked out quite well for Michael Carter, whose immediate competition for a heavy workload consists of La'Mical Perine and Tevin Coleman. Carter is an adept receiver out of the backfield who will share the field with the No. 2 overall pick in quarterback Zach Wilson. Rondale Moore ended up in a great spot with a Cardinals team that had the fastest pace of play in 2020, and also lined up with four WRs on the field more often than any other team.
Brandon Niles: The obvious winners are Mike Davis and Myles Gaskin, who now sit firmly atop depth charts, but I'll say Tua Tagovailoa is a big winner. After a great free agency that saw pass-blocking back Malcolm Brown and speedster Will Fuller added to the offense, Tagovailoa gets to reunite with former college teammate Jaylen Waddle, another dynamic playmaker at the wide receiver position. Hunter Long adds depth at tight end, and Liam Eichenberg provides help on the offensive line. The pieces are in place for him to take a nice step in his second year. If anyone is discounting him after an inconclusive rookie year, it's a good time to buy.
George Kritikos: Anyone who has a top pick in rookie drafts. While there were surprises with players later on, both 1QB and Superflex/2QB managers should be feeling good about their choices at the top. Ja'Marr Chase and Najee Harris land in good spots with immediate production in their sights while Trevor Lawrence, Zach Wilson, Trey Lance and Justin Fields should give Superflex/2QB fans plenty of discussion and optimism going forward.
Justin Edwards: The entirety of the New York Jets offense (except maybe Jamison Crowder). After adding Corey Davis during free agency, the Jets dumped their first four draft picks into the offensive side of the ball—most notably BYU quarterback Zach Wilson with the second overall selection. Dynamic, big-play pass-catchers, wide receiver Elijah Moore (second round), and running back Michael Carter (fourth round) add skill position depth, while 14th overall pick Alijah Vera-Tucker will align next to 2020's 11th overall pick, left tackle Mekhi Becton.
Kevin Zatloukal: Myles Gaskin stands out above the rest. The Dolphins' general manager even went out of his way to say they like their current running backs, so Gaskin (and Salvon Ahmed behind him) seem to have solid standing. Mike Davis also does well, but since the team is in rebuild mode, his position could easily change next year or even in the offseason if they make a trade.
Heath Cummings: For redraft purposes, I'd probably say Mike Davis and Myles Gaskin, but Gaskin is considerably younger, so I'd say he has to be the biggest dynasty winner, at least amongst the running backs. He was surprisingly good last year, and the Dolphins used him in a workhorse role far more than expected. Gaskin had at least 19 touches in six of 10 games. If he stays healthy this year he could legitimately be a top-12 running back. I'd give an honorable mention to Matt Ryan. Any concern that Arthur Smith was going to bring his run-heavy style to Atlanta should be dashed by the fact Smith drafted a tight end at No. 4 overall and currently looks like he's going into Week 1 with Mike Davis as his No. 1 running back. Oh yeah, and Ryan gets to throw to Kyle Pitts.
Question #2: Who is the biggest veteran dynasty loser of the NFL Draft?
Andrew Fleischer: The dream of 2021 James Robinson has been torpedoed by a large nuclear warhead named Travis Etienne. A new coaching staff in Jacksonville made it less likely Robinson would make it through the 2021 NFL draft unscathed, and Etienne's first-round draft capital compared to Robinson's undrafted free agent pedigree leaves Robinson very scathed indeed. In Cincinnati, Auden Tate gets relegated to the team's No. 4 WR after the Bengals drafted Ja'Marr Chase with their first-round pick. He'd need an injury to one of Chase/Tyler Boyd/Tee Higgins to have much fantasy value in 2021.
Brandon Niles: There are some obvious picks here, but I'd say Christian Kirk is a big loser. While he may catch on elsewhere, dynasty owners holding him and hoping that the exciting and emerging Arizona offense would create opportunities for him to finally see his potential were bitterly disappointed by the second-round selection of Rondale Moore. Moore does all the things Kirk does, but projects to do them better. Kirk is only signed through 2021, so there's hope he'll catch fire elsewhere, but at just 25 years old, his value plummets with the arrival of Moore.
George Kritikos: In most leagues, Hayden Hurst was a top-12, maybe even top-10, tight end in fantasy last season. Many Atlanta fans were hoping for a Matt Ryan replacement plan but the rumors of Kyle Pitts came true. That led to a decline of Hurst's fifth-year option and a high likelihood he plays second fiddle to Pitts early with his hopes pinned on more 12 personnel sets. Luke Stocker was the second tight end last year... and he had 11 total targets on the season.
Justin Edwards: Melvin Gordon is heading into his age-28 season and has 1,500+ NFL touches on his ledger. While he had somewhat of a career resurgence last season, Gordon has both a history of mediocre production and a record of being less efficient than his own teammates. Javonte Williams is already very good in pass protection and can immediately work well as a pass-catcher—great news because Melvin Gordon ranked 57th out of 58 qualifying running backs in yards per route run in 2020. I would be more than happy to sell low on Gordon.
Kevin Zatloukal: James Robinson seems like the biggest loser from this draft. A new GM using a high pick on a running back seems like a strong signal Robinson is no longer the assumed starter, and Etienne is stiff competition. I've had to push Robinson way down in the rankings.
Heath Cummings: Melvin Gordon fell a long way, but we kind of thought he might only have one year left. James Robinson is another good answer, but I'll be different and say DeVante Parker. Parker went from being the clear No. 1 in February to maybe being third on the depth chart at wide receiver in Miami. What's more, Jaylen Waddle has actually played more football games with Tua Tagovailoa than Parker has, so Parker doesn't necessarily even have the veteran's advantage going into camp.
Question #3: If you hold the 1.01 pick in a 1QB PPR Rookie Draft, are you making the pick or trading out? If you keep the pick, who are you taking? If you trade it, what type of return are you looking for?
Andrew Fleischer: If I can trade down a few spots in that scenario, I would do it. Najee Harris and Ja'Marr Chase are the most likely picks by ADP at that spot, and trading down to 1.03 to take Travis Etienne plus an extra pick in 2020 or 2021 is enticing. Harris has Pittsburgh's poor offensive line to contend with, and Chase could see fewer targets than the highest-drafted wide receiver would typically get with Higgins and Boyd on the roster. Jacksonville projects to have a solid offensive line in 2021, and Etienne is a yards-after-catch monster who should see a heavy snap share to start his career. I would aim for a solid young veteran, a 2022 second or 2021 third to go along with the 1.03 if that team is enamored with their top-rated rookie.
Brandon Niles: I'm keeping it. I love rookie running backs and Najee Harris is head and shoulders above the rest of the crop this year. He should immediately step into 16+ touches per game, can contribute as a receiver out of the backfield and will likely creep into the first round of even redraft formats. Unless I'm utterly stacked at the running back position, I'm turning in my card for Harris as soon as I possibly can with the 1.01 pick.
George Kritikos: I'd be happy to shop it around despite my interest in Harris and Chase. I've seen some recent deals that have netted CeeDee Lamb, D'Andre Swift and Cam Akers, who I prefer over any of the rookies. I'm also happy to slide down a few spots and pick up an extra first (or two) to increase my chances of hitting on those draft picks.
Justin Edwards: It's almost a given that your team is pretty wretched if you're sitting at the 1.01 without trading for it, so I'm always willing to listen to trade offers. I wouldn't want to fall below the top tier of Najee Harris-Ja'Marr Chase-Travis Etienne, though.
Kevin Zatloukal: I'm looking to trade it to someone who wants Najee Harris. I expect Harris to be the most valuable commodity given his landing spot with a late-second-round startup ADP. However, I'd prefer to draft Chase (who is only 21 vs. 23 for Harris) at the 1.02 spot.
Heath Cummings: It depends on how bad my team was to get it. On a depleted roster, I would be willing to trade it for a couple of top-six picks, because I think there's a clear dropoff after six. I'd really like to keep it, though, because I love Ja'Marr Chase. And what's not to love? He's a 21-year-old who outplayed Justin Jefferson two years ago and now gets reunited with his college quarterback in an offense that was averaging 40 pass attempts per game in 2020 before Joe Burrow got hurt. Chase is instantly a top-eight dynasty receiver for me and I wouldn't be surprised if he finishes top-12 as a rookie.
Question #4: Which of the quarterbacks selected after the big five in the NFL Draft (
Kyle Trask

/Bucs,

Kellen Mond

/

Vikings

,

Davis Mills

/

Texans

,

Ian Book

/

Saints

,

Sam Ehlinger

/

Colts

) are you most interested in and how early would you draft them in a Superflex rookie draft?

Andrew Fleischer: Kyle Trask is the most interesting of the lot to me. He joins a stacked Tampa Bay offensive roster, behind a 44-year-old quarterback. Granted, that quarterback is Tom Brady, but at some point, gravity has to win. Even if it doesn't in 2021, Trask may be a solid-if-unspectacular prospect, but he arguably enters the most friendly NFL environment of this crew and looks to be second to Davis Mills with the best odds to see meaningful 2021 snaps.

Brandon Niles: Kellen Mond at the 1.01! Just kidding, but I do love this spot for my favorite unheralded rookie quarterback. I just took him in the mid-second in a Superflex after missing out on him by trying to wait until the early third in a separate league. Kirk Cousins is going to be around for probably two more seasons, which gives Mond a couple of years to develop and a clear path to a starting job with a ton of weapons around him. Mond's dual-threat ability will make him a fantastic fantasy option in this offense if he can truly be the eventual replacement for the 33-year-old Cousins. In addition to Mond being the most talented quarterback after the big five—and I'd put him ahead of Mac Jones and Trey Lance solely as a prospect—he's in the clearest spot. Trask is playing behind Tom Brady, who won't retire in my lifetime I'm sure. Davis Mills has a terrible supporting cast without much help on the way. Book has a lot of bodies in that room. The Colts have to view Ehlinger as a worst-case scenario for their future.

George Kritikos: In my first Superflex rookie draft after the NFL Draft, I made a move back into the end of the second round to select Kyle Trask. He has the best chance to stick as a starter when he gets the chance and Tampa Bay presents solid options at the wide receiver position for the time being. Kellen Mond is a very close second, though, and I can easily see the argument for him over Trask. After those two, there's a gap between the other options.

Justin Edwards: Considering the low hit rate for quarterbacks taken in the later rounds, I'd have to go with Davis Mills based purely on the trainwreck that is the Texans' quarterback depth chart at the moment. Even so, I wouldn't begin considering him until the back end of the third round.

Heath Cummings: It's Davis Mills for me, but I'm not particularly excited about any of them. I have Mills and Mond tiered together. I think it's more likely Mills helps your roster in the next two seasons, but Mond has more long-term upside. I have them back-to-back as early third-round picks in Superflex leagues.
Question #5: How do you feel about this year's rookie RB class now that we know their landing spots and the draft capital spent on them? Which running back drafted between rounds 4-7 of the NFL Draft do you want on your dynasty roster and why?
Andrew Fleischer: I saw this class as top-heavy and shallow before we knew the destinations for the prospects, and the results have managed to tamp down the enthusiasm for quite a few of the mid-to-late round prospects I'd had my eye on. Michael Carter definitely draws my interest in the high-end of that 4th-7th round NFL draft range. Carter nearly matched teammate Javonte Williams in all-purpose yards per game at North Carolina in 2020, but he enters a more enticing RB depth chart than Williams, as well as a better quarterback situation with Zach Wilson at the helm in New York.
Brandon Niles: A lot worse than I'd hoped. I thought we'd get clear landing spots for Travis Etienne and Javonte Williams, but both look like they'll share time. I think Kenneth Gainwell and Michael Carter—in that order—are the prime targets from the fourth round of this draft since they'll contribute immediately in the passing game. Digging deeper, I'm going after Khalil Herbert out of Virginia Tech. A sixth-round pick of the Bears, he'll be vying with Damien Williams and Artavis Pierce for the backup job behind David Montgomery. Montgomery finished strong last year, but he hasn't exactly been the player Chicago hoped he'd be as a starter. If Monty moves on or gets banged up, Herbert has the talent to be a legit starting running back at the NFL level. I'm adding him to all my taxi squads.
George Kritikos: This rookie running back class served as a reminder that there is already plenty of depth at the position in the NFL and non-elite RB salaries are low enough to focus on other rookie positions in the NFL Draft. Michael Carter is the easy option for Day 3 given his skill set as a potential three-down option and a Jets offense that is trending up but is missing a clear starter at running back. That said, they had a total of one fantasy finish at the position inside the top-12 last year so don't expect much beyond a flex or fill-in option.
Justin Edwards: The rookie running back crew gets pretty ugly pretty quickly. Michael Carter is my favorite in the 4th-7th round range and he should have the easiest path to touches.
Kevin Zatloukal: The draft class seems as expected—a few studs at the top and then not much value later. Of the later picks, Michael Carter stands out due to his landing spot and Kenneth Gainwell shows up well in the statistical models I use. I'd be happy if I can get either one in the late-second of rookie drafts.
Heath Cummings: I went into this draft thinking it was a weak class and the NFL behaved as if they hated it even more than I did. Najee Harris and Travis Etienne are the only feature backs I see in the class and they're the only two I really feel comfortable with in the first round of a rookie draft. As for the Day 3 backs, I think Michael Carter has to be the favorite because of his lack of competition on the Jets, but I don't really think he's a three-down back.
Question #6: How do you rank the rookie receivers after
Ja'Marr Chase

? Who is the one rookie wideout you are going to attempt to acquire in all your dynasty leagues?

Andrew Fleischer: I would rank Jaylen Waddle second, DeVonta Smith third, Rondale Moore fourth and Elijah Moore fifth. I could easily see Smith making me regret de-prioritizing him, but I can't bring myself to ignore his outlier status for NFL success at his size, especially as a first-round pick. It's also a razor-thin preference for Rondale Moore over Elijah Moore, but I'm more confident in Rondale's pairing with Kyler Murray than I am with Elijah's with Zach Wilson. So far, I've ended up with Ihmir Smith-Marsette in both of my dynasty rookie drafts in the fifth round, and his spot opposite of Justin Jefferson in Minnesota is tantalizing should he realize his NFL upside.

Brandon Niles: Based on opportunity, DeVonta Smith is the clear WR2 in this rookie dynasty draft to me. And I'm just gonna say it. In 2019, I had A.J. Brown as my top WR going into the draft. Then I downgraded him heavily because of his landing spot. This year, Rashod Bateman was my WR2 behind Chase going into the draft. I hate the landing spot because I worry about the targets. I'm gonna say talent wins out in this situation and stick with Bateman as my 2B. option, dropping him only one slot behind Smith due to landing spot.

George Kritikos: You can see all that in my rookie rankings so I won't go into the order but I'm willing to get aggressive on DeVonta Smith, Jaylen Waddle, Rondale Moore, Elijah Moore and Amon-Ra St. Brown because I believe all of them have paths to rookie year production that will make their value grow quickly and become hard to acquire as the season progresses.

Justin Edwards: I believe there's a chance DeVonta Smith challenges Chase in target share/rookie season usage from Week 1 on. Efficiency with that usage could be a problem but the Eagles' depth chart is screaming for someone to come in and take over, while Cincinnati's wide receiver room still has very respectable options in Tee Higgins and Tyler Boyd.

In rookie drafts thus far, I have been targeting Elijah Moore when he drops in the second round—which has been every draft thus far.

Kevin Zatloukal: There's a clear tier break after Chase, in my opinion. Of the next tier by pre-draft ADP (Bateman, Smith, Waddle, R. Moore, E. Moore), I like Rondale Moore the best. Assuming A.J. Green is dust (which is not a bad assumption), he has the potential to be the No. 2 target in a pass-heavy offense. He also scores the highest in the statistical models I use. If I can get him at 1.09, I'm going to take that in every draft.

Heath Cummings: I have DeVonta Smith and Jaylen Waddle in Tier 2 followed by Terrace Marshall Jr. and Rondale Moore in Tier 3. After that, Elijah Moore, Kadarius Toney, Rashod Bateman and Amon-Ra St. Brown are all turn picks I like better early in Round 2 than late in Round 1. Rondale Moore is my target because, in theory, he should fit perfectly with Kyler Murray. If Kliff Kingsbury can get him the ball in space, this Cardinals offense could finally reach the potential we all saw for it.
---
Related Articles