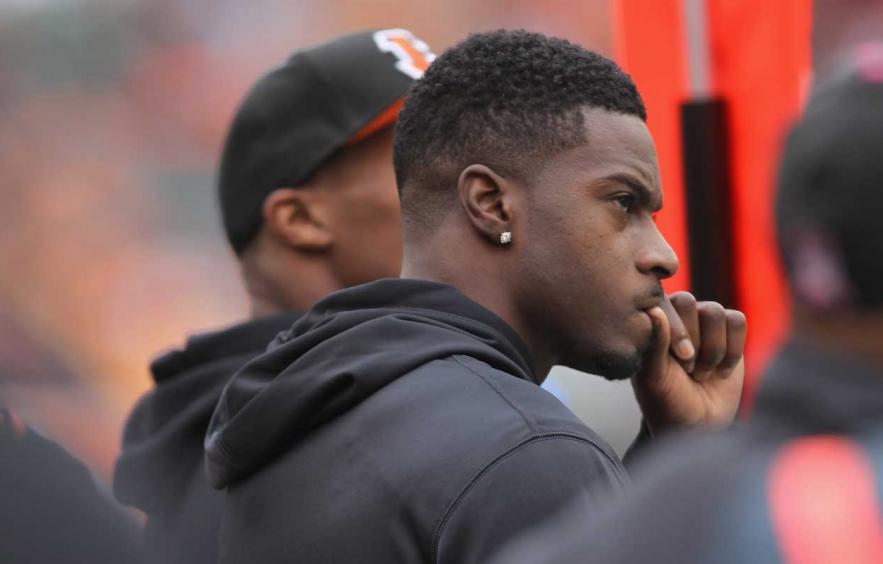 John Grieshop/Getty Images
The fourth overall pick way back in 2011, A.J. Green will don only his second NFL uniform 10 years later. A wide receiver-hungry Arizona Cardinals team signed him to a one-year deal worth $8.5 million, with $6 million guaranteed. On a macro level, the contract looks like a heck of a value to obtain one of the prolific receivers of the last decade, but if we zoom into only the last couple of years we have to wonder if the desert were only looking at Green's accumulative career and not his disappointing age-32 2020.
We'll take a look at what A.J. Green provided for his offense last season, and what the Bengals may look like without him on the field before we dig into what the signing may mean for his future offense in Arizona.
A.J. Green

Losing his Stripes

Any way you cut it, last year was a statistical disaster for Adriel Jeremiah Green. Despite hanging around the top-three in air yards for most of the season (he ended up finishing in the top-10), he finished the season by snagging only 2.9 receptions per game, a mark that ranked him 107th in the league amongst qualifying players. Prior to last season, Green had a 58.7% catch rate, and that low of a number was due to his heavy usage both deep down the field and along the perimeter, two of the most difficult places to haul in passes. Last year he undershot that to the tune of a 45.2% catch rate, by far the lowest of his career and good for 202nd of 202 qualifying players; dead last in the league.

His three drops last season were well below league average and considering he had 101 targets, those are completely negligible. So what's the deal? It certainly wasn't Joe Burrow's 78.0% on-target rate which ranked 14th of 44 qualifying quarterbacks (Sports Info Solutions), and no other Bengals receiver seemed to have the same type of issues.

At 32 (and soon to be 33)-years old, A.J. Green is simply not the explosive player he used to be after innumerable foot injuries over the last handful of years. According to Next Gen Stats, he had the lowest average amount of separation amongst the league's wide receivers and tight ends—his 1.7 average yards ranked 132nd out of 132. Separation isn't everything but it is something, and when you can't high-point or consistently win 50/50 balls anymore you have to adapt to find a new role or you simply aren't very valuable anymore.
Bengals

2020 WR Statistics

| Player | Targets | Receptions | Yards | YAC | aDOT | YPRR* |
| --- | --- | --- | --- | --- | --- | --- |
| Tyler Boyd | 109 | 79 | 841 | 360 | 8.8 | 1.65 |
| Tee Higgins | 108 | 67 | 908 | 311 | 12.9 | 1.83 |
| A.J. Green | 105 | 47 | 523 | 94 | 14.1 | 1.02 |
| Auden Tate | 21 | 14 | 150 | 54 | 9.6 | 1.61 |
*Yards Per Route Run (PFF)
As it stands, the three-receiver set heading into the season would be Tee Higgins/Auden Tate on the outside with Tyler Boyd operating out of the slot but I wouldn't expect Cincinnati to leave day three of the NFL Draft without trying to add some competition to Tate. No matter how they handle that situation, I expect Higgins to absorb a lot of the targets that Green alleviates by heading to Arizona.
What's in the Cards
Maybe, and I do mean maybe, A.J. Green isn't washed.
There is a possibility that the confluence of Green losing a step and Joe Burrow learning to throw the deep ball with finesse was a death knell from the beginning and the Cincinnati coaching staff didn't know how to adjust the offense to cater to the strengths and weaknesses of their players. I mentioned above how Burrow's on-target percentage was easily in the top half of the league, but it drops to 46.7% when you look at only throws with 20+ air yards (23rd of 26 quarterbacks with 30+ such attempts).
Arizona already has an alpha, field-stretching receiver in DeAndre Hopkins, so they don't need Green to run wind sprints along the sideline if he can no longer separate; he can simply occupy the intermediary. Even if they do need him down the field, Kyler Murray was the ninth-most accurate quarterback on throws with 20+ air yards, and it's unlikely the Cardinals have any plans on targeting Green on 100+ targets like the Bengals (foolishly) did.
The other piece of the puzzle in Arizona is Christian Kirk, who will be featured in the slot with head coach Steve Keim saying that A.J. Green will be lining up primarily as an outside receiver. This could help Kirk find consistent production inside of the offense, as his slot usage has continually propelled his wavering fantasy and real-life NFL stock in the three years he's been in the league.
Christian Kirk

2018-2020 In and Out of the Slot

| Position | Targets | Receptions | Yards Per Target | EPA |
| --- | --- | --- | --- | --- |
| Slot | 106 | 73 | 9.3 | 35.8 |
| Anywhere Else | 145 | 86 | 6.5 | -1.9 |
The A.J. Green signing isn't going to blow the doors off of the fantasy-sphere or suddenly rocket the Cardinals single-handedly into the Super Bowl, but it is a solid signing that could raise the ceiling of Kyler Murray and help bring Christian Kirk back from the fantasy graveyard.
The Bottom Line
A.J. Green will no longer be the cornerstone of a fantasy team, but if the Cardinals use him the right way, he has an opportunity to be the second option of a potent passing attack.
Tee Higgins to the moon.
Green's ADP will rise due to name value alone so taking him right now (he is WR73) is a shot I'm willing to take.
This could be a sneaky boost to Christian Kirk's value, who has excelled in the slot.