Post-NFL Draft 1QB Rookie Mock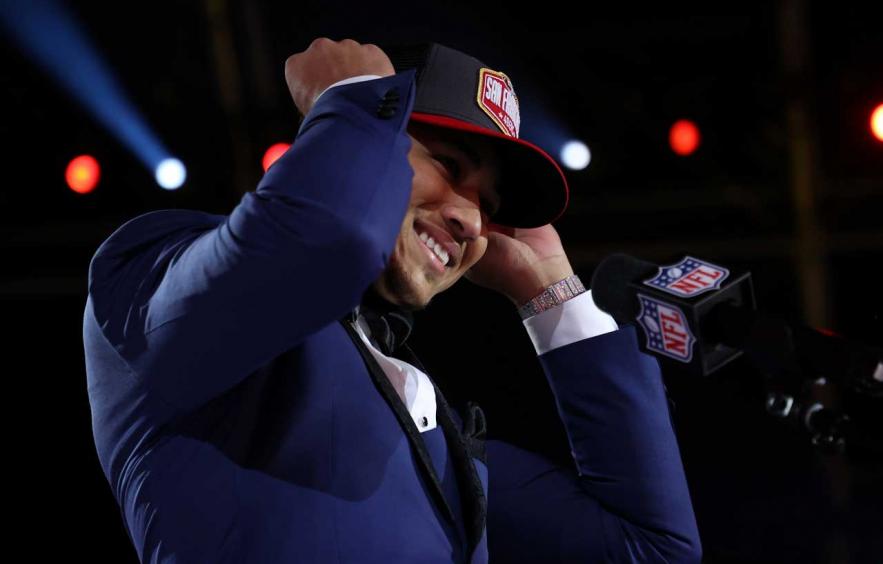 Gregory Shamus/Getty Images
Now that we have had close to two weeks to digest what happened during the NFL Draft, I wanted to ask some friends from around the Internet to pop in and knock out another 1QB rookie mock draft. Landing spots and draft capital weigh heavily on a rookie's fantasy value, so I was intrigued to see how names rose and fell in the minds of fellow dynasty fantasy football players.
Below will be a screencap of each of the four rounds of our draft, with key takeaways from yours truly following. Thank you to all of the participants, who you can find on Twitter under the handle provided. Please take a moment and give them a follow.
---
Previous Rookie Drafts: 1QB | Superflex | Superflex/TE-Premium | Pre-Draft vs. Post-Draft
---
First Round
Not many waves at the top of the draft, with Najee Harris and Ja'Marr Chase all but guaranteed to go to their respective teams even before the draft kicked off. Travis Etienne, DeVonta Smith and Jaylen Waddle's talents override any perceived downgrade they may have received after being designated a team. Smith and Waddle in particular could (and often are) flipped as the second and third wide receivers coming off the board, it's just a matter of preference. I decided to go Smith here because I think he has a chance to battle Chase to lead all rookies in market share right off the bat, while Waddle has more mouths to compete with in Miami.
There is definitely an argument to be made that Trey Lance could be more viable than Trevor Lawrence in the fantasy realm, but the 1.08 is a little rich for my blood in a single-quarterback league. With that being said, there are obviously no trade-backs in a mock draft, so I can't fault someone for coming up and grabbing "their guy". Lance has the athletic tools to unlock the Konami Code at the next level, and he was one of the least turnover-prone quarterbacks in college over his career. Kyle Shanahan should have some fun with this young buck, and hopefully, we see him on the field sooner rather than later.

Second Round
Terrace Marshall Jr. is a great pick at the 2.03 as a high-ceiling, requisite-sized, possible future number one receiver for the Panthers. His athletic profile was fantastic, even if his counting stats were less than stellar due to sharing the field with the likes of Justin Jefferson and Ja'Marr Chase at LSU. Marshall is now reunited with offensive coordinator Joe Brady and will provide a big-play threat for Sam Darnold to match with D.J. Moore and Robby Anderson.
Michael Carter could have been drafted on day three and been an afterthought on a roster, rotating in on third downs and succumbing to a dreaded "scat back" role. Instead, he landed in the fourth round to a Jets team that has a big, gaping hole at the running back position. It may have been his best possible outcome to see touches right off the bat. If he can prove he can handle a heightened workload, there's no reason to think this won't be his job by the end of 2021.
Third Round
It's possible San Francisco is so tired of dealing with the never-ending injuries of both Raheem Mostert and Jeff Wilson Jr. that they simply scrap the entire running back room and make Trey Sermon and Elijah Mitchell their new thunder-and-lightning duo. If that's the case, it will be exciting to see how often Elijah Mitchell's 97th-percentile 10-yard split, 99th-percentile 20-yard split and 4.35 40-yard dash will grace the field. It would be nice to see a little more passing game work on Mitchell's resume, but being that his closest NFL comparable is Jerick McKinnon, it wouldn't be a stretch to see him slide directly into that role as a rotational back with receiving upside.
Josh Palmer finds himself in an interesting spot with the Chargers. He has a very similar size/speed profile as new teammate Mike Williams (who is in a contract year). Did the team simply want another Mike Williams or are they grooming Palmer as his replacement? Spending a late third-round rookie pick on Palmer to possibly begin getting Mike Williams-level production in 2022 is a good price to pay.
Fourth Round
The fourth round this season is as ugly as I've ever seen in my years playing dynasty, particularly in 1QB leagues, where there are less relevant, fantasy-usable quarterbacks than in 2QB/Superflex leagues.
With Kellen Mond going at the end of the previous round and Davis Mills putting a cap on the end of this draft, we had seven total quarterbacks come off the board, which I imagine will be the standard throughout the offseason. Mond makes for more of a wait-and-see ceiling play while Mills makes more sense if you're trying to flip value as soon as possible. With Deshaun Watson possibly never playing a snap for the Houston Texans again, Mills has landed on a depth chart that only features Tyrod Taylor and Ryan Finley standing in his way from taking snaps in 2020.
Speaking of value, taking Larry Rountree, Khalil Herbert, Kylin Hill, or Kene Nwangwu is the rookie draft equivalent of trying to land a newly crowned backup off the waiver wire during the season. If any injuries occur on one of these players' running back depth charts during the summer (and the rookie keeps their job until then) they instantly become more valuable than a fourth-round pick. This late in rookie drafts, I try to always lean towards a running back if I'm close on two or more names.
---