Expert Mock Draft Recap: 12-Team Half-PPR (June 2020)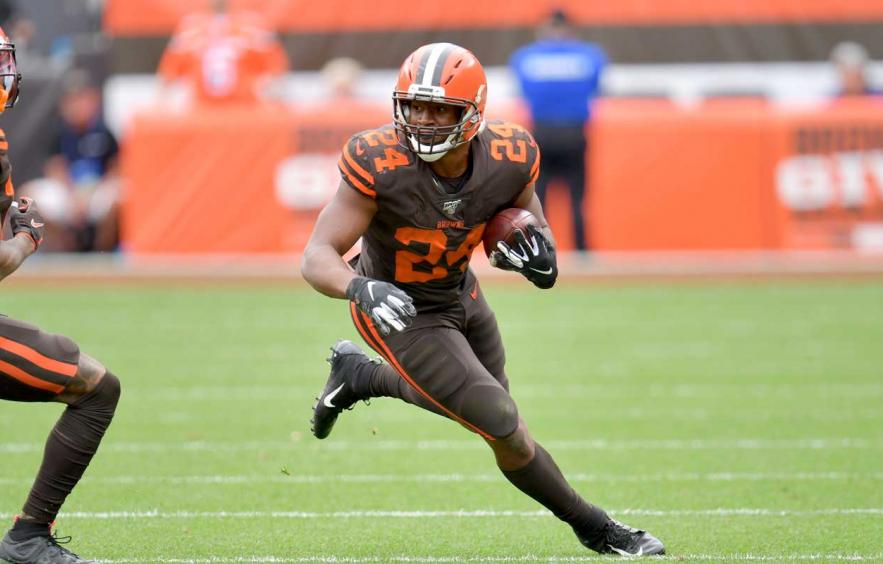 Jason Miller/Getty Images
Historically June is one of the slowest months of the NFL calendar so to pass the time I reached out to some of the biggest names in fantasy to organize the second industry mock draft of the season. The setup was a 12-team half-PPR league with 16 rounds. The roster requirements were 1 QB, 2 RB, 3 WR, 1 TE, and 1 Flex with no kickers or team defense. The draft order was as follows:
Be sure to click on each participant's Twitter handle and give them a follow!
I'll echo some of the comments from our very own T.J. Hernandez mentioned in our May Expert Fantasy Football mock draft article. You may be surprised to hear that even in industry fantasy football drafts general trends will often mirror ADP. For example, the top eight players going off the board in this mock should not come as a surprise. None of the experts in this draft appeared to execute a Zero RB or Zero WR strategy. Analysts are more willing to wait on quarterbacks and tight ends. They have more awareness of supply and demand and positional ADP of each position rather than solely focusing on overall ADP.
The most important takeaways from these mock drafts are taking note of which players go well above or well below ADP, but especially the latter. It only takes one drafter for a player to go early, but there has to be a consensus for a player to fall. I've always been fascinated by this dynamic and how others value specific players. With that being said, let's take a look at the players taken highest and lowest relative to their positional ADP.
Note: This draft started on June 8th and ADP reflects data from June 8th to June 19th
Rounds 1-2
| RD | Barfield | Harmon | Paeno | Daigle | Richard | Tagliere | Thorman | Moody | Hernandez | Grant | Boone | Paulsen |
| --- | --- | --- | --- | --- | --- | --- | --- | --- | --- | --- | --- | --- |
| 1 | (1 - RB1) McCaffrey, C | (2 - RB2) Barkley, S | (3 - RB3) Elliott, E | (4 - RB4) Kamara, A | (5 - WR1) Thomas, M | (6 - WR2) Adams, D | (7 - RB5) Cook, D | (8 - RB6) Henry, D | (9 - RB7) Mixon, J | (10 - WR3) Hopkins, D | (11 - RB8) Drake, K | (12 - RB9) Sanders, M |
| 2 | (12 - WR7) Evans, M | (11 - TE2) Kelce, T | (10 - TE1) Kittle, G | (9 - RB15) Gurley, T | (8 - RB14) Ekeler, A | (7 - WR6) Godwin, C | (6 - WR5) Hill, T | (5 - RB13) Jacobs, J | (4 - RB12) Chubb, N | (3 - RB11) Edwards-Helaire, C | (2 - WR4) Jones, J | (1 - RB10) Jones, A |
Values
RB
Nick Chubb

,

Browns

(ADP RB8; Drafted RB12)

Chubb finished as the RB7 in half-point PPR last season. He averaged 15.2 fantasy points per game last season while leading all running backs with 1,055 yards after contact according to Sports Info Solutions. Chubb also led the running back position in runs of 15 or more yards with a breakaway percentage of 38.4%.

You may be concerned about how Kareem Hunt's presence for a full season will impact Chubb in 2020. Hunt averaged 11 opportunities per game from Weeks 10–17 as the Browns' change of pace and receiving back. Chubb averaged 20.2 opportunities per game over that same time frame. There should be enough touches for both running backs to be productive in 2020. The Browns have a good schedule for running backs according to our signature strength of schedule metric schedule-adjusted fantasy points allowed (aFPA). Our projections value Chubb as the RB9 in half-PPR leagues.
Reaches
RB
Clyde Edwards-Helaire

(ADP RB14; Drafted RB11)

Georgia running back D'Andre Swift and Wisconsin Jonathan Taylor dominated the headlines heading into the 2020 NFL Draft, but Edwards-Helaire found himself as the first running back selected at No. 32 overall. He ranked ninth in the FBS with 1,867 yards from scrimmage and scored 17 total touchdowns in 15 games last season. Edwards-Helaire landed in a great situation with the Chiefs. Kansas City's offense finished in the top five in points scored in each of the last two seasons.

The Chiefs have averaged an impressive 401.4 total yards per game since Patrick Mahomes has been the starting quarterback. Edward-Helaire was drafted by head coach Andy Reid to jump-start a running game that ranked 22nd in rushing yards per game with 101.5. The Chiefs currently have Damien Williams, free agent signing DeAndre Washington, and other running backs currently on the roster. Edwards-Helaire is someone to reach for in fantasy football drafts. Reid hasn't used this much draft capital on a running back since selecting LeSean McCoy back in 2009 when he was the head coach of the Eagles.
Rounds 3-4
| RD | Barfield | Harmon | Paeno | Daigle | Richard | Tagliere | Thorman | Moody | Hernandez | Grant | Boone | Paulsen |
| --- | --- | --- | --- | --- | --- | --- | --- | --- | --- | --- | --- | --- |
| 3 | (1 - WR8) Robinson, A | (2 - QB1) Jackson, L | (3 - WR9) Moore, D | (4 - WR10) Golladay, K | (5 - QB2) Mahomes, P | (6 - WR11) Beckham, O | (7 - WR12) Smith-Schuster, J | (8 - RB16) Fournette, L | (9 - WR13) Ridley, C | (10 - RB17) Taylor, J | (11 - RB18) Gordon, M | (12 - WR14) Brown, A |
| 4 | (12 - WR21) McLaurin, T | (11 - WR20) Lockett, T | (10 - WR19) Metcalf, D | (9 - RB21) Carson, C | (8 - WR18) Kupp, C | (7 - RB20) Bell, L | (6 - RB19) Conner, J | (5 - WR17) Cooper, A | (4 - TE3) Andrews, M | (3 - QB3) Murray, K | (2 - WR16) Thielen, A | (1 - WR15) Woods, R |
Values
WR
Amari Cooper

,

Cowboys

(ADP WR9, Drafted WR17)

Cooper had the best season of his six-year career in 2019. He averaged 7.4 targets, five receptions, 74.3 receiving yards, 90.4 air yards, and 0.5 touchdowns per game. Cooper played 16 games for the third time in his career. He finished with an impressive 2.29 yards per route run according to Pro Football Focus. Many are fading Cooper this season for two reasons. One is the performance of Michael Gallup in 2019. He averaged more receiving yards (79.1) and air yards (98.6) than Cooper last season. The second reason is because of the Cowboys drafting CeeDee Lamb who was considered by many NFL Draft Analysts to be the top wide receiver in the 2020 class.

Dallas' quarterback Dak Prescott is coming off of an epic season throwing for nearly 5,000 yards. With new head coach Mike McCarthy, it's possible that the Cowboys are even better throwing the football in 2020. Dallas has 190 vacated targets and Cooper signed a five-year, $100 million contract. The 26-year old receiver will be provided all the targets he can handle this season. The Cowboys offense should be able to adequately feed Cooper, Gallup, and Lamb.
WR
Cooper Kupp

,

Rams

(ADP WR14, Drafted WR18)

Kupp finished last season ranked fourth in half-point PPR scoring, averaging an impressive 9.3 targets, 6.0 receptions, 75.6 receiving yards, and 78.1 air yards per game in 2019. Kupp dominated from the slot finishing second in targets (99), tied for the most receptions (69), and first in receiving yards (853). He led the Rams receivers in fantasy points over expectation. Kupp averaged 2.8 fantasy points per game more than expected. Rams quarterback Jared Goff's statistical production was up and down last season like the S&P 500 and it left a bad taste in the mouth of many.

The Rams offense finished last season ranked seventh in total yards per game (375) in Sean McVay's third season as head coach. Los Angeles finished third in 2018 and eighth in total yards per game in 2017. The Rams averaged an impressive 28 points per game over this time frame. Goff and the entire Rams offense are at their best with a dynamic runner in the backfield handling the majority of the touches. That didn't happen last season with the team attempting to manage Todd Gurley's workload due to his arthritic knee. This will change in 2020 with the Rams addition of Cam Akers. Goff finished as the QB7 back in 2017. He has the potential to reach those heights again in 2020 and Kupp will be a big part of that.
WR
Adam Thielen

,

Vikings

(ADP WR12, Drafted WR16)

Thielen is being forgotten by many casual fantasy football fans about a disappointing 2019 season. He only averaged 4.8 targets, 3.0 receptions, 41.8 receiving yards, 57.3 air yards, and 9.94 half-point PPR fantasy points per game. As a gentle reminder, Thielen averaged 9.3 targets, 6.4 receptions, 83 receiving yards, and 92.3 air yards in 32 games from 2017 to 2018. He finished as a WR1 in 44% of those games. Thielen had a record-breaking eight straight 100-yard games to start the season. Over that two-year stretch, he was sixth in receiving yards.

You may be thinking this was before the Vikings committed to Gary Kubiak's zone-blocking scheme and run-heavy offense in 2019. Thielen did finish Week 5 against the Giants with seven receptions, 130 receiving yards, and two touchdowns. He's in a perfect position to bounce back in 2020 with Kirk Cousins under center and Stefon Diggs now with the Buffalo Bills.
RB
Chris Carson

,

Seahawks

(ADP RB18, Drafted RB21)

Carson has averaged 20.5 opportunities, 97 total yards, and 14.4 half-point PPR points per game in 29 active games over the last two seasons. The only other running back with more missed tackles than Carson (107) over that time frame was Chubb. Carson's finished as an RB2 or better in 72% of those games. The Seahawks have leaned heavily on its running backs over the last two seasons providing them an average of 31.6 opportunities per game. Seattle currently has seven running backs on the roster.

Many anticipate that Carlos Hyde and Rashaad Penny will back up Carson. Penny could start the season on the PUP list. The risk with Carson is his injury history. He's endured lower leg injuries that have ended his season in two out of three years. It's difficult to pass on a player with RB1 upside who's set to see a significant opportunity share at this stage of a fantasy draft.
Reaches
WR
Calvin Ridley

,

Falcons

(ADP WR17, Drafted WR13)

The Falcons have 258 vacated targets heading into the 2020 season. Julio Jones has always commanded a sizable target share throughout his career. He's averaged 10 targets, 6.3 receptions, 96.2 receiving yards, and 123.7 air yards per game in his career. Ridley was no slouch in 2019. He averaged 7.2 targets, 4.8 receptions, 66 receiving yards, 95.8 air yards, and 0.5 touchdowns per game in 13 games last season. Ridley was on pace for 1,000 or more receiving yards before missing the last three games of the season.

The arrival of Todd Gurley, who is a very capable receiver out of the backfield, could keep Ridley's targets from ascending in 2020. Another factor to consider is that defensive coordinators may focus more on the third-year wide receiver with Mohamed Sanu and Austin Hooper gone. Ridley has been a fabulous addition to the Falcons offense over the last two seasons and is in a great position to outperform his current ADP. He's earned the trust of Ryan, offensive coordinator Dirk Koetter, and is someone worth reaching for in drafts.
RB
Jonathan Taylor

,

Colts

(ADP RB23, Drafted RB17)

It is rare for NFL teams to find a running back with the statistical resume and athleticism of someone like Taylor outside of the first round, but that's what happened to the Colts in this year's draft. The former Wisconsin running back had three straight seasons (2017 to 2019) of 2,000 or more total yards in college. Taylor had 61 rushing attempts of 10 or more yards in each of his three collegiate seasons. He averaged an insane 4.2 yards after contact per attempt during his career at Wisconsin. Taylor has three-down potential and Top 12 upside with the Colts in 2020 behind their very good offensive line.

The Colts have the easiest schedule for running backs according to aFPA. Indianapolis finished seventh in the NFL with 133 rushing yards per game last season. This was the first time the Colts exceeded 2,000 rushing yards on the season since 1994. Marlon Mack finished 2019 with 1,091 rushing yards. Were you aware that he's only the second individual running back with 1,000 or more rushing yards for the Colts since 2007? Taylor has a legitimate opportunity to finish 2020 as the NFL's Offensive Rookie of the Year and is someone to reach for, but it's important to be aware that he'll operate as part of a committee with Mack and Nyheim Hines.
WR
Allen Robinson

,

Bears

(ADP WR15, Drafted WR8)

Robinson is coming off of the second most productive fantasy season of his career. He averaged 9.6 targets, 6.1 receptions, 71.7 receiving yards, and 103.6 air yards per game in 2019. Robinson finished as a WR2 or better in 50% of his games in half-point PPR. He was able to accomplish this in spite of quarterback Mitch Trubisky. Robinson was particularly effective from Weeks 12–16 averaging 132.2 air yards and 16 half-point PPR fantasy points per game. Trubisky averaged 13.5 fantasy points per game last season and ranked 30th with a true passer rating of 74. This advanced metric does factor out unpressured throwaways and dropped passes.

The Bears did add quarterback Nick Foles this offseason who many consider an improvement over Foles. Robinson is underrated considering what he's been able to accomplish thus far in career while catching passes from quarterbacks like Trubisky and Blake Bortles. He has a WR1 ceiling this season and the perfect WR2 for Graham Barfield taking into account how he was building his team at this stage of the draft. Robinson is a wide receiver you shouldn't hesitate to reach for in drafts this summer.
WR
Robert Woods

,

Rams

(ADP WR21, Drafted WR15)

Woods continues to be undervalued in the minds of fantasy football players even after the departure of Brandin Cooks. He's averaged 8.7 targets, 5.7 receptions, 76 receiving yards, 85.6 air yards, and nearly 13 half-point PPR fantasy points per game over the last two seasons. Woods ranks ninth among wide receivers in receiving yards per game over that same time frame. T

he Rams offense supported three wide receivers in 2018 and two in 2019 from a fantasy perspective. Woods and Kupp are basically 1A and 1B on a Los Angeles that has the promise to be one of the NFL's better offenses in 2020. These are the reasons you should consider selecting him above his ADP. Last season Woods showed that he has a very high floor, but in 2020 he could reach an even higher ceiling.
WR
Terry McLaurin

, Redskins (ADP WR25, Drafted WR21)

The Redskins finished last season ranked 31st in total yards (274.7) and 32nd in points per game (16.6). McLaurin put together a very good rookie season despite being tethered to an anemic offense and catching passes from multiple quarterbacks. He averaged 6.6 targets, 4.1 receptions, 65.6 receiving yards, and 93.1 air yards per game last season. McLaurin finished as a WR2 or better in 42% of his games in half-point PPR. He tied Courtland Sutton for the fifth-most yards after contact at the receiver position according to Sports Info Solutions.

He now finds himself entering 2020 with the new coaching staff in Washington and quarterback Dwayne Haskins looking to build upon the solid play he displayed to close out last season. McLaurin is entrenched as the Redskins' No. 1 receiver this season. He is a wide receiver you shouldn't have any trepidation selecting ahead of his ADP.
Rounds 5-6
| RD | Barfield | Harmon | Paeno | Daigle | Richard | Tagliere | Thorman | Moody | Hernandez | Grant | Boone | Paulsen |
| --- | --- | --- | --- | --- | --- | --- | --- | --- | --- | --- | --- | --- |
| 5 | (1 - TE4) Ertz, Z | (2 - RB22) Montgomery, D | (3 - WR22) Sutton, C | (4 - RB23) Johnson, D | (5 - WR23) Allen, K | (6 - RB24) Ingram, M | (7 - WR24) Chark, D | (8 - WR25) Hilton, T | (9 - WR26) Samuel, D | (10 - WR27) Diggs, S | (11 - WR28) Parker, D | (12 - RB25) Swift, D |
| 6 | (12 - RB31) Akers, C | (11 - RB30) Jones, R | (10 - RB29) Hunt, K | (9 - WR33) Brown, M | (8 - WR32) Green, A | (7 - QB4) Prescott, D | (6 - RB28) Mostert, R | (5 - WR31) Landry, J | (4 - WR30) Fuller, W | (3 - WR29) Gallup, M | (2 - RB27) Singletary, D | (1 - RB26) Vaughn, K |
Values
WR
Courtland Sutton

,

Broncos

(ADP WR18, Drafted WR22)

Sutton is primed for a classic third-year breakout in 2020. He finished as a WR2 or better in 43% of his games in half-point PPR last season. This was impressive considering Sutton had to deal with three different starting quarterbacks. Joe Flacco, Brandon Allen, and Drew Lock all made starts for the Broncos. Sutton seems like a lock for 100 or more targets this season with new offensive coordinator Pat Shurmur. He'll also benefit from improved quarterback play from Lock in his second season.

Sutton has always had elite size at the receiver position and as he continues to improve as a route runner he provides fantasy players with a very high ceiling this season. The Broncos do have the seventh-most difficult schedule for wide receivers according to aFPA. Sutton will see his fair share of No. 1 cornerbacks, but the addition of receivers Jerry Jeudy and K.J. Hamler will help shift some of the defensive attention away from him. Sutton was a nice value at this stage of the draft.
WR
Keenan Allen

,

Chargers

(ADP WR20, Drafted WR23)

Allen has averaged 9.3 targets, 6.3 receptions, 79 receiving yards, and 85.6 air yards per game over the last three seasons with Philip Rivers under center. The Chargers will now turn to Tyrod Taylor to be their starting quarterback in 2020 after Rivers signed with the Colts during free agency. This may lead some fantasy players to shy away from Allen this season, but it's difficult to completely fade a receiver who's ranked in the top seven for target share for the last three seasons.
WR
DeVante Parker

,

Dolphins

(ADP WR23, Drafted WR28)

Parker surprised many with a career season in 2019. He finished fourth in the NFL with 1,202 receiving yards and provided fantasy players a nice return on their investment considering his ADP. Parker's statistical production skyrocketed once Preston Williams' knee injury ended his season. He was rewarded with a four-year extension through the 2023 season worth up to $40 million with more than $20 million guaranteed.

Parker projects to be the Dolphins No. 1 receiver and his contract ensures that he'll be provided a hefty target share. Quarterback Ryan Fitzpatrick is set to return as the starter this season and will have yet another opportunity to work with offensive coordinator Chan Gailey. Parker is a nice value pick and could flirt with high-end WR2 production this season.
RB
Cam Akers

,

Rams

(ADP RB28, Drafted RB31)

Akers was drafted to be Gurley's successor and provides the Rams with an offensive weapon who can make an impact as a runner, receiver and is a willing blocker. He is the third running back in Florida State history with multiple seasons with 1,000 or more rushing yards. The other two are Warrick Dunn and Dalvin Cook. Akers ranked fifth all-time in Florida State history with 586 rushing attempts. His 2,874 rushing yards and 11 100-yard games ranked sixth in school history. Akers's 34 touchdowns tied for sixth in Florida State history while his 27 rushing touchdowns rank seventh. He also left the program ranked 12th all-time with 3,375 all-purpose yards.

Akers has RB1 upside and is someone to reach for in drafts considering the supply and demand of viable running backs. He was the Rams' first selection of the 2020 NFL Draft. This suggests Akers will see a steady number of opportunities and play a high number of snaps.
RB
Devin Singletary

,

Bills

(ADP RB22, Drafted RB27)

Singletary split opportunities with Frank Gore last season and had more added to his plate as the season progressed. He averaged 20 opportunities per game from Weeks 9–16. Singletary (14) tied for the fourth-most rushing attempts of 15 or more yards. He averaged an impressive 0.77 fantasy points per opportunity. Gore has moved on to the Jets, but the Bills did draft running back Zack Moss in the third round. Singletary and the rookie will operate as a running back by committee with Singletary as the lead.

The Bills offense is shaping up to be a powerful one in 2020. The addition of Stefon Diggs this offseason was huge considering the statistical improvements Buffalo made from 2018 to 2019. Being tied to a high-quality offense is never a bad thing for a running back in fantasy football. The Bills are also returning all five starters along the offensive line. Singletary is a running back you should be comfortable targeting at his current average draft position.
WR
A.J. Green

,

Bengals

(ADP WR28, Drafted WR33)

Many are fading Green because of his injury history. It is a legitimate concern considering he's missed 23 of the last 32 games with injuries. Green has averaged 9.24 targets, 5.42 receptions, 80.2 receiving yards, and 0.57 touchdowns per game in his career. It's difficult to completely fade the soon to be 32-year old receiver given his statistical body of work. If Green could thrive with Andy Dalton under center then imagine what he could accomplish with the Bengals No. 1 overall pick Joe Burrow under center in 2020.
Reaches
RB
David Montgomery

,

Bears

(ADP RB26, Drafted RB22)

Montgomery averaged 17.3 opportunities per game last season, but only averaged a disappointing 10.1 half PPR fantasy points per game. He ranked 10th in broken tackles according to Sports Info Solutions running behind a struggling Bears offensive line. Chicago will attempt to revive their running game with the addition of offensive line coach Juan Castillo. The Bears have a good schedule for running backs according to aFPA. It's tough to completely ignore a running back like Montgomery seeing that much volume, but the stars are aligning for the 23-year old to have a breakout sophomore season.
WR
Will Fuller

,

Texans

(ADP WR34, Drafted WR30)

Fuller is in line for a larger target share this season after the Texans traded away wide receiver DeAndre Hopkins. He has missed 22 total games and has yet to play a full NFL season in his four-year career. Fuller caught 49 of 71 targets for 670 receiving yards and three touchdowns in 11 games last season. The Texans also acquired Cooks and Randall Cobb this offseason. The biggest concern for Fuller in 2020 is his injury history. He's the epitome of a risk-reward player and someone to acquire if your fantasy roster is built to take on some additional risk.
Rounds 7-8
| RD | Barfield | Harmon | Paeno | Daigle | Richard | Tagliere | Thorman | Moody | Hernandez | Grant | Boone | Paulsen |
| --- | --- | --- | --- | --- | --- | --- | --- | --- | --- | --- | --- | --- |
| 7 | (1 - WR34) Boyd, T | (2 - WR35) Shepard, S | (3 - RB32) Dobbins, J | (4 - TE5) Engram, E | (5 - TE6) Higbee, T | (6 - RB33) Cohen, T | (7 - TE7) Waller, D | (8 - TE8) Gronkowski, R | (9 - WR36) Kirk, C | (10 - TE9) Henry, H | (11 - WR37) Edelman, J | (12 - WR38) Jones, M |
| 8 | (12 - QB7) Ryan, M | (11 - RB37) White, J | (10 - QB6) Wilson, R | (9 - WR43) Lamb, C | (8 - RB36) Moss, Z | (7 - WR42) Crowder, J | (6 - QB5) Watson, D | (5 - RB35) Mack, M | (4 - WR41) Hardman, M | (3 - RB34) Howard, J | (2 - WR40) Cooks, B | (1 - WR39) Johnson, D |
Values
WR
Julian Edelman

,

Patriots

(ADP WR35, Drafted WR37)

The only wide receivers who have averaged a higher number of targets per game than Edelman (9.6) since 2015 are Odell Beckham (9.9), Julio Jones (10.5), Hopkins (10.6), and Antonio Brown (11.2). The volume should continue to be there in 2020 for the veteran receiver, but can Edelman still be productive with longtime teammate Tom Brady. He has a good chance to return WR3 value this season catching passes from Jarrett Stidham. The selection of Edelman at this stage of the draft was perfect for Justin Boone's team since he'd be his fourth wide receiver.
Reaches
WR
Sterling Shepard

,

Giants

(ADP WR47, Drafted WR35)

The Giants have three players who could all be considered the No. 1 receiver in Shepard, Darius Slayton, and Golden Tate. Slayton surpassed expectations last season with 48 receptions for 740 receiving yards and eight touchdowns leading the Giants in the two latter categories. Shepard played in 10 games with 57 receptions for 576 receiving yards and three touchdowns. He has recorded two seasons with 100 or more targets. Shepard could emerge as the Giants No. 1 receiver in 2020.
Rounds 9-16
| RD | Barfield | Harmon | Paeno | Daigle | Richard | Tagliere | Thorman | Moody | Hernandez | Grant | Boone | Paulsen |
| --- | --- | --- | --- | --- | --- | --- | --- | --- | --- | --- | --- | --- |
| 9 | (1 - WR44) Slayton, D | (2 - WR45) Williams, M | (3 - RB38) Breida, M | (4 - RB39) Mattison, A | (5 - RB40) Henderson, D | (6 - TE10) Hurst, H | (7 - RB41) Williams, D | (8 - WR46) Sanders, E | (9 - RB42) Coleman, T | (10 - RB43) Lindsay, P | (11 - TE11) Cook, J | (12 - QB8) Allen, J |
| 10 | (12 - RB47) Johnson, K | (11 - WR52) Brown, J | (10 - WR51) Ruggs, H | (9 - WR50) Reagor, J | (8 - RB46) Michel, S | (7 - RB45) Guice, D | (6 - WR49) Williams, P | (5 - QB10) Rodgers, A | (4 - RB44) Murray, L | (3 - WR48) Jefferson, J | (2 - QB9) Wentz, C | (1 - WR47) Jeudy, J |
| 11 | (1 - WR53) Tate, G | (2 - WR54) Watkins, S | (3 - RB48) Johnson, D | (4 - RB49) Pollard, T | (5 - RB50) Gibson, A | (6 - RB51) Scott, B | (7 - WR55) Harry, N | (8 - WR56) Mims, D | (9 - RB52) Edmonds, C | (10 - WR57) Pittman, M | (11 - WR58) Miller, A | (12 - TE12) Hooper, A |
| 12 | (12 - WR63) Samuel, C | (11 - RB58) Hines, N | (10 - WR62) Brown, A | (9 - RB57) Dillon, A | (8 - RB56) Kelley, J | (7 - WR61) Anderson, R | (6 - WR60) Perriman, B | (5 - RB55) Evans, D | (4 - WR59) Lazard, A | (3 - TE13) Gesicki, M | (2 - RB54) Armstead, R | (1 - RB53) McFarland, A |
| 13 | (1 - RB59) Jackson, J | (2 - WR64) Washington, J | (3 - WR65) Jackson, D | (4 - WR66) Campbell, P | (5 - QB11) Brees, D | (6 - WR67) Davis, C | (7 - RB60) Harris, D | (8 - WR68) Aiyuk, B | (9 - WR69) Sims, S | (10 - WR70) Renfrow, H | (11 - RB61) Bernard, G | (12 - TE14) Jarwin, B |
| 14 | (12 - QB15) Jones, D | (11 - TE18) Smith, J | (10 - WR73) Ross, J | (9 - QB14) Stafford, M | (8 - QB13) Brady, T | (7 - TE17) Doyle, J | (6 - TE16) Hockenson, T | (5 - WR72) Higgins, T | (4 - QB12) Garoppolo, J | (3 - TE15) Fant, N | (2 - WR71) Shenault, L | (1 - RB62) Thompson, C |
| 15 | (1 - RB63) Hyde, C | (2 - WR74) Fitzgerald, L | (3 - TE19) Smith, I | (4 - RB64) McKinnon, J | (5 - WR75) Cobb, R | (6 - WR76) Westbrook, D | (7 - WR77) Hurd, J | (8 - RB65) Samuels, J | (9 - TE20) Goedert, D | (10 - WR78) Bourne, K | (11 - RB66) Bonnafon, R | (12 - WR79) Williams, T |
| 16 | (12 - RB69) Freeman, D | (11 - WR84) Sanu, M | (10 - WR83) Claypool, C | (9 - TE23) Thomas, I | (8 - TE22) Sternberger, J | (7 - RB68) Peterson, A | (6 - QB16) Roethlisberger, B | (5 - WR82) Funchess, D | (4 - RB67) Smith, I | (3 - WR81) Jeffery, A | (2 - TE21) Herndon, C | (1 - WR80) Edwards, B |
Values
WR
Darius Slayton

,

Giants

(ADP WR38, Drafted WR44)

Slayton led all rookie wide receivers in yards per route run and routes run per game according to Pro Football Focus in 2019. His eight touchdowns are tied for the third-most by a rookie in franchise history according to Pro Football Reference. Slayton also ranks fifth in receiving yards and is tied for sixth in receptions. He has a very good chance of becoming quarterback Daniel Jones' favorite target this season. Slayton, Shepard, and Tate all have similar projections. It's never a bad idea to go with the younger player.
Values
WR
Devin Funchess

,

Packers

(ADP WR71, Drafted WR82)

Funchess only played one game with the Colts, but was very productive with the Panthers. He caught 107 of 191 targets for 1,389 receiving yards and 12 touchdowns from 2017 to 2018. Funchess will now have an opportunity to catch passes from future Hall of Fame quarterback Aaron Rodgers. He's on track to open the season as the Packers No. 2 receiver. Funchess is an excellent pick in the late rounds of your draft.

The "reaches" in the later rounds were players drafted far outside of starter territory.
Conclusion
It's a good best practice to take part in as many mock drafts as possible. You get a much better feel for players' ADP, possible sleepers, late-round steals, and it gives you an opportunity to experiment with different draft strategies. It's key to start mock drafting early in your league format and take part in as many drafts as possible. You should also use our rankings, ADP, and the plethora of additional resources available. Mock drafting doesn't guarantee you a fantasy football championship, but it's better to learn your lessons in a mock instead of your live draft. What was your favorite takeaway from this mock draft? Reach out on Twitter and let me know.
See the entire draft board here.