A Look Back at Running Backs in 2019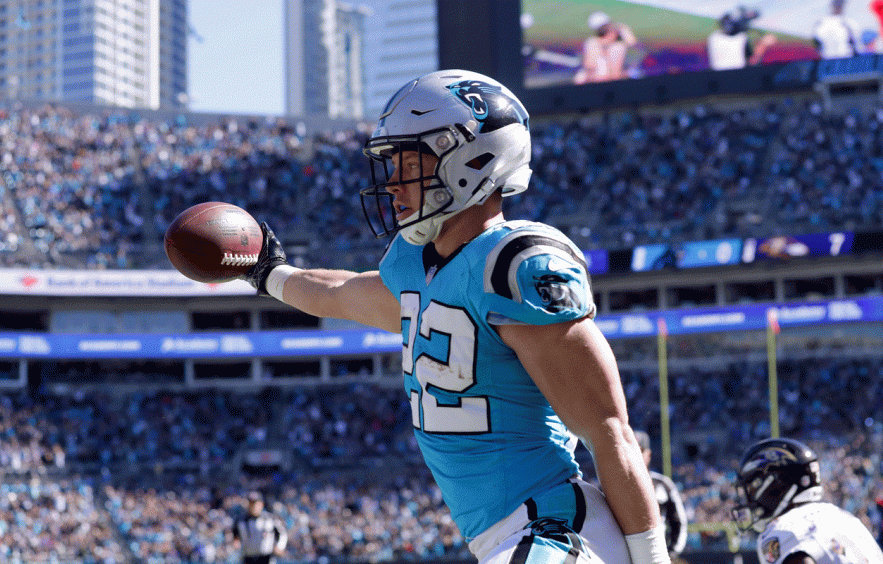 Streeter Lecka/Getty Images
As it was in 2018, running backs dominated the first round of drafts yet again in 2019. After averaging only six running backs being drafted from 2015-2017, the 2019 draft process closed up to see eight backs going in the first twelve picks. As you'll see below, there was really only one league-winner out of those eight first-round running backs.
Though picking from 1.01-to-1.03 felt like flipping a three-sided coin, it turns out that Christian McCaffrey was actually the correct choice, as he went on to score more than 25 Half PPR points per game and finished as the overall RB1 on his way to a 1,000-1,000 season (1,000 rushing yards and 1,000 receiving yards). Including CMC, only four running backs selected in the first round finished the season as a top-12 commodity; Ezekiel Elliot (RB4), Saquon Barkley (RB11) and Alvin Kamara (RB12).
Before we really dig in deep on the rest of these first-rounders –and every other running back of the 2019 season– let's lay out the ADP of every RB taken in the first ten rounds of 2019.
ADP Busts
David Johnson
Let's start with the bad news. And the news doesn't get much worse than David Johnson's 2019. The biggest bust of the season, Johnson was drafted in the top-five fantasy running backs in August only to finish the season as the overall RB36. So, what happened? After a litany of lower leg injuries and back problems through the season, we were left with a version of DJ that we hadn't seen before. A slow, plodding version.
Running to the TV to watch the Pro Bowl like pic.twitter.com/Ne3hZkZyqm

— Justin Edwards (@Justin_Redwards) January 22, 2020
This left the running back room to turn their heads to Kenyan Drake, who made his opportunities count, to the tune of RB17 numbers in points per game even though he joined the team midway through the season. Drake leveraged his eight games into 100+ total yards a contest through groundwork and passing-game usage. In short, he slid seamlessly into the David Johnson role that won so many people leagues in 2016. That feels like a lifetime ago after watching DJ finish 67th out of 68 qualifying running backs (50+ carries) with a 6.4% Broken Tackle rate according to Sports Info Solutions.
Ultimately, nobody was left holding the bag quite like those of us who took Johnson as our first-rounder.
LeVeon Bell
Never to be out-done, LeVeon Bell saw his preseason buyers languish in mediocrity. Finishing as the overall RB18, Bell was inexplicably coming off the board as the RB7 despite holding out for the entire 2018 season, playing for a coach who said he didn't even want him on the team, and running behind a shaky offensive line. Fantasy owners cared not - they saw a possible bell cow in a league bereft of bell cows.
Drafters were instead gifted a low-end RB2 who set career lows in rushing yards (789), rushing touchdowns (3) and yards per carry (3.2). Maybe it was Adam Gase or maybe it was the year away from football, but the signs sure seemed to be pointing towards a potential bust at his 1.09 price point in August.
Derrius Guice
After being forced to sit out all of 2018 with a torn ACL, Derrius Guice made it through all of 23 snaps in 2019 before tearing a meniscus and being forced to the sideline until Week 11. If that weren't bad enough, he then lasted 72 more snaps before being shut down for the remainder of the season after Week 14. There's no telling how many of the 898 rushing yards Guice would have taken away from Adrian Peterson this season but we will certainly need to do some soul searching before we buy into Derrius Guice as a Dynasty or Redraft commodity with these consistent knee injuries.
We can assume that we will not have to pay RB34 numbers again next season, but if the outcome is RB68 is it worth having him on your roster at all?
ADP Overachievers
Aaron Jones
Drafted just outside of the top-12 at the position (RB13), Jones obliterated his already high ADP by outscoring everybody except Fantasy Football Machine™ Christian McCaffrey en route to 294.3 points. Even with teammate Jamaal Williams garnering 333 snaps out of the backfield, Jones was able to find the end zone 19 times (t-1st) behind an offensive line ranked fifth with 4.63 Adjusted Line Yards.
The lack of a true second option for Aaron Rodgers behind Davante Adams propelled Aaron Jones to 74 targets, well over double his previous career-high of 32. Jones was finally able to separate in usage from Williams and he showed exactly what he could do as a focal point of the offense.
Derrick Henry
Fantasy owners were rightfully skeptical about Derrick Henry going into draft season as 55% of his 2018 fantasy production came in the last four games of the year. While Henry was barely any more involved in the pass game (25 targets in '19 after 18 in '18), he proved that he could maintain efficiency over an entire season. Particularly after Ryan Tannehill took over for a mediocre Marcus Mariota. From Week 7 (when Tannehill took the reins) until the end of the season, Derrick Henry averaged a mind-boggling 5.92 yards per carry advancing towards the 2019 rushing title.
It was a disappointment to see Henry sit out most fantasy league's Week 16 Championship but the five previous weeks saw him accrue 727 total yards and seven touchdowns, so nobody feels sorry for the Henry owners out there.
Mark Ingram
The newest/oldest addition to the Baltimore offense out-kicked his ADP by nearly three rounds, after wrapping up draft season as the RB22 in the fourth round. Absorbing much more of the backfield touches than most imagined he would, Mark Ingram finished as the RB8 on the back of 15 touchdowns. It pays to be a running back on the number one scoring offense in the league, the number one rushing team in the league (by yards and volume) and sharing a backfield with Lamar Jackson who spent 16 weeks confusing every team he played.
Late-Round Overachievers
Austin Ekeler
Depending on when you got ahold of Austin Ekeler, you were either able to harness five rounds of value (at the worst) or upwards of eight rounds of value (at the best). You see, Ekeler began last spring with an ADP at the end of the ninth round, only to see a boost all the way up to the sixth round amidst talks of a Melvin Gordon holdout. Not only did Gordon only holdout for four weeks, it was plenty of time to give Ekeler a head start to scoring 3+ more fantasy points per game than his teammate before finishing as the overall RB6.
Where the former UDFA made a majority of his fantasy scratch was in the passing game, where Ekeler averaged nearly six catches a game while lining up in the slot or out wide on 150+ snaps.
Late-Round Busts
Dart throws are meant to be high-upside ceiling plays with low risk, so I'm not going to spend too much time on this, but there are a couple of players I think we were all hoping for a lot more than what they produced.
Darrell Henderson
This is 100% my biggest miss of the season, as I touted Darrell Henderson as a "must own" in both Redraft and Dynasty leagues. While I can still hold out hope for the latter, there is no question that 43 touches in seven game appearances is as big of a bust as possible.
Henderson's explosiveness, scheme fit and a perceived workload behind a quickly fading Todd Gurley were reasons to believe in upside in the ninth or 10th round. Behind a vastly regressing offensive line and a Rams team that couldn't afford to allot time to an unproven commodity, that upside never came close to fruition.
Kareem Hunt
I have to question the theory behind drafting a player in the 10th round just to keep him on your bench until Week 10, but here we are. Besides his eight-game suspension, Hunt was still being drafted with hopes that he would carve out a role with the team when he reached the field. He did exactly that but it translated into an RB33 finish in Half PPR points per game and he never scored more than 15 points in a game. The problem was Nick Chubb, who didn't cede first and second down snaps very often, leading to only 44 carries from Hunt through the eight games he played.
Kareem Hunt's production was probably exactly what owners had in mind but it cost them eight weeks of a bench spot and only delivered a low-end RB2/high-end RB3 in the end. Not to mention the 5.3 points he scored in Championship Week 16.
Rookies
First-year rock-toters didn't explode onto the scene quite the way they have in the past few seasons, but it doesn't mean there weren't any usable rookies in 2019. Josh Jacobs (RB19 ADP), led the charge on a team that lost Antonio Brown before they even had him. The Raiders ran the offense through Jacobs (and Darren Waller), helping him finish to a decent (albeit middling) RB14 finish in points per game.
The rest of the group doesn't exactly inspire visions of 2018 Saquon Barkley, 2017 Alvin Kamara or 2016 Ezekiel Elliot but there are a few more young bucks who cleared out a path for themselves once their respective teams moved the focal point of their offense from an old wily veteran. Devin Singletary (RB40 ADP) had a handful of very useful games in the second half of the season after the team parted with LeSean McCoy and lessened Frank Gore's workload. Mike Davis was waived from the Chicago Bears halfway through the season and opened the door for David Montgomery (RB21 ADP) to finish the season as a decent back-end RB2.
Finally (and most promising in my opinion), Miles Sanders (RB31 ADP) had double-digit touches from Week 9 - onward to wrap up the season as the overall RB15.
End of Year Standings
As the age of the workhorse running back fades further and further into our rearview mirror, the running back by committee becomes the rule rather than the exception. League-winning upside drops off greatly once we get past the top five or six players. When looking back at the top-36 running backs in fantasy scoring for 2019, it will be useful to try to pinpoint what "type" of player it took to become so useful on our teams.
Key Takeaways
As much as Derrick Henry's 2019 season flies into the face of what I'm about to say, I believe it still holds true for the vast majority of running backs; passing game involvement is vital for not only a consistent floor, but also for "ceiling" games as well. Henry was one of only two running backs (Marlon Mack) to rank in the top-20 in Half PPR scoring but catch less than 20 receptions (Henry - 18, Mack - 14). If we expand the group to the top-40, 35 of them were targeted at least 25 times. I realize that's an arbitrary cut-off but the point remains that nearly every single usable fantasy piece is somewhat involved in the passing game.
As 4for4's resident "Offensive Line Person", it would be remiss of me to not sneak a little nugget here in the end. As Bennie Contrino mentioned in an article last Summer, Adjusted Line Yards alone help to explain fantasy points all by itself. As a matter of fact, I also ran the numbers because I didn't realize somebody already had.
This past season had an even heavier correlation than in years past, as a whopping 21.7% of a team's total Half PPR points can be explained by that team's Adjusted Line Yards. Offensive lines are clearly not everything while we compare players, but it sure seems like they can (and should) be used as a tiebreaker between running backs.