DraftKings Week 1 Slate Breakdown with Cash and GPP Picks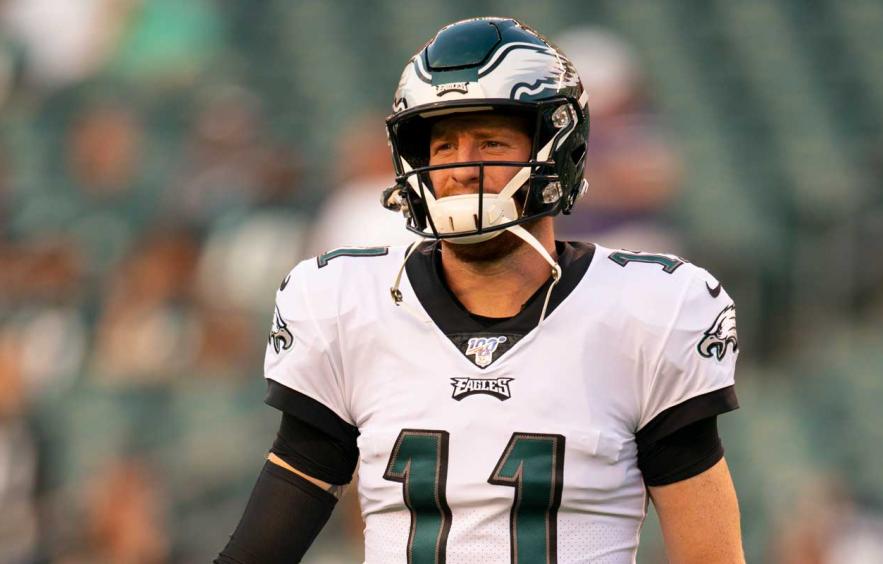 Mitchell Leff/Getty Images
This is a free sample of premium weekly content contained in the 4for4 DFS subscription. Not a subscriber? Sign up now!
Below you'll find my Week 1 DraftKings cash game and tournament strategies. By offering a general approach to the week, along with a player pool to consider, you should walk away feeling well-equipped no matter your bankroll strategy or game selection process.
Main Slate Cash Game Strategy
Quarterback
Carson Wentz ($5,700) stands out as an inexpensive way to get a piece of the Eagles 27.5 point total. Any time I believe an offense is going to have success, but can't pinpoint the skill position beneficiary of that success, I like targeting the quarterback. The Eagles added field stretcher DeSean Jackson and rookie running back Miles Sanders to an already prolific offense. Last year, the Eagles ranked top 10 in passing plays called and I don't expect that to change in 2019. Additionally, the Eagles also ranked top 10 in plays run in 2018. The Eagles have a plethora of weapons at all depths of the field that can make plays after the catch. For his price, Wentz is my best bet at smashing cash value.
I forgot that you existed, Jacoby Brissett ($4,400), but it's tough to ignore that fact he is being thrust into the starting role at his near minimum price. He struggled as a starter two years ago, but he now has an improved offensive line, new offensive coordinator, and has been working as the starter during camp. Two years ago he was signed a few days before his first snap, which made the transition much more difficult. I don't necessarily think we need Brissett this week, and he has a less than ideal matchup on the road at the Chargers, but he is viable if you're trying to jam multiple studs into cash.
Running Back
Enough value exists at other positions that we can pay all the way up for studs at the running back position, which is good because that's the strategy that's been most successful for me. Both Saquon Barkley ($9,000) and Christian McCaffrey ($8,800) rank top six in our 4for4 value metric. When playing cash games we want to maximize touches and opportunity. No one on the slate has more opportunity than these two do-it-all backs. Both backs face less-than-ideal matchups in the Cowboys and Rams. It's definitely possible to jam both of these studs in, however, I am leaning toward McCaffrey if you're using just one. It's entirely possible that the Giants' offense gets shut down against the Cowboys on the road. Even if that's the case, Barkley can hit value through the passing game. The Rams and Panthers have a 50-point total, which bodes well for McCaffrey's scoring chances.
Week 1 definitely presents a conundrum because there are better matchups in the mid-tier at running back. Dalvin Cook ($6,000) displayed his slate-breaking explosiveness in the preseason with a blazing 66-yard touchdown run. He gets the fifth-worst aFPA defense on the slate at home. Gary Kubiak wants to establish the run in Minnesota and the Falcons are the perfect matchup for Cook to get off on the right foot. Latavius Murray won't be stealing goal line touches from Cook this season, so he has the lethal combination of target market share, carry market share, and touchdown equity. Nick Chubb ($6,400) checks in as the top value on the entire slate according to 4for4's value metric. Despite facing a fairly stout Titans' run defense, at least from what we can project, the Browns boast a 25.5-point team total and are five-point favorites. Chubb has zero competition for touches as Kareem Hunt can't get on the field until mid-season and Duke Johnson has been shipped to Houston. D'Ernest Johnson and Dontrell Hilliard are promising prospects, but I can't imagine they see a substantial workload in Week 1. Chubb could potentially push for 25 combined rushes and targets.
With Ezekiel Elliott signing, that negates the Tony Pollard free square. Austin Ekeler ($5,500) would probably be the lowest I'd venture for cash games, but I still like Cook and Chubb a bit more. If you have the salary to get up to either or both of those two, they are preferable to Ekeler for me. Ekeler should come in pretty chalky, so he could be detrimental to our bottom line if we don't play him in cash.
Wide Receiver
Due to the fact we are spending up at running back, I'll start the wide receiver recommendations with the top value plays. Curtis Samuel ($4,200) hype started in the off-season with redraft and continued through camp. Beat writers continually mentioned how fast and dominant his camp had been. Many even speculated he's the number one in Carolina, not D.J. Moore. Nonetheless, he is egregiously mispriced. The Panthers involve Samuel in a multitude of ways, throwing him smoke screens, crossing routes, deep balls, and even reverses and jet sweeps. He will be heavily involved in the gameplan, which makes his Week 1 price a screaming value. Our value metric currently ranks him as the second-best on this slate.
Of the same ilk is Dede Westbrook ($4,800). He has all the buzz coming out of camp and it showed when Foles and Westbrook were on the field together in the preseason. Against a Chiefs team that should put points on the board, Westbrook may benefit from a negative game script, racking short receptions. Marvin Jones ($4,800) checks in as our top value at wide receiver. His price on DraftKings is a bit perplexing. He's priced $1,500 less than teammate Kenny Golladay, but the target share disparity should not be that drastic, if not in Jones' favor. The Cardinals secondary with Byron Murphy and Trumaine Brock is very exploitable. The frenetic pace by the Cardinals' offense could force the Lions to play quicker than normal as well.
In the mid-tier, Sterling Shepard ($5,000) and Tyler Boyd ($5,800) both benefit from being priced as WR2s when they'll most likely be the top target getters on their respective teams. When salaries were released, Golden Tate and A.J. Green both figured into the mix, but won't be on the field. Both receivers will receive low depth of target passes as underdogs, which is the kind of situation we like to target for pass-catchers. Tyler Lockett ($6,000) is not the prototypical cash game receiver, but he should see enough of a volume bump to change that in 2019. In a home matchup and a 27-point implied team total, Keenan Allen ($7,300) makes the most sense to me in the high-priced range for cash games. The Chargers will rely on Philip Rivers and the passing game a bit more than they would if Melvin Gordon were playing. Allen gets a nice mix of short, intermediate, and deep targets as well. The Colts rank 2nd worst in defending the receiver position according to 4for4 aFPA to start the season.
Tight End
Hunter Henry ($3,900) is the odds-on favorite to be my cash game tight end. DraftKings way undershot his salary relative to the opportunity he should have in Week 1. The 4for4 value metric ranks him second with a current point projection of 12.6. The matchup with the Colts at home provides a beatable spot. In limited action in two preseason games, Henry looked like his old self, cutting in and out of routes. I think we can take advantage of him being sidelined for the vast majority of 2018.
Evan Engram ($4,800) needs to be considered as well. He's the kind of tight end that thrives on volume, and we know that Eli Manning likes to check the ball down often. Engram provides a high floor for a reasonable price with his ability to rack up receptions. I wouldn't talk anyone off of the big three Travis Kelce, Zach Ertz, or George Kittle. Paying up for tight end paid dividends in cash last year, but I'm confident Henry and Engram can provide a better point-per-dollar value so we can pay up at running back and upgrade across the board.
Defense and Special Teams
I normally don't advocate for spending up at defense, but there are always value plays across the board due to the early salary release. If you find yourself with a solid cash lineup and money to spend at D/ST, both the Ravens ($3,800) at the Dolphins and the Eagles ($3,600) hosting the Redskins are in good spots. The Ravens get to face a turnover-prone Ryan Fitzpatrick and a ravaged offensive line. The Redskins are in a similar boat with Trent Williams not with the team currently. The Eagles should be able to get lots of pressure on Case Keenum to create sacks and turnovers.
If you're spending down at two teams facing each other come in as the top values in our lineup generator metric. The Buccaneers ($2,200) and 49ers ($2,200) should be involved in a high-scoring pass-oriented game in Tampa. It's common knowledge that drop backs are key to defensive success relative to daily fantasy. The more a quarterback drops back, the greater the opportunity for sacks, fumbles, and interceptions. When a team is run-centric, many of those opportunities don't exist. Despite the fact this game has one of the higher totals on the slate, we're more concerned about all the turnover and sack opportunities.
Cash Viable Options
---
Main Slate GPP Strategy
The following are players who I will likely be overweight on compared to the field—not my entire player pool. It's wise to have some exposure to players in what are expected to be the highest-scoring games, but they will only be mentioned here if I like them more than the public. When you do roll out highly-owned passing games consider some of these options as differentiators:
Onslaught - Instead of stacking a popular quarterback with one of his pass-catchers, add a second pass-catcher, and maybe even the team running back to the mix.
Game Stack - In addition to your two- or three-man stack, add a player—usually the primary pass-catcher—from the opposing team. This is obvious in shootouts but is often ignored (erroneously) in games expected to be lopsided.
An off-the-board play - Rostering a pass-catcher that's being ignored in a popular passing offense can be an effective strategy for getting exposure to a chalky team while remaining unique.
For guidance on how to formulate exposures in your personal tournament portfolio, use 4for4's ownership projections and this guide to leverage scores. All players mentioned as cash game options are worthy of consideration as core GPP plays.
Other GPP Tools: Leverage Scores | Stack Value Reports | Ceiling Projections
---
Running Backs to Target
Leonard Fournette ($6,100) vs. Chiefs - Fournette falls into the out of sight, out of mind category at the moment. He wasn't healthy last year and disappointed re-draft owners immensely. He didn't have any buzz during the preseason, either. The Jaguars have a sneaky 25-point implied total in Vegas and face a Chiefs defense that ranks second to last against the run coming into the year. Fournette has pass-catching upside in this offense as well. He checks in as our top running back value, but I don't believe he'll be that high owned across DraftKings as Nick Chubb, Dalvin Cook, and Austin Ekeler have more buzz surrounding them at similar price points. The Jaguars may try to establish the run to take the ball out of Mahomes' hands, which means added carries for Fournette. I don't see any of the Jaguars' reserve running backs carving out a big role just yet, either. Fournette should be in for a large workload.
Chris Carson ($5,700) vs. Bengals - Carson checks the game script box narrative at home against the Bengals. The Seahawks are 10-point favorites with a 27-point implied team total. The Seahawks defense should have their way with a struggling Bengals' offensive line, which should, in turn, create opportunity for Carson if they can assume a big lead going into the second half. Like Fournette, Carson should be overshadowed by Chubb, Cook, and Ekeler. I don't like to stray off the beaten path at running back, historical data shows you don't have to get too weird with your ball-carriers in tournaments. But Carson is in a great spot and he's going to be the featured back to begin the season. Helping his cause even further is the struggles of the running backs behind him. Rashad Penny didn't have a great preseason and was often played into the second half of most games, meaning the Seahawks didn't see him as an integral part of their Week 1 gameplan.
Le'Veon Bell ($7,100) vs. Bills - The Bills were a run-funnel defense last year, meaning teams attacked them on the ground and not through the air, or at least that's were teams had success against their defense. Bell is coming off a holdout season and there is some hype around how much Ty Montgomery will eat into his workload. There are a lot of questions surrounding Bell to start the season, but I think we should strike while the irons...not hot? Many will take a wait and see approach with Bell, but this may be the cheapest he is all season. I wouldn't be surprised if the Jets ease him into his role as lead back in Week 1, but I also wouldn't be surprised if he gets the majority of the carries and scores multiple touchdowns.
Passing Games to Target
Buccaneers vs. 49ers - This game could get chalky so you may have to be a bit unique with how you are stacking it or get unique around the stack with some of the under-the-radar running backs above. I feel as though I'd be remiss if I didn't mention the Buccaneers, though. Bruce Arians offense is very passing game friendly. Jameis Winston ($6,600) could throw the ball 40+ times in this game and although we'd rather efficiency over volume at the quarterback position, I'd bet he's pretty efficient against the 49ers as well. Rotating three man stacks of Winston, Mike Evans ($7,900), Chris Godwin ($6,200), and/or O.J. Howard ($5,000) provides a ton of upside. The good aspect of this stack is the offense should be very concentrated on those three pass-catchers, so including a rotation of two of them in your Buccaneers stacks will be fairly simple to incorporate.
Bills at Jets - In 2018, we attacked the Jets' defense through the air. They ended the season as one of the worst defenses in terms of allowing fantasy points to the quarterback and pass-catcher positions. Josh Allen ($5,600) sits in the same range as Carson Wentz and Kyler Murray, two signal-callers that have gotten much more hype in Week 1. Allen possesses the ability to beat the Jets on the ground and through the air. He's the kind of quarterback that has a massive range of outcomes, which is what we want in tournament lineups. He ran for 100 yards against the Jets in Week 14 last year and also scored 41, 34, 26, and 24 fantasy points in four of his final six games last year. He has a new deep threat in John Brown ($4,300) who also sits in a popular range for his position, right around Curtis Samuel and Dede Westbrook. I can't see much ownership on the Bills passing game, despite their ceiling being tournament winning caliber.
Jaguars vs. Chiefs - Despite the fact Dede Westbrook ($4,800) should be popular, as I highlighted in my Top Contrarian Stacks article, a Nick Foles ($5,500), Fournette and Westbrook stack should be cumulatively low owned and they face an offense in the Chiefs that keep the Jaguars attacking throughout the game. All three players are value plays at their respective positions and allow for studs to be fit in around them.
Other Pass Catchers to Target
Defenses to Target
Seahawks ($3,100) vs. Bengals - The Seahawks defense at home against a struggling Bengals' offensive line without their top receiver seems like a spot we can target. Being that Chris Carson is one of our top running back targets for GPP's it makes sense that we pair up the two for a correlation play in hopes the Seahawks defense gets some turnovers and touchdowns, giving way to a Carson-heavy second half.
Jets ($3,100) vs Bills - Admittedly this is a bit of a hedge as I recommended the Bills passing attack. Due to the fact Josh Allen has such a wide range of outcomes, he could put up 40 fantasy points or turn the ball over four times in a blowout. So obviously we aren't using the Jets defense in Bills passing game stacks, but lineups in which you don't have Josh Allen and John Brown, you can definitely stack up Le'Veon Bell and the Jets defense in hopes Allen's turnover issues show up.
Overweight GPP Plays
---
Full Slate Notes