2018 Fantasy Free Agency Tracker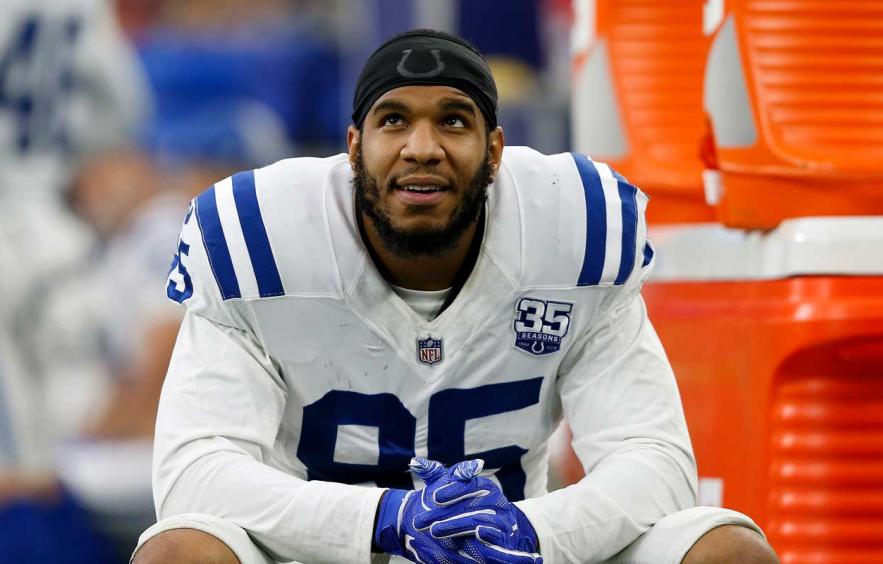 Free agency begins Wednesday, March 14 at 4 p.m. ET, though teams can start negotiating with pending free agents on Monday March 12. Be sure to check this page throughout the week for a summary of all of the big news along with my take on how each signing will impact your fantasy team.
Before we get into the news, here's a quick refresher on the NFL's (oftentimes convoluted) free agency rules.
- An unrestricted free agent (UFA) can sign with whomever he wants with no compensation going to his old team.
- A restricted free agent (RFA) has three years of service in the NFL and an expired contract. He's free to negotiate with other teams, but once he signs an offer sheet, his old team has seven days to match the deal and retain the player. If his old team declines to match, his new team may have to send a draft pick as compensation, depending on what type of RFA tender the old team offered the player.
- A team can apply a franchise tag on a player in order to guarantee that the team retains the player's rights for another season in the hopes that the two sides can work out a long-term deal. The price is steep -- it's a formula based on a certain percentage of the salary cap and the salaries of the top five players at the position.
Note: Of the so-called "skill position" players, only Jarvis Landry (Dolphins, later traded to the Browns) and LeVeon Bell (Steelers) were tagged this year. The Steelers hope to lock Bell up long term, but he was also tagged last year.
- Under the franchise tag, a player can be labeled an exclusive or non-exclusive franchise player. Exclusive franchise players cannot negotiate with other teams. Like restricted free agents, a non-exclusive franchise player can sign an offer sheet from another team. If his old team declines to match, they'll receive two first round picks as compensation.
- If a team doesn't apply a franchise tag, it can elect to apply a transition tag instead. The tender is cheaper because it uses the top 10 salaries at the position, but if another team negotiates a deal and his old team elects not to match, they won't get any draft picks as compensation. In previous years, teams could use both the franchise and transition tags, but under the new CBA, a team can use one or the other, but not both. The transition tag is rarely used in the NFL.
As the week progresses, be sure to check 4for4's Fantasy News feed to stay on top of all the major signings.
I'll continue to update this page through late April and I hope to jump on Facebook Live or Periscope to provide real-time reaction to the biggest moves.
Also, check out the Offseason Player Movement page to stay on top of everything.
Saints sign Cameron Meredith to an offer sheet (4/6)
I was pretty high on Meredith before the ACL injury last summer, but he was coming off of a 66-catch, 888-yard season and was likely going to serve as the Bears' No. 1 receiver. Meredith to the Saints would be interesting, but he'd be at best the third option in the passing game behind Michael Thomas (149 targets) and Alvin Kamara (100). With Ted Ginn getting 70 last year, Willie Snead and Brandon Coleman only combined for 53 targets. There is not much pie left for Meredith in New Orleans. The Bears have five days to match the offer sheet.
Patriots sign WR Jordan Matthews to a one-year deal (4/5)
The Patriots let Danny Amendola walk and traded away Brandin Cooks, so they're hoping Matthews is healthy enough to shore up the position. He'll compete for snaps at WR3 behind Julan Edelman and Chris Hogan.
Saints sign TE Ben Watson (3/28)
Watson had his best statistical season as a 34-year-old Saint in 2015, catching 74 passes for 825 yards and six touchdowns. Now 37, Watson rejoins his old team and should offer sneaky value as long as he can stay healthy.
Cowboys sign WR Allen Hurns (3/23)
Still only 26, Hurns has a 1,000-yard season to his credit (64-1031-10 in 2015) but has struggled to stay healthy in the last two seasons and failing to crack 500 yards in either campaign. He has a lot of experience playing in the slot, and is therefore a threat to Cole Beasley's snaps. He could also play outside and push Terrance Williams for playing time.
Jets sign WR Terrelle Pryor (3/22)
Pryor followed up a 77-1007-4 season in 2016 with a very disappointing 20-240-1 in his first and only year in Washington. Robby Anderson is dealing with some off-field issues, so Pryor has some upside of Anderson's offseason continues to go sideways.
Eagles sign WR Mike Wallace (3/22)
Wallace is an upgrade from Torrey Smith, who was traded to Carolina. He finished with 52 catches for 748 yards and four touchdowns after posting 1,017 receiving yards the year before. He'll likely be the fourth option in the passing game after Alshon Jeffery, Zach Ertz and Nelson Agholor.
Dolphins sign RB Frank Gore (3/22)
Gore was born in Miami and played his college ball there, so this is a homecoming for the 35-year-old back. He'll shore up the depth chart behind likely starter Kenyan Drake. Outperforming his ADP for the last several years, Gore is now an uninspiring handcuff at this point in his career.
Seahawks re-sign RB Mike Davis (3/22)
Davis carried the ball 10+ times in four games last season, compiling 203 yards on 56 carries (3.63 YPC). He also caught 11 passes for 70 yards in those four games. Seattle is currently looking at a backfield consisting of Davis, Chris Carson, C.J. Prosise and J.D. McKissic.
Colts to sign Ryan Grant to a one-year deal (3/20)
Grant failed his physical with the Ravens, so he had to find a team willing to take a chance on his ankle. He was finally cleared by Dr. Robert Anderson so the Colts are on board with a one-year deal.
Colts sign TE Eric Ebron to a two-year deal (3/19)
It's not a great landing spot for Ebron due to the presence of Jack Doyle, who caught 80 passes for 690 yards and four touchdowns last season, and figures to lead the Colts' tight ends in receiving again in 2018. Ebron has great speed for the position but he has struggled to hold onto the ball in key situations, which is why the Lions let their former first round pick walk in free agency. The signing is also not great news for Doyle, who was looking like a great value heading into a 2018 season that should feature Andrew Luck under center.
Giants sign WR Cody Latimer (3/19)
Latimer is a former second round pick, so there was enough talent coming out of college to have more than a few scouts salivating at his potential. He was never able to put it together in Denver, but maybe a change of scenery will help.
Panthers sign WR Jarius Wright (3/19)
The 28-year-old receiver is probably best suited for the slot, but didn't play much in that role in the last two seasons. His best athletic comparable at Player Profiler is Golden Tate, and he was pretty productive in a three-year stretch from 2013-2015 where he caught 102 passes for 1464 yards and five touchdowns. Like Latimer, the change of scenery might do him good.
Lions sign RB LeGarrette Blount (3/16)
Blount joins Ameer Abdullah and Theo Riddick in the Detroit backfield. His arrival threatens Abdullah's workload, while Riddick's passing game role should be safe.
Ravens sign WR Michael Crabtree to a three-year deal (3/16)
Crabtree was cut after the Raiders signed Jordy Nelson. He only managed 58-618-8 last year, but at that rate he would have finished No. 21 in PPR formats had he played 16 games. He actually missed two games and finished No. 31. Generally free agent receivers disappoint fantasy-wise unless they see a promotion in targets or an upgrade at quarterback. Crabtree won't see a quarterback upgrade but he may see a jump in targets since they lost both Jeremy Maclin and Mike Wallace from last year's team. I'm expecting a WR1-type role with 8-9 targets per game, so if he's going in the sixth or seventh round, he'll once again be a good value in PPR leagues.
Rams re-sign WR Tavon Austin (3/15)
Since the Rams lost Sammy Watkins, they decided to retain Austin at a big discount and let him compete for playing time with Josh Reynolds.
Jaguars sign TE Austin Seferian-Jenkins (3/15)
Seferian-Jenkins is one of the most athletic tight ends in the league. He has 4.73 speed and stands 6'6" so he's a force in the seam and in the red zone. He hasn't had the benefit of very good quarterback play in his career and it appears that that trend will continue as he joins Blake Bortles in Jacksonville. He should be ranked as a high-end TE2 given his upside.
Bengals re-sign TE Tyler Eifert (3/15)
Very productive when healthy, the Bengals were willing to give Eifert a one-year deal to see if he's over his back issues. If he has a good, healthy offseason, he'll likely go among the top 10 tight ends on draft day. In 22 games over the last three years with Andy Dalton, Eifert has averaged 3.7 catches for 46 yards and 0.77 touchdowns per game. If he were able to keep up that pace for a full 16-game season, he'd be a top three tight end.
Raiders have agreed to terms with RB Doug Martin (3/15)
It's a one-year "prove it" deal, so Martin will be motiviated. Seemingly destined to rush for more than 1,400 yards or fewer than 500, Martin has had a consistently inconsistent fantasy career. He could produce for the Raiders if Marshawn Lynch is out of the way, but Lynch is currently still on the roster.
Raiders expected to sign WR Jordy Nelson (3/15)
Nelson is past his prime, but is still a savvy route runner and is capable of beating his man deep from time to time. He's great in the red zone and has terrific hands, and would likely replace Michael Crabtree, whom the team wants to cut. If Nelson signs in Oakland, he should settle in as a high-end WR3 for fantasy purposes. He's likely going to see a reduction in targets and will be experiencing a downgrade at the quarterback position.
WR Bruce Ellington re-signs with the Texans (3/14)
Ellington will likely stay in the slot after posting a career-high 29 catches for 330 yards last season.
Bills sign QB A.J. McCarron to a two-year deal (3/14)
The former fifth rounder has seen his stock rise since entering the league and some people believe that he deserves a shot as a starter. He has completed 64.7% of his passes for six touchdowns and two interceptions, and has a decent career 6.92 YPA. The Bills are unlikely to hand the keys over to McCarron. They're still likely to draft a passer early and hopefully find their franchise quarterback in 2018.
Vikings set to trade for Trevor Siemian (3/14)
Siemian's time as a starter is over for now. He'll back up Kirk Cousins in Minnesota.
Patriots expected to re-sign Rex Burkhead to a three-year deal (3/14)
It's "heavy on guaranteed money" per Ian Rapoport, so the Patriots must have liked what they saw in Burkhead when he was on a one-year deal in 2017. Burkhead turned 64 carries and 30 receptions into 518 total yards and eight touchdowns in just 10 games. Dion Lewis signed with the Titans, so there are 212 touches up for grabs. Mike Gillislee figures to get another chance to take over a sizable role in the backfield, but Burkhead should be in line for a promotion as well. From Week 10 to Week 14, Burkhead averaged 12.4 touches (including 3.4 receptions) for 62 yards and 1.2 touchdowns per game. Those are top seven numbers in PPR formats. That touchdown rate probably isn't sustainable (even in the Patriots' potent offense), so if we reduce it by 50%, he's still averaged top 12 RB numbers in PPR leagues in that span. New England running backs are always dicey, but Burkhead holds a ton of potential as a middle round pick. This is a backfield to monitor closely this summer.
Redskins to re-sign WR Brian Quick (3/14)
Quick caught six passes for 76 yards in 2017. He'll serve as depth behind Jamison Crowder, Paul Richardson and Josh Doctson.
49ers to sign RB Jerick McKinnon (3/14)
Adam Schefter is reporting that the deal is worth $30 million over four years, so clearly Kyle Shanahan and the 49ers preferred McKinnon to Carlos Hyde, who signed with the Browns for much less. McKinnon is a ridiculous athlete whose best comparable at Player Profiler is LaDainian Tomlinson. In his first two seasons he averaged 4.90 yards per carry, but that average has dipped to 3.59 yards per carry over the last two seasons. The good news: he graded well at Pro Football Focus in 2017 and as Shanahan's hand-picked running back, he'll get every chance to succeed as the 49ers primary runner. This signing is in the vein of Michael Turner (to the Falcons), LaMont Jordan (to the Raiders), Chester Taylor (to the Vikings), or Darren Sproles (to the Saints) -- quality backups who finally got their chance for a big role with a new team. McKinnon suddenly looks like a low-end RB1, especially in PPR formats.
Browns expected to sign RB Carlos Hyde (3/14)
The deal is reportedly worth $15 million over three years. With Duke Johnson under contract for one more season and the rumors that the team may draft Saquon Barkley, this signing is fairly surprising. Hyde isn't particularly athletic, but he's a dual threat who racked up 299 touches (including 59 catches) for 1288 total yards and eight touchdowns in 2017. He's unlikely to see a bellcow role with Johnson in line for 60+ catches, so Isaiah Crowell's 2017 workload (234 touches) is probably a best-case scenario for Hyde without an injury to Johnson. If the Browns do draft Barkley, Hyde's value will tank.
Titans expected to sign RB Dion Lewis (3/13)
Lewis had a comeback season for the Patriots. He started the year as the team's RB4, but as the year wound down, he turned into the team's primary back. In 14 career games with at least 10 carries, Lewis has averaged 88 total yards and 0.57 touchdowns on 17.5 touches per game. His arrival in Tennessee complicates things for Derrick Henry, whose stock was on the rise after the Titans released DeMarco Murray. This is shaping up to be a committee. Lewis is more versatile, but Henry is talented enough to demand carries on early downs. Unfortunately, the stock of each player takes a hit with this signing.
Cardinals to sign QB Mike Glennon (3/13)
The Glennon Experiment in Chicago was a failure, so Glennon heads to the desert to serve as Sam Bradford's backup. Given Bradford's injury history, I would not be at all surprised to see Glennon draw a few starts in 2018.
Jets expected to sign QB Teddy Bridgewater (3/13)
On the heels of signing Josh McCown to a one-year deal, the Jets have added an upside quarterback in Bridgewater on another one-year deal. They may also add a passer in the draft.
Ravens expected to sign WR John Brown (3/13)
In his first two seasons, Brown racked up 113 catches for 1,699 yards and 12 touchdowns, but has only 60 catches for 815 yards and five scores in his last two, missing six 2017 games due to complications surrounding his sickle-cell trait. If he can stay healthy, his elite speed will be a good match with Joe Flacco's arm.
RB Isaiah Crowell expected to sign a three-year deal with the Jets (3/13)
WIth Matt Forte's retirement, Crowell will join Bilal Powell and Elijah McGuire in the Jets' backfield. He's entering his age 25 season and has gained 2,309 total yards and 9 touchdowns on 472 touches over the last two years. Powell is good enough to limit Crowell's upside so it's unlikely that he sees a large enough workload to become an every-week starter.
Giants expected to sign RB Jonathan Stewart (3/13)
It's unlikely that the Giants are signing Stewart to start, though the 30 year-old could do so in a pinch.
WR Donte Moncrief intends to sign with the Jaguars (3/13)
A day after letting Allen Robinson walk, the Jaguars have re-signed Marqise Lee and signed Moncrief away from their division rivals. Along with Dede Westbrook, Keelan Cole and Allen Hurns, Lee and Moncrief will help form a deep receiving corps without a clearcut No. 1 option.
Jets re-sign Josh McCown (3/13)
After missing out on Kirk Cousins, the Jets had to shore up the quarterback position and McCown played well last year. Through the first 13 weeks of the season, he played at a 3851-yard, 24-touchdown pace. He also added 0.42 touchdowns per game in the running game.
Bears to sign WR Taylor Gabriel (3/13)
New HC Matt Nagy may try to use the speedy Gabriel in a Tyreek Hill-type role, but that's asking a lot. He'll compete for targets behind Allen Robinson and perhaps Cameron Meredith.
Packers release WR Jordy Nelson (3/13)
It was expected that Nelson would be asked to take a pay cut, but an out-and-out release is surprising. At this point, Nelson's fantasy value depends heavily on his mindmeld with Aaron Rodgers, so no matter where he goes, his stock will take a hit. The best case scenario is that he tests the market and realized that he should re-sign with Green Bay. Davante Adams and Randall Cobb both get a bump if Nelson does indeed leave, but Green Bay is likely to address the receiver position one way or another.
TE Jimmy Graham expected to sign a three-year deal with the Packers (3/13)
Entering his age 32 season, Graham has lost a step, as evidenced by last year's 9.1 yards per catch, a career low. Still, he's just two years removed from a 65-923-6 season (14.2 yards per catch) and he still managed to catch 10 touchdowns last year, so he should be a potent red zone threat for Aaron Rodgers. I'm expecting another top 10 finish for Graham.
WR Marqise Lee staying in Jacksonville (3/13)
Per Adam Schefter, the deal is worth $38 million over four years. In 29 games over the last two seasons, Lee has averaged 4.1 receptions for 54 yards and 0.21 touchdowns, which is a 66-857-3 pace. Those are WR3-type numbers in PPR formats. In the 22 games where he saw at least five targets, he averaged 5.1 receptions for 65 yards and 0.27 touchdowns, an 81-1040-4 pace. That would have been good enough for a No. 16 finish in 2017. He'll have to compete with Dede Westbrook and Keelan Cole for snaps, but with Allen Robinson out of the way, Lee should see a consistent role as the Jaguars' WR1 or WR1a.
WR Danny Amendola set to sign with the Dolphins (3/13)
Miami has been busy at receiver this offseason, trading away Jarvis Landry and agreeing to terms with both Albert Wilson and Amendola. Amendola likely replaces Landry in the slot. He's entering his age 33 seasons so it's tough to get too excited about him, even in PPR formats.
Schefter: QB Sam Bradford expected to sign with the Cardinals (3/13)
Afraid that the music will stop and they'll be left without a quarterback, the Cardinals have settled on Bradford but will likely use him as a bridge as they draft and develop a younger passer. Bradford should be capable of delivering the ball to Larry Fitzgerald, so his stock is largely unchanged.
WR Paul Richardson expected to sign with the Redskins (3/13)
The deal is expected to be worth $40 million over five years. Terrelle Pryor is a free agent, so Richardson will compete with Jamison Crowder, Josh Doctson and Jordan Reed for targets from new QB Alex Smith. Richardson is a 25-year-old with 4.40 speed. In the 12 games over the last two seasons where Richardson has garnered at least five targets, he has averaged 3.5 receptions (on 6.5 targets) for 48 yards and 0.5 touchdowns per game. Given his big-play ability, he's a decent late-round flier in fantasy drafts.
Schefter: QB Kirk Cousins plans to sign a fully-guaranteed three-year deal (worth $86 million) with the Vikings (3/13)
It's not official until Wednesday, but Ian Rapoport added that the Vikings "believe they've got him." Fantasy-wise, Cousins has back-to-back top five finishes and three straight finishes in the top 10. On paper, this is a match made in heaven. The Vikings have two very good receivers in Stefon Diggs and Adam Thielen, and a very capable tight end in Kyle Rudolph. They are also Super Bowl-ready after falling in the NFC Championship with Case Keenum at quarterback. Cousins should definitely be going inside the top 10 on draft day. This is good news for all of the Minnesota skill position players.
Schefter: TE Trey Burton to sign with the Bears (3/13)
The deal is reportedly worth $32 million over four years, so it's a huge contract for the former backup. He's definitely on the small side for a tight end, but in the four games that Zach Ertz missed over the last two years, Burton averaged 3.5 catches for 45 yards and 1.0 touchdowns on 5.8 targets per game. Along with Allen Robinson, the Bears are adding pass-catchers for Mitch Trubisky. New HC Matt Nagy has experience working with move tight ends given his time in Kansas City with Travis Kelce.
Saints sign QB Drew Brees to a two-year deal (3/13)
There was some trepidation about Brees' rumored contact with other suitors, specifically the Vikings, but at the end of the day it appears that he's headed back to New Orleans. Brees finished as the No. 9 quarterback in 2017 and has finished in the top 10 in 14 straight seasons. The Saints turned into more of a run-oriented team last season, so Brees is no shoo-in for the top five like he used to be.
Rapaport: Albert Wilson expected to sign with the Dolphins (3/13)
Wilson's contract is apparently worth $24 million over three seasons. Wilson was signed to shore up the receiving corps after the Jarvis Landry trade. Landry left 161 targets in his wake, so there is plenty of opportunity for usage in the Miami passing game. It's unlikely that WIlson becomes a fantasy starter, but stranger things have happened.
Rapaport: Sammy Watkins is expected to sign with the Chiefs (3/13)
The deal is reportedly for $48 million over three years. This looks like a better real-life fit than fantasy landing spot for Watkins who will have to compete with Tyreek Hill, Travis Kelce and Kareem Hunt for touches in a dynamic offense. Watkins finished as the No. 40 receiver last year and probably shouldn't go any higher than that in 2018 fantasy drafts. The signing is great news for Patrick Mahomes, who will have a plethora of weapons at his disposal. In Los Angeles, Josh Reynolds probably gets the biggest bump in playing time and targets, though the Rams could still bring in a receiver or two to fill Watkins' shoes.
Schefter: 'Barring any last-minute snags,' Allen Robinson intends to sign with the Bears
The Chicago receiving corps was abysmal last year, due in no small part to a season-ending injury to Cameron Meredith. If Robinson does indeed sign with the Bears, he'll provide Mitch Trubisky with a legit No. 1 option in the passing game. In 2015, Robinson made the Pro Bowl after racking up 80 catches for 1400 yards and 14 touchdowns. A year later, he regressed to 73 catches for 883 yards and 6 scores. Coming off of a torn ACL, he's been going 25th off the board at his position in the late 5th round, and his ADP might rise a half-round now that he's landed in a spot where he should soak up a ton of targets.
Schefter: Case Keenum intends to sign with the Broncos (3/12)
The Broncos are theoretically in on The Kirk Cousins Sweepstakes and could still end up signing Cousins, but it sounds like Keenum is ready to sign with Denver once the free agency period officially opens on Wednesday. They will probably use Keenum as a bridge while also drafting a quarterback early. Keenum played well last year, throwing for 3,547 yards and 22 touchdowns while tossing just 7 interceptions. He's capable of posting similar numbers in Denver, though he could regress to his career level of play. If he signs, it's decent-to-good news for Demaryius Thomas and Emmanuel Sanders.
Buccaneers extend TE Cameron Brate for $41 million over six years (3/12)
Brate was a restricted free agent. This is a giant contract for Brate, especially considering Tampa's decision to draft O.J. Howard with the 19th pick in the first round last summer. Brate has averaged 44 yards receiving and 0.50 touchdowns in his last 28 games with Jameis Winston under center. From a dynasty standpoint, this is bad news for Howard.
Browns trade for WR Jarvis Landry, QB Tyrod Taylor (3/9)
Likely out of the Kirk Cousins sweepstakes, the Browns have elected to trade for a solid starter in Taylor and will likely pick a quarterback early in the 2018 NFL Draft. Taylor's presence will allow the Browns to be patient with their young quarterback, whoever it is. The Landry trade hurts his fantasy stock since his role was well defined in Miami, though he should still be a fantasy starter, especially in PPR formats. The Browns now have a receiving corps of Landry, Josh Gordon and Corey Coleman to go along with athletic tight end David Njoku, so if he's starting Taylor will have plenty of weapons to throw to. In Miami, Landry's departure opens up 161 targets, so depending on what the Dolphins do in free agency and the Draft, DeVante Parker and Kenny Stills could see a big uptick in usage.
Panthers acquire WR Torrey Smith via trade (3/9)
Smith isn't a fantasy factor right now, but it's not inconceivable that he could have a Ted Ginn-type year in Carolina.
Titans to release RB DeMarco Murray (3/8)
This move was expected. Derrick Henry should be locked into a two-down role, at least. He could play on third downs as well, but the Titans may bring in a passing game specialist to complement Henry. In the one game that Murray missed in 2017 (Week 17), Henry rushed the ball 28 times for 51 yards while catching one pass for a 66-yard touchdown.
Bills have agreed to terms with RB Chris Ivory (3/6)
Since Ivory was released recently, he's able to sign with a team immediately. He'll likely serve as the backup to LeSean McCoy.
Photo by Tim Warner/Getty Images.