Expert Mock Draft Recap: 12-Team Half-PPR (May 2021)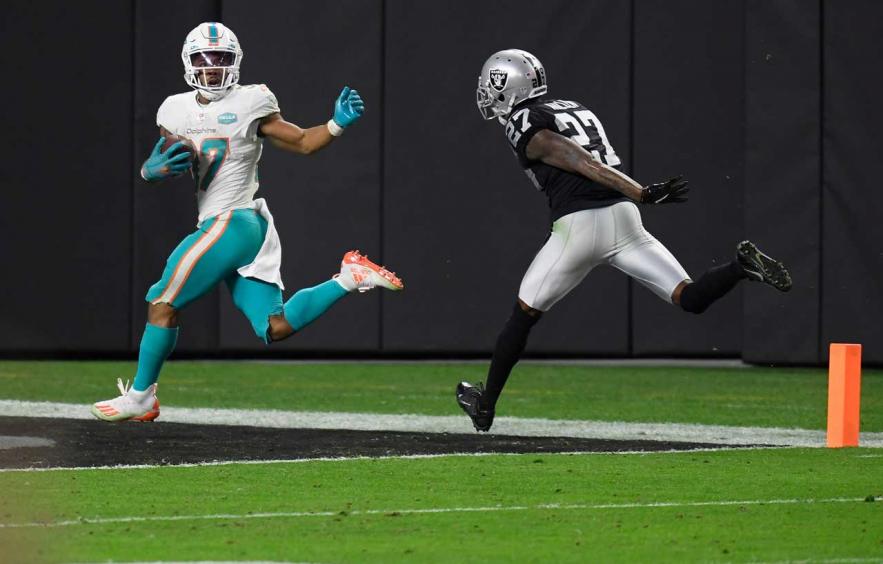 Harry How/Getty Images
After what felt like months of NFL Mock Draft SZN, the 2021 NFL Draft has come and gone, ushering in the unofficial start of redraft season. Yes, it feels like just yesterday the Tampa Bay Buccaneers won the Super Bowl, putting a cap on the 2020 season, but it's already May and it's time to get ready for our August/September redraft leagues. These next few months are going to fly by. They always do.
---
2021 Redraft Resources: Player Profiles | Never-Too-Early Rankings
---
The end of the NFL Draft is a perfect time to begin putting the pieces together for our redraft strategy. Free agency already helped clear up some questions—the Giants nabbed a No. 1 WR in Kenny Golladay and Aaron Jones stuck around Green Bay, for example—and the draft did the same. The Falcons, Dolphins and Bills seem set with their running back rooms, selecting one back between the three of them (Dolphins: Gerrid Doaks in round seven), while the Jaguars and Steelers spent first-round picks on running backs. What does this all mean for fantasy?
To find out and get a clearer picture of the value of fantasy players come August, I asked some of the 4for4 staff plus industry friends to participate in a live 12-team redraft mock the Sunday following the draft. The main point of this exercise was to determine fantasy winners and losers post-draft, as well as to see what it will cost to draft some of the top rookies in redraft leagues. You will find some takeaways from the draft below. Here's a link to the full draft board.
Roster Settings: 1QB/2RB/3WR/1TE/1FLEX (W/R/T)/1K/1DST + 6 Bench Spots
Scoring Setting of note: Half-PPR
Draft Participants (in order):
Mock Draft Results
Round
@NIMBLEWNUMBERS
@JUSTIN_REDWARDS
@CHRISALLENFFWX
@KCZAT
@DOMINATEFF
@AFLEISCHER
@_JEFF_HICKS_
@ROTOBAHN
@THEMONDAYMOMMY
@TJHERNANDEZ
@SALPAL2
@NDUTTON13
1
(1 - RB1) McCaffrey, C
(2 - RB2) Cook, D
(3 - RB3) Barkley, S
(4 - RB4) Henry, D
(5 - WR1) Diggs, S
(6 - RB5) Kamara, A
(7 - RB6) Jones, A
(8 - RB7) Elliott, E
(9 - TE1) Kelce, T
(10 - WR2) Adams, D
(11 - RB8) Taylor, J
(12 - RB9) Chubb, N
2
(12 - RB17) Gibson, A
(11 - RB16) Carson, C
(10 - RB15) Edwards-Helaire, C
(9 - RB14) Mixon, J
(8 - RB13) Sanders, M
(7 - WR6) Metcalf, D
(6 - RB12) Gaskin, M
(5 - WR5) Brown, A
(4 - RB11) Ekeler, A
(3 - WR4) Ridley, C
(2 - RB10) Akers, C
(1 - WR3) Hill, T
3
(1 - WR7) Hopkins, D
(2 - TE2) Kittle, G
(3 - RB18) Robinson, J
(4 - WR8) Jefferson, J
(5 - WR9) Robinson, A
(6 - RB19) Swift, D
(7 - WR10) Allen, K
(8 - WR11) Thomas, M
(9 - WR12) Woods, R
(10 - RB20) Harris, N
(11 - WR13) McLaurin, T
(12 - RB21) Edmonds, C
4
(12 - QB2) Allen, J
(11 - QB1) Mahomes, P
(10 - WR20) Evans, M
(9 - WR19) Lamb, C
(8 - WR18) Thielen, A
(7 - WR17) Godwin, C
(6 - WR16) Jones, J
(5 - RB23) Dobbins, J
(4 - WR15) Cooper, A
(3 - TE3) Waller, D
(2 - WR14) Moore, D
(1 - RB22) Montgomery, D
5
(1 - WR21) Kupp, C
(2 - WR22) Johnson, D
(3 - WR23) Lockett, T
(4 - WR24) Chase, J
(5 - TE4) Pitts, K
(6 - TE5) Andrews, M
(7 - RB24) Davis, M
(8 - RB25) Jacobs, J
(9 - WR25) Aiyuk, B
(10 - WR26) Golladay, K
(11 - QB3) Jackson, L
(12 - QB4) Prescott, D
6
(12 - RB30) Carter, M
(11 - RB29) Moss, Z
(10 - WR32) Samuel, D
(9 - QB5) Murray, K
(8 - WR31) Smith-Schuster, J
(7 - WR30) Claypool, C
(6 - WR29) Beckham, O
(5 - RB28) Williams, J
(4 - RB27) Gordon, M
(3 - RB26) Hunt, K
(2 - WR28) Higgins, T
(1 - WR27) Cooks, B
7
(1 - WR33) Chark, D
(2 - RB31) Fournette, L
(3 - TE6) Hockenson, T
(4 - WR34) Samuel, C
(5 - RB32) Drake, K
(6 - RB33) Etienne, T
(7 - QB6) Herbert, J
(8 - WR35) Smith, D
(9 - WR36) Anderson, R
(10 - WR37) Jeudy, J
(11 - WR38) Sutton, C
(12 - WR39) Jones, M
8
(12 - WR45) Davis, G
(11 - WR44) Boyd, T
(10 - QB8) Hurts, J
(9 - TE8) Goedert, D
(8 - RB35) Conner, J
(7 - RB34) Harris, D
(6 - WR43) Beasley, C
(5 - TE7) Fant, N
(4 - QB7) Wilson, R
(3 - WR42) Landry, J
(2 - WR41) Shenault, L
(1 - WR40) Fuller, W
9
(1 - WR46) Gallup, M
(2 - WR47) Hardman, M
(3 - WR48) Brown, M
(4 - RB36) Pollard, T
(5 - QB9) Ryan, M
(6 - WR49) Waddle, J
(7 - WR50) Perriman, B
(8 - RB37) Sermon, T
(9 - RB38) Murray, L
(10 - WR51) Reagor, J
(11 - WR52) Mims, D
(12 - TE9) Gesicki, M
10
(12 - TE11) Tonyan, R
(11 - WR59) Ruggs, H
(10 - WR58) Smith, T
(9 - WR57) Shepard, S
(8 - TE10) Thomas, L
(7 - QB10) Rodgers, A
(6 - RB40) Edwards, G
(5 - RB39) Jones, R
(4 - WR56) Pittman, M
(3 - WR55) Parker, D
(2 - WR54) Davis, C
(1 - WR53) Williams, M
11
(1 - WR60) Hilton, T
(2 - WR61) Agholor, N
(3 - RB41) Henderson, D
(4 - RB42) Johnson, D
(5 - RB43) McKissic, J
(6 - WR62) Bateman, R
(7 - TE12) Higbee, T
(8 - QB11) Lawrence, T
(9 - RB44) Hines, N
(10 - RB45) Cohen, T
(11 - RB46) Williams, J
(12 - RB47) Singletary, D
12
(12 - RB50) Dillon, A
(11 - WR70) Brown, A
(10 - RB49) Kelley, J
(9 - WR69) St. Brown, A
(8 - WR68) Reynolds, J
(7 - QB12) Stafford, M
(6 - WR67) Slayton, D
(5 - WR66) Moore, R
(4 - WR65) Crowder, J
(3 - RB48) Mattison, A
(2 - WR64) Brown, J
(1 - WR63) Mooney, D
13
(1 - Def1) Football Team, W
(2 - QB13) Brady, T
(3 - WR71) Sanders, E
(4 - RB51) Gainwell, K
(5 - WR72) Watkins, S
(6 - RB52) Wilson, J
(7 - RB53) Mostert, R
(8 - RB54) Ahmed, S
(9 - RB55) Lindsay, P
(10 - WR73) Moore, E
(11 - TE13) Everett, G
(12 - RB56) Bernard, G
14
(12 - QB16) Fitzpatrick, R
(11 - PK1) Butker, H
(10 - TE17) Engram, E
(9 - WR76) Collins, N
(8 - QB15) Tannehill, R
(7 - TE16) Smith, J
(6 - Def2) Browns, C
(5 - TE15) Smith Jr., I
(4 - WR75) Jefferson, V
(3 - QB14) Burrow, J
(2 - TE14) Firkser, A
(1 - WR74) Green, A
15
(1 - PK2) Blankenship, R
(2 - Def3) Rams, L
(3 - Def4) Dolphins, M
(4 - PK3) Koo, Y
(5 - WR77) Patrick, T
(6 - Def5) Steelers, P
(7 - PK4) Bass, T
(8 - Def6) Bills, B
(9 - Def7) Buccaneers, T
(10 - Def8) Chiefs, K
(11 - PK5) Tucker, J
(12 - Def9) 49ers, S
16
(12 - WR81) Bourne, K
(11 - WR80) Kirk, C
(10 - PK11) Gould, R
(9 - Def11) Ravens, B
(8 - WR79) Harry, N
(7 - PK10) Carlson, D
(6 - WR78) Toney, K
(5 - PK9) Lutz, W
(4 - PK8) Succop, R
(3 - PK7) Sanders, J
(2 - Def10) Colts, I
(1 - PK6) Zuerlein, G

Fantasy Draft Winners
Two names routinely get mentioned as post-NFL Draft fantasy winners: Mike Davis and Myles Gaskin. Headed into the draft, the Falcons and Dolphins were expected to draft backs that would either supplant their respective No. 1 RB or significantly bite into their workload—neither of those things happened. Between the two of them, they drafted only one ball carrier: Gerrid Doaks in round seven to the Dolphins. When it comes to Davis and the Falcons, we're looking at a running back on a team with 21.6 vacated touches per game available. Jeff Hicks drafted him in the fifth round as the RB24. We've seen what Davis can do as a lead back—he had nine games with 14+ touches last season, averaging 15.3 fantasy points in those nine contests. He also caught at least five passes last season, which matters a lot in leagues that award points for receptions, making him an appealing RB2 to pair with an established RB1, or as an RB1 target in Zero-RB roster builds.
Myles Gaskin was another big-time draft fantasy winner, but it was surprising to see him go off the board in the middle of round two, also to Jeff Hicks. It could be that Jeff views Gaskin as a superior talent to Davis, which is fair, but a three-round difference between Gaskin and Davis is a bit much. The two of them are ranked fairly closely in John Paulsen's Never-Too-Early rankings, too, with Gaskin at RB22 and Davis at RB24. There's no denying Gaskin, like Davis, is also in a prime spot for touches and production in Miami. Even though he played in only 10 games last season, he averaged 18.3 touches per game and was targeted the 19th-most at the position with 47. Opportunity played a motivating factor for Jeff in drafting Gaskin, saying that, "Miami had every reason to add talent but chose not to. He, and Salvon Ahmed, have been trusted to lead until they prove they cannot." It wouldn't be much of a surprise if, by the time August drafts roll around, Davis joins Gaskin in that round two/round tier draft range, and that Jeff is a trendsetter.
One of the biggest rookie draft winners at running back is clearly Najee Harris. He went to the Pittsburgh Steelers—a team in desperate need of a workhorse running back (12.8 vacated touches/game available) who drafted him in the first round. Opportunity plus draft capital is a formula ripe for fantasy success. As pointed out by Sam Hoppen, Pittsburgh's No. 1 RB has averaged at least 16 opportunities (carries+targets) per game since 2015. Is the late-third round a steep price to pay? Perhaps, but if you recall, Clyde Edwards-Helaire, who was the first back selected in the 2020 NFL Draft, had an ADP of 1.09. The third round is just about right for Harris, and TJ Hernandez agreed, taking him as his RB1 after doubling up on receivers to start.
Fantasy Draft Losers
The biggest post-draft fantasy loser was James Robinson. There was a possibility Robinson would see his value diminished once the draft was completed, as the Jaguars had a total of four picks inside the top 45 picks of the draft, including the number one overall pick. They were in a prime landing spot to add a back, which they did, with their selection of Travis Etienne at 25th overall. Robinson was a true underdog story last season. He was an undrafted free agent who turned into a legitimate No. 1 RB in both the NFL and fantasy football. His 70% snap share, 289 touches and 60 targets easily led the team in all categories at the position. Through 15 weeks of the season (he missed the last two games), he averaged 20.6 touches and 16.1 half-PPR points per game. The only other back on the team to average more than three touches a game was Chris Thompson (3.4). That significant volume played a large role in Robinson's fantasy output and it's very hard to see him as a workhorse back with a first-round pick on the roster.
Another running back who may have seen his team draft his eventual replacement is Melvin Gordon, as the Broncos not only added Javonte Williams in the second round, but they traded up to do so. The early draft capital investment plus the extra capital they spent to acquire him signals a team who views him highly. Will that translate into less work for Gordon? We'll have to find out, but the loss of Phillip Lindsay and his 11.4 touches per game need to go somewhere. Williams is clearly talented, averaging 131.4 total yards and scoring a combined 22 touchdowns in college last season.
One name that might not immediately stand out as a fantasy loser is Jets wideout Jamison Crowder. However, if you squint just hard enough you can put the pieces together. First, the team added Corey Davis in free agency, then they selected Elijah Moore with the second pick of round two. Then there's also the emergence of Denzel Mims last season. All three of those things make this a crowded pass-catching corps, with Crowder being the odd man out.
Running Back Dominance, Yet Again
We are back at it again with early-running back roster construction. By the end of the second round, 17 running backs had gone off the board, with six teams, including the first four going RB-RB. By the time we reached the middle of the fifth round, we had already dipped into the RB3 tier. With such a weak rookie class at running back and not much premium draft capital spent on the position, there aren't many appealing rookie options you can look to later in the draft in case you wanted to wait on the position. Because of that, the likes of Najee Harris, Travis Etienne, Javonte Williams, and Michael Carter could have come off the board earlier than they should. With some depth charts unsettled for the time being, it might take some time to determine where the true value lies. That could be something to take advantage of in best ball drafts, though, waiting to take the lower-priced option of murky backfield tandem. Houston, San Francisco and Tampa Bay are a few teams to keep an eye on.
The Money Pitts
The one rookie I was most interested to see where he would be selected in this draft was tight end Kyle Pitts. The tight end landscape in fantasy has altered in recent years and it's basically become a big three at the position, with drafters in a race to land one of the coveted Travis Kelce, George Kittle and Darren Waller. Does that big three become a big four in 2021? If this draft is any indication, the answer is yes. As expected, Kelce, Kittle and Waller were all gone by the start of the fourth round, but in his attempt to crash the early tight end party, Nate Hamilton drafted Pitts as the TE4 with the 5.05 pick, one selection ahead of Mark Andrews. Wanting to get his thoughts on the pick, here's what Nate had to say:
"Couldn't ask for a better landing spot. Arguably the best offensive talent in this year's draft. Pitts will have plenty of space with Julio Jones and Calvin Ridley detracting from opposing defenses. Also, didn't want to miss out on his potential ceiling given the volatility at the tight end position."
If you believe in Pitts as a generational talent you're going to have to back that belief up. Underdog ADP has Pitts going off the board as the TE5 with an ADP of 65.6 overall—about a one-round difference than this draft. Is he worth the price? Let's use last season as a recent example. T.J. Hockenson was drafted eight overall in the 2020 NFL Draft, and while he wasn't dubbed a generational prospect like Pitts and isn't close to him in talent, he had an impressive rookie campaign, averaging 9.2 half-PPR points per game and finishing as the fantasy TE4 (excluding Week 17). The only thing, though, is that he had an 11th-round ADP and was coming off the board as the fantasy TE15. A far cry from Pitts's ADP. Your roster construction and tight end strategy will play a large role in whether or not you're willing to pay the price of a mid-round pick on a rookie fantasy tight.
Rookie Costs
In total, there were 17 rookies selected in this draft:
As the QB11 in round 11, Trevor Lawrence felt like a decent bet on talent, especially considering the multitude of offensive weapons he'll be surrounded by in Jacksonville from Day 1. The only other quarterback you could make the case for that was drafted after Lawrence was Joe Burrow. The other rookie who stood out as a value pick was Amon-Ra St. Brown in round 12. While he was a Day 3 pick, going in the fourth round to the Detroit Lions, St. Brown couldn't have asked for a better landing spot. Both of Detroit's top two receivers from 2020—Kenny Golladay and Marvin Jones—are with new teams, and they didn't bring in a highly-touted free agent to replace either of them, with their biggest acquisitions being Tyrell Williams and Breshad Perriman. There are 21.9 vacated targets up for grabs in Detroit, and not much competition for them. As the 69th receiver taken in this draft, Brown is worth a late-round dart throw.
Bottom Line
While Mike Davis and Myles Gaskin came away from the draft as winners, the cost to acquire them in fantasy drafts might leave little room for value. Selecting Gaskin as a top-12 running back doesn't provide any wiggle room at that cost, and the more we talk about Davis as a fantasy winner, the higher the likelihood his draft cost will increase. However, as someone who has the potential to finish as a low-end fantasy RB1, it would be difficult to bypass Davis if his ADP were to hover around the fifth round come draft day. James Robinson is going to cause many drafters headaches as they have to decide if he's the real deal—but more importantly, if Urban Meyer and the Jaguars coaching staff believe in him—or if he's seen his last days as the team's bell-cow back. Spending a third-round pick might be too high of a draft cost to find out.
Not much time was spent talking about the quarterback position, but as you can tell from the draft board, rushing quarterbacks come at a premium and you're going to need a quarterback who can score points via the ground and air in today's fantasy landscape. Russell Wilson and Jalen Hurts (who averaged 23.0 fantasy points in the last four games of 2020) in round eight were bargains when compared to spending a fourth-round pick on Patrick Mahomes or Josh Allen. Ryan Fitzpatrick in Round 14, in a Washington offense featuring Terry McLaurin, Curtis Samuel, Logan Thomas, Antonio Gibson, and now Dyami Brown, is the late-round quarterback to target. As highlighted by Jennifer Eakins, Fitzpatrick has been known to boost his fantasy production via the ground as well. With Washington not drafting a quarterback and heading into the 2021 season with Taylor Heinecke as its No. 2 quarterback, we can consider Fitzpatrick another low-key fantasy winner.
---
Related Articles