11 NFL Draft Predictions With Fantasy Implications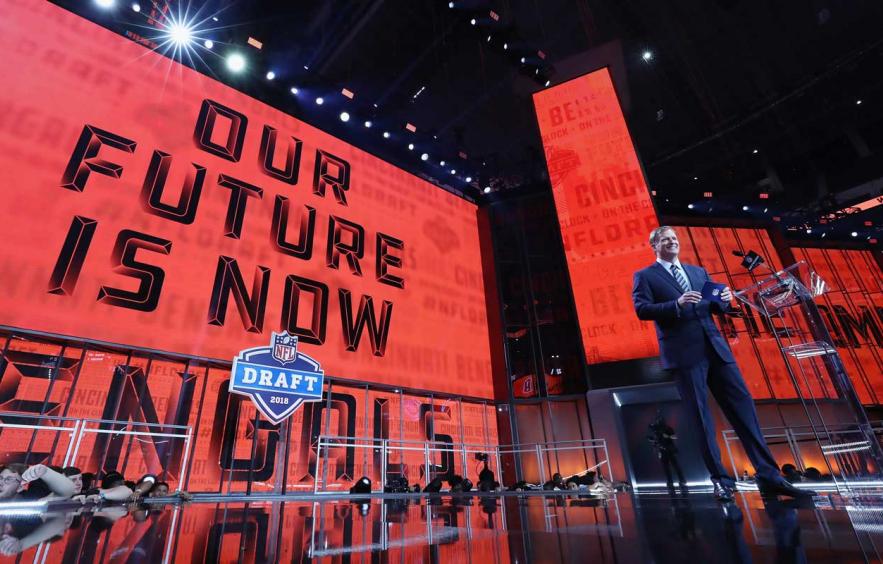 Ronald Martinez/Getty Images
After months of debating rookie fantasy values and making mock draft predictions, the 2021 NFL Draft is days away. Literally. Round 1 of the draft kicks off on Thursday. To celebrate draft week, we got the 4for4 staff together in a virtual draft room to share draft predictions they believe will have huge fantasy football implications. We've talked ad nauseam of what would happen if, for example, the Miami Dolphins draft a running back in round one (not great for Myles Gaskin), but what are some other NFL Draft shenanigans that could wreak havoc or create beautiful music when it comes to fantasy football? Keep reading to find out. Also, 4for4 will be live on YouTube for the first two days of the draft, breaking down every pick from a fantasy football perspective. Subscribe to our YouTube channel so you don't miss it!
---
2021 NFL Draft Resources: NFL Mock Draft | Top 150 Big Board | Team Needs & Draft Capital | Fantasy Football Rookie Rankings
---
2021 NFL Draft Predictions
Atlanta Gets a Steal at RB in Round 2 (Brandon Niles)
The Mike Davis truthers will get a bit of a shock when an elite talent like Travis Etienne or Javonte Williams drops to the top of the second round, and the Falcons get their new top back. Either Etienne or Williams would immediately be the best running back in Atlanta since Devonta Freeman's prime years. A new coaching staff and some growing talent on the offensive line make Atlanta a nice spot for a rookie running back. Fantasy owners will jump at the opportunity of filling 358 vacated carries left by Todd Gurley, Brian Hill and Ito Smith.
Patriots

Trade up for Their QB of the Future (Anthony Staggs)

If you have read any of my mocks, especially those with trades, you know I expect the Patriots to be aggressive in their pursuit of a future franchise quarterback. My thought is that as long as there's still one of the top five quarterbacks on the board, the Patriots are a threat to move up. No matter the quarterback, expect the Pats to be aggressive. New England could make a move for Justin Fields, who many have as the number two quarterback in this draft, for Trey Lance, who has Cam Newton-like abilities, or for Mac Jones, who has been compared to the likes of Tom Brady and Andy Dalton. No matter who they end up targeting, the Patriots should be expected to maneuver up to anywhere from pick seven to 10.
Cincinnati Will Draft a WR Early (Chris Allen)
Ja'Marr Chase will be the No. 5 overall pick, going to Cincinnati to boost their passing game. It defies the consensus logic. Joe Burrow had the third-highest sack rate per game at 3.2. Tee Higgins's usage metrics evolved into those of an alpha wide receiver as he ended the season with a 23.0% target share and 9.7 aDOT. They need help, though. Burrow had the highest number of dropbacks out of an empty set formation through Week 11 (117). Selecting Chase would cap the target shares for both Higgins and Tyler Boyd, but Cincinnati still passed at a 66.6% rate in neutral situations and have been at or above the league average in neutral pace since Zac Taylor took over as head coach. Expect Chase, and the Cincinnati passing attack, to come out firing as soon as they take their first snap in Week 1.
---
NFL Draft Sportsbook Promos
DraftKings: Bet $1, Win $100 in Free Bets if a QB is Drafted First Overall

FanDuel: Bet $5, Win $100 Cash if Trevor Lawrence is Picked First Overall
---
Packers

Pass on WR in Round 1 (Jeff Hicks)

Sorry, John Paulsen, but the Green Bay Packers will not draft a wide receiver with their first-round pick. The Packers' brass has re-affirmed their run-first approach by re-signing Aaron Jones to pair with second-year back A.J. Dillon. The way the draft lines up, the Packers will add an offensive lineman or linebacker. Elgton Jenkins should slot at center for Green Bay, meaning any of the numerous tackles that fall to the Packers will be an option to hopefully start immediately at right tackle.

Bettors have also been interested in wagering on how many linebackers go in the first round (4.5 at DraftKings Sportsbook as I type this), and I feel pretty strongly that the Packers could help push the over.
The
Eagles

Will Draft Multiple WRs (Justin Edwards)

A depth chart featuring Travis Fulgham, Greg Ward and J.J. Arcega-Whiteside behind Jalen Reagor will be flipped on its head a week from now after Philadelphia drafts a minimum of two wide receivers and possibly a third. Finding an explosive playmaker for Jalen Hurts in the first two rounds will be a priority, with DeVonta Smith, Rashod Bateman and Rondale Moore as options in their respective tiers. Besides an early playmaker, I expect the team to add depth to compete for the starting X receiver, which could translate into fantasy production as Hurts continues to grow.
Tennessee Skips WR in Round 1 (Jennifer Eakins)
A.J. Brown is the Titans' clear No. 1 WR and he wants fellow Ole Miss alum Elijah Moore to join him in Tennessee, even taking his thoughts to Twitter on the subject. In order to keep their star wideout happy and fill a much-needed spot in their secondary, perhaps the team rolls with a cornerback in the first round and drafts Moore with pick No. 53.
That leaves Josh Reynolds to absorb all outside work opposite Brown, with Moore in the slot. There are 18.7 vacated targets per contest in Tennessee up for grabs with Corey Davis, Jonnu Smith and Adam Humphries all in different uniforms in 2021. If the Titans pass on a receiver at pick No. 22, Reynolds presents great value at his current late-round ADP.
Jaguars

Draft a Running Back Early (Salvatore Stefanile)

James Robinson went from undrafted free agent to fantasy football league-winner last season. He could find himself once again an afterthought in fantasy and football circles this upcoming season, though, as the Jacksonville Jaguars are stockpiled with premium draft capital. We all know the team is set to usher in the Trevor Lawrence Era with the first overall pick in the draft, but they also hold three more additional picks in the top 45 (picks No. 25, 33, and 45), and will use one of them to draft a running back. The most likely candidate is Lawrence's Clemson teammate, Travis Etienne, which would reunite the two and form the core of a new-look Jaguars offense. Robinson was the team's dominant No. 1 RB last season, leading the team in RB snap share (70%), RB touches (289), and RB targets (60). It seems doubtful a new coaching staff would trust a former undrafted free agent with such a heavy bulk of the workload again, and not want to put their own stamp on offense in the form of a new running back to go alongside a new franchise quarterback.
Kansas City Selects a WR in Round 2 (Matt Gajewski)
With Sammy Watkins leaving for Baltimore, Kansas City sits with a shockingly thin depth chart behind Tyreek Hill. Demarcus Robinson played on 64.5% of Kansas City's snaps last year, but he still hasn't reached 500 yards in any season of his five-year career. Mecole Hardman has had success on special teams and in a gadget role, but he also only played 45% of the snaps last season. In the playoffs, it was actually undrafted free agent Byron Pringle playing the second-most snaps among Chiefs wide receivers. Despite the Chiefs forfeiting their first-round pick in the Orlando Brown trade, they still have ample draft capital to select a receiver. They pick at 58 and 63 in the second round, putting them in range to select a talented receiver from a deep class.
The
Jets

Focus on Offense in Round 1 (Pete Davidson)

The Jets focus on offense at the 23rd spot after taking a quarterback (probably Zach Wilson) with the second overall pick. My prediction at 23 is wide receiver Elijah Moore, but if running back Najee Harris is still on the board, the Jets could stun Steelers fans and snipe their new alpha back right in front of them. Either player would put an important new club in the Jets' bag. Moore would give them a legitimate field-stretcher who would have an immediate role as a rookie. Harris would give the ground game some teeth and he would also become the Jets' best receiving threat out of the backfield. It would be a solid landing spot for Harris, though a step down from the Steelers, who seem primed to snag him with the 24th overall selection. For Moore, it would be a mediocre landing spot as he could end up as the fourth receiver behind Corey Davis, Denzel Mims and Jamison Crowder. Moore's theoretical arrival would hurt the projected overall value of all Jets receivers. On the other hand, it would help their rookie quarterback, regardless of who will be under center for the Jets.
The
Patriots

Draft a slot WR to take up the Welker/Edelman Mantle (Andrew Fleischer)

Even before Julian Edelman announced his retirement, it was clear New England would need a slot receiver in the short term who can find holes in zone coverage, get open quickly and line up all over the formation. The 2021 wide receiver draft class would seem to fit like a glove for the Patriots, or any team looking to bolster that slot-plus role in their offense. Much of what direction the Patriots will take in this draft depends on their plan at quarterback, and I tend to agree with Anthony Staggs's take that they'll trade up for a quarterback in the first round. That would likely cost them their 2021 second-round pick (among others), and subsequently a shot at the projected second-round wide receivers that fit the Bill—the sub-5-foot-10 duo of Rondale Moore and Elijah Moore. It's certainly feasible that their quarterback target could remain available at 15, or that the league devalues Rondale Moore into the third round purely due to his height, but it's more likely they use their third-round compensatory pick or one of their fourth-round (or later) picks to fill this need. That puts Amari Rodgers, Anthony Schwartz and Jaelon Darden in their wheelhouse—the latter two appear to be great fits. Schwartz is one of the fastest receivers in the draft, but Darden's 6.66 3-cone time that matched both of the Moores' might give him the edge. Darden tested impressively across the board, and was an absolute force in college, albeit at a small school.
Pittsburgh Drafts an RB in the First or Second Round (Sam Hoppen)
There have been rumors swirling that the Steelers will take a running back "most likely in the first round, [and] no later than the second." If the Steelers do invest that capital into a running back, he'll be the bell of the rookie ball. Last year, Clyde Edwards-Helaire was the first running back drafted and became the clear-cut top rookie to be drafted in redraft leagues. Furthermore, since 2015, the Steelers' lead back has averaged no fewer than 16 total opportunities (carries plus targets) per game, which is a top-tier workload.
---
Related Articles