Washington's Offense Just Got a Fantasy-Booster Shot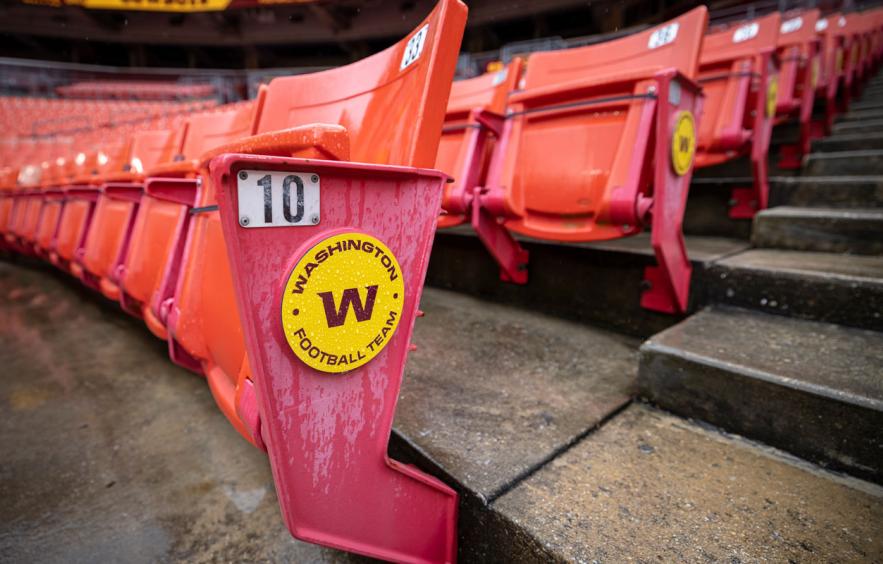 Scott Taetsch/Getty Images
On March 15, Ryan Fitzpatrick did what he does best and signed a one-year deal, crushing the dreams of another young quarterback. The Washington Football Team and Fitzpatrick agreed to a contract worth $10 million, and with that, the 38-year old becomes Washington's starter, at least to begin the 2021 season. The team also inked wideout Curtis Samuel to a three-year deal on March 17th, bringing in another weapon for what's shaping up to be an exciting offense.
I'll look at what Fitzgerald's impact may look like this season, followed by how Samuel will fare in Washington for fantasy purposes. But first, a glance back in time.
A Fruitful Decade for Fitzpatrick
NFL's favorite journeyman has played for eight different franchises since he began his career in St. Louis in 2005. Here's a look at Fitzgerald's past decade in terms of fantasy production and where he ended each season.
Ryan Fitzpatrick

Fantasy Finishes, 2010-2020

| Year | Team | Games | Fantasy Points Per Game | Positional Finish FP/G |
| --- | --- | --- | --- | --- |
| 2020 | MIA | 9 | 10.2 | QB32 |
| 2019 | MIA | 15 | 16.1 | QB17 |
| 2018 | TB | 8 | 20.5 | QB5 |
| 2017 | TB | 6 | 12.3 | QB30 |
| 2016 | NYJ | 14 | 9.5 | QB25 |
| 2015 | NYJ | 16 | 17.8 | QB15 |
| 2014 | HOU | 12 | 15 | QB20 |
| 2013 | TEN | 11 | 15.2 | QB20 |
| 2012 | BUF | 16 | 13.4 | QB20 |
| 2011 | BUF | 16 | 13.9 | QB13 |
| 2010 | BUF | 13 | 15.3 | QB15 |
We can see that there weren't many true QB1 performances in terms of whole seasons, but he did produce starting numbers in 2018 in Tampa Bay and 2011 in Buffalo. What he does excel in is short bursts of fantasy goodness.
Last season in Miami, the 38-year old started the first six games of the season and posted north of 21 fantasy points in four of six, with an average of 19.9 across all six contests. The Dolphins went with their rookie QB before Week 8, but Fitzpatrick was named the starter again Week 12 and put up another 19.3 fantasy points.
The year prior, also in Miami, Fitzpatrick was under center for the final 11 games of the 2019 season and put up at least 20 fantasy points in seven of those outings.
When thinking about drafting the 16-year veteran, our focus is not on using him as a starter in single-QB redraft leagues, but as an option in Superflex and two-QB leagues, or a secondary pick in best-ball formats. He's also perfect for streaming when he inevitably gets hot or has a favorable matchup.
Mr. Fitzpatrick Goes to Washington
Last year the Football Team threw the ball. Despite doing it with four different QBs (Alex Smith, Dwayne Haskins, Kyle Allen and Taylor Heinicke), they ended the season ninth in pass attempts with 601.
Not only is this great for Fitzpatrick's fantasy value himself, but his surrounding weapons should be pumped for his arrival. Fitz loves targeting playmakers and has supported fantasy prowess all over the NFL.
Receivers who've landed as fantasy WR1s with Fitzpatrick throwing the rock have been Brandon Marshall and Eric Decker in New York, Mike Evans in Tampa Bay and Devante Parker in Miami. DeAndre Hopkins also caught passes from Fitz in 2014 on his way to a top-14 performance. We've seen some solid WR2 performances from his weapons as well, with Steve Johnson for a few seasons in Buffalo (how's that for a random NFL name) and Adam Humphries with the Bucs.
Looking at what he inherits in Washington, this could be a nice pairing for both Fitzpatrick and the receiving corps for the Football Team.
First off, Terry McLaurin is a legit talent, putting up 919 yards and seven touchdowns on 93 targets as a rookie in 2019. He added another 87 catches for 1,118 yards and four scores in 2020. If Fitzpatrick's pattern for leaning on his top receiver continues, this could be McLaurin's best output yet.
This could mean a small downshift in expectations for Logan Thomas, however, who experienced a breakout last year as TE6 in overall half-PPR points, and TE9 in half-PPR points per game. There's isn't a strong history of successful TE pairings with Fitzpatrick, and Curtis Samuel's presence takes away from Thomas's target potential.
We can't forget about Antonio Gibson and J.D. McKissic, who were both integral parts of this Washington offense in 2020. As a rookie, Gibson had 170 carries for 795 yards and 11 touchdowns, plus another 36 receptions for 247 yards on 44 targets. He did deal with turf toe towards the end of the season and entering his sophomore campaign, we should see a bump in production. Currently, the 22-year old's ADP is in the second round on most sites in all formats.
McKissic shined last year in the passing game, posting a receiving line of 80-598-2, along with 85 rushes for 365 yards and a score. Alex Smith was under center for the bulk of that production, and he tends to favor his backs. Fitzpatrick also likes to toss the ball to his RBs, but not necessarily at the same volume. In the past, he's thrown at least 50 balls in a season to five rushers, including Bilal Powell in New York, Arian Foster in Houston, Chris Johnson in Tennesee, and both C.J. Spiller and Fred Jackson in Buffalo. There could be a slight regression in 2021 for McKissic, but he's still draftable as a late-round target.
Fitzpatrick the Runner
There's one more thing to mention when breaking down Fitzpatrick's potential in 2021 and that's the fact that he does offer dual-threat ability. He's not Josh Allen or Kyler Murray, but the guy can move on a football field which is advantageous when looking for fantasy quarterbacks. In every season that Fitzpatrick started at least 15 games, he's ended as QB11 or better in total rushing yards as shown in the table below.
Ryan Fitzpatrick

Rushing Finishes

| Year | Games | QB Finish | Rushing Yards |
| --- | --- | --- | --- |
| 2019 | 15 | QB10 | 243 |
| 2015 | 16 | QB7 | 270 |
| 2012 | 16 | QB11 | 201 |
| 2011 | 16 | QB7 | 215 |
Rushing ability is something we look for from a fantasy perspective so if it comes down to Fitz and another guy this season in those later rounds of a Superflex or best ball draft, consider his legs as a potential difference-maker.
What about
Curtis Samuel

?

I covered McLaurin, Thomas and the pass-catching backs, but the addition of Samuel is certainly something to be excited about. The 24-year old really came into his own in his fourth year in the league, posting career highs in both receptions (77) and yards (851). Samuel also ran for another 200 yards on 41 carries, finding the end zone twice. He did so on a much more stacked team receiver-wise, competing for targets with D.J. Moore, Robby Anderson and even Mike Davis.

Samuel will be a part of one of the speediest wideout duos in the league now and immediately inherits the WR2 job under new Washington OC Scott Turner, who was the QB coach in Carolina from 2018-2019, so he's familiar with Samuel's ability. The former Panther will also play for HC Ron Rivera, who drafted the 24-year old in 2017 and coached him for three seasons.

With the Football Team's penchant for throwing the football, 100 targets this season isn't out of the question for Samuel's volume in this offense. He projects as a fantasy WR3 with juicy rushing upside.
Bottom Line
With Ryan Fitzpatrick as the starter in Washington, at least to start the season, and the addition of speedster Curtis Samuel, there is plenty to be excited about in the Nation's Capital.
Fitzpatrick himself should be considered an option in Superflex and two-QB leagues, or as a secondary pick in best-ball formats. He's also perfect for streaming when he inevitably gets hot or has a favorable matchup.
Terry McLaurin should see WR1 volume and fantasy numbers with Fitzpatrick at the helm, as he's supported a plethora of top wideouts in his career and loves to rely on them.
Curtis Samuel adds an extra punch in the receiver room and projects as a WR3 with rushing upside.
Logan Thomas gets a small downgrade, but still remains a low -endTE1 option for 2021.
Antonio Gibson remains a solid RB2, with J.D. McKissic dropping a bit without the love from Alex Smith— McKissic is an RB4 in standard and half-PPR formats, and an RB3 in full-PPR.