Punt & Kickoff Return Depth Charts and Players to Target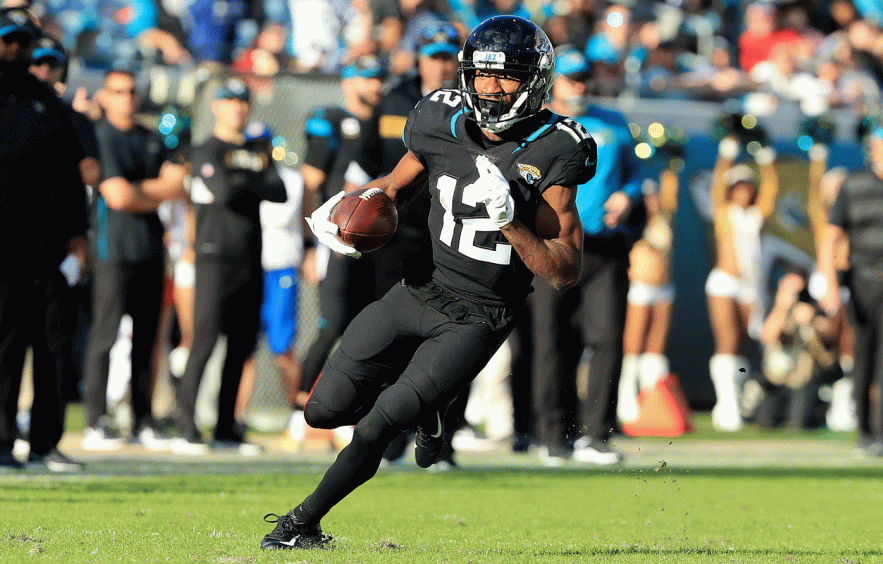 Sam Greenwood/Getty Images
With a well-timed touchdown, a kickoff or punt returner can provide the key points that push your fantasy team over the top. Some returners are better than others, so it's important for fantasy owners to keep an eye on depth charts to see which players will return kicks and punts for each team. Below you will find kickoff and punt return depth charts. They will be updated weekly— through the seemingly endless amounts of drops, pickups, and training camp battles—until the season begins.
The Game Has Changed
Last year, new rules were put into place to further reduce the number of kickoffs and to improve player safety. This has been an ongoing trend for years in the NFL, trying to limit the high-impact collisions players are subjected to. The impact has been staggering. The number of kick returns league-wide has dropped 51.6% over the last 10 years. Each time there are changes to the rules, the number of returns declines sharply, as shown in the following table.
League-wide Kick Returns over the last 10 years

| Year | Total Kick Returns | Yards | TD |
| --- | --- | --- | --- |
| 2018 | 970 | 22,233 | 5 |
| 2017 | 1,036 | 22,396 | 7 |
| 2016 | 1,035 | 22,688 | 7 |
| 2015 | 1,080 | 25,445 | 7 |
| 2014 | 1,226 | 29,124 | 6 |
| 2013 | 1,289 | 30,118 | 7 |
| 2012 | 1,395 | 32,892 | 13 |
| 2011 | 1,375 | 32,680 | 9 |
| 2010 | 2,033 | 45,420 | 23 |
| 2009 | 2,004 | 45,334 | 18 |
This year, the league has made permanent the rule changes from last year but has not introduced any new rules to further limit returns. This means we're still in a state of decline for the overall number of kick returns, but there shouldn't be a stark difference between 2018 and 2019. Fantasy owners who succeeded with return studs last year should still be able to thrive with impact returners this season.
Despite the lack of overall work around the league, good returners still seem to get opportunities. Andre Roberts led the league with 1,174 total return yards, which is right in line with the numbers we've seen from kick return leaders since 2013 when there was a steep drop-off from previous years. Even still, the leading kick returner from 10 years ago only gained 27% more yards than Roberts did last year, though on 39% fewer returns. While still a notable decline, not nearly as drastic as the league-wide numbers.
The best players still find a way to produce.
Double Dip: Fantasy Studs Who Return Kicks
Many teams have game-breaking playmakers on offense they can't help but use in the return game as well. This is where fantasy owners in return yardage leagues should stand up and take notice. With the amount of talent and speed at the skill positions throughout the league, multiple teams are using these dual-threat options as multi-purpose offensive weapons, as well as dynamite players in the return game. Only players whose value increases are included. Players like Alvin Kamara, who inexplicably continues to return punts, won't be mentioned because they're going to be top picks regardless. The following players will likely get a boost and should be considered for their added return value:
Dede Westbrook, WR, Jaguars – If Westbrook continues to be the primary punt returner, he could be in for a huge year in return yardage leagues. He split time with Jaydon Mickens last season, who wasn't brought back, leaving him and D.J. Chark as the best return options in Jacksonville. Westbrook had 266 punt return yards and a touchdown last season to go with 101 targets in the passing game on offense. As the likely slot receiver with Nick Foles now at quarterback, Westbrook could very well approach 1,000 receiving yards for the first time in his career. Adding another 200-300 yards in the return game would give him tremendous value. While it's possible Chark ends up with the job – and he could be a sleeper double-dip target as well – Westbrook is too much of a playmaker to be completely left out of the return game, especially with Mickens no longer on the roster.
Tarik Cohen, RB, Bears – Cohen's increased work on offense might make him a candidate to lose looks in the return game. However, Cohen returned 33 punts last season and if he continues to play that role, he could be an elite running back in return yardage leagues, especially with a PPR component. Cohen ran the ball 99 times last season and caught 71 passes for a total of 1,169 yards from scrimmage and he scored eight touchdowns. His role on offense should continue to expand, specifically as a target in the passing game, and any additional return production will be significant. He has virtually no shot at the kick return job with Cordarrelle Patterson arriving via free agency, but if Marvin Hall doesn't make the roster, the Bears should keep Cohen in the mix on punt returns. Even if the Bears decide to keep six receivers, Hall will need to beat out rookie Emanuel Hall, which seems like a stretch.
Curtis Samuel, WR, Panthers – The Panthers return jobs are an open competition after the departures of Kenjon Barner and Damiere Byrd. Samuel and D.J. Moore are the only two players on the roster who were active in the return game last season. Samuel might be in line for the most work this year. He has returned 10 kicks in each of the last two years and was a part-time returner at Ohio State. The Panthers will try out rookie seventh-round pick Terry Godwin at the position and Damion Jeanpierre Jr. has gotten some work in camp, but neither are locks to make the roster. If Samuel wins the job, the additional targets he's likely to get on offense with the departure of Devin Funchess should combine with his special teams' production to make him a must-own in return yardage leagues.
Antonio Callaway, WR, Browns – The Browns will need to replace Jabrill Peppers in the return game after trading him to the Giants. Callaway has a good chance to at least take the punt returner job, as he supplemented Peppers' production last season. Running back Dontrell Hilliard should get first crack at kick returns and cornerback T.J. Carrie has experience as well, but the most likely player to benefit from Peppers' departure is the playmaking Callaway. He returned eight kicks and five punts last season and was electric in the return game in college. He ran back two punts for touchdowns as a freshman, and one kick as a sophomore. Callaway may take a backseat on offense thanks to the arrival of Odell Beckham Jr., but he should still be third on the depth chart behind Beckham and Jarvis Landry and should still get enough targets to be relevant. Adding in potential return game numbers could give him tremendous upside.
Update: Callaway has been suspended for the first four games of the season. This may open up a chance at a roster spot for Dontrell Hilliard and/or Damon Sheehy-Guiseppi, but expect Callaway to still get first crack at the return spots when he returns.
Mecole Hardman, WR, Chiefs – While Hardman's role on offense may be up in the air, he's very likely to earn the punt return job at a minimum as a rookie. He took back a punt for a 70-yard touchdown last season against Middle Tennessee and averaged 24.3 yards per kick return over his college career. Even assuming Tyreek Hill doesn't miss any time, Hardman should slide into Chris Conley's role on offense to go with being the primary punt returner, and potentially be in play as a kick returner too. Conley vacated 52 targets when he went to Jacksonville, and if Hardman can get some of those looks to go with primary return duties, he will have sneaky value in return yardage leagues.
Tyler Lockett, WR, Seahawks – It seems crazy to think the Seahawks will continue to expose the talented Lockett to big hits on special teams. Maybe this is the year they give him some relief, but those have been the rumors for two years now and Lockett continues to be the guy. Lockett was the primary punt and kick returner last season and had 636 total return yards to add to his 965 receiving yards. If Lockett continues to be the primary return specialist once again, he may be the top receiver in return yardage leagues. Lockett stands to get additional targets with Doug Baldwin gone, and unless David Moore, Rashaad Penny, J.D. McKissic or rookie Gary Jennings can be a threat in the return game, Lockett could spend another year performing double-duty.
Other names to consider: Julian Edelman, WR, Patriots; Kenyan Drake, RB, Dolphins; Sony Michel, RB, Patriots; Adam Humphries, WR, Titans; D.J. Chark, WR, Jaguars; Christian Kirk, WR, Cardinals
Bonus: Keep an eye on the young guys. Trey Quinn, WR, Redskins and Scott Miller, WR, Buccaneers are both quick and shifty slot receivers on teams without clear options at the returner spots. If they can win the slot job on offense and a job returning punts, they could have immense value in return leagues. Owners should scoop them up late as roster stashes. Likewise, rookie Tony Pollard, RB, Cowboys may be a valuable option if he wins the backup running back spot and can get some work on passing downs.
Just for Kicks: Return-Only Specialists
Some players carve out a niche as a return-specialist and make a roster on that skill alone. If you're not in a league with an extra slot for returners, the players below are unlikely to create enough production on offense to make a real difference, but they can be valuable in leagues that allow you to start a separate returner.
Andre Roberts, WR, Bills – The kickoff return yardage leader a year ago with the Jets, Roberts should easily win the job in Buffalo and continue to be a dynamic player with the ball in his hands. Coming off a pro bowl season as a returner, his contributions on special teams are clearly the primary reason for his signing in Buffalo. The Bills have a crowded depth chart at the wide receiver position with free agent acquisitions John Brown and Cole Beasley joining incumbents Zay Jones and Robert Foster, making it hard to imagine Roberts making a dent on offense. However, the Bills were in the top ten in both total punt returns and total kick returns in 2018, so Roberts should get plenty of opportunities to make a second consecutive pro bowl.
Alex Erickson, WR, Bengals – Erickson has been the primary return specialist in Cincinnati for the last three years but has caught only 38 passes on offense during that time. He's been excellent in the return game, however, and had 1,049 kick return yards in 2018, second only to Roberts. He was fifth in 2017 and led the league in 2016, making him one of the most consistent returners out there. The Bengals don't have much competition for him, and their defense should still be terrible, making him a pretty good bet to retain his job and to get plenty of kick return opportunities as the Bengals give up points to opposing offenses. Only the Raiders and the Buccaneers gave up more points per game than the Bengals did. Erickson is elite in leagues that give significant points for return yards, or in leagues that have a designated slot for a return specialist.
Jakeem Grant, WR, Dolphins – Coming off an injury, the Dolphins are hoping Grant will have no trouble returning to form and regaining his lightning speed. Grant was the primary return specialist in 2017 and at the beginning of last year before a lower leg injury wiped out the rest of his season. Until the injury, Grant was the best returner in football, averaging 29.7 yards on 18 kick returns and 16.3 yards on 14 punt returns. He also ran back two touchdowns, a punt and a kick. If Grant can be the same elite returner he was at the beginning of last year, he could lead the league in return yardage.
Ryan Switzer, WR, Steelers – After arriving via trade with the Raiders prior to the start of last season, Switzer solidified the return specialist position for Pittsburgh. Switzer had 30 kick returns and 30 punt returns on his way to 859 total return yards. He had 856 yards and a touchdown on 53 combined returns for the Cowboys as a rookie in 2017, and he's quickly emerged as a reliable specialist. The Steelers have been looking for a legitimate option in the return game for years, and they finally found a good one. Switzer may get pushed by rookie Diontae Johnson if the Steelers want to save a roster spot, but it doesn't look like it'll be hard for Switzer to keep his job. As long as he's on the roster, he'll be the primary returner.
Dwayne Harris, WR, Raiders – Harris wasn't expected to make the roster last season after the Raiders loaded up on receivers, but he rose to the top of the heap based on his ability as a return specialist. He was a long-shot to beat out the freshly-acquired Switzer but won out anyway. He finished the season with 49 combined returns, 944 yards and a touchdown on his way to a stellar season on special teams. The Raiders kept him this year and it looks like he's in line to be the primary return specialist once again. Oakland's roster could get a little tight toward final cut day, with Hunter Renfrow, Ryan Grant and Marcell Ateman all battling with Harris for likely two roster spots, but unless someone really distinguishes themselves in August, it's going to be hard to supplant Harris.
Other returners unlikely to play a significant role on offense: Chad Beebe, WR, Vikings; Trevor Davis, WR, Packers; DeAndre Carter, WR, Texans; River Cracraft, WR, Broncos; JoJo Natson, WR, Rams; Trenton Cannon, RB, Jets; Richie James, WR, 49ers
NFL Teams with Open Kickoff or Punt Return Jobs
There is always a lot of turnover at both return spots from year-to-year, and below are a few of the teams that have open jobs where a young playmaker might be able to earn a spot on the roster.
Falcons – This was an open job last year as well, but Justin Hardy wasn't particularly good filling the role and Marvin Hall – the primary kick returner in 2018 – is now with the Bears. If Marcus Green can make the roster, he'll stand a good chance to get all the work. If not, keep an eye on Calvin Ridley as a potential Double-Dip target. He returned a couple of punts last season and could get some default work along with Hardy. Kenjon Barner will also be in play, but primarily as a kick returner, and he's not guaranteed a roster spot.
Cowboys – Tavon Austin isn't a lock to make the roster, but he's the most likely to replace Cole Beasley as the primary punt returner, as he split duties with Beasley last year. Meanwhile, it's a free-for-all to become the primary kick returner. The team might just give it to Austin or resort to defensive back Jourdan Lewis, who returned two kicks in 2018 and 22 kicks over his final two seasons at Michigan. The name to keep an eye on here is rookie Tony Pollard. Drafted in the fourth round in April, Pollard is a playmaker who will be a factor in the passing game, at the backup running back spot and potentially on special teams. Pollard scored seven times on 87 kick returns as the primary kick returner at Memphis. Pollard is worth stashing in all leagues that reward return yardage if he wins this job.
Colts – Don't be surprised if rookie wide receiver Parris Campbell wins the kick return job for the Colts. He averaged 30.4 yards per kick return at Ohio State, although was alleviated of his returner duties as a senior. The Colts' incumbents – fellow wide receivers Zach Pascal and Chester Rogers – are still around, but neither was very impressive and it's unlikely both make the final roster. With the arrival of Campbell and free agent Devin Funchess, the Colts may choose to let Rogers go and save over three million dollars against the cap. If that happens, and Campbell earns a job, he'll gain some additional value.
Other teams with an open competition for return jobs: Panthers, Browns, Eagles, Buccaneers, Redskins, Vikings, Cardinals
IDP Options: Defensive Players Who Return Kicks
If you play in an IDP league, there are always a few corners or safeties who bolster their stats with returns. While teams have sometimes suffered consequences of injuries using their top defenders in the return game, a few teams inevitably continue to expose significant starters to brutal hits on special teams. These players are especially worth noting in leagues that require a cornerback slot, as cornerbacks are often low fantasy producers, and return stats can help bolster their value.
Desmond King, CB, Chargers – King was really good last year and should have no trouble keeping his job as the primary returner on both kicks and punts this season. He brought a punt back for a touchdown, averaged 13.8 yards per punt return and amassed a total of 840 yards in the return game. King has also had 133 tackles over the past two seasons and should remain a primary sub-package defender in nickel and dime formations. With an abnormal number of tackles for his position and significant work in the return game, King is a must-own in IDP formats that give points for return yards.
Jabrill Peppers, S, Giants – Peppers was used consistently in the return game in Cleveland the last two years, but he wasn't particularly effective, averaging only 7.3 yards per punt return and 22.0 yards per kick return. However, Peppers improved on defense last season with 79 tackles and a sack, often playing near the line of scrimmage. With the Giants, Peppers may slide into the vacated box-safety position. Landon Collins had 96 tackles in 12 games in that role a year ago. While Peppers may never be the hitter Collins is, his role on the defense combined with his potential as a return specialist could catapult him into elite territory in IDP leagues with return yardage. He's always been considered a playmaker and he should have opportunities in New York.
Update: Keep an eye on this situation. Giants have been expressing a desire to keep Peppers fresh for defense - and possibly even some offensive work. Meanwhile, T.J. Jones has looked good and the Giants have roster spots available at the receiver spot.
Adoree Jackson, CB, Titans – Jackson may not be in a returner spot for long. He stopped returning kicks last year as he continued to develop on defense, and he only had 59% of the team's punt returns compared to 94% the year before. However, he's had at least 70 tackles in each of the past two seasons and should continue to get significant defensive snaps, even if he plays primarily in the nickel this year. If Jackson holds on to the punt returner job, owners in IDP return yardage leagues should scoop him up.
Other defensive backs to watch for: Cyrus Jones, CB, Ravens; Tremon Smith, CB, Chiefs; Mike Hughes, CB, Vikings; Greg Stroman, CB, Redskins; Jamal Agnew, CB, Lions