Punt & Kickoff Return Depth Charts and Players to Target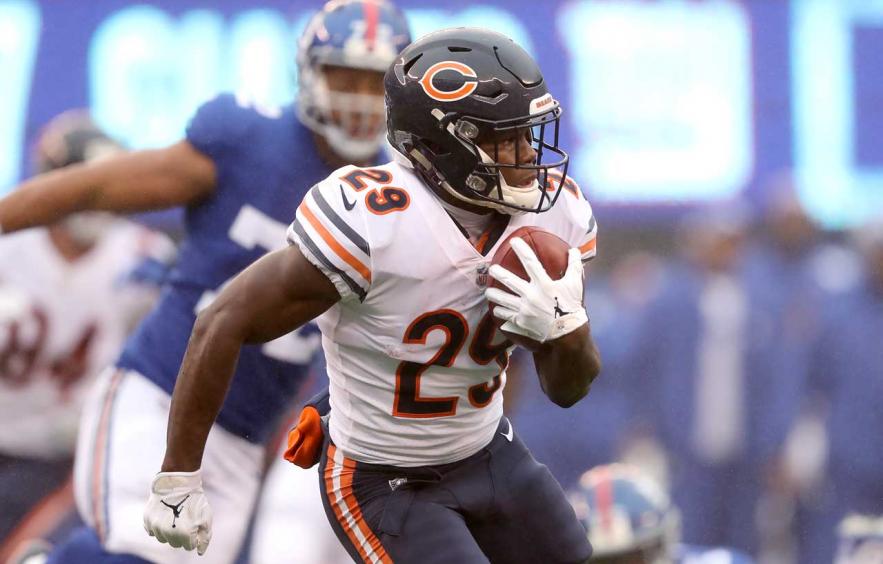 With a well-timed touchdown, a kickoff or punt returner can provide the key points that push your fantasy team over the top. Some returners are better than others, so it's important for fantasy owners to keep an eye on depth charts to see which players will return kicks and punts for each team. Below you will find kickoff and punt return depth charts. They will be updated weekly— through the seemingly endless amounts of drops, pickups, and training camp battles—until the season begins.
New Rules
To further protect players from the bone-crushing hits and high-impact collisions of kickoff returns, the league has adopted new rules for the kicking game. While punt returns will remain unchanged, the new rules for kickoffs will impact how many kicks a team takes out of the end zone and how effective the returns are. Here's an overview of the changes:
Teams must line up five players on each side of the ball, instead of a minimum of four players. This will mostly affect the strategy behind onside kicks, where teams would load one side of the field with six players under the previous rule.
The kicking team must line up within one yard behind the line of scrimmage. This has been five yards in the past and will limit the running start of coverage teams prior to the kick.
No wedge blocks allowed. Previously, two-player wedge blocks were allowed at any stage of the field. Now, only players lined up in the setup zone prior to the kick can come together for a block.
A player no longer needs to down the ball in the end zone for a touchback. The touchback is called the moment the ball touches the ground in the end zone.
Coverage teams are required to have at least two players outside the hash marks on either side of the field and return teams need at least eight players in the set-up zone. This change will decrease the intensity of collisions by changing the initial blocking locations and by reversing blocking direction.
What do these rule changes mean? Well, mostly they mean a shift in philosophy for coaches around the league. But for the players listed in this article, it likely means more returns, and more diversity in players touching the ball. While kickers with huge legs will continue to boom the ball out the back of the end zone whenever possible, teams may use more directional and pooch kicks to take advantage of where the best gunners are. In short, expect more returns, and up to three sure-handed players ready to return to account for less predictable ball placement.
Double Dip: Fantasy Studs Who Return Kicks
Many teams have game-breaking playmakers on offense they can't help but use in the return game as well. This is where fantasy owners in return yardage leagues should stand up and take notice. With the amount of talent and speed at the skill positions throughout the league, multiple teams are using these dual-threat options as multi-purpose offensive weapons, as well as dynamite players in the return game. Only players whose value increases are included. Players like Antonio Brown, who inexplicably continues to return punts, won't be mentioned because they're going to be top picks regardless. The following players will likely get a boost and should be considered for their added return value:
Other names to consider: Danny Amendola, WR, Dolphins; Travis Benjamin, WR, Chargers; Darren Sproles, RB, Eagles; Tavon Austin, WR, Cowboys
Just for Kicks: Return-Only Specialists
Some players carve out a niche as a return-specialist and make a roster on that skill alone. If you're not in a league with an extra slot for returners, the players below are unlikely to create enough production on offense to make a real difference, but they can be valuable in leagues that allow you to start a separate returner.
Cordarrelle Patterson, WR, Patriots — Patterson has been one of the best kick returners in the league throughout his career, and now that he's a Patriot, there's no reason to think he won't continue to thrive in that role. Patterson has a chance to contribute on offense as well, so he may have some dual-role potential, but he's most likely to remain simply a Pro Bowl caliber return specialist.
Pharoh Cooper, WR, Rams — Cooper was one of the best returners in football last season. Among players with 20 kick returns or more, he led the league with a 27.4-yard average, and his 12.5-yard punt return average was second to only Jamal Agnew of the Lions. Cooper also took a kick back for a touchdown. He'd love to see more time on offense but is unlikely to rise higher than fourth on the depth chart, making it hard to envision him holding value in leagues that don't separate the returner spot.
Ryan Switzer, WR, Raiders — The Raiders will need to replace Cordarrelle Patterson as a returner and Switzer was excellent in that role for the Cowboys last season. He averaged 25.0 yards on 24 kick returns and he took a punt back for a touchdown. Switzer will have a chance to compete for snaps in the slot on offense, but with a crowded depth chart in Oakland, it's hard to imagine him getting an opportunity to be a dual-threat player. Still, he should have no trouble winning both the punt and kick return positions. Update: Switzer traded to the Steelers. Switzer is still likely to be primarily a return specialist, but he has a chance to earn a job in the slot as well. The Raiders will likely turn to Dwayne Harris, who will have very little offensive value but is an accomplished return specialist.
Other returners unlikely to play a significant role on offense: Trevor Davis, WR, Packers; Kaelin Clay, WR, Bills; Jakeem Grant, WR, Dolphins; Bernard Reedy, WR, Buccaneers; Kalif Raymond, WR, Giants; Tyler Ervin, RB, Texans; Chester Rogers, WR, Colts
NFL Teams with Open Kickoff or Punt Return Jobs
There is always a lot of turnover at both return spots from year-to-year, and below are a few of the teams that have open jobs where a young playmaker might be able to earn a spot on the roster.
Falcons — Andre Roberts went to the Jets, so the Falcons will have an open competition. The likely winners are Justin Hardy and Marvin Hall, two receivers who will also be battling it out for the fourth spot on the depth chart. The winner will likely be a return-specialist only.
Redskins — Jamison Crowder could be an option as a dual-role fantasy target, but he wasn't particularly effective returning punts last season, averaging only 6.3 yards on 27 returns. Washington will give the youngsters on the roster every opportunity to win the job. Candidates include cornerback Greg Stroman, and receivers Trey Quinn and Darvin Kidsy.
Steelers — There's a chance JuJu Smith-Schuster wins the primary kick return job, and if that happens, his value will get a bump in leagues that reward return yardage. Keep an eye on the competition though, as the Steelers would love nothing more than for a young guy like Quadree Henderson—who is not a focal point of the offense—to wrestle away both returner jobs. Update: Ryan Switzer was traded to the Steelers and should be considered the primary option to replace Antonio Brown and JuJu Smith-Schuster in the return game.
Other teams with an open competition for return jobs: Ravens, Bengals, Jets, Jaguars, Broncos
IDP Love: Defensive Players Who Return Kicks
If you play in an IDP league, there are always a few corners or safeties who bolster their stats with returns. While teams have sometimes suffered consequences of injuries using their top defenders in the return game, a few teams inevitably continue to expose significant starters to brutal hits on special teams. These players are especially worth noting in leagues that require a cornerback slot, as cornerbacks are often low fantasy producers, and return stats can help bolster their value.
Adoree Jackson, CB, Titans — Jackson was the primary returner for the Titans last season, returning 25 kicks and 34 punts for 868 yards. While he may lose some work to free agent acquisitions Michael Campanaro and Dion Lewis, he should continue to get work in the return game. Jackson is a dynamic playmaker with the ball in his hands, with blazing speed and excellent agility. His development as a future star cornerback makes him an intriguing option for fantasy leagues that have a separate spot for cornerbacks. In leagues where owners get points for return yardage, Jackson may even challenge some safeties in IDP value.
Jabrill Peppers, DB, Browns — The Browns lined Peppers up all over the defensive backfield last season but will probably move him closer to the line of scrimmage this year in more of a traditional strong safety role. He should continue to see time in the return game as well. Last year, he returned 14 kicks and 30 punts for a total of 498 yards. While he'll get some competition from running back Matthew Dayes and rookie receiver Antonio Callaway, Peppers is too much of a playmaker to be left completely out of the mix. His changing role on defense and his help in the return game should lead to more tackles and more fantasy value in IDP leagues that provide points for returns.
Mike Hughes, CB, Vikings — Keep an eye on the Vikings' first-round pick this year. Hughes was very good in the return game at the college level, returning two kicks and one punt for touchdowns last season at UCF. Hughes may not win the job over veteran Marcus Sherels but if he does, he has a good chance to contribute in dime situations on defense and rack up stats as a returner as well.
Other defensive backs to watch for: Jamal Agnew, CB, Lions; Micah Hyde, DB, Bills
Photo by Elsa/Getty Images
---
Related Articles