Never-Too-Early 2019 Quarterback Rankings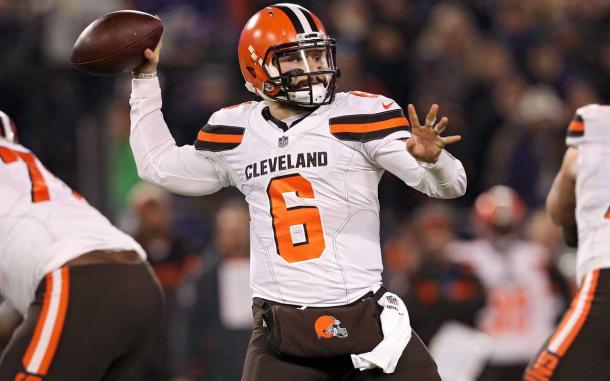 Below you'll find my third stab at 2019 rankings for the quarterback position.
The rankings are based on half-PPR scoring systems. I've included 2018 points per game (Week 1 through Week 16) and two-year points per game (where applicable). I've also included the difference (DIFF) between my rank and the player's current average draft position (ADP) in DRAFT 12-team best ball half-PPR drafts. A positive number means that I'm relatively high on the player while a negative number means—you guessed it—that I'm relatively low on the player.
Below the rankings you'll find some discussion about a few players that jump out as particularly good or bad values heading into the spring.
---
More Never-Too-Early Rankings: RB | WR | TE
---
The quarterback position continues to be loaded with productive players, so my usual approach won't change: It pays to wait on the position. In 2016, six quarterbacks were drafted outside of the top 12 and subsequently finished in the top 12 in total scoring. In 2017, four quarterbacks—
Alex Smith, Carson Wentz, Philip Rivers and Jared Goff—accomplished the same feat. In addition, Deshaun Watson was on pace to finish as the No. 2 quarterback prior to his injury in Week 8. In 2018, we added four more late-round quarterbacks—Patrick Mahomes, Matt Ryan, Jared Goff and Dak Prescott—to this list.
It looks like DRAFT users have already caught on to the value of Jameis Winston now that he's playing for new head coach Bruce Arians, who appears to be very committed to the former Heisman winner. In the 20 games over the past two seasons in which Winston attempted at least 25 passes—my way of filtering out a few of those games where Winston either did not start or was benched during the game—he has averaged 19.4 PPG. In 11 such games in 2018, he averaged 20.0 PPG. Those are top eight numbers. Arians' history with Carson Palmer—20.8 PPG playing for Arians in 38 games from 2015-17—makes this look like a great pairing. He's going in the 9th round at DRAFT, but I've seen him going significantly later at other sites and this poll leads me to believe that his ADP may land in the double-digit rounds in most formats. If so, he'll be a fantastic late-round quarterback option. Arians should be able to get the most out of Winston, especially with Mike Evans, Chris Godwin and O.J. Howard in the fold. (DeSean Jackson is also under contract for 2019.)
Baker Mayfield's splits with Freddie Kitchens calling the plays are very encouraging for 2019, now that Kitchens has been promoted to head coach. Mayfield averaged 19.0 PPG from Week 9 on, after Kitchens took over. He had the No. 10 per game average in that span, so consider him a low-end QB1.
I thought Dak Prescott was shaping up as a great value heading into 2018, but then Jason Witten retired and the Cowboys cut Dez Bryant. Predictably, Prescott struggled before the team's trade for Amari Cooper—he was the No. 24 quarterback through Week 8. However, from Week 9 on, he was the No. 6 quarterback with a 19.1 PPG average. Including the team's two playoff games, he averaged 19.9 PPG in 11 games with Cooper, playing at a 4305-yard, 32-total-TD pace when prorated to 16 games.
Lamar Jackson averaged 18.7 PPG in his eight starts. The Ravens hired ground-game aficionado Greg Roman to coordinate the offense so it's crystal clear that the team will continue to emphasize the run with Jackson at quarterback. Hewill continue to rack up points with his legs, but I doubt that Roman will be able to maximize Jackson's ability as a passer. Jackson should be a high-floor fantasy quarterback in 2019.
I'm really interested to see where Nick Foles lands. In his last 12 full games for the Eagles, he has averaged 20.3 PPG, throwing for an average of 271 yards, 1.75 touchdowns and 0.83 interceptions per game. If he signs with a team that has a couple of good weapons in the passing game and a good play-caller, he could vastly outproduce his 14th-round ADP.
Despite a good per game average and two great receiving options, Kirk Cousins is ranked low thanks to Minnesota's run-heavy attack late in the season under Kevin Stefanski. The team's pace slowed by 6.4 plays per game and had an almost-even run/pass split in three games under Stefanski. As a result, Cousins' per game production dropped to 15.8 PPG in that span. This doesn't bode well for 2019.
3/10/19 Updates
Relative to the first edition of these rankings, the Antonio Brown trade (from Pittsburgh to Oakland) caused Ben Roethlisberger to move down a few spots with Derek Carr moving up a few spots.
Since the beginning of the 2017 season, Carson Wentz has averaged 20.1 fantasy points per game, which is solid QB1 production. His 2018 production is considered a disappointment, but if we ignore his three-interception debacle in New Orleans, he averaged 19.0 fantasy points in his other 10 games, which is about what Philip Rivers scored as 2018's No. 13 fantasy quarterback. He had the third-highest per game average through 13 games in 2017, so he has proven top five upside. If he's fully healthy for OTAs, and recent reports say he will be, his ADP should rise significantly this offseason. Right now, he's an excellent late-round pick in the double-digit rounds.