Never-Too-Early 2019 Wide Receiver Rankings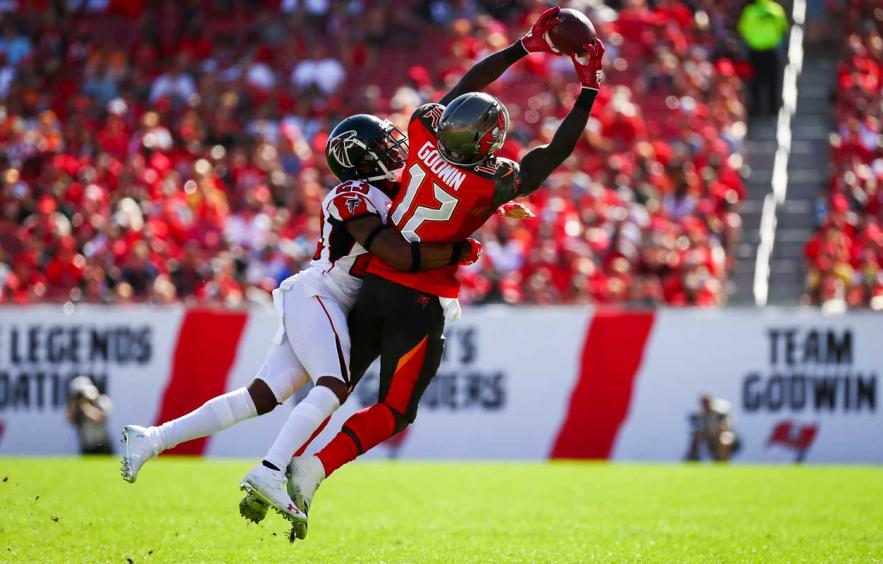 Will Vragovic/Getty Images
Below you'll find my fourth stab at 2019 rankings for the wide receiver position. This will likely be the last update before the NFL Draft. Once the Draft is complete, I'll begin to work on our 2019 projections/rankings.
The rankings are based on half-PPR scoring systems. I've included 2018 regular season points per game and two-year points per game (where applicable). I've also included the difference (DIFF) between my rank and the player's current average draft position (ADP) of 12-team half-PPR best ball drafts at DRAFT. A positive number means that I'm relatively high on the player while a negative number means—you guessed it—that I'm relatively low on the player.
---
More Never-Too-Early Rankings: QB | RB | TE
---
Below the rankings you'll find some discussion about a few players that jump out as particularly good or poor values heading into the spring.
3/10/19 Updates
Free agent receivers tend to disappoint after joining a new team, and I'm not confident that Antonio Brown will be able to maintain his ridiculous production as he joins the Raiders. He'll experience a downgrade at quarterback from Ben Roethlisberger to Derek Carr, and HC Jon Gruden did a poor job utilizing Amari Cooper, who went on to have a great stretch with the Cowboys after he got out of Oakland. Update: After further study, Carr was as efficient on a per attempt basis as Ben Roethlisberger was to all receivers other than Brown, so Brown may not experience as big of a downgrade as it seems. My concerns stand with Gruden's ability to get the most out of Brown still stand.
Brown's departure solidifies JuJu Smith-Schuster as a fantasy WR1 and James Washington should see a big bump in playing time and targets. The former second-rounder was highly productive in college, racking up 145 catches for 2929 yards and 23 touchdowns in his final two seasons at Oklahoma State. He won the Fred Biletnikoff Award as the nation's top receiver in 2017 and was a favorite of #ReceptionPerception creator Matt Harmon as he evaluated last year's draft class. After a strong preseason—catching seven passes for 158 yards and two touchdowns—Washington had a quiet rookie year, catching just 16 balls for 217 yards and a touchdown on 30 targets, but there wasn't much room for Washington in the offense with Antonio Brown and JuJu Smith-Schuster gobbling up 166+ targets apiece. Even though he was playing fifth fiddle in the passing game, Washington still played 55% of the snaps and had two of his best games late in the season, posting 3-65 on four targets against the Patriots in Week 15 and 3-64 on three targets in Week 17 with Brown sidelined. As a receiver who is very likely to see 100+ targets from Roethlisberger in a potent offense, Washington is definitely in the WR3 mix this summer and has the upside to finish in the top 20.
3/25/19 Updates
The arrival of Odell Beckham in Cleveland looks to be a net positive for his value, but Jarvis Landry and Antonio Callaway take a hit.
Antonio Brown's move to Oakland is a downgrade for him, but he's still ranked solidly as a fantasy WR1. His departure opens up 160+ targets in Pittsburgh, and I think the primary beneficiaries will be James Washington and Vance McDonald.
Golden Tate signed with the Giants. It's not a great landing spot for him, but it's not a terrible one either. His quarterback situation isn't great, but he should see plenty of targets as he tries to replace Beckham in the offense.
Devin Funchess gets a bump after signing with the Colts. He'll likely serve as the WR2 behind T.Y. Hilton and he'll be enjoying a quarterback upgrade as well. I do wonder how many targets he'll see with both Eric Ebron and Jack Doyle soaking up targets at the tight end position.
4/12/19 Updates
With Jackson and Humphries out of the way, Justin Watson now has a chance to play 70% or more of the snaps in Tampa. We'll monitor his progress closely this summer.