The Training Room: Week 15 Injury Updates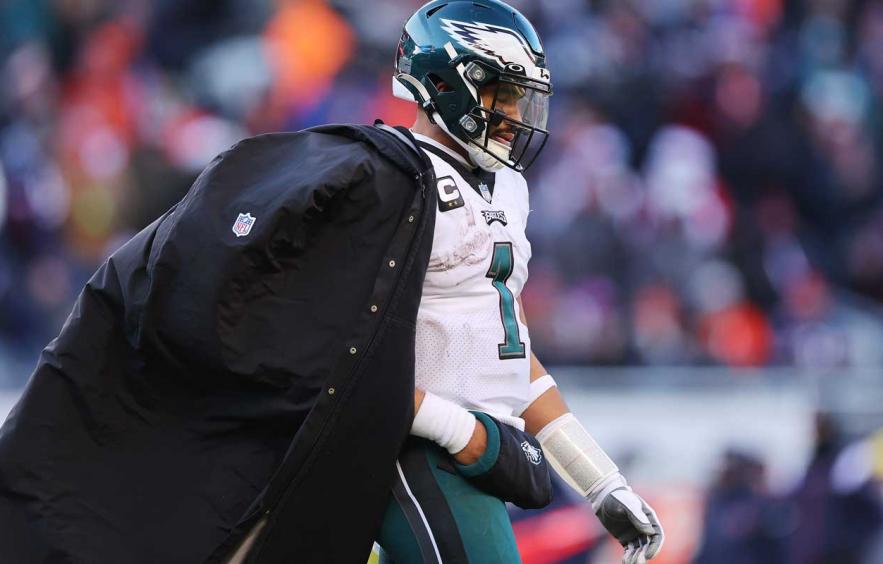 Michael Reaves/Getty Images
We finally made it. Some of us sprinted - fully healthy, and most of us limped/crawled into the fantasy football playoffs as injuries decimated our teams. But nevertheless, the playoffs are here. If you are reading this most likely you still have something to play for, and for that you deserve a congratulations!
Who knows what will happen in the weeks to come but the only way you can win the playoffs is by qualifying first. Let's prepare by looking at the injuries from Week 15.
Jalen Hurts

, QB Philadelphia

Eagles
Injury: shoulder injury - likely AC Joint sprain
Projected Timetable: 2-3 weeks
Potential Replacement(s):
Gardner Minshew
Initial Thoughts:
By video (and later confirmed by Adam Schefter on Monday Night Football), it looks like Jalen Hurts is dealing with an AC joint sprain in his throwing shoulder (right). However, Hurts was able to finish the game and throw a 68-yard bomb to A.J. Brown after his shoulder injury; playing through an AC joint sprain when the adrenaline is flowing is not uncommon. It is very likely that today and the next 10-14 Hurts is going to be dealing with some pain following this injury.
For a mobile QB such as Hurts who is not always avoiding contact when he runs, re-injury and reaggravation is always a risk. With Philly basically locking up the division, it sounds like the Eagles want to ensure that their signal caller is 100% for a deep playoff run. As a result, I think Hurts misses a minimum of two weeks, maybe even three.

Jonathan Taylor

, RB Indianapolis

Colts
Injury: high ankle sprain
Projected Timetable: 4 weeks - season ending
Potential Replacement(s):
Deon Jackson

,

Zack Moss
Initial Thoughts:
The lingering ankle injury that has been slowing down Jonathan Taylor all season finally got the best of the All-Pro running back. Jonathan Taylor sustained a high ankle sprain early in Saturday's game and will most likely end his season. The Colts are not playing for anything except a high draft pick at this point, and with high ankle sprains typically resulting in a 3-4 week absence, it makes little sense for Taylor to return.
Austin Ekeler

, RB Los Angeles

Chargers
Injury: shoulder injury
Projected Timetable: 0-1 week
Potential Replacement(s):
Joshua Kelley
Initial Thoughts:
Despite missing out on the Chargers' first touchdown Sunday due to a shoulder injury, Brandon Staley told reporters Monday that tests on Ekeler's shoulder came back negative. It sounds like there could have been a concern for a labral injury due to subluxation/dislocation since Ekeler had an MRI done.
Tests come back negative on Austin Ekeler's shoulder https://t.co/Knn87jzdPR #NFL #fantasyfootball

— 4for4 Fantasy Football (@4for4football) December 19, 2022
There is a small uptick in Ekeler's re-injury risk, so if you're in your fantasy playoffs and are counting on Ekeler, you need to handcuff him with Joshua Kelley. With that said, it is looking like we will see Ekeler in Week 16.
Tyler Lockett

, WR Seattle

Seahawks
Injury: finger fracture
Projected Timetable: 3 weeks
Potential Replacement(s):
Marquise Goodwin
Initial Thoughts:
Tyler Lockett fractured his finger while trying to catch a pass during Thursday Night Football -an injury that required surgery. Looking at historical comps, it is likely that Lockett missed at least two weeks. Due to the surgery, three weeks feel more realistic. Lockett has been a solid fantasy asset this season, but with benches getting tight in the playoffs, I understand if you need Lockett to go. I don't think he will help you for the next two weeks.
Marquise Goodwin has shown flashes this season and could be serviceable if you're in a pinch.
Colt McCoy

, QB Arizona

Cardinals
Injury: concussion
Projected Timetable: 1-2 weeks
Potential Replacement(s): Trace McSorely
Initial Thoughts:
The Arizona Cardinals quarterback injuries continue to pile up. At this point, if I was in the quarterback in AZ, I would make sure I have a good short-term disability. The latest injury - Colt McCoy's concussion. Yet another concussion to discuss. McCoy will have to clear the concussion protocol before he returns, but with the trend in 2022, it's likely third stringer Trace McSorely will get the start in Week 16.
Ryan Tannehill

, QB Tennessee

Titans
Injury: high ankle sprain
Projected Timetable: 1-2 weeks
Potential Replacement(s):
Malik Willis
Initial Thoughts:
Ryan Tannehill needed to be carted off the field with a high ankle sprain but was somehow able to return. We have seen QBs play through high ankle sprains in the same game but later on miss time, and I believe this is the case for Tannehill. There is a decent chance the Titans roll out rookie Malik Willis yet again.
Mike White

, QB New York

Jets
Injury: rib fracture
Projected Timetable: 2 weeks
Potential Replacement(s):
Zach Wilson
Initial Thoughts:
Despite getting "cleared" after a hospital visit last week, team doctors did not release Mike White to return to game action following his rib fracture.
Mike White on what the docs have told him: "If I get hit in the right spot, it could lead to some further damage."

— Brian Costello (@BrianCoz) December 16, 2022
The Jets were not being transparent last week as Mike White's rib fracture clearly still left him at risk for a pneumothorax (lung picture). Looking over the past five seasons, quarterbacks who had a similar injury as White missed three weeks, meaning White is projected to return in Week 18…assuming Zach Wilson yields the starting role…again.