2022 NFL MVP Odds, Bets, and Predictions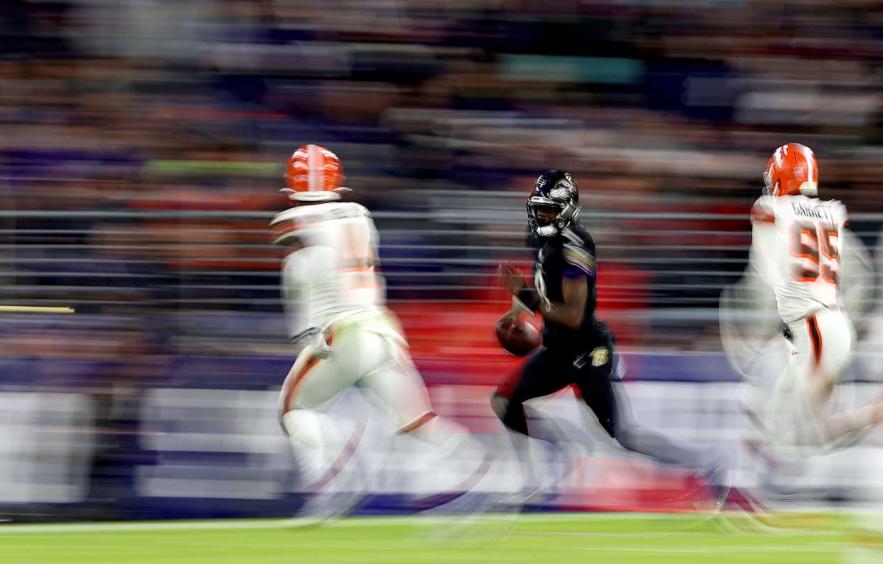 Patrick Smith/Getty Images
What is the MVP Award?
The NFL MVP is awarded to the "most valuable player" each season. This is determined by a group of 50 sports writers every year.
Who Wins the MVP?
Since 2010, quarterbacks have won 11 out of 12 seasons. As the league continues to shift even more pass-heavy, this trend should only continue. The only running back to be crowned MVP in that time span was Adrian Peterson. He ripped off the second-most rushing yards in NFL history and was the focal point of his team's offense. Focusing on the same time span, every quarterback who won the MVP played on a team that won 11+ games.
Since the NFL is adjusting to a 17-game schedule, we have to translate this to a win percentage rather than a raw number of games. Eleven-of-16 games is a 68.75% win rate. With the 17-game season, that winning percentage translates to 11.68 games.
We can use upcoming win totals as a guide but it shouldn't be an end-all-be-all as every year there are middling teams that make a significant jump. The biggest takeaway though is you should be betting on a quarterback on a team very likely to win a lot of games.
After crushing the books for +40.76 units on the NFL Draft, we have already started betting on futures. Join us and start winning for as low as $10 with a deposit and bet at BetMGM.

---
More 2022 Odds Tables & Picks: Super Bowl | Win Totals | Offensive Rookie of the Year
---
2022 NFL MVP Odds Table
2022 NFL MVP Best Bets
Russell Wilson

(+1600 at Caesars)

Russell Wilson has been bailing the Seahawks out for years and was a serious MVP candidate until they decided to revert back to their neolithic ways and take the air out of the ball. He has also been playing behind a below-average offensive line for years and now is projected to have the sixth-best pass-blocking offensive line in the league. Jerry Jeudy, Courtland Sutton, Tim Patrick, and Albert Okwuegbunam aren't quite the same caliber as his weapons in Seattle but he is skilled enough to overcome that. It's tough to imagine a scenario in which the Broncos win the vaunted AFC West and Russell Wilson isn't squarely in the conversation for MVP.
Jalen Hurts

(+4000 at Caesars)

You might be scratching your head at this one after Jalen Hurts had an uneven year in 2021. Yet, the Eagles may have had the best offseason of any team in the league. They crushed the draft, shoring up their defense in the draft with Jordan Davis and Nakobe Dean while also trading for alpha wideout A.J. Brown. They also signed strong pass-rusher Haason Reddick in free agency and then added cornerback James Bradberry.

The Eagles have the top-ranked pass-blocking offensive line, per Ben Baldwin, a top-tier group of pass-catchers with A.J. Brown, DeVonta Smith, and Dallas Goedert, and a formidable defense that will surely at least be league average after finishing 25th in defensive DVOA last season. Jalen Hurts has all of the surrounding pieces to take a massive leap in 2022 and potentially win MVP.

The Eagles are also projected to play the second-easiest strength of schedule in the league and are only underdogs in 3-of-17 games according to lookahead spreads.

The Philadelphia Eagles changed their offensive identity after Week 7 last year, as evidenced by the below splits:

Weeks 1-7:
61% pass rate
4% pass rate over expectation
Weeks 8-18:
41% pass rate
-12% Pass rate over expectation
With A.J. Brown and an elite pass-blocking offensive line, I think we see the Eagles trend towards their early-season tendencies or at least be a bit more balanced. If the Eagles wind up winning 11+ games and open the offense up a bit, Jalen Hurts will be a massive value at 40/1.
2022 NFL MVP Betting Notes
Josh Allen

(+700 at Caesars)

Josh Allen is the favorite in this market for a reason. In addition to being an exciting passer, he adds value with his legs and he plays on a team projected to be a Super Bowl contender. He has a strong offensive line and good pass-catchers. I personally don't like betting on the favorite in a large-field market but barring an injury, he will likely be in consideration for the award when it's time to vote.
Patrick Mahomes

(+900 at DraftKings)

Patrick Mahomes probably faces his toughest road to winning the MVP since his first year as a starter. The AFC West is absolutely loaded with the Broncos trading for Russell Wilson, and the Chargers remaining a serious playoff contender. The Chiefs not only have a tough division but are slated to play against the toughest overall strength of schedule this season, according to season win totals. They also lost difference-maker Tyreek Hill at wideout, replacing him with some combination of Marquez Valdes-Scantling, JuJu Smith-Schuster, and Skyy Moore. I wouldn't bet on Mahomes at anything less than 10/1.
Tom Brady

(+1000 at DraftKings)

Turning 45 before the season, Tom Brady is already defying every form of conventional aging. He's not only by far the oldest quarterback in the league but is still playing extremely well. After a brief stint as a retiree, he is ready to run it back and take another stab at a Lombardi Trophy. One concern is that Chris Godwin could be out to start the season after tearing an ACL in Week 15 of last season. His recovery is something worth monitoring for those looking to back Brady for MVP.
Aaron Rodgers

(+1000 at FanDuel)

The reigning MVP has his work cut out for him. The Packers traded away stud wideout Davante Adams and weren't able to retain Marquez Valdes-Scantling. Aaron Rodgers' receiving corps is now made up of Sammy Watkins, Allen Lazard, Christian Watson, Amari Rodgers, and Randall Cobb.
Justin Herbert

(+1200 at Caesars)

Justin Herbert threw for over 5,000 yards last season, tossing 38 touchdowns with just 15 interceptions, yet the Chargers went just 9-8. With the addition of Russell Wilson to the AFC West, Herbert's path to MVP became harder. The sky-high upside remains but a lot of that is already baked into his price (fifth-best odds to win MVP).

Joe Burrow

(+1300 at Caesars)

The Bengals' Super Bowl run was one of the flukiest in recent memory. They got to play the overrated Raiders in the Super Wild Card round. Then they matched up against one of the worst No. 1 seeds in history in the Titans. They had a furious comeback against the Chiefs to win the AFC and then lost in the Super Bowl. They were outgained in yards per play in every playoff game but none of that mattered because of how electric Joe Burrow and Ja'Marr Chase are as players. They also helped him out a bunch in the offseason by bolstering the offensive line. He could hypothetically take another step forward this season now that he has protection. Burrow might be among one of my favorite bets among the top six players in odds.
Dak Prescott

(+1600 at Caesars)

Dak Prescott ripped off a 37:10 touchdown-to-interception ratio and led the Cowboys to an 11-5 record as the starter last year. He still wasn't close to winning the MVP, receiving zero votes. He had a good but not great season. Prescott now needs to take the next step without Amari Cooper. I think there's a good chance he is able to repeat last year's success but there isn't much reason to believe he takes another step forward.
Matthew Stafford

(+1600 at Caesars)

Matthew Stafford compiled a great final-season stat line with 4,886 passing yards, 41 touchdowns, and 17 interceptions—the most interceptions he's thrown in the past eight seasons. He was also able to give the Rams something Jared Goff wasn't and aided them in a Super Bowl win. There are better options in the same price range to win MVP.
Kyler Murray

(+2200 at FanDuel)

Kyler Murray likely would have been a popular MVP bet if DeAndre Hopkins didn't get suspended for a chunk of the season. Former Ravens wideout Marquise Brown should help to offset some of the lack of receiving talent but Brown is a much different player than Hopkins. If he is able to play reasonably well before Hopkins comes back, Murray could make a run at the award in the second half of the season. Given that logic, I would rather bet him to win the MVP mid-season instead because you will almost certainly get a better price.
Lamar Jackson

(+2500 at DraftKings)

Lamar Jackson is a good bounce-back candidate after last season when the Ravens suffered numerous injuries. He was forced to throw the ball at the highest rate in his career and abandon their run-heavy, dominant offense featuring some explosive passing plays. I expect them to get back to that this season. At +2500, Jackson is worth a stab to win MVP.
---
This article is intended for entertainment purposes and adult users only. Call 1-800-GAMBLER if you have a gambling problem