TJ's #Taek: Week 4 NFL DFS GPP Recap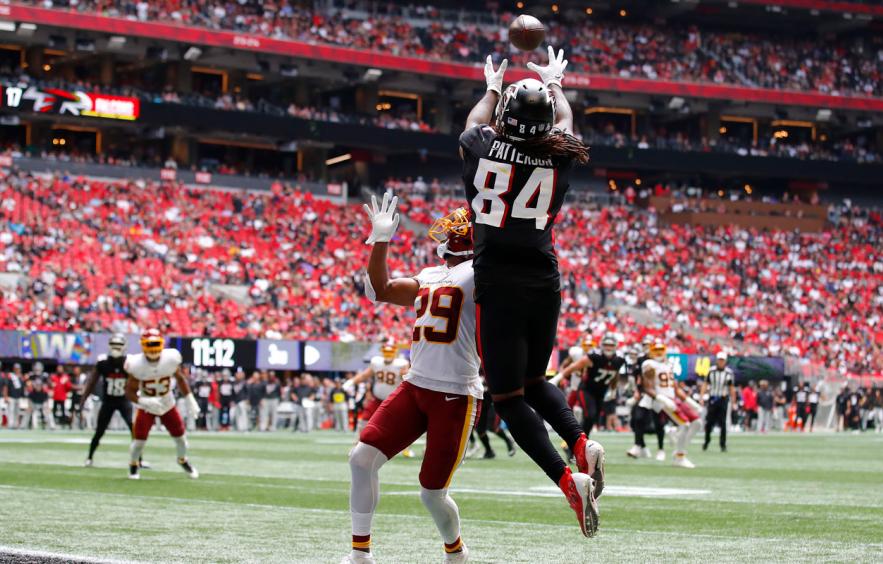 Todd Kirkland/Getty Images
Week 4's winning lineups from the biggest contests on FanDuel and DraftKings can be used to tease out lineup-building strategies and offer clues on how you could have landed on a similar team. Reviewing your hits and misses each week is imperative if you want to be a profitable DFS player but examining winning lineups is also a useful exercise in cultivating a winning approach.
---
More GPP Strategy: QB | RB | WR | TE | DEF
---
DraftKings Week 4 Millionaire Winning Lineup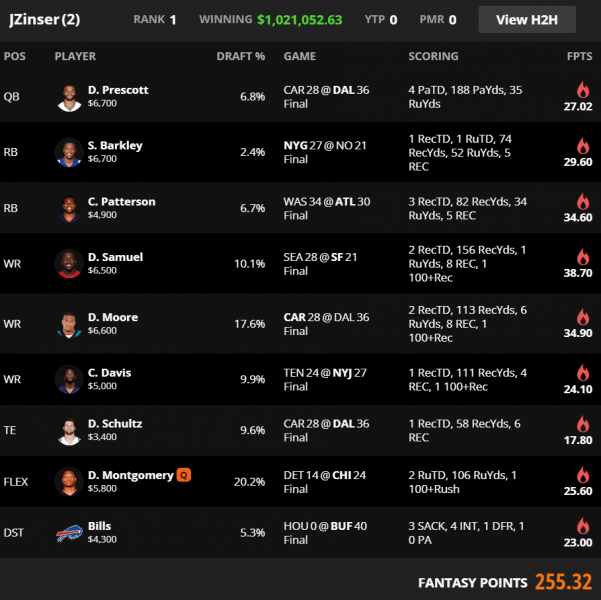 Most Rostered Players
This week's winning lineup highlights some early-season trends that run against what we've seen from typical winners in past seasons. For the fourth time in as many weeks, the winning Millionaire lineup ended up with average ownership below 10%—there were only five such winners all of last year. As noted in earlier reviews, ownership numbers are down across most slates so far with just four players in at least 20% of Millionaire lineups in Week 4.
The salary allocation for this week's winner was the most balanced from a Millionaire winner in 2021 with no player priced over $6,700 or below $4,300. Through four weeks, every winning lineup has spent $7,000 or less at quarterback and winners are typically spending almost as much on their WR2 as on their RB1. In recent years, the most expensive running back in winning Millionaire lineups has typically been given the highest salary allocation by a wide margin.
Outside of the low ownership of this lineup, maybe the most notable player is the one that was not in the winning lineup. Tyreek Hill scored over 50 DK points, outscoring the next-closest player by over 30%, and still wasn't on the winning roster. This speaks to the efficiency of salaries on DraftKings so far this season—players can whiff on the top play on a slate and still take down even the largest tournaments with superior roster construction.
Anyone that regularly reviews tournament strategy should notice the lack of correlation from this week's winner. Beyond the three-man QB/TE/Opp. WR stack, no other player correlated with another in the lineup.
This lineup was extremely value-driven. Cordarelle Patterson and David Montgomery ranked as top-six running back values on 4for4, Corey Davis and D.J. Moore closed the week as top-six values at their position and Deebo Samuel was considered a cash-viable option.
Week 4 was the first time this season that a Millionaire winner flexed a running back.
FanDuel Week 4 Sunday Million Winning Lineup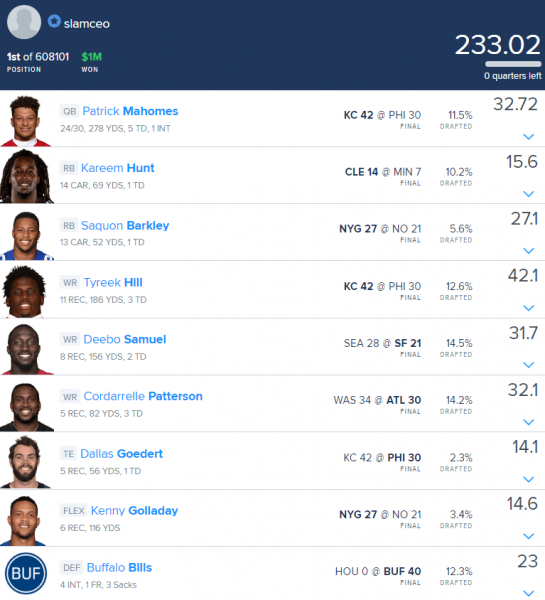 After the chalk hit in a big way last week on FanDuel, Week 4's Sunday Million winner used a lineup with sub-10% average ownership, offsetting six payers with double-digit ownership by rostering three players that were in fewer than 6% of lineups.
Although Dallas Goedert wasn't valued high going into the week, he made sense as a low-owned bring-back opposite a fairly popular QB/WR stack. Goedert also offered leverage off of Travis Kelce on the other side, who projected as the most popular tight end on the slate.
slamceo rolled two contrarian plays into one by stacking Saquon Barkley and Kenny Golladay together—if the Giants' game flow went against expectation, with New York being able to move the ball against the Saints, this low-owned mini-stack would be able to separate from the field. With Sterling Shepard and Darius Slayton out, it was reasonable to expect touches to concentrate on Barkley and Golladay, although Kadarius Toney was targeted nine times.
This was the third time in four weeks that the Sunday Million winner flexed a wide receiver, the third time that it contained at least five correlated players and every winner has used a running back mini-stack.

TJs Final #Taek
Flat ownership and low ownership ceilings across slates have been obvious trends this season, as discussed in previous reviews. Another tendency of note is how the best lineups have allocated their salary, specifically in relation to running backs. In recent history, tournament winners have typically spent up for at least one running back spot but that has not been the case so far this year.
On average, 2021 Sunday Million and Millionaire winners have spent almost as much on their WR2 as they have on their RB1. This isn't due to a lack of high-priced running backs—on DraftKings, for example, there have been 18 running backs on the main slate priced $7,500 or higher, or a little over four per week; last season, there were fewer than three backs per week with such high salaries.
This isn't to say high-salary running backs aren't hitting—running backs and wide receivers priced at or above $7,500 on DraftKings have hit 2.5x and 3x scoring multipliers at virtually the same rate this season. The phenomenon, especially on DraftKings, likely has to do with the fact that low-end and mid-range players are being priced more appropriately than in past seasons, leading to more balanced lineup builds rather than the studs-and-duds tournament lineups that have often dominated DraftKings in the past.
Since there are more viable wide receivers than usable running backs in the middle salary tier, we have seen a lean towards wide receivers in the flex—only one Sunday Million and one Millionaire winner this year has flexed a running back.
As always, every week is unique and as bye weeks come and ownership starts to concentrate on fewer players, we could see shifts in winning philosophies. Early-season trends, however, suggest that the highest-ceiling approach to building tournament lineups on DraftKings—as salary structures stand—is to sacrifice the single-player upside of the most expensive running backs and wide receivers for the overall upside of a lineup with more mid-tier players.