TJ's #Taek: Week 2 NFL DFS GPP Recap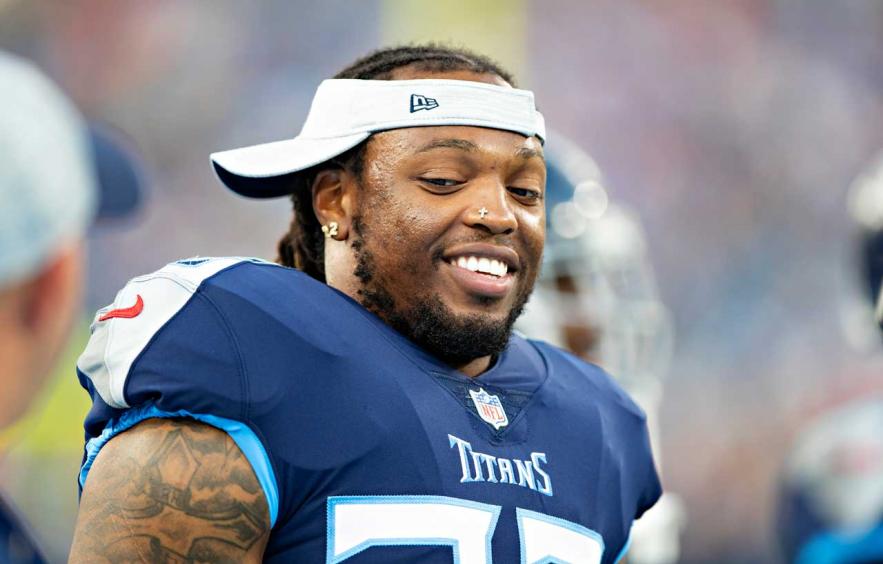 Wesley Hitt/Getty Images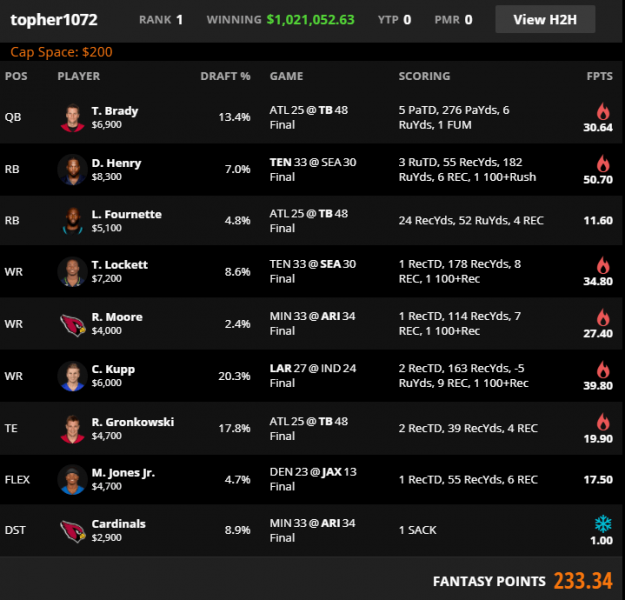 Most Rostered Players
Five Most Popular Player by Position, Week 2 Millionaire

| Player | Position | Salary | Ownership % |
| --- | --- | --- | --- |
| Justin Herbert | QB | $6,700 | 14.8% |
| Tom Brady | QB | $6,900 | 13.4% |
| Dak Prescott | QB | $6,800 | 10.9% |
| Russell Wilson | QB | $7,500 | 8.1% |
| Jalen Hurts | QB | $6,500 | 7.0% |
| Najee Harris | RB | $6,300 | 21.4% |
| Nick Chubb | RB | $7,800 | 16.0% |
| David Montgomery | RB | $6,100 | 15.6% |
| Elijah Mitchell | RB | $5,000 | 15.6% |
| Chris Carson | RB | $6,100 | 15.3% |
| Keenan Allen | WR | $7,000 | 24.0% |
| CeeDee Lamb | WR | $6,400 | 20.7% |
| Cooper Kupp | WR | $6,000 | 20.3% |
| Ja'Marr Chase | WR | $5,000 | 18.3% |
| Amari Cooper | WR | $6,800 | 16.6% |
| Rob Gronkowski | TE | $4,700 | 17.8% |
| Noah Fant | TE | $4,200 | 17.4% |
| Tyler Higbee | TE | $4,100 | 12.0% |
| Jared Cook | TE | $3,900 | 11.8% |
| Darren Waller | TE | $7,600 | 6.8% |
| Pittsburgh Steelers | DST | $3,000 | 14.7% |
| Arizona Cardinals | DST | $2,900 | 8.9% |
| New England Patriots | DST | $3,700 | 8.0% |
| New York Jets | DST | $2,200 | 8.0% |
| Cleveland Browns | DST | $3,500 | 7.7% |
This week's winning Millionaire lineup ended up with average ownership under 10% but that low ownership was as much a function of the week as it was forcing a contrarian build. No player in the Week 2 Millionaire was in at least 25% of lineups—that didn't occur once in 2020. The flat nature of ownership across the board meant that almost any lineup build would have some kind of unique aspect to it. In fact, topher1072 rostered the fourth-most popular player on the slate and three players with top-15 rostered rates.
While it wasn't difficult to be contrarian in Week 2, the most noticeable aspect of this lineup that separated it from the field was that it contained no Chargers or Cowboys. The matchup in Los Angeles had rare shootout potential and recent history suggested that leaning into those opportunities has been a winning strategy, especially when no player is expected to draw huge ownership.
Although the most likely scenario was that a Chargers or Cowboys stack finished atop Week 2 leaderboards, fading seemingly obvious situations is always going to offer tremendous upside in top-heavy payout structures. Getting away from LAC/DAL didn't completely ignore probability—Tampa Bay boasted the highest implied point total on the slate with Seahawks vs Titans carrying the second-highest over/under.
In those games, the Leonard Fournette and Derrick Henry plays stand out. Including a running back such as Fournette with a passing game that is expected to be popular is a fairly common way to make a stack unique. Henry was a play that offered leverage off of a chalky Chris Carson and DK Metcalf on the other side. Even in a bad game script in Week 1, Henry saw well over 40% of Tennessee's touches but was expected to be in fewer lineups than similarly-priced backs.
Going into Week 2, Rondale Moore's usage was encouraging after being targeted on 25% of his snaps but he was also intriguing as a return man to pair with one of the more popular DSTs of the week. Arizona's 27.5 implied total suggested scoring upside even if the return man/defense double-dip didn't hit and he provided leverage off of his teammate Chase Edmonds, who ended up being a top-six back in terms of ownership.
As big underdogs, the Jaguars were expected to be in a game script that forced them to throw. Marvin Jones only saw 18% of Jacksonville's targets in Week 1 but that equated to a quarter of their air yards. The Bronco's Noah Fant was the second-most rostered tight end in the Millionaire, making Jones a tremendous leverage play on the opposing team.
With this build, topher1072 rostered seven players with some correlation, including a primary three-man stack with two mini-stacks. This is the second week in a row that the winning Millionaire lineup spent nearly as much on their secondary two-man stack as their primary three-man stack—this is a trend I will be tracking going forward to see if there is any signal for a winning strategy there.
FanDuel Week 2 Sunday Million Winning Lineup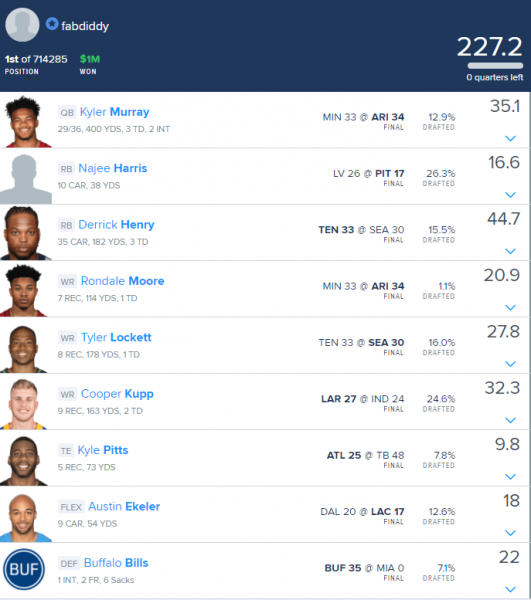 The second Sunday Million winner of the year used a lineup that highlighted how most roster builds were naturally going to be somewhat unique in Week 2—despite using two of the most popular players on the slate and just two positional players with sub-10% rostered rates, fabdiddy still built a lineup unparalleled enough to top 714,284 other entries.
Because FanDuel's salary structure typically allows for a star-heavy build, it makes sense that ownership percentages are slightly higher than on DraftKings, especially among high-priced players such as Henry and Kyler Murray.
Winning FanDuel lineups typically have more correlation than tournament winners on DraftKings—DK's scoring system often favors volume over game flow—but this week saw just four correlated players used in the winning Sunday Million lineup.
Even with a 1.1%-owned player and less correlation than usual for a winner, the most unique element of the lineup was the salary—fabdiddy left $2,700 of salary on the table, a strategy almost never used with winning results. Since the beginning of 2019, the most unused salary by a Sunday Million winner was $600 and that was due to a late-swap scenario.
It is possible that a late swap was used here but with Cooper Kupp and the Bills defense having big fantasy days on the early slate of games, it's unlikely. If almost no one in the field is leaving salary on the table, this may be an edge to exploit—more than likely, though, this is an outlier event that shouldn't be duplicated very often. As with the stack salary allocation above, this is a trend that I will pay attention to as the season progresses.

TJs Final #Taek
One of the dominant conversations surrounding DFS tournaments every week is how good the most popular plays really are and how much DFS players should be leaning into the chalk or taking a more contrarian approach. A less-talked-about aspect is how high the most popular players' ownership will be relative to the field—rostering a chalk player at 40% ownership, for example, is much different than using the most popular player when he is only in a quarter of lineups.
My biggest takeaway from Week 2 is that when ownership is relatively flat instead of heavily concentrated on just a few players, we should be more willing to roster popular players—even the most popular player. Rather than having a select number of players with certain rostered rates, the focus of GPP lineups should be on the overall ownership—usually average ownership in the 10%–15% range is the sweet spot.
In weeks such as Week 2, where a lot of players in different passing games are suppressing each other's ownership and there are top-end running backs with low ownership projections, building a unique lineup doesn't require going too far down the rankings sheets.