Standard Fantasy Football Leagues Suck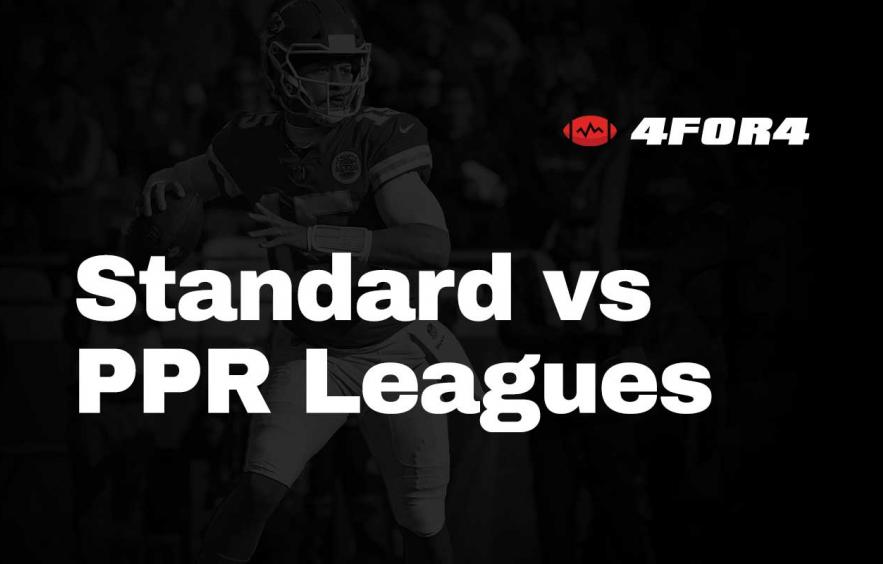 If Beavis and Butthead played fantasy football back in the 1990s or even today, do you know why they wouldn't play in a standard league?
Well, because standard leagues suck, of course…
Create or join a 2020 Yahoo Fantasy Football League for free today
As each year of fantasy football passes, it becomes more and more likely your league is PPR (Point Per Reception). In fact, if you're just getting into fantasy football you may not even realize there is something called a "standard" league. After thinking about it, every league I take part in is a PPR league. Some of them recently made the switch from standard to PPR, and the one standard league I was in, I left a few years ago (that wasn't necessarily the reason but it sounds dramatic, like I took a stand).
Last year, NFL.com announced a change to its fantasy football setup and what they consider their preferred scoring system.
"This year, we are switching from standard to PPR (one fantasy point per reception) as our preferred league scoring system. On NFL.com, PPR is the new standard," said author Graham Barfield in NFL.com article from May 2019. The complete story is here.
PPR leagues are just what their names says—fantasy players will get a point, or a half point, for each ball they catch when calculating their fantasy points each game during the season. It's amazing, but this seemingly simple rule does have a pretty big domino effect on your league and its scoring, which we'll take a look at below.
In the end, those who run leagues can of course do whatever they want, but switching to a PPR league should provide a better and more realistic fantasy experience for you and your league mates.
The Running Back Effect
If you follow anything I write here at 4for4.com, you know I love my running backs. PPR league's biggest effect on running backs in fantasy football is allowing more running backs in the pool of draftable players each year. This is a much bigger deal in leagues with 12 or more owners.
Interestingly enough, PPR's real effect isn't necessarily at the top of the rankings board. Guys like Christian McCaffrey, Travis Henry, Aaron Jones, Ezekiel Elliott, Dalvin Cook, Nick Chubb and Austin Ekeler all remained in the top-10 in 2019 fantasy scoring in both standard and PPR leagues last season, they just kind of switched positions. Mark Ingram and Chris Carson were in the top 10 in standard scoring but not in PPR; Alvin Kamara and Leonard Fournette were top-10 backs in PPR formats but not standard. So there's not a ton of turnover.
If we take a look at John Paulsen's top-200 projections for 2020, here is where we can find the value in PPR leagues for running backs.
John projects Tarik Cohen to be fifth among RBs in receptions with 70 catches. Cohen is ranked 31st in our RB PPR rankings making him a mid-range RB3 in 12-team leagues. James White has a similar ranking as John projects him for 63 catches and he's ranked 30th among our RBs in PPR. Antonio Gibson (58 projected catches), Matt Breida (57) and Kareem Hunt (53) are all potential players to draft as RB3s, making them solid flex options most weeks. All five of the above players take hits in standard leagues, none more than Cohen who drops nine spots to 43rd in the rankings.
Third-down backs and pass-catching RBs certainly have a home in PPR leagues.
The Tight End Effect
Everyone knows the nightmare that is the tight end position, especially if you don't have a stud or tend to wait on the position, either because you miss out or that's simply your strategy.
For the most part in standard leagues, tight ends are touchdown-dependent which means if they don't score you're hoping for a handful of points from the position, at best. You probably get more points from your kicker or defense at the end of the week, yet kicker and defenses are likely your last two picks on draft day.
The tight end is a big part of the offense for a lot of NFL teams. So, playing in PPR leagues certainly helps to reflect that a little bit more. Did you know nine tight ends finished in the top-50 in receptions, including five in the top-26:
While most do, not all TEs get a big boost in ranking going from standard to PPR, so I'll take a look at those first.
Austin Hooper is probably the most notable name. He's ranked 96th overall in our top-200 in standard but drops to 115th in a PPR. Jared Cook is ranked 72nd in standard and 91st in PPR. Rob Gronkowski is ranked 74th in standard and 89th in PPR. This means these guys will be more touchdown-dependant.
Mark Andrews and Hunter Henry mostly stay the same. Andrews is ranked 34th in standard and 35th in PPR while Henry is 77th in standard and 79th in PPR. Dallas Goedert goes from 108th in standard to 105th in PPR, gaining three spots.
Looking at many of the remaining TEs, though, PPR will boost their value:
The average jump in position of the above nine players is 10.1 spots from standard to PPR. So, with several of these tight ends, you're looking at almost a full round more in value when drafting in a PPR vs. a standard league. In PPR leagues, despite the position being a struggle, you should at least get more points from your tight end than your kicker.
The Wide Receiver Effect
Perhaps the biggest change in value belongs to wide receivers. PPR leagues can certainly help to even out a touchdown-hog WR with a possession guy, thus making drafts deeper and making your life easier as an owner.
I dug up last year's final fantasy point totals and compared standard vs. PPR leagues. It's clear that standard leagues favor running backs, which is fine, but that also doesn't necessarily reflect today's pass-happy NFL. And while it's "fantasy" football, you still may want to have league reflect what's really going on in the NFL. The top-10 non-QB point finishers were as follows last year in standard leagues:
As you can see, only Michael Thomas cracked the top-10 in scoring as a WR and he was actually just sixth on this list. The next WR on the list was Chris Godwin with 190.1 points, which ended up being 14th overall behind Todd Gurley. While owning a three-down, stud running back is obviously valuable, the above list really shortchanges the wide receiver position, at least at the top.
Let's dive a little deeper and look at spots 15-25 in a standard league from last year.
This list is a mix of running backs and wide receivers, but looking closer, there were just seven wide receivers in the top-25 scoring last year in standard leagues, the rest were running backs. In case you're wondering, Travis Kelce finished with 157.3 points and was outside the top-25. In fact, Phillip Lindsay outscored Kelce with 162.7 points and was the 19th-best running back. No offense to Lindsay, but he's not more valuable than Kelce. Chiefs kicker Harrison Butker also outscored Kelce with 166 points. Butker's point total made him a top-25 player in a standard league.
Now let's take a look at PPR leagues and how the top-10 point finishers shook out:
In this list, Thomas is reflected as the second-best point-getter overall, which is a lot more realistic. While running backs still dominate the top of the list, it makes sense because a bell-cow back who doesn't leave the field depending on the down and situation is going to get his points. However, now we see the wide receiver position starting to get properly represented with Godwin, Julio Jones and Cooper Kupp entering the top-10, really only a shade behind the pace of any running back after McCaffrey.
After Kupp, the list continued with the next 11 players:
This list is dominated by the wide receiver position and we even finally see a tight end, as well. The top point-getters in PPR leagues now show a lot more balance between running backs and wide receivers which is a lot more realistic.
Kickers
I gave my final point about standard leagues away earlier.
In a day and age where more leagues are going away from the kicker position, this is something to pay attention to. And I'm actually one of the old-schoolers who doesn't mind having a kicker in the lineup and still take them seriously as fantasy point-getters week-to-week.
The top four-kickers last year were Harrison Butker (166 pts), Will Lutz (163), Justin Tucker (153) and Matt Gay (145). Butker and Lutz would have finished 11th and 12th on the final standard scoring list for WRs.
In standard leagues, all four of the kickers I mentioned outscored guys like D.J. Moore (143 pts), Robert Woods (142), Calvin Ridley (134) and Terry McLaurin (133) at wide receiver, Mark Andrews (143), George Kittle (137), Darren Waller (131) and Zach Ertz (127) at tight end and Carlos Hyde (143), Ronald Jones (135) and James White (128) at running back.
While I still respect the kicker position, I will admit, no one has fun in a league where kickers are considered higher-scoring players and a position to focus on for your lineup. But if your league is still using standard scoring, this may be something to take note of. Consider drafting your kicker slightly earlier than usual this year. At least when you're mocked by your league mates, you have some evidence to back up your early kicker selection.
Why Make the Switch to PPR?
This was just a small sampling of why a PPR league just makes more sense as a way to score your league. Overall, it adds more players to your draft pool and devalues touchdowns and even devalues yardage and puts players on a little more even of a playing field. In the end, it gives you more options to draft and even use in your lineup week–to-week. With the COVID-19 pandemic, players opting out and the possibility there will be players quarantining at some point this season, having more options is a good thing. PPR leagues are really now the new standard for fantasy football.