Offseason Moves and Draft Needs: AFC West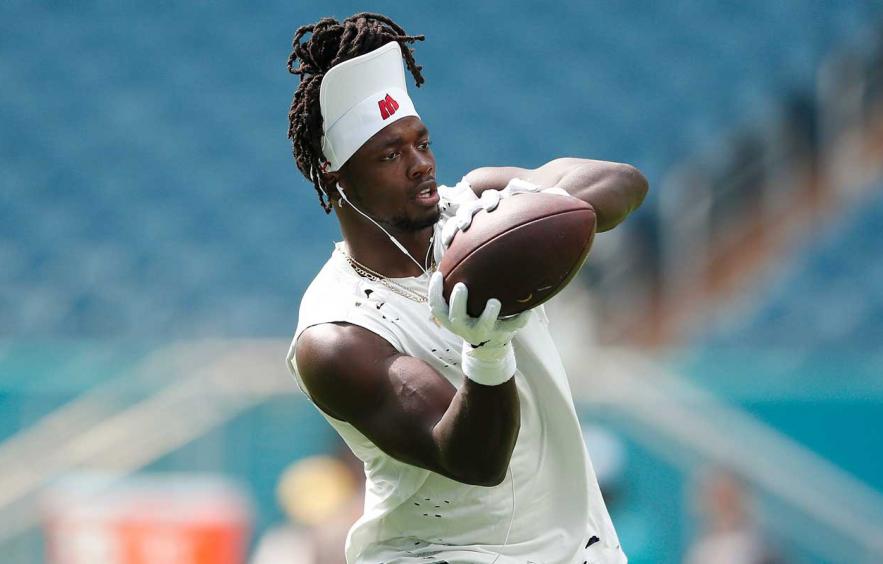 Michael Reaves/Getty Images
In the fourth part of this eight-part series, I will examine the AFC West, detailing the biggest offseason moves and where teams still need to fill holes via the NFL Draft. The main focus will be on how moves and draft needs will impact fantasy football in the division this season.
---
More Divisions: AFC East | AFC North | AFC South | NFC East | NFC North | NFC South | NFC West
---
Kansas City
Chiefs
What Changed
Fantasy Impact
The Kansas City Chiefs won the Super Bowl in 2019 and are in prime position to make another run in 2020 as the odds-on favorite (+600) at Draftkings Sportsbook. Their losses have been minimal with CB Kendall Fuller and DE Emmanuel Ogbah leaving the defense, but 10 of 11 offensive starters are expected back.
Mahomes is not only breaking real football but fantasy football as well. In 2018, he finished with 50 total touchdowns, with an 8.6% TD rate that was due for regression. This past season he finished with just 26 touchdowns and a 5.4% TD rate. Those 2019 numbers don't include his insane playoff run that had him finish with 12 total touchdowns in just three games. Mahomes battled a knee injury in 2018, but once he recovered he did something very scary to his fantasy opponents—he started running. In the final four games of the season, he averaged eight rush attempts and 39 yards per game and that includes the 23 yards he lost kneeling the football during the Super Bowl. In 2018 Mahomes finished ninth in carries per game at 60, while in 2019 he finished 16th with 43 carries. If Mahomes's late-season rushing upside is a glimpse of the future, he is going to break fantasy football again.
On the offense, Tyreek Hill and Travis Kelce will remain the alphas in 2020. Sammy Watkins took a pay cut to stay with the Chiefs. Mecole Hardman should step up to the WR3 role ahead of Demarcus Robinson, and in a full-time role, Hardman could explode onto the fantasy scene. Last year he was first in yards per reception (20.7) and first in yards per target (13.1) in all of football. Damien Williams broke fantasy players' hearts in 2019 as he was injured for most of the regular season, scoring nine touchdowns in his final five healthy games of the season. If the Chiefs pass on a back again during the draft he could have a league-winning role again, but if they draft a back in the first two rounds he could be toast. A perfect fit in the Chiefs pass-first system would be LSU back Clyde Edwards-Helaire who is frequently compared to Brian Westbrook. Westbrook under Andy Reid flourished with five straight 50+ catch seasons, with three 95+ target seasons.
Denver
Broncos
What Changed
Additions - RB Melvin Gordon, G Graham Glasgow
Losses - OC Connor McGovern
Draft Needs - WR, OT, IOL, LB, CB
Fantasy Impact
The Denver Broncos shocked the fantasy world when they signed Melvin Gordon this offseason. While it wasn't the contract Gordon held out for in Los Angeles, he is now the sixth highest-paid back in all of football. He will step in and be a workhorse back while Phillip Lindsay rotates in and Royce Freeman is left for dead. Melvin Gordon has dropped eight spots in FFPC drafts since the news of him signing with the Broncos broke, creating a buy-low window.
Last year on the Chargers, Gordon never played more than 66% of the snaps and was the secondary option for the Chargers in the passing game behind Austin Ekeler. Gordon should be looking at at least two-thirds of the snaps in Denver and Lindsay is nowhere close to the pass-catcher Ekeler is. Gordon also gets an improved offensive line. The Broncos finished higher in adjusted line yards, power success, stuffed percentage, and second-level yards than the Chargers did in 2019 per Football Outsiders. With an improved line, less competition in the passing game, and no holdout, things are looking up for Gordon in 2020.
Last year's second-round pick, Drew Lock, will come into 2020 as the unquestioned starter after having to sit behind Joe Flacco to start last season. Lock showed off some rushing upside, averaging 3.6 carries per game, but needs help in the weapons department. He has a true number one in Courtland Sutton and a young up-and-coming tight end in Noah Fant. Sutton broke out in his sophomore season finishing with a 72-1,112-6 line. He is due for positive regression in the touchdown department finishing ninth in red zone receptions but 117th in total touchdowns. The arrow is pointing up on Sutton who could become a fantasy superstar this season.
Fant is a young, athletic freak who had production in his rookie season, something rare for tight ends. Fant finished in the 96th or better percentile in speed score, burst score, agility score, and catch radius. Since 2009 Fant finished with the third most targets, third-most receptions, and second-most yards among rookie tight ends. With his athletic and production profile, Fant could become a top-end fantasy option very soon. Outside of the Broncos two young studs, it is a graveyard of talent at pass catcher. Look for them to add a receiver at 15, consistently linked to Henry Ruggs, who would open up the offense for Fant and Sutton and create more single coverage and open space for them. They are a trade-up candidate as well to grab Jerry Jeudy or CeeDee Lamb. They could have the best young weapon set after the draft.
Las Vegas
Raiders
What Changed
Fantasy Impact
The Raiders didn't just change their roster this offseason, they changed their location. Formerly the Oakland Raiders, they have taken their talents to Las Vegas. The Raiders added Marcus Mariota and some around the industry think he could dethrone Carr as the starting quarterback. The sports betting market disagrees with Carr -500 to be the Week 1 starting quarterback on Draftkings Sportsbook. Carr has been incredibly accurate in his career but has avoided the deep ball like the plague. He finished second in true completion percentage in 2019 but was 25th in deep pass attempts. The question has been whether Carr's few downfield attempts have been a function of his game or due to a lack of weapons. In his NFL career, he has never finished a season where he wasn't top five in dropped passes with 26.8 per season, so there is some evidence he's in need of help to truly evaluate him.
The Raiders hold the 12th and 19th overall pick as well as three third-rounders in the 2020 NFL draft and are nearly guaranteed to add at least one receiver. The Raiders receiving core is led by Tyrell Williams and slot receiver Hunter Renfrow. A top -9 selection at wide receiver is sure to be the alpha on the team and a third-round selection could be walking into a starting role. The Raiders are one of the best possible fantasy landing spots for Jeudy or Lamb to have an immediate day-one impact, and drafting two receivers could knock Williams and Renfrow from being fantasy relevant. For some unknown reason, the Raiders added Jason Witten despite having all-world athlete Darren Waller and Foster Moreau on the roster. Waller is a 6'6" 250lbs tight end with 4.46 speed who finished 2019 with 90-1,146-7 line. The only thing holding him back in his career has been a substance problem, which he appears to be passed and should be valued as a top-four tight end in fantasy.
One big question is if the Raiders will use Josh Jacobs more in the passing game. He was excellent as a rookie, finishing with 1,150 receiving yards, but saw only 28 targets on the season. Mike Mayock said "He [Jacobs] has got the physical capabilities and the toughness to pass protect, we just have to make sure, in Stage Two this year, this development of him as a receiver, that he can do all of it. If he has to stay in and knock down a defensive end, he has to do it. If the linebacker's coming, if he has to scan… those are hard things for a rookie running back, and we didn't want to put too much on his plate, but he certainly has the capabilities to do it, and we're going to expect more from him this year in that department." Look for Jacobs to get an expanded role and compete to be a top-eight fantasy back in 2020.
Los Angeles
Chargers
What Changed
Additions - OG Trai Turner, OT Bryan Bulaga
Losses - QB Philip Rivers, OT Russell Okung, RB Melvin Gordon.
Draft Needs - QB, OT, IOL, LB, RB
Fantasy Impact
Gone is Philip Rivers, who has been with the Chargers organization for 16 straight seasons. Tyrod Taylor is currently the starting quarterback, but the Chargers are rumored to be in on both Tua Tagovailoa and Justin Herbert with the sixth overall pick or in a potential trade up. If they trade up, they will lose the draft capital to impact any of their fantasy-relevant players. If the Chargers don't end up with a quarterback early, Taylor is a sneaky late-round pick. As the Bills starter, he averaged 19.3, 18.1 and 14.8 fantasy points per game due to his rushing upside, finishing with over 1,600 yards and 16 touchdowns rushing in his three years as a starter. Tagovailoa fits like a glove into this offense. He has elite ball placement, accuracy, poise, and pocket presence. He would work perfectly with an elite pass-catching back in Austin Ekeler and route runner Keenan Allen. Justin Herbert is the better athlete with the bigger arm in the Josh Allen mold and would help Mike Williams down the field game.
One of the biggest offseason winners is Ekeler. Last season, the Chargers played the first four games of the season without Melvin Gordon—during that time span, Ekeler led all backs in fantasy points. He scored six total touchdowns, averaging 55 yards on the ground and 67.5 yards in the air. If the Chargers don't add a back in the draft, Ekeler has top-five running back upside. Justin Jackson is the other back who could be a big winner if the Chargers don't add a back. In the three games he played, he averaged 8.66 opportunities per game and would be an Ekeler injury away from being a league-winning pickup.
The Chargers remain loaded at the skill position with Keenan Allen, Mike Williams, and Hunter Henry. All three players compliment each other's game extremely well, but they eat into the volume upside of one another. When Henry and Williams have been banged up Allen has been at the top of the league in target share, but becomes more of a WR2 when they are healthy. Taylor is a more conservative quarterback and his underneath game fits nicer with Allen than Williams, but every weapon would have a likely volume uptick with a rookie quarterback instead of Taylor.