Offseason Moves and Draft Needs: NFC North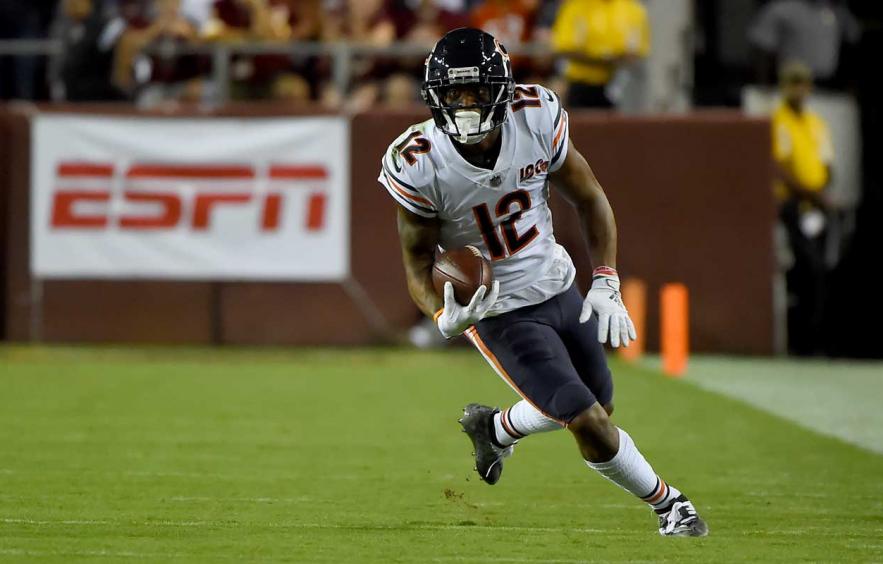 Will Newton/Getty Images
In this eight-part series, I go through each division and breakdown offseason moves for each team as well as draft needs. This will focus on the NFC North and how the offseason will impact fantasy football in 2020.
---
More Divisions: AFC East | AFC North | AFC South | AFC West | NFC East | NFC South | NFC West
---
Minnesota
Vikings
What Changed
Fantasy Impact
While you may not be a fan of Kirk Cousins, the Vikings are happy with him as they extended him this offseason. While they did that, they also traded their young star receiver Stefon Diggs for a first, fifth, sixth, and 2021 fourth from the Buffalo Bills. The Vikings have five top-105 picks in the 2020 draft including two in the first and two in the third. They have the ammunition to go up and get a falling stud if they want, or sit back and load up. Based on their massive holes at both WR2 and WR3, if the Vikings fail to draft a receiver we will have been hoodwinked, bamboozled, led astray, run amuck, and flat out deceived. This is a historic wide receiver class and despite Mike Zimmer's run-first strategy being stuck in the wrong century (31st in pass attempts per game), expect the Vikings to take advantage of it.
Cousins is a worthy late pick in Superflex dynasty leagues as he will continue to start for at least the next three seasons. Outside of that, the lack of volume and run-first approach makes him a fade for me. Last season in 16 starts, he went over 20 fantasy points only three times. Like I mentioned above, he lost one of the top young receivers in the game in Diggs, as well. Diggs commanded a 21.9% target share and led the team with 28 deep targets. Diggs was one of the most efficient receivers in the league, averaging 2.97 yards per route run per Player Profiler. In steps Adam Thielen as the top receiver and he is more than capable of handling that opportunity. His ADP has soared since the trade moving up from 67 to 50 in FFPC drafts, but he has top-10 WR upside as he is staring at 25% market share.
Even after the Vikings add receivers in the draft, Thielen will still be the top dog. Olabisi Johnson, on the other hand, can be ignored in fantasy. The sleeper on the Vikings offense is tight end Irv Smith Jr. New offensive coordinator Gay Kubiak uses his tight ends—historically, 23% of targets in his system go to the tight end. Last season without Diggs on the field, Irv Smith's target share jumped from 7.6% to 20.5%. He should see a usage bump with the new scheme, more opportunity, Diggs gone, and going into his second year.
Dalvin Cook, the Vikings top fantasy player, has yet to be mentioned and I am sure you are wondering why. Simply put, he is locked in as a top-five running back and his only question is if he can stay healthy. He is an absolute stud.
Green Bay
Packers
What Changed
Fantasy Impact
The Packers went back to their ways of old by passing on free agency. They have had one of the least impactful offseasons thus far of any team in the league. They lost Jimmy Graham but he is whatever comes after washed even if Ryan Pace doesn't know it. They added Devin Funchess who is coming off a lost, injury-plagued season with the Colts. The Packers have needed help at the receiving position since Jordy Nelson retired and still do. I expect them to add one in the first or second round in this year's draft and it is one of the better landing spots possible for a receiver. Players like Jaelon Reagor, Tee Higgins, and Brandon Aiyuk would get a big boost to their rookie outlook if they land on the Packers.
Aaron Rodgers is no longer Aaron Rodgers—at least he hasn't been the last two seasons. He failed to finish top 15 in completion percentage, red zone completion percentage, pressured completion percentage, and deep ball completion percentage per Player Profiler. He did, however, attempt 94 passes of 20 or more yards down the field, the second-most in football, while also having the fourth-most red zone pass attempts in all of football. If Rodgers gets the help he needs outside of Davante Adams and Aaron Jones and maintains his volume, he is a 2020 bounce-back candidate.
Jones is due for touchdown regression after leading the league in touchdowns, despite being 15th in snap share among running backs at just 62.6%. The problem with Jones is not Jones, but the coaching staff refusing to give him bell-cow usage. He has twice as many games with a 50% snap share as he did with 75% or greater. With his touchdown regression and lack of locked-in snaps, he is a fade for me as a first-round pick in 2020. Adams however, is someone I am looking to draft as a second-rounder. Like Jones, Adams is due for touchdown regression, except positive. He finished with just five touchdowns in 2019, after scoring double-digit touchdowns each of the previous three seasons. In fact, in 2019, he finished with the third-most red zone catches among receivers, but the 46th-most touchdowns.
Jace Sternberger is a late-round flier target at tight end. A third-round pick in last year's draft, Sternberger played just two games last year. He had a 32.7% dominator rating and averaged 17.3 yards per reception in college, per Player Profiler, and with Jimmy Graham gone no one is standing in his way from becoming a full-time player for the Packers in 2020.
Chicago
Bears
What Changed
Fantasy Impact
When ranking all teams draft capital, the Bears fall 28th with no first-round pick in 2020, but two picks in the second round. Look for the Bears to boost their offensive line and defense, but they are unlikely to make any significant fantasy moves. One big question for the Bears is who will start at quarterback. Right now on DraftKings Sportsbook, Nick Foles is the favorite at -159, while Trubisky sits at +125.
Trubisky has more upside than Foles as a fantasy starter due to his rushing ability, but Foles is an upgrade for the pass catchers with his superior accuracy. Trubisky has finished 25th or worse in completion percentage the last two years, while in 2018 Foles finished fourth with a 75.4% true completion rate. Whoever is the quarterback should be throwing to Allen Robinson who is one of the leagues top receivers, but has been cursed with horrendous QB play from Trubisky, to Bortles, to even Hackenburg in college. Robinson finished fourth in total targets, but 46th in catchable target rate, with almost one in every four passes being deemed uncatchable per player profiler. If Foles feeds Robinson but gives him more catchable passes, he has WR1 upside. On top of the accuracy issues, Robinson is due for positive touchdown regression. He finished with just seven total touchdowns and still finished top 10 in fantasy points per game. He is one of fantasy football's best buys right now.
Anthony Miller gets a boost with Taylor Gabriel moving on as Miller saw 16.5% of the targets with Gabriel off the field compared to 12.4% with Gabriel healthy. Miller has fuller recovered from his shoulder sprain that held him back to start the season and finished the season playing 85% or more of the snaps in five of the last seven games—he saw 11+ targets in three of those seven games. With not much competition outside of Robinson in the receiving game, I like Miller as a late-round flier in drafts.
Detroit
Lions
What Changed
Fantasy Impact
The Detroit Lions hold the third overall pick in the draft and a prime candidate to potentially trade back from three to a team desiring to select Tua Tagavolia or Justin Herbert. If they do they will be loaded with draft picks. They will likely be focused on the defensive side of the ball, but are rumored to be interested in adding a running back. If they trade down and get extra picks in the second and third-round range they could add someone that hurts Kerryon Johnson, potentially even replacing him.
While the Lions may have the third overall pick, they are a much better team than that. They started 2-2-1 with two heartbreaking losses to the Chiefs and Packers, two of the final four teams in the playoffs this year. Matthew Stafford got hurt and the season was over, but before he did he threw for 300 or more yards in 50% of his starts and scored over 20 points in five of eight starts. With Stafford, they averaged 25.5 points per game, without him they averaged just 17.1 without him. The moral of this story is with Stafford back, the Lions are one of the best bounce-back offenses in 2020 and getting exposure to this passing game makes a ton of sense.
Kenny Golladay has passed Marvin Jones and is now the unquestioned number one receiver on the Lions. Golladay led all receivers in 2019 in deep targets, while finishing sixth in yards with 1,190 and scoring 11 touchdowns. The downfield, big-bodied receiver meshes perfectly with Stafford. With Stafford, Golladay scored six touchdowns and saw less than eight targets just once when Stafford was the QB. Jones saw a 20.2% target share, had a 14.1-yard average depth of target and scored 9 touchdowns last season. Jones is a highly volatile, massive upside receiver with Stafford healthy and is a fantastic late-round best-ball target.
Kerryon Johnson in his first two years has missed 14/32 possible games. They say the best ability is availability and with him being banged up so much, the Lions may look to add to their backfield in the draft. Not only has he been banged up, but he has seen limited snaps and been an afterthought in the passing game with just more than four targets once in eight appearances last season. His usage makes him a fade at his current cost. T.J. Hockenson was the eighth overall pick in the 2019 draft and got his season off to a bang versus the tight end funnel Cardinals with six receptions, 131 yards, and a touchdown. He went over 40 yards just twice the rest of the season. While that may keep some away, it's important to note that rookie tight ends are rarely productive and Hockenson has all the talent to put it together as time goes on.