Offseason Moves and Draft Needs: AFC North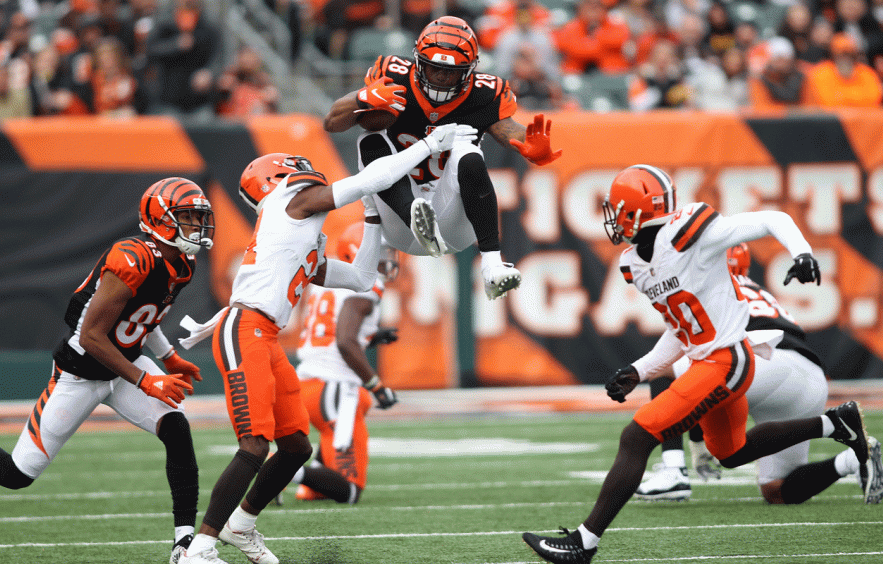 John Grieshop/Getty Images
In this eight-part series, I go through each division and breakdown offseason moves for each team as well as draft needs. This will focus on the AFC North and how the offseason will impact fantasy football in 2020.
---
More Divisions: AFC East | AFC South | AFC West | NFC East | NFC South | NFC North | NFC West
---
Baltimore
Ravens
What Changed
Fantasy Impact
While the Ravens added Calais Campbell on the defensive side of the ball, things have been quiet on the offensive side. They traded tight end Hayden Hurst for a second-round pick to the Atlanta Falcons and lost future Hall of Fame guard Marshall Yanda to retirement. Although the Ravens may not have added any free agents to the offense, you can be sure they will address it in the draft with five top-106 picks in April's draft. I would expect the Ravens to have a new guard, receiving, and running back by the time day two of the draft ends.
The Ravens are a team that doesn't get talked about much as a landing spot for running backs despite leading the league with 36.8 rushing attempts in 2019, 4.7 more attempts than the next closest team. To give you a sense of how big that gap is, the Dolphins finished dead last at 21.8 rushing attempts per game and if you added 4.7 rushing attempts they would have finished 13th overall. The Ravens have one year left of 30-year-old Mark Ingram, journeyman Gus Edwards, and rookie disappointment Justice Hill. I wouldn't be surprised if they added a stud back like Jonathan Taylor in Round 1, J.K. Dobbins in Round 2, or Cam Akers in Round 3 and make them the feature back of the future.
One of the reasons the Ravens led the league in rush attempts was MVP quarterback Lamar Jackson averaging 11.7 rushing attempts per game. Since 1992 Jackson now has the most and second most rush attempts in a season and that's including his rookie season where he only started seven games. While he is due for touchdown regression with his unsustainable 9% touchdown rate, as long as he continues to run as much as he does, he will continue to be fantasy's top quarterback.
His only fantasy relevant weapons are Mark Andrews and Marquise Brown as the Ravens don't currently have the passing volume to support more than two options. Andrews averaged a ridiculous 3.69 yards per route run and could be looking at a snap increase with the Hurst trade after just playing 43.2% of the snaps last season. In a full-time role, he has a TE1 overall ceiling. Brown was often hurt spending 50% of the season on the injury report, but showed big-play upside. The later the Ravens draft a receiver the better for Brown whose biggest issue was staying on the field last season. He can be a volatile player with a tremendous ceiling if the Ravens add another playmaker, but with sustained volume will be a weekly player you can rely on.
Cleveland
Browns
What Changed
Fantasy Impact
Many fantasy analysts (including yours truly) were all in on Baker Mayfield in 2019—the result was certainly less than ideal. Baker and the Browns struggled to live up to the lofty expectations, facing the league's most difficult strength of schedule in terms of total defensive efficiency of opponents per Sharp Football. Things look tough again on the surface in 2020 as they face the league's fourth-most difficult schedule, but with a new coach in Kevin Stefanski and added firepower on the offensive line, the Browns could be in for major improvement in 2020.
The Browns' top goal this offseason has been to protect Baker Mayfield, signing the best RT on the market in Jack Conklin. They are in on trying to acquire Trent Williams and if they fail to do so are likely to take a top tackle at 10 overall. Baker started seeing ghosts in the pocket in 2019, bailing clean pockets and forcing bad throws. He finished 35th in completion percentage from a clean pocket per Player Profiler. With a retooled offensive line and a capable play-caller, unlike former head coach Freddie Kitchens, I am buying the Baker bounce back.
At running back, Nick Chubb will be a top pick again, but when Kareem Hunt came back from suspension he ate into Chubb's upside. Chubb averaged four targets per game without Hunt, but just 1.9 with him. Chubb also averaged 18.9 fantasy points per game without Chubb compared to just 12.9 with him. I am buyer beware on Chubb as long as Hunt is on the roster. At wide receiver, Beckham struggled to find chemistry with Baker, but that is typical of first-year receivers with new quarterbacks. It takes time to build a rapport between receiver and quarterback and Beckham's FFPC ADP of 40th overall is a nice buy-low window.
Beckham's running mate, Jarvis Landry, is underappreciated by the fantasy community and every year he proves said community wrong. Right now, he is the 100th player off the board in FFPC drafts despite never failing to catch more than 80 balls, and only once going under 900 yards. He is such a high-floor guy, I love having him on my rosters. The Browns are likely to add a third receiver to the mix via the draft in the mid-rounds, but he will help Baker more than having any stand-alone value as he isn't dethroning either Beckham or Landry. The Browns also added Austin Hooper who kills any hope for Njoku as long as he is on the Browns roster. Hooper goes from one loaded weapons team in the Falcons to another in the Browns, but Baker has always looked to utilize the tight end and the move is more lateral than a downgrade, despite what the drop of ADP from 48 to 72 on FFPC might indicate.
Pittsburgh
Steelers
What Changed
Fantasy Impact
The biggest news for the Pittsburgh Steelers is that they get Ben Roethlisberger back, and his impact on the team cannot be overstated. In 2019, the Steelers finished 27th in points per game at 18.1 compared to fifth overall at 26.8 in 2018 with Big Ben under center, and they averaged 127 fewer yards per game in 2019 without the signal-caller. This is huge news for top weapons JuJu Smith-Schuster, Diontae Johnson, and James Washington. JuJu's production fell off a cliff without Big Ben and the departure of Antonio Brown. Although Smith-Schuster was battling injuries, he went from 111 receptions in 2018 to just 42 in four fewer games in 2019. With Big Ben back he could regain his top-10 fantasy wide receiver status. Johnson could be a breakout candidate in 2020. Per Player Profiler, he led all receivers in yards per separation at target at 2.39. When he came out of Toledo, PFF coincidently compared him to Antonio Brown who he was drafted to replace. He could see a massive volume uptick with Big Ben and is a good buy at his current 137 ADP on FFPC.
The Steelers have very little draft capital with just one pick in the top 100. They traded their first-rounder for Minkah Fitzpatrick and need serious help in the trenches before they should consider a player who would impact fantasy assets. All that being said, reports are the Steelers are intrigued at adding a running back despite drafting Benny Snell in the fourth last year, Jaylen Samuels being just 23, and James Conner being just 24 years old. Running back is far from a problem in Pittsburgh but if they take one in the second round it would destroy everyone's potential value in Pittsburgh.
The Steelers also added Eric Ebron who, outside of one year with the Colts, has been a first-round disappointment. He has always been a weapon at the tight end position and getting exposure to a top-five scoring offense is intriguing in best ball, but he is not a guy I want to pay a premium for.
Cincinnati
Bengals
What Changed
Fantasy Impact
So I cheated and included Joe Burrow on the team already, but in the words of the Dothraki, "It is known." Currently on DraftKings Sportsbook, you would have to wager $10,000 dollars on Burrow going first overall to win just $100. That's not a lock, that's a bank vault. Ok that's enough bad jokes and metaphors. What does Burrow bring to the Bengals? In a word, everything. Andy Dalton has been a below-average quarterback his entire career, and the last two seasons has been one of the least accurate quarterbacks in all of football. Burrow is the complete opposite, completing 76.3% of his passes in 2019, the highest rate in the history of college football. He wasn't dinking and dunking either—he averaged 10.8 yards per attempt, finishing with 5,671 yards and 60 touchdowns. He is elite at throwing on the move, extending plays, on the deep ball, and has pinpoint accuracy.
Burrow is a massive upgrade to an incredibly talented, albeit rarely healthy, receiving core. Burrow worked the slot incredibly with Justin Jefferson and turned outside receiver Ja'Marr Chase into the Biletnikoff winner. Look for Tyler Boyd and A.J. Green to fill those respective roles. John Ross started the season out of the gates extremely hot with 270 yards in his first two games. From there he topped 50 yards in a single game just once. Ross has the fastest 40-yard dash time in NFL history and is an elite deep threat. Burrow may be the guy to finally unlock that as Burrow, per PFF, finished with the highest passing grade in the country on passes 20 or more yards downfield with a 99.3 grade, on a 0-100 scale. I am buying Bengals because I am buying Burrow.
Joe Mixon is another buy for me this offseason. The second half of the season five of his eight games he went for 100 or more total yards and he finished with the most evaded tackles in all of football per player profile. With a high-scoring offense, Mixon should see more scoring opportunities and build off his strong finish.