Offseason Moves and Draft Needs: NFC West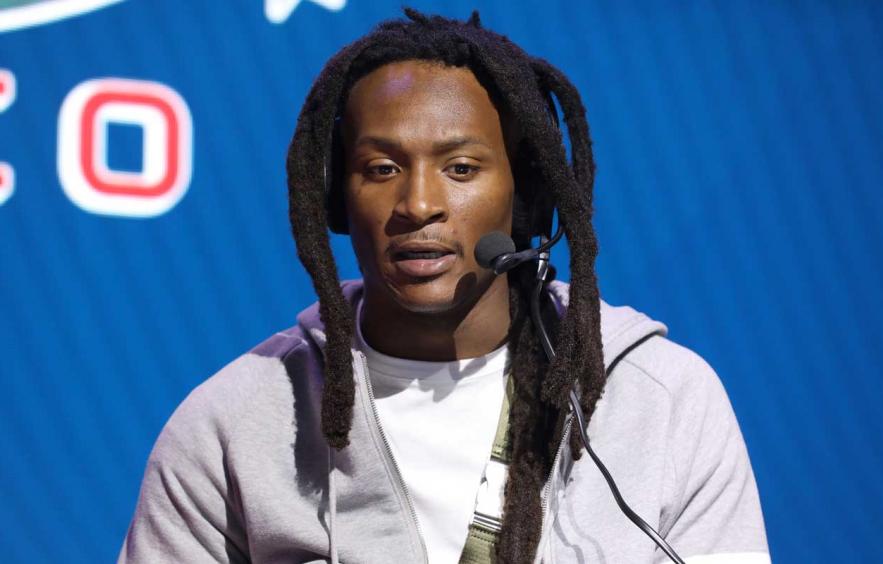 Cindy Ord/Getty Images
This is an eight-part series detailing the biggest offseason moves and where teams still need to fill holes via the NFL Draft. Here, I will focus on the AFC East with analysis on how moves and draft needs will impact fantasy football in 2020.
---
More Divisions: AFC East | AFC North | AFC South | AFC West | NFC East | NFC North | NFC South
---
Los Angeles
Rams
What Changed
Fantasy Impact
The Rams cut Todd Gurley and traded Brandin Cooks to the Houston Texans for a second-round pick. They have been so hamstrung by cap issues this offseason that they have not been able to add anyone relevant of note, but do now have two second-round picks, much needed after trading their first for Jalen Ramsey during the 2019 season. While the Rams may have two second-round picks they also have their biggest needs on the defensive side of the ball where they currently have a stars-and-scrubs approach. They are likely to focus on the defensive side of the ball, but I am not ruling out drafting a top-end running back with one of their two second-round selections and blowing up that backfield.
The big question is which back to own between Darrell Henderson or Malcolm Brown. The Rams backfield has averaged 21.3 touchdowns per season in the last three years. Yes, a large part of that is due to Todd Gurley, but it also shows how potent this offense is and how they like to use the running back near the goal line. Last year, Gurley saw 61 red zone carries, while Brown saw 16 of the other 18. Brown is a pedestrian back but has touchdown upside at a dirt-cheap price tag. Henderson is the explosive athlete who averaged 8.9 yards per carry his junior year in college and has all the passing-game upside. He struggled to adjust to the Rams system but should see almost all of the receiving work and if things fall right, he could surpass Brown in most areas outside of the red zone. He does come at a much higher price tag. Both of these backs could have their value soar after the draft or crumble with a new guy in the mix.
The Rams receiving corps are big winners with the trade of Cooks. Robert Woods has caught at least 85 passes and gained over 1,100 yards, while seeing 130 plus targets in back-to-back seasons and now there's more opportunity than ever before. If Woods sees positive touchdown regression and scores more than three touchdowns this season his upside is immense. Cooper Kupp slowed down as the season went on and the Rams went away from 11 personnel every play and used more 12 packages. He finished the final five games of the season seeing 73%, 34%, 92%, 58%, and 64% of the snaps compared to playing over 89% of the snaps in five of the first six games of the season. With Cooks off the field, look for Kupp to get back to his full-time role where he was a top-five fantasy receiver. Josh Reynolds also gets a boost as he will be playing a majority of snaps. Last year in games with over 80% of the snaps he went saw five or more targets every time, while in 2018 he went for five or more targets in six of seven games. He is an excellent late-round flier.
Arizona
Cardinals
What Changed
Fantasy Impact
The Cardinals managed to pull off a trade this offseason that would have gotten vetoed in your fantasy league. They traded first team all washed David Johnson, his horrible contract, and a second-round pick for DeAndre Hopkins and a fourth-round pick. This has a mammoth impact on the fantasy outlook of Kyler Murray, Kenyan Drake, and the entire receiving corps. The Cardinals are likely going to add an offensive tackle with the eighth overall pick which should help the entire offense, as well. They are -278 on Draftkings Sportsbook to take an offensive player with their first pick.
Murray has jumped into the top three quarterback conversation. He unlocks the Konami code with his rushing ability, finishing top four in every meaningful quarterback rushing volume statistic, ending 2019 with 544 rushing yards (second) and four rushing touchdowns (fourth). One thing that held Murray back from fantasy greatness was the passing yards, with six games with fewer than 200 yards. Adding Hopkins into the fold and giving Murray more protection should allow the air raid to take off in year two. Despite finishing top 10 in both attempts and deep ball attempts, Murray finished 15th in total yards.
I warned in the Diggs piece that changing teams is often bad news for receivers in year one. Hopkins is likely the exception to that rule. Yes he loses one great quarterback in Deshaun Watson, who peppered him with targets, but Hopkins goes to another highly-skilled quarterback in Murray. Hopkins has never finished with less than 800 yards in his career, and has gone over 1,000 yards in five of the last six years despite playing with Brock Osweiler and Tom Savage. The Cardinals will pepper him with targets, and he will make the most of them.
The only concern for Drake is Kliff Kingsbury's comment about wanting three backs he can rotate into the gameplan. Assuming that is more coachspeak than actionable information, Drake is set up for a fantastic fantasy season. The Cardinals feature backs in the passing game and are one of the best fantasy situations a back can be in. Drake saw four or more targets in all but one game as a Cardinal and he has 70 target upside in 2020, and could easily finish as an RB1.
Seattle
Seahawks
What Changed
Fantasy Impact
The Seahawks have everything they need to unlock MVP Russell Wilson except the play calling. Arguably the best deep-ball passer in the NFL, Wilson got another deep threat this offseason when the Seahawks signed 4.33-speed demon Phillip Dorsett. While Dorsett won't be fantasy relevant, Wilson did attempt the third-most deep passes in the NFL which meshes perfectly with Dorsett's game. Wilson, like the other top fantasy quarterbacks, has excellent rushing upside, finishing with the fifth-most carries among quarterbacks in football, rushing for 342 yards and three touchdowns in 2019. The only thing holding him back is the volume as the Seahawks were 22nd in pass plays per game and Wilson attempted over 40 passes only three times last season.
One of the reasons the Seahawks pass less than they should is because head coach Pete Carroll and offensive coordinator Brian Schottenheimer love the run game, running the ball 45.7% of the time, the sixth-highest rate in the league. With both lead backs Chris Carson and Rashaad Penny nursing injuries this offseason, there are rumors the Seahawks might spend significant draft capital adding to the backfield. The situation would become a mess if that were to happen, but ultimately it is unlikely.
At wide receiver, Tyler Lockett has been Mr. Consistent but has lacked the volume to reach his true ceiling. Quarterbacks had a perfect passer rating when targeting him in 2018, and the fifth-highest rating of 124.7 targeting him in 2019. In the last two years, he has combined for 18 touchdowns on 181 total targets. The issue is the volatility in targets. He has maintained startable weeks through his touchdowns but had twice as many sub-four target games (6) as he did double-digit target games (3).
DK Metcalf took off the second half of the year and showed off his monster upside. Metcalf is a monster of a man at 6'3" 228lbs, running a 4.33 40-yard dash. The Seahawks also added Greg Olsen who, when he has been healthy, has been effective. Last year before his injury, Will Dissly was putting up big numbers in this offense with four touchdowns in five games and over 50 yards in four of five games. He is recovering from a torn Achilles and Olsen should get as much playing time as he can handle. He is a late-round flier with upside.
San Francisco
49ers
What Changed
Fantasy Impact
The 49ers were a quarter away from winning the Super Bowl. They build their team around the pass rush, the run game, and efficient passing. They have one of the best defensive lines in football with so much depth they were able to trade away DeForest Buckner to the Colts for the 13th overall selection in the 2020 Draft. This is significant because it puts the 49ers squarely in position to address the team's biggest need at wide receiver with one of the draft's top three options. Oklahoma's CeeDee Lamb (13.5), Alabama's Jerry Jeudy (12.5), and Alabama's Henry Ruggs III (14.5) all have their draft player props in the range of where the 49ers select and it's a safe bet they walk away with one of them after losing Emmanuel Sanders.
Which receiver the 49ers select has a big impact on the offense. Lamb and Jeudy are different styles of players, but both fit the mold of true number one receivers in the NFL. The last time Shanahan had one of those, Julio Jones was breaking records. Either player would knock Deebo Samuel down a notch, as he would be third on the team in targets in the near future behind the rookie and George Kittle. Ruggs, on the other hand, is different. His 4.27 speed brings an element to the offense that would open everything up. Ruggs may not be to the level of receiver Lamb or Jeudy is, but his ability to take the top off a defense and require safety help would open up everything for underneath run-after-the-catch stars Kittle and Samuel.
The 49ers ran the ball at the second-highest rate in the NFL last season, running the ball 51% of the time. Once they made the playoffs, it's damn near all they did, as Jimmy Garoppolo threw the ball a total of 58 times in the postseason. If one back would be the lead you could have fantasy gold. Instead, you have a fantasy headache. Only once all regular season did any back play over 61% of the snaps in a game and in seven of 16 games three backs played 15% or more of the snaps