Offseason Moves and Draft Needs: AFC South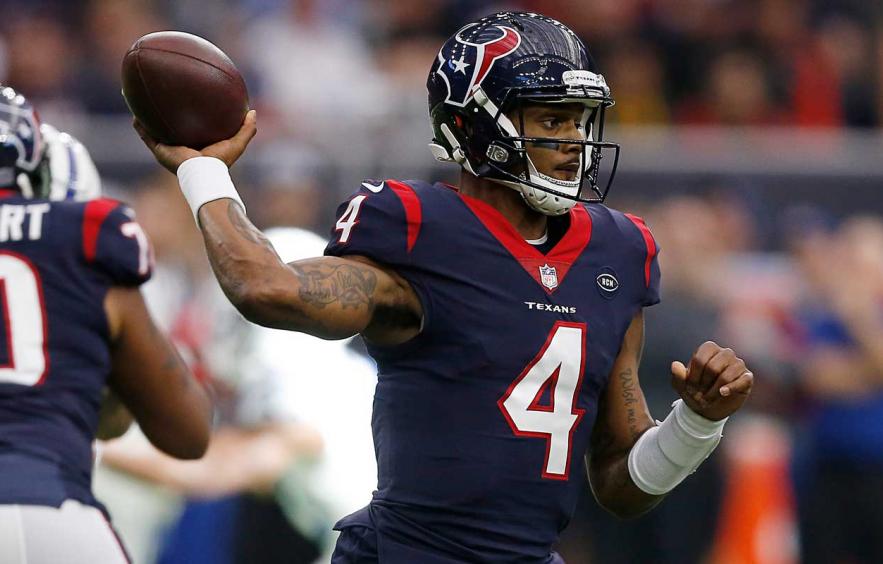 Bob Levey/Getty Images
This is the second installment of an eight-part series detailing the biggest offseason moves and where teams still need to fill holes via the NFL Draft. Here, I will focus on the AFC South and how moves and draft needs will impact fantasy football in the division this season.
---
More Divisions: AFC East | AFC North | AFC West | NFC East | NFC North | NFC South | NFC West
---
Houston
Texans
What Changed
Fantasy Impact
On March 16th, 2020 the Houston Texans executed one of the worst trades in NFL history. They traded superstar receiver DeAndre Hopkins for the aging David Johnson, his bad contract, and a second-round pick. The twitter streets ran rampant mocking Bill O'Brien and rightfully so as Hopkins is not easily replaceable. Hopkins has played in 15 or more games in every year of his career with 31 touchdowns and 4,115 passing yards since the Texans drafted Deshaun Watson. While Watson has dominated in fantasy he has been wide receiver sensitive—in 2018 without Will Fuller, Watson averaged 12 fewer fantasy points per game.
Last season, Fuller played 88% of the snaps the first six games of the season and Watson completed 69% of his passes, threw for 16 touchdowns, and averaged 8.5 yards per attempt. Weeks 7–11 where Fuller played three total snaps, Watson completed 66.3% of his passes, scored seven touchdowns, and averaged just 6.9 yards per attempt. While Fuller is a great talent, even at his best he isn't Hopkins which leads to the question, if Watson struggles without Fuller, how will he perform without Hopkins? People have taken notice as Watson's ADP has dropped from 57 to 66 on FFPC since the news and he is now going as the QB4 overall. While Watsons's ceiling is certainly still hurt, his rushing upside gives him a fantastic floor and he is still one of the game's best quarterbacks. The price decrease is fair but has created a buying window.
The Texans' backfield is a mess. They have now traded for David Johnson, Carlos Hyde, and Duke Johnson in the last year. David Johnson is the presumptive starter with Duke Johnson mixing in the passing game after so much was given up for David. While David is the big name, he has had anything but a big game of late. The concern is that he is washed because he for sure looked it last year. He finished with just 3.6 yards per carry, a 3.2% breakaway run rate, and forced just 19 missed tackles. Where Johnson has made his money in the passing game. Watson, and mobile quarterbacks in general, statistically target running backs less than pocket passers. David Johnson's ADP has shot up from 105 to 55 since the trade and paying a ceiling price for an aging price sounds like a headache you should let someone else have to me.
While Hopkins leaving hurts the Texans and Watson, the person it helps the most is Will Fuller. Fuller's biggest issue in his career has been his health, but this will now be two years removed from tearing his ACL and over the last three years he has averaged 9.51 yards per target, the 11th-best rate in all of football. Fuller, Kenny Stills, and Randall Cobb are the current projected starters with the potential to add another wide receiver, though the Texans don't have much draft capital with just two picks in the top 100. Fuller should have a career-high in volume and has league-winning upside at his ADP if he can stay healthy and is a worthwhile bet. The flier I am willing to take from this team is Cobb at his ADP of 222, putting him in the 18th round of drafts. He has a chance to lead the team in targets and last year was quietly extremely efficient, averaging 15.1 yards per catch, 2.05 yards per route run, and 10 yards per target, the ninth-best rate in football.
Editors Note
The Texans aquired Bradin Cooks from the Los Angeles Rams for a second round pick. Cooks has been dynamic when healthy, but has a troubling past with concussions. It is not hyberpole to say his career is one hit from being over. His vertical skill set is a bit redundant with Fuller and Stills already in the mix.
Tennessee
Titans
What Changed
Fantasy Impact
After having a magical run to the AFC championship game the Titans' goal was to bring back their key offensive pieces and take another crack at it. Ryan Tannehill was one of the league's best quarterbacks once he took over and was rewarded with a $118 million dollar contract. Tannehill led all quarterbacks in 2019 in yards per attempt, and finished top six in true passer rating, true completion percentage, play-action completion percentage, red zone completion percentage, and pressured completion percentage. Frankly, Tannehill played above his head and his efficiency is sure to come back down to earth. Outside of Superflex leagues, his lack of volume and incoming regression has me looking elsewhere.
Derrick Henry broke football the final nine games of the season, including the playoffs, rushing for a total of 1,342 yards and scoring 13 touchdowns while averaging 149.2 rushing yards per game in that span. Drafters are not forgetting that, as he has been a top-10 FFPC pick all offseason long. A.J. Brown was elite his rookie year, finishing first in yards after the catch per reception, yards after contract, per receptions, and yards per target among receivers with 50+ targets. He struggled with some top corners, but if he can take a big step in his sophomore season he could be one of the league's best fantasy producers.
After Brown, it gets to be slim pickings for the Titans, as they averaged a league-low 26.9 pass attempts per game. Jonnu Smith is an athletic freak who is stepping into a full-time role after finishing eighth in yards per reception, second in yards per target, and 11th in yards per route run. If he gets the volume, he is a steal at pick 114 on FFPC. While the Titans have three top 100 picks, their biggest offensive need is a tackle to replace Jack Conklin, and the current roles of players on the roster are unlikely to be impacted at all for fantasy purposes by rookies.
Jacksonville
Jaguars
What Changed
Losses - QB Nick Foles
Draft Needs - DL, CB, S, QB, WR, Edge
Fantasy Impact
The Jaguars have moved on from Nick Foles and as things stand right now it is Minshew Mania. Per DraftKings sportsbook, Minshew is -150 to be the opening day starter, with Andy Dalton +550 and Cam Newton +550 the co-runner ups. The Jaguars' offensive losses may seem small, but this once great defense is no more. Calais Campbell and AJ Bouye were traded this offseason, Jalen Ramsey was traded during the season, and Yannick Ngakoue will soon follow them out the door. This is relevant for two reasons. One, this offense is going to be in a lot of pass-heavy game flows, and two there is a real belief the Jaguars are tanking for Trevor Lawrence in 2021.
All of this leads me to believe that Minshew is the likely starting quarterback for the Jaguars this season and is a fantasy sleeper at his current 148 ADP. In 2019, Minshew was one of the league's most active rushing quarterbacks, with 67 carries (sixth-most), 344 yards (fifth-most), and 4.8 carries per game (fifth-most). That kind of rushing floor combined with his 45.1% deep ball completion percentage makes for an intriguing QB2.
The top fantasy assets on the Jaguars are unlikely to be greatly impacted by the draft. Leonard Fournette is locked and loaded into elite volume again in 2020. He finished last s with 100 targets and 265 carries. That volume translated to yards, but not touchdowns, finishing 50th in touchdowns with just three, making him due for positive regression this year. While he is not a sexy pick, he is currently going in the third round of FFPC drafts and is a real value early in the 2020 process. The other top asset for the Jaguars is receiver D.J. Chark. After struggling his rookie year with just 174 total yards, Chark put up a 73-1008-8 line in his sophomore season. With another year to grow with Minshew, Chark's big-play ability and volume could excel in game scripts that play into his abilities.
The fantasy impact on the draft is the rest of the Jaguar weapons. Picking 9th, 20th, 42nd, and 73rd, the Jaguars will be active early and could easily end up with another top-70 pick after trading Ngakoue. They will likely look to plug holes on the offensive line and secondary, but another receiver in this loaded class is likely to move Dede Westbrook down the totem pole, with Chris Conley and Keelan Cole becoming fantasy afterthoughts. The two names that Chark has to worry about are Jerry Jeudy and CeeDee Lamb at 9th overall, but as things stand right now that appears to be unlikely.
Indianapolis
Colts
What Changed
Additions - QB Phillip Rivers, OT Anthony Castonzo (Re-signed)
Losses - TE Eric Ebron
Draft Needs - WR, QB, IOL, TE, IDL
Fantasy Impact
Colts coach Frank Reich coached Phillip Rivers for three years with the Chargers and brought him in this offseason to replace Jacoby Brissett as the starting quarterback. Rivers knows Reich's system well so there should be a smooth transition. Not only did the Colts sign Rivers, but they traded the 13th overall pick for star defensive tackle DeForest Buckner, signaling one thing—this is a win-now team.
While the Colts don't have a first-round pick, they do have two seconds at 34 and 44 overall and are in prime position to add a much-needed receiver and potentially one of the top backs in the class. The Colts have been rumored to look at a running back all off-season, but after negotiating a long-term deal with Marlon Mack, it's unlikely they use one of their two second-round picks on a running back, which would skyrocket Mack's value after the draft.
While all the receivers will have to grow with Rivers, T.Y. Hilton is sure to be the top receiver again this year for the Colts. Second-year player, Paris Campbell, if healthy, has a chance to thrive with Rivers who is excellent throwing drag routes and crossers, which is Campbell's specialty. Given the Colts draft capital, whoever they draft won't step in and hurt the production of either player too much in year one, but likely caps the ceiling of both players if the receiver is not a bust. Names to look out for include Denzel Mims, Jaelen Reagor, Brandon Aiyuk, and Tee Higgins.
One of the offseason's biggest winners that no one is seemingly talking about is Jack Doyle. The soon to be 30-year-old tight end may not be exciting, but without Eric Ebron on the field last year, Doyle saw a 20.6% target share—he has 100-target upside in 2020 without Ebron. Sure, the Colts could draft a tight end, but not only is this tight end group the weakest positional group of any in the draft, but rookie tight ends are very rarely productive. Since 2010 there have been 228 rookie tight ends in the NFL, only 10 of which have caught 40 or more passes. Last season, despite only playing 11 games, Ebron saw 52 targets. Since 2010, only 19 rookie tight ends have seen that many targets in an entire season. Doyle isn't a sexy name, but he will provide production in 2020 that will be hard to match at his current ADP.