32 Teams, 32 Dynasty Questions for 2020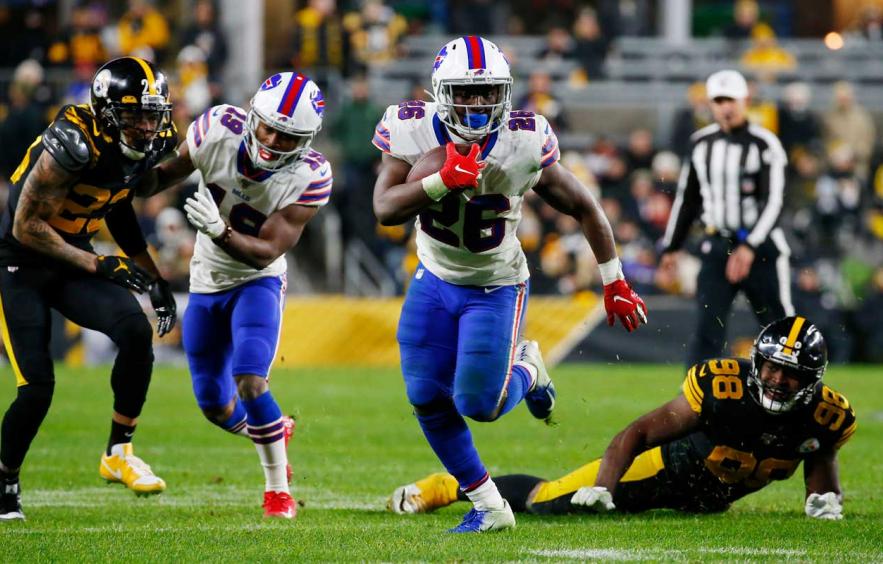 Justin K. Aller/Getty Images
The playoffs may still be ongoing, but even the best teams will see changes to their depth chart and/or coaching staff. That inevitable churn will create openings that lead to questions on who, if anyone, can fill that role and be productive. We saw plenty of that this year with players like Austin Ekeler stepping in during Melvin Gordon's holdout and Chris Godwin stepping up after the departure of DeSean Jackson.
One key question heading into the offseason will be highlighted for each team along with some speculation on how it may be solved. That could be with an existing player, free agency, or the NFL Draft. Regardless, these questions will be paramount in understanding dynasty player value and potential 2020 production.
AFC East
Buffalo
Bills

- Can

Devin Singletary

own the backfield in 2020?

In his last six games, Singletary played at least 70% of the offensive snaps in every game and was the RB20 during that time. While that doesn't seem like a high ceiling, remember that he was a rookie and missed part of the season. So it may be more of a floor. The Bills need depth with Frank Gore becoming a free agent and T.J. Yeldon their only other worthwhile running back, but this is Singletary's job to lose given other team needs.
Miami
Dolphins

- What does the running back position look like heading into next season?

The Dolphins traded Kenyan Drake, watched Kalen Ballage fail, and tested the rest of the depth chart down the stretch. Patrick Laird was their top fantasy producer as the RB62 in PPR leagues. Likely, the team addresses the position in the first two days of the NFL Draft, as they own four of the top 37 picks, and could have a rookie starting in the backfield come Week 1.
New England
Patriots

- Is

Tom Brady

back next year?

Simple answer: yes. The Patriots remain a playoff-caliber team and don't have a replacement currently on the roster. While they could look for a quarterback towards the end of Round 1, that wouldn't inspire Bill Belichick to remain at the helm. Expect mostly status quo and the hope that Brady returns another QB1 season in 2020 (he was the QB12 this season).
New York
Jets

- LeVeon Bell or Adam Gase?

It's doubtful that Adam Gase goes anywhere and LeVeon Bell represents a $17 million cap hit if he's released this offseason. More likely, they both get another chance in 2020. The Jets can cut Bell after 2020 with just $4 million in dead cap space and could look to add more running back depth in the draft or free agency to prepare. As for Gase, he still has three years and $15 million left on his contract so barring a disastrous 2020, a coaching change is likely a few years out.
AFC North
Baltimore
Ravens

- Does

Mark Ingram

remain the lead back in Baltimore?

A disappointing playoffs could lead to some major changes for the Ravens, starting with the running back position. Ingram was dealing with an injury in their loss to the Titans but had a great season, finishing 11th among running backs in PPR leagues. With two seasons left on his deal and over $3 million in dead cap if he is cut, Ingram's roster spot is tenuous. Justice Hill is more of a complementary option and could be the Tarik Cohen in this offensive set, limiting Ingram's upside, especially if he can't repeat the 15 touchdowns from 2019.
Cincinnati
Bengals

- Do the

Bengals

pick a quarterback at the top of the draft?

Yes, and it will be Joe Burrow barring any unforeseen medical issue. He is not an elite physical specimen but his understanding of the game allows him to beat defenses consistently. The follow-up questions will involve the status of A.J. Green, a free agent, and how they address the tight end position in 2020. More offensive line help would be good too with a franchise quarterback set to debut next season.
Cleveland
Browns

- How do they fix this offense?

The Browns have hired former Vikings offensive coordinator Kevin Stefanski as their next head coach. That could mean good things for Nick Chubb and that running offense. Beyond that, it's clear the offensive line needs help. Baker Mayfield's sack rate went from 4.9% to 7.0% this season and it can be partially attributed to less time available in the pocket to throw. Finding a replacement for Joe Thomas who retired last year at left tackle would be a good start.
Pittsburgh
Steelers

- Can

Ben Roethlisberger

come back in top form next year?

2018 saw Roethlisberger lead the NFL with 5,129 passing yards before an injury in Week 2 this year cut his season short. That would seem to indicate a high ceiling but there are a few things to consider. Antonio Brown is long gone at this point and there is still a question mark opposite JuJu Smith-Schuster going into 2020. Add in the fact that Roethlisberger turns 38 in March and skill erosion is a real possibility. Top form is too much to ask for, but 80% of Roethlisberger is still capable of a top 12 quarterback season.
AFC South
Houston
Texans

- Who is the Week 1 running back in Houston?

This is a tough one. Lamar Miller and Carlos Hyde are unrestricted free agents nearing 30 years old while Duke Johnson has been pegged as a receiving back whose touches should be limited. The best-case scenario sees the Texans hop into the running back fray in the second round of the draft (they don't have a first-round pick). That could mean Jonathan Taylor or Travis Etienne as the A-side of a committee where they are primarily runners while Johnson handles the pass-catching duties. With $60 million in cap space, they could make a play on Melvin Gordon or Derrick Henry, unrestricted free agents themselves, but that seems like a remote possibility.
Indianapolis
Colts

- Is

T.Y. Hilton

still their top wide receiver?

This is a good year for the Colts to look at the draft early for a wide receiver. They have an extra second-round pick along with the 13th overall pick, so players like Jerry Jeudy, CeeDee Lamb, or Tee Higgins could provide that downfield threat. Otherwise, free agency could land them someone like Robby Anderson or Breshad Perriman. Regardless, Hilton is likely to be the number one option in 2020, but this may be his swan song.
Jacksonville
Jaguars

- Who starts at quarterback in 2020?

Nick Foles' contract keeps him on the roster while Gardner Minshew isn't going anywhere. That should lead to a training camp battle that superflex dynasty leagues will be tracking closely. Minshew struggled with consistency, seeing his accuracy waver throughout the year while Nick Foles fell in love with the checkdown. The Jaguars are likely going to give Foles every chance to prove himself the franchise quarterback they paid him to be.
Tennessee
Titans

- Can

Corey Davis

be their second wide receiver?

Davis, the former fifth overall pick, has largely been a disappointment in the NFL and saw A.J. Brown race past him as the top option in Tennessee. After declines in most counting stats after a promising 2018, 2020 would represent year four and a true make-or-break time for him. Even with the second half Ryan Tannehill had (QB4), Davis was only the WR70 in PPR leagues. Assuming improved efficiency in 2020, the volume just won't be there for any meaningful production.
AFC West
Denver
Broncos

- Who starts opposite

Courtland Sutton

at wide receiver?

In a perfect world, the Broncos address the offensive line in Round 1 of the NFL Draft and get a wide receiver like Jalen Reagor in the second round. However, the allure of an option like Henry Ruggs and a run on offensive tackles could force their hand. Otherwise, a stopgap in free agency like Phillip Dorsett could keep them focused on other priorities. This seems possible but the Broncos would still likely invest in rookie wide receivers to bolster depth.
Kansas City
Chiefs

- Is their 2020 starter at running back currently on the roster?

Five different players will count for over $15 million each in cap space for 2020, assuming they all remain on the roster, hampering the Chiefs' ability to be a player in free agency. That shouldn't keep them from looking at running back options though as they will likely lose LeSean McCoy and haven't been able to rely on Damien Williams consistently. Their first-round pick could be in play with D'Andre Swift, in particular, having the type of three-down skill set that would fit in quickly.
Las Vegas
Raiders

- Do they find a number one wide receiver for

Derek Carr

?

They will certainly try. The Raiders hold the 12th pick in the NFL Draft and odds are that they pick a wide receiver in that spot. Whether that's Jerry Jeudy, CeeDee Lamb, or Tee Higgins is not as important as their ability to put that player in a position to contribute early and emerge as the top wide receiver for this team. That player would become a favorite to be a top-three dynasty rookie pick rather quickly.
Los Angeles
Chargers

- Is it

Austin Ekeler

or

Melvin Gordon

?

Ekeler is a restricted free agent and it's hard to see a scenario where he isn't back in 2020. The bigger unknown is Melvin Gordon's status with the team next season. Gordon's contract demands led to the holdout this past year and some middling results from recent big deals for other running backs could have the Chargers gun shy. They need to also consider contracts for Philip Rivers and Hunter Henry among others, prompting me to assume that Gordon is on another team in 2020.
NFC East
Dallas
Cowboys

- What does Mike McCarthy do with this offense?

Part of it depends on what this offense looks like from a personnel perspective in 2020. The Cowboys still have to retain Dak Prescott and Amari Cooper. Assuming those deals get done, it's hard to envision more than some minor tweaks to this offense. Ezekiel Elliott will give McCarthy just his third rushing offense in 20 years that finishes top 10 in yardage while Prescott can be an efficient signal-caller in the mold of Aaron Rodgers.
New York
Giants

- What does Joe Judge do with this offense?

Dynasty players and NFL fans alike should be excited about this offense from a talent perspective even if 2019 muted enthusiasm with all the injuries. They likely add an offensive tackle with the fourth pick in the draft to help Daniel Jones and the running game further, which is a nice start. Mostly, they will rely on continued progression from the young skill players and look for an offensive coordinator who is equal parts experienced and dynamic.
Philadelphia
Eagles

- Can the

Eagles

find some wide receivers to help

Carson Wentz

?

Early mock drafts really like the idea of Henry Ruggs heading to the Eagles with their first-round pick, a burner in the DeSean Jackson mold. Maybe a Ruggs addition with some progression from J.J. Arcega-Whiteside could open things up for Wentz. It would also further reduce the need to rely on veterans Alshon Jeffery and DeSean Jackson. I'm in.
Washington Redskins - What does Ron Rivera do with this offense?
Rivera hired former Panthers offensive coordinator Scott Turner pretty quickly for the same position. Turner has a tendency to be aggressive and should skew the ratio more in the passing direction than his predecessor. That should help Dwayne Haskins and if the team addresses wide receiver in the draft like they did last year with Terry McLaurin, they could get dynasty players interested quickly.
NFC North
Chicago
Bears

- How does Matt Nagy improve the 2020 offensive performance?

Outside of the Bears throwing a curveball in the form of Tom Brady or Philip Rivers, this offense will likely look similar from a personnel standpoint heading into next season. The only unit where they could invest significantly is the offensive line, especially after Kyle Long's retirement last week. Nagy has added Bill Lazor as offensive coordinator and John DiFilippo as quarterbacks coach, which should only help after last year's disaster.
Detroit
Lions

- Can Matt Stafford and

Kerryon Johnson

come back healthy next year?

Johnson has a history of injuries and this year made it apparent that the team needs to invest in more depth at the position. That said, he's effective when healthy and the Lions have other higher priorities. The bigger question will be around Stafford. The Lions could consider investing in a Tua Tagovailoa at the third pick knowing they have an out on Stafford after the 2020 season. Imagine a Tua-Golladay-Hockenson trio in Detroit.
Green Bay
Packers

- Do the

Packers

find more help at receiver?

Their playoff game against the Seahawks was a clear reminder that Davante Adams is the only receiver with Aaron Rodgers' trust. Knowing they have a late first-round pick, it could be a prime spot to target a wide receiver. Jalen Reagor or Laviska Shenault could provide help both outside and in the slot while a Henry Ruggs or Justin Jefferson could be the vertical threat the team thought they had in Marquez Valdes-Scantling.
Minnesota
Vikings

- Is

Adam Thielen

able to rebound after a rocky season?

The playoffs provided some hope...or maybe a final selling window for Thielen. It's clear that he is behind Stefon Diggs and Dalvin Cook in the usage hierarchy with Irv Smith capable of making a second-year jump as well. Kirk Cousins lost over 150 pass attempts from 2018 to 2019 and the Vikings would like to keep it that way. All of this points to Thielen being a small part of the offense in 2020 and an easy sell for dynasty players.
NFC South
Atlanta
Falcons

- Is

Devonta Freeman

still their lead running back?

He is, but there's a good chance after the NFL Draft that he won't be. They could cut him, it would cost them $6 million in dead cap space, which isn't great but not a bad number considering his original contract. The Falcons won't likely jump into the running back fray early in the draft, but a Day 2 pick is possible or even a look at the free agency pool if the draft proves fruitless.
Carolina
Panthers

- How does

Cam Newton

rebound after another injury?

Add in a new coaching staff and there are plenty of questions surrounding Cam Newton and this offense. The last time Newton lasted 16 full games, he finished as the QB2, but that was 2017 when Christian McCaffrey and Curtis Samuel were rookies, D.J. Moore was playing for the Terrapins, and Devin Funchess was the top wide receiver for the Panthers. Cam needs a clean bill of health, not changes to the offense, to thrive in 2020. No one can predict that.
New Orleans
Saints

- Is TreQuan Smith their second wide receiver?

Yes, but that's not worth much. Drew Brees will likely be back, and with it comes an explosive offense, but he tends to key in on a few options only. That means Alvin Kamara and Michael Thomas are going to absorb most of the volume. They accounted for 49% of the target share in 2019 even with Kamara missing two games. The leftover scraps get spread around, meaning Smith is going to fight to get 50-60 targets, which is a reason to sell him based on the Saints association to that dynasty player hoping he clicks rather than be the one holding the bag.
Tampa Bay
Buccaneers

- Is

Jameis Winston

back next season?

The coaching staff seems indifferent so it may come down to contract demands. There are veteran options like Tom Brady and Philip Rivers out there, but it's hard to buy the idea that they go to a non-contender in 2020. Teddy Bridgewater or Marcus Mariota seem more reasonable as they are looking for a starting job, not necessarily to win right away. Whoever is under center could easily be a QB1 in 2020, but might not repeat Winston's QB5 finish this season.
NFC West
Arizona
Cardinals

- Who is their running back heading into next year?

David Johnson's $10.5 million base salary seems to be an easy answer but the coaching staff lost faith in 2019, not playing him over 30 snaps after Week 6. Kenyan Drake is a free agent and it's hard to tell what his market will dictate. The Cardinals have plenty of offensive needs so the NFL Draft is not a likely producer of a 2020 starter. I suspect David Johnson will get new challengers for his role but will get the first crack here.
Los Angeles
Rams

- Does

Brandin Cooks

return to the team?

Cooks' 2020 salary becomes guaranteed in mid-March so the decision on next season needs to happen soon. They would save nearly $4 million in cap space by cutting him and concerns with concussions as well as the team veering away from him on offense towards the end of 2019 may be tipping their hand. Expect them to cut bait in an effort to manage their salary cap.
San Francisco
49ers

- Is there a lead running back in San Francisco?

I'm not sure if they need one. It seems like anyone they favor thrives in the moment. Everyone could be back too with Matt Breida just a restricted free agent. This certainly muddies things up for dynasty players, who would love a bellcow to emerge in a top-three rushing offense. Tevin Coleman has to be the favorite and he remains outside the top 100 in dynasty startups, making him a relatively easy buy for those interested.
Seattle
Seahawks

-

Chris Carson

or

Rashaad Penny

?

The simple answer seems to be Chris Carson after another strong season but there are reasons to doubt this. Carson has just one more year on his deal and could be a trade chip with Penny on the roster. He also has a hip injury to recover from and the Seahawks need to see what they have in Penny before exercising a fifth-year option in 2022. If I'm looking to make a move this offseason, a hedge bet on Penny, who is outside the top 100 in startups is where I'm investing.