Fantasy Football Free Agency Winners & Losers (2023)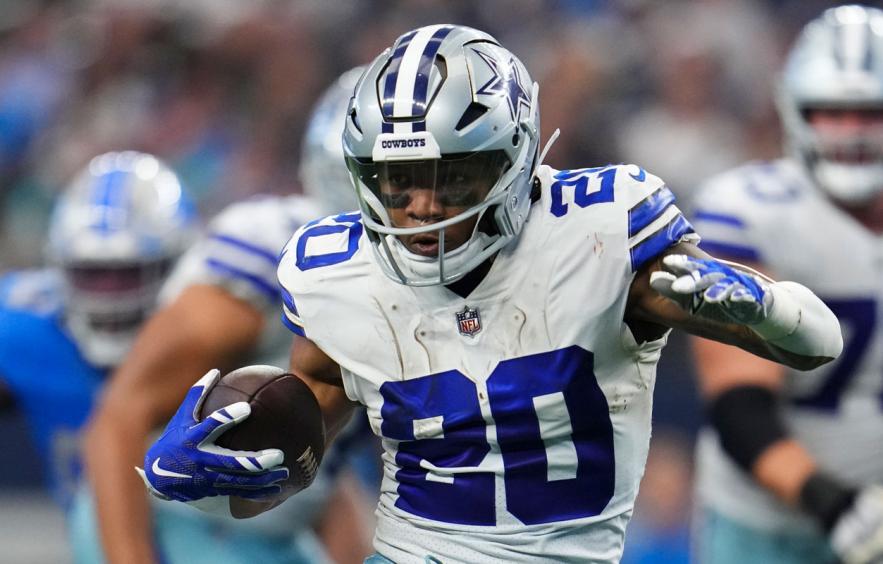 Cooper Neill/Getty Images
The bulk of free agency is over, so I thought I'd compile a list of fantasy "winners" and "losers," taking into account all of the big signings (and trades) thus far.
John Daigle has been blurbing each major signing as they happen, so check the Fantasy Free Agency Tracker for his take. The 4for4 Staff has also written up individual in-depth profiles of this free agency class—read them all here.
Free Agency Winners
Daniel Jones

,

Giants

Jones was a top-10 fantasy quarterback in 2022 in his first season with HC Brian Daboll, and that was with an injury-riddled (and suspect) receiving corps. Thus far, the Giants have added an impact tight end (Darren Waller) and re-signed both Sterling Shepard and Darius Slayton. Shepard has averaged at least 51 yards per game in six straight seasons and Slayton found his way out of the dog house to post 724 yards in 13 games (55.7 yards per game) in 2022. The Giants also signed the speedy Parris Campbell to a one-year "prove-it" deal. The 6'4" Isaiah Hodgins is entering his third season on the heels of five touchdowns in his last seven games. He averaged 51.1 yards per game in that span. The Giants should also get Wan'Dale Robinson back at some point; he had 9-100 on 13 targets in Week 11 before tearing his ACL. Given his ability to run the ball, he has a good chance to post low-end QB1 numbers again since the Giants are likely to add even more talent to his receiving corps.
Jimmy Garoppolo

,

Raiders

Las Vegas is a good landing spot for Garoppolo, who was not guaranteed a starting job as he entered free agency. He has a career 8.3 yards per attempt, which is outstanding, but it's not clear if he's simply a beneficiary of Kyle Shanahan's high-YPA offense. In Vegas, he'll have Davante Adams, Hunter Renfrow, and the newly-signed Jakobi Meyers to throw to.
Jordan Love

,

Packers

A bit lost in all the Aaron Rodgers drama, Love is now the starting quarterback for the Green Bay Packers. He's a bit of an unknown, but the team seems to love him and the Packers are likely to add more receiving weapons in free agency and/or the draft. Christian Watson looks like the real deal and Romeo Doubs had his moments as a rookie as well.
Tony Pollard

,

Cowboys

It remains to be seen if Jerry Jones makes a splash in the draft by picking Bijan Robinson, but as it stands, Ezekiel Elliott is gone and Pollard was slapped with the franchise tag. Pollard finished as the fantasy RB7 last season–on just 232 touches–and that was with Elliott siphoning 248 touches. The Cowboys signed Ronald Jones, so it's possible that they aren't planning to add Robinson in the draft.
Rashaad Penny

,

Eagles

Barring the Eagles targeting Bijan Robinson in the draft–or signing another talented veteran–Penny should replace Miles Sanders as the likely RB1 in the Eagles' excellent rushing attack. Not only does he own a career 5.69 yards per carry, but Penny has posted 100+ rushing yards in seven of the 10 games where he saw at least 12 carries. (He averaged 7.39 yards per carry in those games.) If he can stay healthy–and that's a pretty big "if"–he should be able to replicate or even surpass the 1,269 rushing yards (and 11 rushing touchdowns) that Sanders posted last year. Unfortunately, Penny has only played in 42 of a possible 82 games in his career.
Samaje Perine

,

Broncos

After a few seasons serving as Joe Mixon's backup, Perine decided to move to Denver where he'll have a chance to potentially start as long as Javonte Williams is recovering from an early-season ACL tear. Perine has a career 4.0 yards per carry, but he's a good receiver–101 catches on 122 career targets–so he'll have a chance at fantasy RB2-type numbers as long as Williams is sidelined. New HC Sean Payton is an outlier when it comes to how often running backs are targeted in the passing game, and Perine has enough receiving chops to take advantage.
David Montgomery

,

Lions

Montgomery is pretty similar to the guy he's replacing–Jamaal Williams. Montgomery is 5'11, 224 lbs, and owns a career 3.94 yards per carry. Williams' numbers (6'0", 224 lbs, 3.99 YPC) are eerily similar. They even have the same number of career carries (915), though Montgomery is two years younger, which is probably why the Lions made the move. Williams finished with 262 carries for 1,066 yards, and 17 touchdowns, and although the Lions' rush offense is a candidate for regression, Detroit backs should continue to see plenty of totes around the goal line.
Miles Sanders

,

Panthers

The Eagles decided to sign Rashaad Penny instead of re-signing Sanders. While he doesn't have as much rushing upside in Carolina–the Panthers simply don't have the Eagles' potent running game–he could see a big bump as a receiver. In his rookie season, he caught 50 passes, but never saw more than 2.3 receptions per game in the three subsequent seasons, declining to a career-low 1.2 per game last season. I'd expect Sanders to see at least 240 carries and 40 catches as the Panthers' lead back.
Alexander Mattison

,

Vikings

I've been saying it for a couple of weeks now–it really feels like Mattison will be the Vikings' RB1 this year. In a minor surprise, the Vikings re-signed Mattison to a two-year contract worth $7 million. Dalvin Cook remains on the roster, but the trade rumors (and rumors that he could be cut) make me wonder if all this smoke means something is in the works. If Cook is moved, Mattison has a great chance to finish as a fantasy RB1. In the 14 games that Mattison has seen at least 10 carries, he has averaged 18.1 touches for 88 yards and 0.57 touchdowns. The resulting 13.0 half-PPR points per game are about what Jamaal Williams and Aaron Jones averaged as low-end RB1s in 2022. Don't forget that Cook underwent shoulder surgery on his troublesome right shoulder this offseason.
Khalil Herbert

& D'Onta Foreman,

Bears

With David Montgomery moving on, Herbert is expected to take over as the lead back after a highly-efficient 731 rushing yards on 129 carries (5.67 yards per carry). However, it wouldn't be shocking if Foreman has a big role. He has racked up 1,480 rushing yards (4.41 yards per carry) and eight touchdowns in 26 games.
Damien Harris

,

Bills

Harris should share the backfield with James Cook and his touchdown upside may be limited by Josh Allen, but it's possible that the Bills turn to Harris to lighten Allen's carries around the goal line.
Garrett Wilson

,

Jets

We'll have to wait to see how the Aaron Rodgers trade comes together, but one player that won't be included is Wilson. The reigning Rookie of the Year posted 83 catches for 1,103 yards and four touchdowns, racking up 147 targets from the likes of Zach Wilson, Mike White, and Joe Flacco. If Rodgers is throwing the ball, those numbers should increase drastically.
D.J. Chark

&

Adam Thielen

,

Panthers

In theory, Chark and Thielen should soak up targets from a talented rookie in the Panthers' passing game. With D.J. Moore traded to Chicago, the Panthers have the sixth-most vacated yards and the fourth-most vacated air yards up for grabs. I'm particularly excited about Chark, who is still only 26 and has averaged 45+ yards per game in three of the last four seasons. Remember, he had 73-1,008-8 on 118 targets in 2019.
Darren Waller

,

Giants

We'll see what else the Giants do at the receiver position, but as it stands Waller is a serious threat to lead the team in targets. He averaged 8.5 targets per game in 2021 and only 4.8 per game last season, thanks in large part to the arrival of Davante Adams, who led the team with a mind-boggling 180 targets last season. Waller is over 30-years-old and has only played 20 games in the last two seasons, but if he's able to stay healthy, he could get back to 8+ targets per game.

Free Agency Losers
Jakobi Meyers

(and

Davante Adams

),

Raiders

Meyers finished as the fantasy WR28, garnering 96 targets in 14 games played. That's a 117-target pace over a full 17-game season. He's unlikely to see that sort of usage playing alongside Davante Adams (180 targets). Since 2017, the most targets that any WR has seen playing with Adams is 94 (Mack Hollins) and the average No. 2 target has seen 78.5 targets from 2017-2022. Jimmy Garoppolo is not much of an upgrade from Mac Jones, so this move doesn't enhance Meyers' fantasy value. As for Adams, he lost his BFF (Derek Carr) and now has Jimmy G throwing the ball. He doesn't have a built-in rapport, so there may be a learning curve, and that may impact Adams' production.
Jamaal Williams

,

Saints

This move could end up working out for Williams, who certainly stands to benefit if Alvin Kamara is suspended for an alleged 2022 incident of battery in Las Vegas. As it stands, things aren't looking good for Kamara, so a four- to eight-game suspension seems likely. This would leave Williams in the RB1 role for a good portion of the season. The Saints had 12 rushing touchdowns last season and Taysom Hill scored seven of those. The Lions had a very strong rushing attack in 2022, and Wiliams scored 17 of the team's 23 rushing touchdowns. So not only will Williams likely see a big reduction in scoring opportunities, those opportunities will be further limited by the presence of Hill, should the Saints continue to use him around the goal line. Still, given Kamara's legal woes, things could set up nicely for Williams.
Dameon Pierce

&

Devin Singletary

,

Texans

The chances of Pierce landing a bell-cow role in 2023 went out the window when the Texans gave Singletary $2.5 million guaranteed for one season. It's not crazy money, but Singletary has averaged 212 touches over the last three seasons and it's unlikely that the Texans brought him in to be a pure backup to Pierce. Singletary is both a solid runner (career 4.7 yards per carry) and receiver (38+ catches in three straight seasons) and probably wouldn't have signed with the Texans without the promise of a sizable role.
Ezekiel Elliott

, TBD

Elliott is unlikely to find a 16.5-touch role now that he's been released by the Cowboys. As he enters his age-28 season, he should still have some tread left on the proverbial tires, but his yards per carry declined to a career-low 3.8 and he finished 35th in yards after contact per attempt. He was also a subpar 29th in attempts per broken tackle.
Dalton Schultz

,

Texans

If Schultz is able to lead the Texans in targets–and that's a possibility given the current state of Houston's receiving corps–then this move may work out for him. In 28 games over the last two seasons with a healthy-ish Dak Prescott, Schultz has averaged 4.7 receptions for 48 yards and 0.30 touchdowns per game. The resulting 10.0 half-PPR points per game would have made him the TE5 in 2022. He'll be hard-pressed to finish higher than that in Houston.