High Stakes Fantasy Football: 2022 FFPC Main Event Running Diary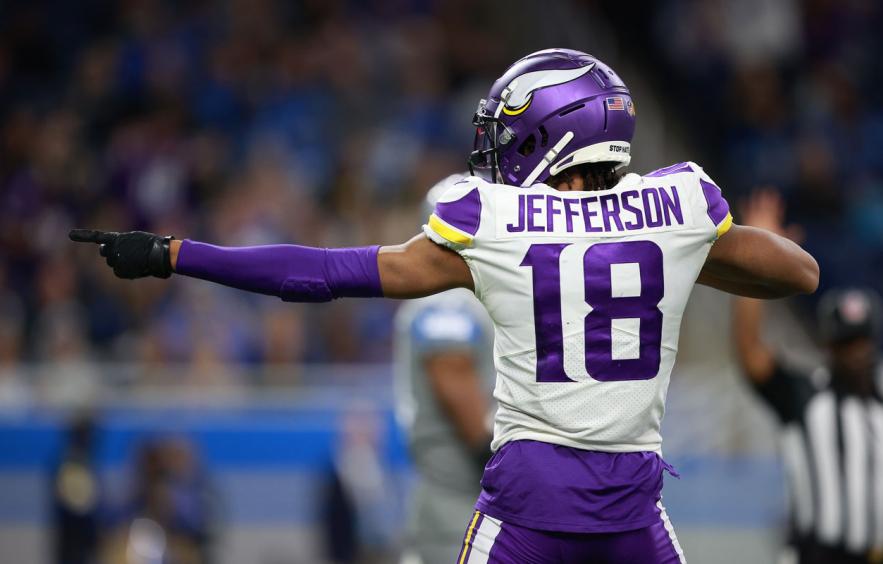 Rey Del Rio/Getty Images
We're back. Last year I did a $2000 FFPC Main Event team with both Ryan Noonan (@RyNoonan) and John Daigle (@NotJDaigle), miraculously finishing in the top-100 overall and were in the top 30 heading into the final week. I documented the entire draft process, including our arguments, agreements, takes, and everything in between. It was absolute anarchy but so much fun at the same time. We knew we had to run it back.
You can find last year's version here.
If you aren't familiar with FFPC's Main Event, it's one of the best high-stakes fantasy football tournaments at the moment. At its most basic, it consists of 12 teams with PPR and TE premium scoring. You can start 1 QB, 2 RB's 2 WR's, 2 FLEX, 1 K, and 1DST. It has a tournament-style ending where all the individual league winners and runner-ups are put into a pool from Weeks 14-17. The winner of the whole thing will be taking home a cool million dollars this year. To find out more about the rules and scoring, check out their official site and rules.
2022 FFPC Main Event Breakdown
First-Round Pick (1.03)
Selection:
Justin Jefferson
We drew the third pick this year. While we were all hoping for Christian McCaffrey to somehow fall to us, we wound up unanimously deciding on Justin Jefferson once McCaffrey and Jonathan Taylor went first and second overall. This will likely be our only unanimous decision during the entire draft so I'm enjoying the peace while I can.
For the sake of content, I wish there was some type of spirited debate I could share with you, but it was actually Daigle who first suggested Jefferson. I posed the question before we were on the clock, offering up some hypothetical options including Cooper Kupp, Ja'Marr Chase, Travis Kelce, and Jefferson. You can make a legitimate argument for any of them after the top two guys in my opinion. Noonan seconded Daigle's Jefferson suggestion and I think he has a legitimate chance to break the NFL receiving record this season.
He went for 88-1400-7 as a rookie and then followed that up with a 108-1616-10 line last season. That was all despite playing in a run-heavy offense with zero creativity from the coaching staff. The Vikings have since hired former Rams offensive coordinator Kevin O'Connell to be their head coach. The offseason drumbeat about putting Justin Jefferson in a better position to succeed and a Cooper Kupp type of role has been deafening. This means moving Jefferson around, scheming him easy receptions, and having him be the focal point of the passing game. Beyond that, some people connected to the organization have said that the Vikings brought in O'Connell to entirely change the Vikings' philosophy and sling it. Justin Jefferson's true ceiling is tough to comprehend.
Second-Round Pick (2.10)
Selection:
Alvin Kamara
This is by far, the FASTEST 6-hour slow draft I have ever been a part of. When we originally signed up Sunday night I figured the draft would fill sometime this week and we would make our first pick by maybe Tuesday or Wednesday. Instead, the draft filled immediately and everyone has been paying attention to it like it's their job. That's normally not a good sign and we may be swimming in shark-infested waters. That being said, I think we are crushing it so far.
We were deciding between Alvin Kamara and Leonard Fournette with this pick. Noonan wanted Lenny and Daigle wanted Kamara.
We don't believe Kamara will be suspended this season based on what we are hearing from Drew Davenport and other sources, he'll likely face suspension in 2023.

I know the Alvin Kamara hearing got swallowed up by the Watson decision, but I wanted to reiterate the current situation.



As has been my position since the April continuance, I believe the legal timeline is setting up for this case to push out past the NFL season.



1/

— Drew Davenport (@DrewDavenportFF) August 2, 2022
As the season approaches and Kamara still isn't suspended his ADP will likely rise into the early second round which means we have a chance to have a relatively unique pairing with Jefferson and Kamara. Obviously early drafters are all getting him in a similar range right now but since the bulk of Main Event drafts are done closer to the season it should still be an edge by the end.
After breaking my reasoning for Kamara but also mentioning that Fournette has a ton of potential in hopes of having some discourse around the pick, Daigle just responded, "Kamara."
Classic Daigle.
No reasoning, discourse, or thoughts, just laying down his opinion like he is an omniscient fantasy guru. In all fairness, he is busy cranking out team previews but I figured we would at least get the copy/paste from one of his articles like we did most of the time last year. Things felt like they were deteriorating.
Noonan and I went back and forth for a bit and he added that "Lenny has the old Kamara role and I think even if Kamara plays the full year he probably isn't catching 80 passes anymore. The target competition is the best they have had in New Orleans in years and Jameis hasn't been a big check-down guy ever."
I responded with, "Maybe he won't catch 80 passes but the first 7 weeks with Jameis Kamara saw 6.16 targets per game, and that was with Jameis only averaging 25 pass attempts per game. In the two games Jameis had more than 30 pass attempts Kamara had receiving lines of 5/51/1 and 10/128/1."
After 10 messages back-and-forth between Ryan and me, Daigle finally responded with "I typically go Kamara in large field tournaments here since we're only shooting for upside. I understand safety if this were a 12-team league but I usually don't lead towards floors in large formats."
This felt like significant progress and is a fair point. Noonan wasn't really having it though, rebutting with, "Shooting for upside implies that Lenny doesn't have any because his floor is higher and I disagree with that."
I personally think they have a similar floor/ceiling combo plus going back to the original point, Kamara would help us be a little different when it's all said and done.
Third-Round Pick (3.03)
Selection:
Mike Evans
With the speed of the draft, we only had 3 hours between picks here. Wounds were still fresh.
Mike Evans was third on my list after Kamara and Fournette at 2.08 so this felt like serious value. Chris Godwin is expected to return sooner than his original timetable, but most reports are that he will likely be brought along slowly. The Falcons also signed Julio Jones but I'm not sure how much he takes away from Evans.
This was just about as close to a consensus as we could get with Noonan bringing up Evans, me mentioning Michael Pittman as well and Daigle saying he prefers Evans.
So we went with Evans. Judging by the speed of this draft we will be done in a week and be picking again Tuesday morning, so until then.
Fourth-Round pick (4.10)
Selection:
Allen Robinson
There was a lot of debate around this pick. Leading up to it Cam Akers almost fell to us at 4.10. I'm very thankful he didn't fall to us because I know Daigle is pro-Akers while I'm anti-Akers. We have already taken a bet under 950.5 rushing yards on the season and while he probably is the lead back I'm concerned about Darrell Henderson seeing a lot of work as Sean McVay has mentioned and a running back suffering an Achilles injury has largely been a death kneel. Not a single running back in the last 10 years has come back from an Achilles injury and has had any success at all. It doesn't matter how far removed they were, none of them were efficient. Regardless, we dodged a bullet.
When this pick came up we settled on either taking Allen Robinson or Ezekiel Elliott. I am out on Zeke as an early fourth-round pick but am fine with him in the late fourth-round. Prior to his injury last year he was relatively efficient. I'm just not sure he is going to win any leagues with Tony Pollard soaking up some passing work.
On the other hand, all three of us are bullish on Allen Robinson. Since signing him the Rams have been very vocal about their plans to move him around and utilize him a bunch in the red zone. Early hype out of training camp has reflected that sentiment. There are some concerns about Matthew Stafford's injury but literally a few days after it was announced he had some lingering pain he was seen in training camp throwing darts. No team would let him go out there during training camp if it was THAT bad of an injury. A more balanced/safer approach given our current build certainly would have been to select Zeke but we opted for the higher upside and riskier build with Robinson in hopes that Zeke could make it back to us in the fifth round.
Daigle brought up the point that at least one of the teams ahead of us had no wideouts and was probably going to double-tap the position. He also has Marquise Brown ranked ahead of Robinson and voted for him but was fine if Noonan and I wanted Robinson there. Noonan was much higher on Robinson but wanted Zeke due to the drop-off at the position afterward. Totally fair. Our options aren't great as I currently write this heading into our 6th-round pick.
Fifth-round pick (5.03)
Selection:
Marquise Brown
Our hope that Zeke would make it back to us didn't pan out. The team with two running backs and aa tight end opted to take their third running back. They ended up grabbing their third running back before a single wideout.
Noonan was salty to say the least.
"We're going Hero RB with a running back that's nobody's hero. He'll be outscored by AJ Dillon who we won't draft because of ADP."
I tried to back him off the ledge and said "Noonan this is a solid build, we don't need four early running backs like best ball, just going to need to hammer running back in the late rounds to find an RB2."
So we ended up with, *sigh*, Marquise Brown.
This felt like selling my soul a bit after last year's never-ending standoff with Daigle about Hollywood and Waddle. That being said, I'm also the same guy tweeting threads multiple times a week on Twitter so my soul is long gone at this point.
Hollywood's situation is intriguing though partnering with his former collegiate quarterback and playing in a pass-heavy offense where he should be the clear No. 1 wideout until Hopkins gets back and maybe after.
Sixth-round pick (6.10)
Selection:
Kyler Murray
Prior to this pick I brought up three options I wouldn't mind which is Elijah Mitchell, Kyler Murray to stack with Hollywood, and Tony Pollard.
Daigle laid out the bull case succinctly saying, "I have only been drafting Kyler in this range. He could outscore Josh Allen and offers far more upside than any other player in the queue."
Noonan responded with "Yeah, Kyler feels good here. Hate the board… Mitchell, yeah I think SF doesn't want him to sniff 16-18 touches per game. He's good but no real passing role and feels like 12-14 touches, might get cucked at the goal line by his QB."
I disagree and see Mitchell more so in the 15 to 17 carry range with 1-2 other backs getting only a few carries per game. Mitchell absolutely crushed down the stretch last year and has been reportedly running as the clear No. 1 in training camp.
I was in the minority with this though as Daigle said, "It's the dead zone for a reason, we absolutely cannot take any of these bad running backs.."
I'm pretty sure Daigle is drunk at this point as his texts had a few misspellings and he added "We only draft Kyler in this house."
We were all on board with Kyler though so that's who we picked. The Cardinals are going to be in a ton of shootouts because of how bad their defense projects to be and adding Marquise Brown certainly couldn't hurt Kyler Murray after he was the QB5 before Week 8 of last year.
Seventh-round pick (7.03)
Selection:
Zach Ertz
When debating about players we could take on the wrap, based on the board we were seriously considering taking our fifth wide receiver before a second running back.
Daigle mentioned that he loved Kadarius Toney and followed up with "Imagine ever taking Lazard over Toney."
All the wide receivers we were looking at were picked at the turn, leaving us with an uninspiring group of wideouts, Elijah Mitchell, or Zach Ertz.
My attempt at an Elijah Mitchell drum beat was falling upon deaf ears so I knew it wasn't worth fighting for.
Daigle brought up Ertz and Noonan agreed saying, "He was a dusty ass target hog down the stretch last year."
I don't love Ertz in fantasy leagues this year but in TE premium we have him projected as the TE6, plus in the context of this team, continuing to stack Arizona is in our best interest.
Eighth-round pick (8.10)
Selection:
Miles Sanders
I'm pretty sure all three of us are off Miles Sanders at his normal average draft position of 78.85 in main events. According to our data, where we drafted him at pick 94 is actually the latest Miles Sanders has been selected in any Main Event completed so far.
We all believe Kenneth Gainwell will play a role and Boston Scott could factor in as well. Those players probably limit his upside but he is playing in an offense that figures to be much improved and behind a top-tier offensive line. We also anticipate him leading the team in touches. If either Scott or Gainwell doesn't play much of a role, Sanders could be a massive value and easily turn in an RB2 season. For an 8th-round pick, it's tough to be upset.
I was pretty sad my guy Chase Edmonds was gone but I think we all ended up feeling okay about Sanders.
Ninth-round pick (9.03)
Selection:
Devin Singletary
I'd love to say we had some great analysis for this pick and that we were all stoked. But that didn't happen. I messed up. This pick was supposed to be Chris Olave. Once the drinks started flowing at the fantasy football expo, I must have forgotten to hit the button to pick Olave. I woke up in a hungover stupor at 6:30 AM after a long night out with a notification saying that we had just drafted Devin Singletary.
Oof.
Unsure of what to do, I texted Noonan and Daigle at 6:45 AM hoping some comedic relief would avoid them terminating our FFPC partnership.
"So uh, I ****** up.
The Olave pick didn't happen.
I reached out to FFPC to try and fix it but it was too late.
So, welcome our newest member to the team…
He stands 5'7, 203 lbs, with the nickname "The Motor!"
*I added a picture of him too for good measure*"
Literally, no one answered until we were on the clock next. Maybe it was disgust. It also could have been a relief that the auto pick could have been much, much worse.
Singletary hypothetically has some upside, right?
I almost just threw up saying that but there's probably some truth to it since he plays on the Bills and was the only running back to not play along with other starters in their first preseason game.
Timing out in a $2,000 draft is undeniably embarrassing but when Singletary wins us the million dollars in Week 17 I will take full credit and responsibility for being the mastermind behind it.
Tenth-round pick (10.10)
Selection:
Isaiah Spiller
I was never forgiven for the Singletary auto pick but it also wasn't even acknowledged. It's almost like it never happened. Lucky me.
After sending a picture of the available players on the clock to the rest of the team, Noonan mentioned "Our projections love Allgier which is… interesting."
Daigle said, "We probably gotta ignore the projections on that one."
Noonan and I both agreed as Allegiers wasn't even in the initial rotation for the top-3 running backs in Atlanta in their Week 1 preseason game and was the 5th running back to get the ball. He'll likely be a non-factor at least to start the season.
After another multi-hour silence, Noonan begged for us not to get autoed on back-to-back picks, asking Daigle for any thoughts.
He mentioned that we were eying Isaiah Spiller and should probably just take him. Noonan believes he has legitimate standalone value.
At this point I'm just happy we are finally racking up some running backs.
Eleventh-round pick (11.03)
Selection:
Darrell Henderson
Daigle abstained from this pick. I'm not sure whether it was by choice or just being over this but his opinion wasn't voiced. It was a long weekend so I understood. Noonan and I were between Henderson, Michael Carter, and Alexander Mattison. Even though Carter probably has the most standalone value he plays on a much worse offense so his upside probably isn't that high even in the instance of a Breece Hall injury. Whereas Henderson plays on the Rams and would be a fringe RB1 if Akers goes down, at least for the 3-4 weeks he is healthy. Mattison has the most upside in case of a Cook injury but next to no standalone value on a week-to-week basis.
After another long pause, Noonan just said "I'm good with either but make sure to pick one."
Despite a well-deserved small jab from Noonan about the auto draft debacle, I said "I picked Hendo and am going to sleep."
As we stand right now, we have a hero RB in Alvin Kamara, four stud wideouts, a top-tier quarterback stacked with his tight end, as well as four potential RB2's. Despite the mid-draft Singletary slip-up, I still feel great about where we are at.
Twelfth-round pick (12.10)
Selection:
David Njoku
For some reason, I once again didn't get the notification we were on the clock. Despite being *relatively* young, my technological aptitude is pretty rough. Thankfully the old of our team (Noonan) has a young soul and notified us all we had about two of our 6 hours left.
I suggested Njoku, Joshua Palmer, Jamaal Williams, and Jalen Tolbert. While all three are good options, Daigle brought up a good point that Njoku is "legitimately the only tight end who could breakout from the TE9 and on. 26, second contract, TE friendly scheme, wide open target tree, athlete. If not Njoku, we are sitting on bums who are TD or absolute bust every week."
Noonan agreed, saying Njoku is probably his highest-owned tight end. As our TE2 behind Ertz, we don't have to play Njoku a single game this season if he busts but his upside scenario means he could realistically see our lineup at some point.
Thirteenth-round pick (13.03)
Selection: Joshua Palmer
If we didn't take Njoku, I would have pushed for Palmer with the last pick. Thankfully he made it back to us on the wrap. Noonan loves Jalen Tolbert and Daigle has already bet him (at long odds) to win offensive rookie of the year. Noonan and I already have Tolbert in our previous main event though and the offseason drumbeat has been that Palmer will be starting in three wide receiver sets over Jalen Guyton.
Palmer will likely be volatile as it currently stands but if Mike Williams or Keenan Allen were to get hurt, Palmer could be seeing a significantly higher target share and be a viable WR3/Flex.
Fourteenth-round pick (14.10)
Selection: Devante Parker
When discussing this pick I wasn't too thrilled with our options.
Daigle mentioned "It's a good range for Parker. A receiver who doesn't come off the field in the 14th round. More valuable than Palmer honestly."
Noonan added that he has been a "Parker donk for 7 years so why stop now?"
I can confirm that is true but I was not all the way on board. I'm worried about the Patriots' offense and Parker is one of the worst separators in the NFL over the past few years. Barring Mac Jones throwing 5-7 YOLO jump balls to him a game, there's essentially no shot he'll ever see our lineup. That's fine though, I'll take the "L" here and let Noonan and Daigle celebrate over our dusty WR5.
Fifteenth-round pick (15.03)
Selection: D'Ernest Johnson
Daigle and Noonan wanted Kenny Golladay and I had about had it. First off, gross. If we went double-tapped wide receiver with Kenny Golladay and Devante Parker the FFPC should revoke our right to ever draft again.
Daigle pushed the same snap count drivel he did with Parker saying "He's going to play every snap. The Twitter highlights are stupid because he's never been a guy who has separated anyways."
Noonan also likes bad players, chiming in with "I like Golladay too. Too young to be completely dusty."
I would beg to differ based on what we have seen from him since leaving Detroit. He has looked cooked for a while and turns 29 in November. He might be young in the eyes of father time, but if he's older than me he is old by NFL standards.
At this point in the draft given our WR-heavy build at the start, I'm more apt to continue to take stabs at running backs. Even if they have no standalone value, we just need guys with "if-then" value. Essentially answering the question "If X happens, what happens to this player."
For wide receivers, If-then statements are a bit murkier because targets are usually dispersed throughout an offense and not just to one player. Whereas if we draft a backup running back and the starter gets injured in the next three weeks, we are sitting on a guy who will see a reasonable workload and have a chance to prove himself. This is the opposite of best ball drafts where wide receivers on your bench matter because they can still spike and score points. A zero on our bench is the same as 7.6 points from Kenny Golladay.
Prior to us settling on Johnson, Daigle and I bet on Wandale Robinson fantasy points per game vs Kenny Golladay. I don't even love Robinson but I do truly think Golladay is going to be a near-nobody this season.
Thankfully we didn't pick him and landed on D'Ernest Johnson who has a ton of if-then value. He looked great last year when he had the opportunity and Kareem Hunt requested a trade recently. If that comes to fruition we could be looking at a guy with standalone value and a lot of upside if a few things break his way.
*I'll be updating this article as we make each pick, along with more dialogue and analysis.