Dynasty Start-Up Mock: 14-Team Standard Scoring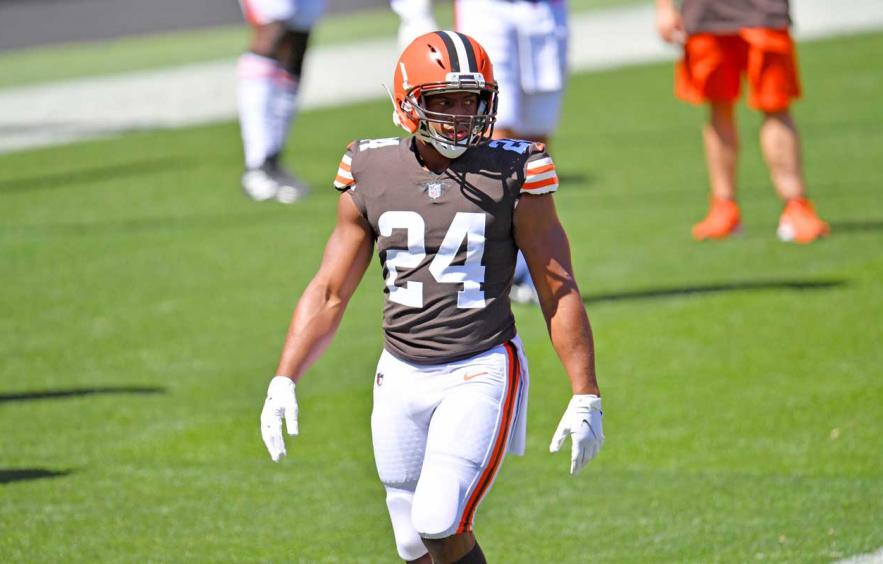 Jason Miller/Getty Images
In my ongoing series for 4for4, I've been utilizing DLF's new mock draft simulator tool to conduct multiple rookie and startup drafts. Hoping to show readers how they can use mock drafts to help prepare them for drafts and as an introduction to dynasty leagues for fantasy owners who may not be as well versed in that style.
My previous startup draft was a 12-team, 20-round draft. The league was set up as superflex, with both point-per-reception (PPR) and tight end premium scoring (TEP), and I had the eighth pick in the draft. The increased value of quarterbacks and who I decided to pick and when, ended up having a massive impact on the rest of that draft. So, in this mock, I went with a deeper 14-team setup without superflex. The scoring was also a little more of an old-school structure too, with standard non-PPR scoring and no TEP either. Although not an easier draft, I found this to be much more stress-free than the superflex edition. I was randomly assigned the first overall pick; now, let's take a look at how it played out.
Round 1
Without superflex, things are a little more wide open here at 1.01. I don't love Jonathan Taylor, but I understand the upside. I might be tempted to go with Ja'Marr Chase with PPR, but let's keep it simple here and go with the universal 1.01 in Taylor. I suspect there will be RB scarcity later, so I'm planning on hitting running back early and often.
What Could Have Been?
Given the scoring and my plan to attack running backs, I only considered Taylor or Najee Harris here. If there wasn't so much mystery at quarterback for the Steelers, I might have gone with Harris. But, given everything else going on in Pittsburgh, Taylor was an easy choice.

Because I am picking on the turn in this draft, I'm lumping those back-to-back picks together for the remainder of this article because the two picks often go together or impact one another.
Rounds 2 & 3
Plenty of talented wide receivers are remaining, making my robust running back strategy easy to pursue at this point. To me, there are three bona fide RB1s on the board, and many others would include Alvin Kamara as a fourth. If it were PPR, Dalvin Cook would be the pick; since it's not, Nick Chubb was an easy 2.14 in standard scoring.
Following that pick, J.K. Dobbins has as much upside as any running back in the league. Coming off of a season lost to injury, his price is depressed a bit entering 2022, where his ADP has fallen nearly four spots from a year ago. The Ravens maybe (hopefully) want to go back to what was successful for them in the past and should lean towards the run a little more, and a healthy Dobbins could be one of the year's biggest breakouts.
What Could Have Been?
I mentioned Cook and Kamara, and maybe I would have gone there in PPR, but I didn't give them much thought with standard scoring. The other name that stood out as an option was Mark Andrews, but again, given the scoring and no TEP option, I'll probably be just as happy with any of the later options at the position.

Rounds 4 & 5
I started my team RB-RB-RB, and I was tempted to keep returning to the well here; however, things were looking light at wide receiver, so I decided to double tap at the position. I've never been a huge Hollywood Brown fan, but he opened my eyes last season, and I absolutely love his move to Arizona to be reunited with Kyler Murray. I think he has an excellent 2022 and then regresses a bit after that, so I'm already planning to trade him after this season where I have him.
Sure, Keenan Allen is 30 years old, but he's a proven fantasy producer. He felt like the last of a tier before a massive drop-off at the position, and I'm happy to add him to my team. Starting with three running backs and still coming out of the draft with these two receivers feels like a great start through five rounds.
What Could Have Been?
There weren't many other names on my short list coming into the four-five turn in the draft. I've never been an Amari Cooper guy, and he's got questions at quarterback. Jamison Williams is returning from injury, and I almost never select rookies in startup drafts. Brandin Cooks is the only player in this next group I like, and I don't like him more than Brown or Allen. If you want to play it safe, I could see Cooper or Cooks over Brown, but I'm playing a hunch and shooting for upside.

Rounds 6 & 7
With a roster constructed of three running backs and two receivers through five rounds, I'm starting to get close to "best player available" territory for me. However, I still prefer to fill holes when I can, and I'd like to add a third receiver. The Bears' Darnell Mooney is screaming value to me in 2022, and I think he even has a chance at cracking the top-12 at the position, so landing him at 6.14 (84th overall), is a steal. I think he might have been the easiest pick for me so far. 4for4's John Paulsen wrote about Mooney's upside in his recent 99 fantasy football stats article.
On the turn, I saw the impending rarity of running backs on the horizon, so I grabbed last year's RB8 in James Conner. Conner will miss games as he always does, but the Cardinals' system lends itself to red zone rushing, and Conner has a nose for the end zone. As my RB4, there's nothing to complain about.
What Could Have Been?
D.J. Chark or Christian Kirk might have been in play if I wasn't such a big Mooney-breakout proponent. None of the other running backs interest me. I like Rhamondre Stevenson, but I'll never roster a Patriots back, given their propensity for full-blown mystery committees. Given the scoring and settings, quarterback and tight end aren't even on my radar yet, although it stung a little bit seeing both Dallas Goedert and Pat Freiermuth get taken after my picks.

Rounds 8 & 9
Since Freiermuth, Goedert, and Dalton Schultz were gone, there were only two tight ends remaining in my next tier; Dawson Knox and Mike Gesicki. Looking at everything left on the board, I didn't love any receivers here, and I only see one projected starting running back remaining. That back is Miami's Chase Edmonds, so I grabbed him with my eighth pick. I have Gesicki higher on my board than Dawson Knox, but I didn't want to go with back-to-back Dolphins, so I pivoted to the Bills' tight end, who is projected to finish as TE12- locking up a likely TE1 in the ninth round? Yes, please.
What Could Have Been?
If I wanted to get crazy and aimed for a Dolphins stack coming into the draft, I could've tried for Tyreek Hill or Jaylen Waddle earlier. Then try to grab Edmonds and Gesicki here and target Tua in a round or two, but that ship sailed early in the draft when I passed on Hill & Waddle. But, things are looking bleak when scanning the draft board now. So, get your guys and players with upside.

Rounds 10 & 11
In single quarterback leagues, Round 10 is the earliest I'll ever start looking at quarterbacks. Reaching that point in the draft, only one name really stood out, and it was the Rams' Matthew Stafford, who finished as QB8 in his first season in LA. The names at the other positions were lacking, so I pulled the trigger.
Just one pick ahead of Stafford, I grabbed Jakobi Meyers. I like the player, but honestly, in hindsight, I had a brain lapse for a minute. He's not great in standard scoring and should probably only be considered in PPR leagues. My fourth wide receiver only having WR4 upside is less than ideal. I like the player but hate the pick given the scoring settings.
What Could Have Been?
I thought about a couple of players here. Hunter Henry sticks out as the Patriot I should've grabbed instead of Meyers. Irv Smith, Jr. is a tight end breakout candidate here too. There are some quarterbacks still on the board younger than the 34-year-old Stafford, but none possess the upside that he does.

Rounds 12 & 13
We're just swinging for the fences here and taking as many upside players as possible. You'll rarely lose your league in these rounds, but you can definitely win it if things break right for you. The dynasty community has been high on Mecole Hardman since he entered the NFL. Fortunately, the Chiefs cleared the deck with the trade of Hill, so it's now or never for the fourth-year, 24-year-old receiver. If he can earn any of the work vacated by Hill, he could be one of the biggest surprises of 2022.
The last time David Njoku was healthy, the former first-round pick was TE8. With a new contract and very little competition, Njoku has a great opportunity to repeat and end up as a top-12 player at the position again. I love the value plus upside combination of Njoku in Round 13.
What Could Have Been?
I thought about grabbing a younger quarterback here, but there were quite a few remaining, and I thought they'd fall, so I planned on grabbing one with one of my next picks. A couple of backup running backs caught my eye too. With Khalil Herbert and Jamaal Williams leading the charge, but even with injuries ahead of them, none had the upside as Hardman or Njoku.

Rounds 14 & 15
Whelp, there went the younger QBs I planned on taking here. As a result, and in desperate need of a backup following the eight-quarterback run, I grabbed another veteran in Matt Ryan. I don't love it, but I get a stack with Taylor in the first, so now I'm rooting for check-downs in Indy. I also added Njoku's former Browns teammate, Austin Hooper. Hooper is in Tennessee now, on a team that has historically gotten the TE involved and has very little ahead of him in the receiving room. Unproven rookie Trylon Burks and injured 30-year-old Robert Woods are the only players that may take targets from Hooper. These were the most difficult picks of the draft for me.
What Could Have Been?
I didn't love either one of these picks, and I wasn't sure where else to go. The Bears' Velus Jones was a consideration, but he's a 25-year-old rookie, and I already drafted Mooney. I wanted to take Devin Duvernay and Chris Evans here, but I thought it was too early and planned to grab them in Rounds 16 and 17. Maybe I could've gone with Jameis Winston or Kenny Pickett, but I played it safe with Ryan.

Rounds 16 & 17
I missed Duvernay, but Evans made it back to me, so that was an easy pick at 16.14. Again, looking at upside, Evans is rumored to be the third-down back for Cincy this year, and if Mixon were to miss any time, he's likely to plug into the three-down role for one of the better offenses in the league. I like it.
I always say I won't take rookies in startup drafts and try to stick to it, but here we are. I non-coincidentally also took Hassan Haskins in my first startup mock draft. Much like Evans, He looks to have an inside shot at the third-down role in Tennessee and will inherit a monstrous workload if the starter ahead of him goes down.
What Could Have Been?
The only player I like that went after my picks was Kendrick Bourne. Since I already had taken Meyers in Round 10, I didn't want to double dip in the Patriots' passing game. Had I not taken Meyers earlier, I probably would've gone Bourne over Haskins.

Round 18
In non-superflex leagues, I never take three quarterbacks, and sometimes in redraft, I'll only draft one and hit waivers if I need help later in the season. Dynasty can be a little different as you sometimes need options for trades, injuries, or to fill out your taxi squads. With my two quarterbacks combining to be 71 years old, I needed some young upside blood to stash. I'm not the biggest Malik Willis truther, but I like the upside he brings. It's hard to beat the move in terms of timing; about the time Willis may be ready to start in the NFL, Ryan or Stafford might be washed up or preparing to retire. With that in mind and little else of value remaining to pick from, Willis was a strong choice for Pick 252.
What Could Have Been and What's Left?
Things look rough down here in the 252+ range. It is full of QBs who aren't guaranteed a starting spot in 2023 and other random depth chart fodder. Jonnu Smith sticks out as a post-hype sleeper-type of player. Two years ago, he was being drafted in the 120s, and last year in the 140s, so his ADP plummeting over 100 spots is probably a colossal overreaction to a terrible 2022. Jeff Wilson is rumored to be the 49ers RB2, and I like Isiah Pacheco as a super deep stash in rookie drafts, but everyone else is gross and deserves to be on waivers.