2021 NFL Draft: Live Fantasy Recap (Rounds 4-7)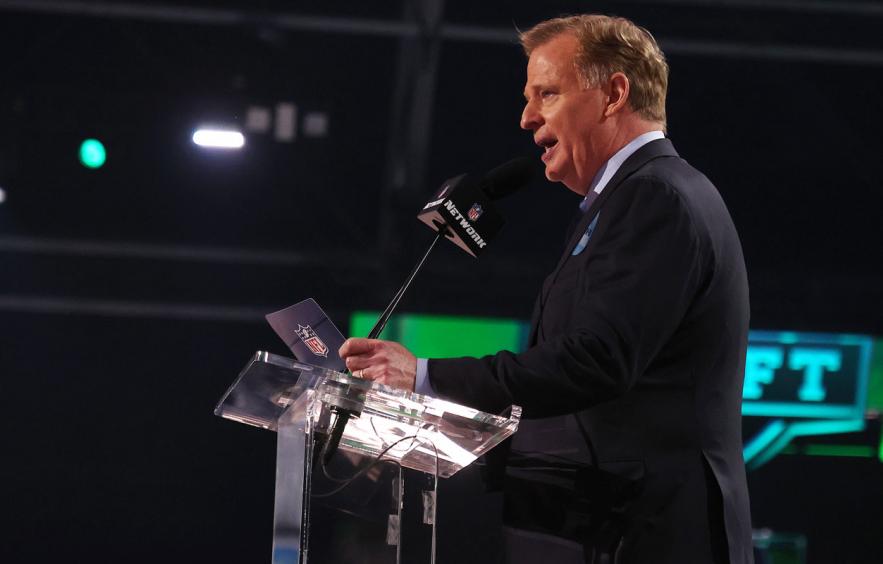 Gregory Shamus/Getty Images
The third and final day of the 2021 NFL Draft (Rounds 4-7) begins Saturday at 12 p.m. ET.
After two days of hosting 4for4's first ever NFL Draft Watch Party, I will be updating this page with analysis of the fantasy implications of each skill position pick. Since opportunity is crucial for a rookie, we assign a grade for each, given the player's opportunity for playing time in 2021.
Don't get too excited about this crop of mid- to late-round rookies. While there may be a couple of players selected today who will beat the odds and prove valuable in 2021 fantasy football leagues, the odds are stacked heavily against them. Still, every year there seem to be a few late-round picks that find a way to contribute, so it's worthwhile to pay attention to the third day of the draft, especially if Miami or Atlanta drafts a running back, or Tennessee finally drafts a receiver.
4.02 -
Jets

- RB

Michael Carter

, UNC

Carter is a compact, 5'8, 201 lbs Senior with excellent playmaking ability. He had 1,245 yards last year on the ground, 1,003 the year before. He caught at least 20 balls in each of the last three seasons, and flashes as a top-level pass-catcher and route-runner out of the backfield. Carter struggled in pass protection, where backmate Javonte Williams supplanted him much of the time, and he'll need to work on identifying blitzers if he's going to get sufficient playing time at the next level. Carter is electric as a runner though, with the ability to explode into lanes and wiggle his way out of trouble. He ran a slower 40-yard-dash time than expected, at 4.50 seconds, but his shuttle and 3-cone were both elite for the position. He should earn a job early, and may wind up catching a ton of balls in a complementary role right out of the gate.

Opportunity: A

Carter isn't an every-down back, but he should see snaps immediately and make a dent in the passing game. The Jets have a lot of names in their running back room, but no one that stands out, so watch the camp battles, but this is one of the best places a running back could've landed in this draft, and catapults Michael Carter into contention for legit mid-to-late round fantasy potential.
4.04 -
Titans

- WR

Dez Fitzpatrick

, Louisville

Fitzpatrick does a great job going up and getting the ball when he gets deep. He separates well, but he has too many drops and doesn't run a very sophisticated route tree. Fitzpatrick has a nice frame at 6-foot-2, 208 lbs, and ran a 4.43-second 40-yard-dash at his pro day, so there's a nice base to work with as an outside receiver. His production was average, and he struggled last year against Pittsburgh. He finished his senior year with just three touchdowns. He will need to work on identifying coverage, as savvy corners can easily manipulate his routes. Fitzpatrick projects as a developmental prospect who could become a deep threat and starting WR2 in a downfield passing attack. He's a player with noticeable strengths, but also an unrefined overall profile that needs some help.

Opportunity: A

This is a great spot for Fitzpatrick, even if he's a major reach early in the fourth round. The Titans need an outside, deep threat and Fitzpatrick fits this offense, but there were better options on the board. Fantasy owners will want to keep an eye on him though, since his only real competition for starting snaps is Josh Reynolds. This hurts Reynolds' value as a potential deep threat, but also may help him with targets, as Reynolds may slide to the slot. Fitzpatrick doesn't profile as a good enough route-runner to play inside. Curious reach here by Tennessee, but a good opportunity.
4.07 -
Lions

- WR

Amon-Ra St. Brown

, USC

St. Brown was a productive receiver for the Trojans. He had 77 receptions for 1,042 yard and six touchdowns as a sophomore, and 41 catches, 478 yards and seven touchdowns in just six games last year. He has underwhelming metrics, at 5-foot-11, 197 lbs, with a 4.51-second 40-yard-dash. St. Brown tracks the ball well downfield and has plenty of over-the-shoulder highlights that show his potential as a deep threat, but he may lack the explosiveness to separate regularly at the next level. He has a good motor, running well after the catch and always working his way back to the quarterback when plays break down. He runs solid routes, but might fit best in the slot at the next level. Press coverage can knock him off his routes, though he does display some crafty footwork. His hands are a bit inconsistent, making hard catches, but dropping easier ones. St. Brown looks like he has WR2 potential as a possession receiver who can move the chains, but his upside is limited.

Opportunity: A+

Here's who the Titans should've selected. This is a perfect prospect-team fit, as St. Brown should slide into the slot and be schemed heavily against zone coverage - where Jared Goff likes to throw. For a fourth-round pick, St. Brown has an incredible opportunity to contribute early on, at a huge position of need. Breshad Perriman is likely his biggest competition for slot work, as Tyrell Williams and Quintez Cephus both are better suited outside.
4.14 -
Vikings

- RB

Kene Nwangwu

, Iowa State

Nwangwu gained noticed with an incredible pro day. At 6-foot-0, 212 lbs, he blazed a 4.29-second 40-yard-dash, and posted above-average numbers at the 3-cone, shuttle, vertical, broad, and bench as well. Nwangwu wasn't super productive in his four years as a Cyclone, with last season's 339 yards and four touchdowns a huge leap from his previous seasons, splitting time with Breece Hall. He showed off his quickness in the Fiesta Bowl against Oregon, averaging 5.0 yards on 11 carries, and broke big plays against West Virginia and TCU. Nwangwu is a project with high upside based on his athleticism, but he projects best as a complementary back at the next level. He was hardly used in the passing game, but was a decent kick returner, and special teams may be the best way for him to earn a roster spot as he develops.

Opportunity: D

Nwangwu lands in a spot with very few carries to share, but he should win the kick return job and may hit a few home runs. No fantasy value.
4.15 -
Patriots

- RB

Rhamondre Stevenson

, Oklahoma

Stevenson ran a 4.63 40-yard-dash at his pro day. At 6-foot-0, 230 lbs, Stevenson should be a bowling ball in the lane, but he put up just 15 reps on the bench. On tape, he's a patient, bruising runner who bides his time in the lane, waiting for his blockers to open a hole. He's more explosive once he decided to turn it upfield than his pro day times would suggest, but he's not going to be confused with a burner by any means. Stevenson already demonstrates some solid pass bloacking ability and always willing to mix it up with linebackers and blitzers, often winning the battle. That talent may lead to some early work for him at the next level. Stevenson's functional strength and powerful lower body should make him a solid two-down option for teams looking at a power rushing attack, but he's most likely going to be a solid depth guy with his limitations.

Opportunity: C

Lots of bodies at the position in New England, but no one the team seems completely committed to, so there may be an opportunity for Stevenson to wow someone in the building. Still, Patriots running backs are traditionally a losing bet, so Stevenson hurts Damien Harris more than he helps himself. This selection also might make Sony Michel undraftable in fantasy leagues.
4.19 -
Football Team

- TE

John Bates

, Boise State

Bates wasn't super productive for most of his college career, but he had a nice start to the season last year before a hamstring limited him to three games. Bates is a big target at 6-foot-5, 250 lbs, and he has long arms that extend well to pluck the ball out of the air. His most impressive trait is his ability to absorb contact while still holding onto the ball, and he adjusts very well to poorly thrown balls – those two traits might be related. Bates is slow-footed, but a long-strider, and he can drop his shoulder when he sees the end zone, giving him some red zone potential. Bates seems to lack a second gear though and he'll be an easy cover. He lumbers through his routes, and isn't super tenacious when the ball isn't in his hands, making him a liability in pass protection at the next level. Bates looks like a TE3 on a roster, but he has quality traits that should land him on the final 53 somewhere.

Opportunity: C+

Bates will have a hard time unseating Logan Thomas, but he has a great chance at the backup tight end spot as a rookie and profiles as a receiving option. Bates won't be worth drafting in redraft formats, but in dynasty leagues, he now enters late-round consideration as a taxi-squad, long-term receiving prospect.
4.21 -
Panthers

- RB

Chuba Hubbard

, Oklahoma State

Hubbard had an incredible 2019 season, where he ran for 2,094 yards and 21 touchdowns, and averaged 6.4 yards per carry. He took a step back last year as a junior, finishing with 625 yards and five rushing touchdowns in seven games, before hurting his ankle and opting out the final games of the season to prepare for the draft. Hubbard has proto-type size for the position at 6-foot-0, 210 lbs and ran a 4.48-second 40-yard-dash at his pro day. While his 3-cone drill wasn't impressive, he otherwise performed well at his pro day, and flashes every-down back ability. Hubbard needs to add a little muscle to his frame, but he held up well with a huge workload in 2019, so he looks like a legit threat for 15+ touches per game in the right situation. Hubbard catches the ball fluidly and creates mismatches when lined up against linebackers and strong safeties. He has an excellent jump cut, and has good vision to squeeze through traffic, though he could be a little more patient waiting for his blocks to evolve before heading forward with a head of steam. Hubbard looks so comfortable and instinctive running the ball, and he could provide extremely good value on day two, as teams fall victim to recency bias to forget how dominant he was as a redshirt sophomore.

Opportunity: C+

Hubbard should win the backup job, which was lucrative last season. This is great value for the Panthers, and they'll likely use him early as a complementary back to Christian McCaffrey. After an injury-plagued 2020 for McCaffrey and quality numbers from Mike Davis in his stead, Hubbard will be a high-demand handcuff. Davis is in Atlanta, and Hubbard should easily beat out Rodney Smith.
4.22 -
Colts

- TE

Kylen Granson

, SMU

Granson made some circus catches, but he lets too many balls get into his body. He has some after-the-catch ability, turning into a running back with the ball in his hands. He can even use a stiff arm. Has a good feel for where the chains are, and for where the soft spots are in the zone. Looks the part of an NFL receiving threat. He's also a willing blocker, though still developing in that area and may lack the size to hold up inline at the next level. Granson was productive for the Mustangs, finishing second on the team with 35 receptions and 536 yards last year, and had 721 yards the previous season. His advanced route-running at this stage of his development should land him a roster spot somewhere and he has high-upside as a long-term fantasy prospect due to his receiving and running skills.

Opportunity: B+

We don't love rookie tight ends, but Granson projects as a receiving threat and someone who can line up with another tight end on the field, giving him some excellent potential in this offense. Carson Wentz has used the tight end in the past, and Jack Doyle and Mo Alie-Cox have both struggled to seize the starting role. Granson was considered a later-round prospect, but this landing spot will put him on the radar for taxi squads in dynasty rookie drafts.
4.24 -
Buccaneers

- WR

Jaelon Darden

, North Texas

Darden is super exciting to watch, especially with the ball in his hands. He ran a 4.46-second 40-yard-dash at his pro day, and he had excellent shuttle and 3-cone numbers. Darden is undersized at 5-foot-8, 174 lbs, and he'll need to show he can hold up at the NFL level, but his playing speed should land him a chance to excel. Darden requires virtually no build-up to reach his top gear, and he can start and stop on a dime. He reminds me a lot of Tarik Cohen with the ball in his hands, and if he gets a chance to make plays downfield, he could provide a ton of highlights. Darden would fit best with a creative playcaller who sends him downfield on wheel routes and takes advantage of his speed. He also could contribute as a punt returner. Darden has as much upside as anyone at this point in the draft, and could be a steal if he gets an opportunity.

Opportunity: F

Darden will probably make the roster on special teams. He's a great long-term prospect as a playmaker, and he's so much fun to watch with the ball in his hands, but the Bucs are loaded at receiver right now, and just brought back Antonio Brown. I don't see how Darden climbs higher than fourth on the depth chart, and probably no higher than sixth.
4.26 -
Ravens

- WR

Tylan Wallace

, Oklahoma State

Wallace had a nice four-year career, three years as a starter for the Cowboys, including 1,491 yards and 12 touchdowns as a sophomore. He tore his ACL as a junior, but came back strong his senior season, with 59 catches, 922 yards and six touchdowns in nine games. He plays physically for a 6-foot-0, 194 lbs receiver, and has solid hands when he uses them. Too many balls get into his chest, but when he's going after contested catches, he shows the ability to beat defenders and extend his arms to high-point the ball, despite unremarkable metrics. Wallace will need a quarterback who trusts him, because he may struggle to separate on the next level. A move to the slot position where teams can use him as a physical, after-the-catch runner might be the best option for him, because he struggled with press coverage at the college level, despite not facing a lot of pro-level secondary talent. He has average speed for his position but lacks suddenness in his movements on tape. Wallace has WR2/WR3 potential on an NFL roster.

Opportunity: D+

The Ravens have Hollywood Brown, added Sammy Watkins and drafted Rashod Bateman in the first round. Wallace has a long uphill battle to get above 4th on the depth chart, for a team that hasn't been throwing the ball.
4.28 -
Saints

- QB

Ian Book

, Notre Dame

Book had an opportunity to show out at the Senior Bowl, but Jeff Hicks noted he struggled with his progressions and pocket awareness. That being said, his teammates chose him as top QB of the National Team and he's known for his leadership in the locker room. He's a gamer, who can make plays with his feet and buy time in the pocket. He ran a 4.65-second 40-yard-dash at his pro day and scored high in the shuttle and 3-cone drill as well. He has adequate arm strength, but his biggest asset is his eyes. He's always looking downfield, and often his arm and legs seem at odds with each other, despite some pretty accurate throws when the pocket breaks down around him. He has a stocky build, but is just 6'0, 211 lbs, which will provide an uphill climb for him. He looked overmatched in the Rose Bowl against Alabama last season, and despite his impressive 34/6 TD/Int ratio as a junior in 2019, he has a gambler's mentality which may make for some growing pains at the next level. Book projects best as a career backup along the lines of Chase Daniel.

Opportunity: C-

Book doesn't look like a starter to me, but he kind of fits New Orleans. This would be an F, since he starts out third on the depth chart, but the Saints haven't committed to anyone at the position long term, so there's a chance Book can impress enough to be a 2022 starter. Interesting spot here for a heady player.
4.36 -
Rams

- WR/TE

Jacob Harris

, UCF

Harris may end up playing wide receiver or tight end or some kind of hybrid role as a pro. He's a lean 6-foot-5, 219 lbs, with very long arms and impressive physical traits. He blew up his pro day with a 4.39-second 40-yard-dash, and he excelled in the vertical, broad, and 3-cone drills as well. Harris extends well to catch the ball and has a huge catch-radius. I'd like to see a little more savvy with his route-running, particularly when he gets a defensive back to turn upfield. Harris often tries to beat coverage instead of slipping underneath it, which is fine, but provides some missed opportunities. He does have a bit of a leggy release and can get bullied by bigger defenders at the line, but the physical traits are there, especially if he can add a little weight and line up inline. Harris' position and landing spot are going to dictate his ceiling, but the sky is the limit for him as a long-term, developmental prospect that might take a few years to put it all together.

Opportunity: C

The Rams swinging on an upside prospect here, Harris could play a variety of roles for them, but he's likely going to replace Gerald Everett in the offense. He's not going to climb higher than WR5 or TE2 on the depth chart, so redraft leagues shouldn't be interested in him, but dynasty rookie drafts might throw a flyer on him late.
5.01 -
Jaguars

- TE

Luke Farrell

, Ohio State

Farrell is a blocker with just good enough hands to catch the ball on leak outs and when he finds a soft spot to sit in as a fourth read. He's a big target at 6-fot-6, 251 lbs, and ran a quality 4.79-second 40-yard-dash at his pro day. He does a good job mirroring his quarterback in the flat to help bail him out, but that's really Farrell's upside as a receiver. Short routes, with the occasional vultured touchdown. Farrell will make a roster as a blocker, and he plays with good enough technique and leverage to contribute in large packages early in that regard. He should have negligible fantasy value though, given his likely role.

Opportunity: B+

This is a great spot for a tight end, but Farrell is much more of a blocker. I was ready to write off Farrell as a fantasy prospect, and I'm not ready to say he's going to have any redraft value at all yet. However, he's definitely a blocker, so don't get too excited, despite the great opportunity on a thin depth chart.
5.03 -
Texans

- TE

Brevin Jordan

, Miami

Jordan is an athletic receiving tight end who can move all over the formation and really shined last year as a junior. He's a little short at 6-foot-3 for an inline, seam-stretcher, but he cuts well and knows how to separate, particularly in the short-to-intermediate zones. He has above-average speed and athleticism, running a 4.69-second 40-yard-dash at his pro day. Jordan is tough to bring down and is physical after the catch and he showed improvement each of his three years for the Hurricanes. He's instinctive with the ball in his hands and could see some early opportunities in the run game if he winds up with a creative offensive coordinator. He seems very coachable and even willing to work on blocking, where he was solid in college but will need to work on his technique at the next level when the talent he faces takes a huge jump. Jordan is kind of a basket-catcher, but demonstrates excellent slot ability if he can continue his development. It helps that he finished the season with excellent receiving games against UNC – 6/140/1 – and in a close loss to Oklahoma State in the Cheez-It Bowl – 8/96/2. Jordan has high upside but is a work-in-progress and will need time to develop.

Opportunity: A

Rookie tight ends don't do much in redraft, but Jordan landing in Houston is fantastic! He should beat out Jordan Akins and Ryan Izzo, and is definitely a receiving option. I wouldn't draft him highly in redraft, but he now becomes TE2 or TE3 in all rookie drafts. Kahale Warring holdouts can finally let him go.
5.06 -
Eagles

- RB

Kenneth Gainwell

, Memphis

Gainwell continues the trend of versatile playmakers coming out of Memphis, as he can line up all over the field and was even a quarterback in high school. He only one year of running back at Memphis, and didn't play in 2020 – sat out because of COVID after losing four family members to the virus. He's a redshirt sophomore who ran a 4.42-second 40-yard-dash at his pro day at 5-foot-11, 201 lbs. That one season was impressive, with 1,459 yards and 13 touchdowns on the ground, and 51 receptions for 610 yards and three touchdowns through the air. Gainwell is long and lean and still learning the position, but has soft hands and flashes excellent route-running already for a running back. He doesn't show exceptional contact balance and needs to add some weight without hurting his speed if he's going to run inside regularly in the NFL. That being said, he seems to be able to lower his center of gravity and make himself smaller and he falls forward, even if he lacks the leg strength to churn. Power just isn't his game. He offers next to nothing in pass protection at this point, though he seems willing. His running talent is definitely impressive. He's shifty and patient, which should give him a nice baseline for potential as a pro. He has every-down potential, but will fit best as an immediate complementary piece with tremendous contributions in the passing game.

Opportunity: B-

This isn't a great spot for Gainwell to get 10+ carries per game, but it's definitely a good spot for potentially 10+ touches. Gainwell might find himself getting 6-8 carries and 6-8 targets on a team that needs weapons in the passing game. Gainwell may sniff low-end RB2 numbers in PPR formats, and if his cost doesn't catapult, then he could be well-worth picking up in all formats.
5.13 -
Vikings

- WR

Ihmir Smith-Marsette

, Iowa

Smith-Marsette is a 6-foot-0, 181 lbs receiver with good speed. He had a solid pro day, with his 4.43-second 40-yard-dash time standing out. He looks thin on tape and could stand to add a little to his frame, but he plays with good lean and should be able to carve a role somewhere as a return specialist, and possible option for gadget plays. Smith-Marsette amps up with the ball in his hands and cuts and bends well in his routes. He can get bogged down by press coverage, which some added bulk would help, and will need to work on being more of a friend to the quarterback. He sometimes seems surprised to see the ball coming his way, showing subpar field awareness. He has a lot of upside as a playmaker, but hands and route polish are going to be primary factors in whether or not he can develop on offense.

Opportunity: C+

This is a great spot for Smith-Marsette. He needs a little time to develop, but he could play inside or out, and will get the chance to learn for a year behind two very good receivers. The Vikings had a need at WR3, and Smith-Marsette has long-term upside. Also, with Thielen showing some wear the last couple seasons, Smith-Marsette has a chance at some play this year. He might be worth a gamble as a late-round flyer, even in redraft formats.
5.18 -
Chiefs

- TE

Noah Gray

, Duke

Gray was a big part of the Duke offense as a junior and senior, and finished his career as the all-time leading receiver at tight end for the school. Gray was really helped out by a solid pro day, running a 4.55-second 40-yard-dash, and showing out in the vertical and 3-cone drills. Those were big gains for Gray, who doesn't always look quick or explosive on tape. Gray looks like he has all the skills you want in a tight end, but he doesn't look like he has the strength or athleticism to hold up. He's 6-foot-3, 240 lbs, so his size is adequate, but he can get swallowed by bigger linebackers at the line. That being said, he has considerable upside. He's a willing blocker and shows tenacity and the will to drive defenders to the ground. He's also an advanced route-runner for a college tight end, with sneaky suddenness at the top of his breaks. He does a great job concealing intent and has a little shimmy that helps him separate. Gray also catches the ball well, and in a variety of different ways. He wins contested balls by sheer determination and doesn't lose focus, often able to make catches that other players would drop. He's fearless across the middle. We'll see if Gray can over-achieve his way into a starting role long-term, but it would surprise me if he didn't find a roster spot as a rookie. I know I wouldn't bet against him, and his career will be one worth watching based on his attitude alone.

Opportunity: C-

I kind of love Noah Gray, and I don't have any doubt he's going to help the Chiefs. That being said, he's probably more of a footblal player than a fantasy player in this offense and has no chance of threatening Travis Kelce for snaps. He could definitely win the backup job though, and play in two tight end sets.
5.24 -
Vikings

- TE

Zach Davidson

, Central Missouri

Davidson is a strange prospect who was both the punter and the tight end for Central Missouri. He had a great pro day, with a 37.5-inch vertical, a 4.62-second 40-yard-dash and a 6.95-second 3-cone drill. Those would all have ranked highly among last year's tight end class at the combine and show off NFL-caliber athleticism. Davidson doesn't offer much as a blocker at this point in his development and could add some strength to help with his power at the point of attack, but he demonstrates compelling explosiveness for the position as a move-tight end and someone who can line up in the slot and outside. Davidson will need to show he can transition from Division II to the NFL, but he should land a roster spot somewhere based on his receiving ability and his athletic upside.

Opportunity: D+

Davidson is a project. It's a nice fifth-round pick for a team without a set backup, but he's no threat to Irv Smith Jr. and fantasy owners can mostly ignore this pick for now. Perhaps a deep, deep dynasty taxi squad stash due to the athletic upside, but he's just as likely to wash out of the league. Huge variation in outcomes for Davidson.
5.35 -
Cowboys

- WR

Simi Fehoko

, Stanford

Fehoko wowed at his pro day, running an unofficial 4.42-second 40-yard-dash at 6-foot-3, 222 lbs. That size/speed ratio alone will be enough to get him a shot at a roster spot, despite moderate production. He had 1,146 yards and nine touchdowns in two seasons as a starter. Fehoko has some position versatility, as he lined up outside and in the slot for the Cardinals. He has really strong hands and plucks the ball out of the air, but doesn't always look naturally instinctive as a receiver. Fehoko needs to work on using his big frame to help him gain position on physical corners and he doesn't seem to find the soft spots in zone coverage naturally. He has some after-the-catch ability and is more physical with the ball in his hands than he is when gaining position. His route-running is subpar, as his breaks looks rounded and awkward. He's a work-in-progress, but flashes WR1 potential if he can land somewhere and develop into a more well-rounded player.

Opportunity: D

I give this opportunity a D because the offense is so dynamic, but it can't go higher because Fehoko has no chance at climbing higher than fourth on the depth chart. He won't have any value in redraft leagues, and minimal value even in dynasty rookie drafts.
5.37 -
Chiefs

- WR

Cornell Powell

, Clemson

Powell is 6-foot-0, 204 lbs, and ran a 4.51-second 40-yard-dash at his pro day. He excelled in the broad jump as well and flashes some elusiveness with the ball in his hands. Powell was a fifth-year senior last year, and finally was able to get some snaps after the departure of Tee Higgins. He wound up with 53 catches, 882 yards and seven touchdowns in 2020, and blew up against Ohio State in the semifinal loss, with eight receptions for 139 yards and a pair of touchdowns. Powell always works his way back to the quarterback and has consistent hands. His upside is all tied to how well he can develop as a route-runner, and if he can unstick from press coverage, which was a problem at Clemson and will be amplified at the next level. Powell also runs hard after the catch and might be tried out in the slot, even though he tracks the ball well and plays bigger than his size downfield. Powell could develop into a WR1 in the right situation, but he looks like a high-floor possession receiver with starting WR2 upside.

Opportunity: B

The Chiefs have speed, but they really lack a traditional, move-the-chains possession receiver. He may even have some redraft value late in drafts since the offense is so impressive. Watch training camp, as Powell may win a job outside, allowing the Chiefs to keep Mecole Hardman moving around the formation. Sneaky good spot here in the fifth round, even the prospect has a limited ceiling.
5.40 -
Ravens

- FB

Ben Mason

, Michigan

Mason can play a variety of roles and even lined up as a defensive tackle for Michigan. He's a 6-foot-3, 246 lbs powerhouse who may play fullback or possibly a throwback H-Back style role at the next level. He's a pretty good athlete in general for his size and profile, running a 4.72-second 40-yard-dash at his pro day, with a great vertical and bench - though not great in the quickness drills. He has pretty consistent hands to leak out and can pick up blitzers. He projects as a versatile football player who will likely make a team by playing well on special teams and filling in a depth role at multiple positions.

Opportunity: F

Mason is a good football player, but won't get many snaps behind Mark Andrews in an H-Back role, or many carries behind J.K. Dobbins and Gus Edwards in the backfield. He could vulture a touchdown and catch a few passes, but he's not fantasy relevant. He blocks well though, so this is good news for Dobbins and Lamar Jackson.
6.03 -
Falcons

- WR

Frank Darby

, Arizona State

Darby is a physical outside receiver who had eight touchdowns as a junior in 2019 before playing in just two games last season. He plays bigger than his 6-foot-0, 201 lbs frame and does a great job using his body positioning to win contested ball matchups. He put up 19 reps on the bench at his pro day, showing the strength he exhibits on the field. Darby may struggle to separate at the next level with low times in the 40-yard-dash, shuttle and 3-cone, which matches his tape. He's usually out-muscling defenders, rather than running by them. That being said, he runs a decent route tree, including a nice deep post. He flashes ability to diagnose soft spots in zone coverage. He'll need a quarterback who trusts him enough to give him 50-50 ball opportunities, since the windows are likely to be pretty tight. Drops may be a problem, as he lets the ball into his body regularly, even on deep, over-the-shoulder catches. Darby projects as a WR2, who may see the field early on due to his ability to block, but lacks elite WR1 upside.

Opportunity: C

Throw Darby on a taxi squad in case Julio Jones moves on in a year, but the highest he's likely to climb this season is WR4 on the depth chart, making him irrelevant in redraft leagues.
6.10 -
49ers

- RB

Elijah Mitchell

, Louisiana-Lafayette

Mitchell was super productive for the Cajuns, with a breakout junior season in 2019, rushing for 1,147 yards and 16 touchdowns. He followed that up with 878 yards and eight touchdowns in 10 games last year and ended with a bang with 127 yards and a touchdown against UTSA in the First Responder Bowl. Mitchell has a unique size-speed combination at 5-foot-10, 201 lbs, and a 4.38-second 40-yard-dash at his pro day. He also crushed the broad jump, shuttle and 3-cone drills, demonstrating the explosiveness he shows on tape. He didn't have a chance to compete against elite competition very often, so it'll be a big jump to the NFL. He doesn't look fluid in his cuts, which might force him to bounce less runs outside against elite athletes, but his pro day showed more agility than seen on tape. Mitchell runs with excellent leverage and lower-body strength, giving him upside as a two-down runner. If he can develop into a kick returner, he should make a roster early, and he has the athleticism to become a starter if he can round out his game a bit. Mitchell is a nice prospect with upside.

Opportunity: C-

I really like Mitchell, and would be more excited about him in this spot had the 49ers not spent an earlier pick on Trey Sermon. Mitchell definitely could step into Raheem Mostert's role should Mostert struggle to stay healthy again, and could also push for a return job. I like Mitchell to make the roster and maybe become a handcuff, but it's unlikely he puts up legit redraft numbers in this crowded running back room.
6.12 -
Giants

- RB

Gary Brightwell

, Arizona

Brightwell has nice size at 6-foot-1, 218 lbs, but wasn't very productive. He finished with 390 yards and a touchdown in five games as a senior last year, although he had a nice game against USC. Brightwell did catch the ball 13 times last season after barely being used in that capacity up to that point, but I don't think he's a receiving threat outside of circle routes. He needs the ball in front of him and then doesn't do a lot after the catch. Brightwell has decent enough speed and makes good cuts, so he might fit in a zone-blocking scheme, but he looks like a practice squad player at best, long-term.

Opportunity: F

Behind Saquon Barkley and Devontae Booker, I don't see how a fringe-prospect like Brightwell gets any work. Seems like he'll be on the roster bubble.
6.14 -
Chargers

- RB

Larry Rountree

, Missouri

Rountree had an uneven career with big moments at Missouri, but marred by poor performances against some of the best competition. He has adequate size at 5-foot-10, 211 lbs, but he lacks the speed – 4.62 in the 40-yard-dash at his pro day – and vision to be more than a two-down back at the next level. Rountree wasn't used a lot in the passing game, but caught the ball cleanly during the Senior Bowl, and showed potential with 47 career receptions in four seasons for the Tigers. He will sometimes move his eyes upfield before securing the catch. Rountree would do well to continue bulking up and working on his patience, because he has strong legs that churn through tacklers when he commits. Where he may land in trouble in the NFL, is when he tries to work spins and jumps, since he lacks the explosiveness to come out of it. Rountree looks like a career backup to me.

Opportunity: C+

I don't love Rountree, but he would complement Austin Ekeler well, stylistically. I'm just saying, Joshua Kelley and Justin Jackson couldn't beat out Kalen Ballage...
6.18 -
Bengals

- RB

Chris Evans

, Michigan

Evans was a case of unreached potential at Michigan. He has a nice size and speed profile at 5-foot-11, 211 lbs, with a. 4.44-second 40-yard-dash at his pro day. He struggled to see the field regularly throughout his college career, and was suspended for academic reasons in 2019. Evans can look a little lumbering as he approaches the hole, but he gets his pad level low and has the long speed to run away from the defense once he gets into the second level. His contact balance makes him an intriguing prospect with starter upside, though his best season was just 135 carries for 685 yards in 2018. Evans doesn't look particularly explosive behind the line, which might limit his ability to challenge for a starting role in any serious way, but his powerful style and long speed should land him a roster spot and allow him to compete in camp somewhere for a depth spot. He has enough talent to develop into a quality handcuff somewhere.

Opportunity: C+

Joe Mixon just got paid, but he hasn't exactly wowed anyone in the lead back role. Evans has some upside, especially with Giovanni Bernard gone. Watch the camp battles at backup running back, since Mixon was hurt most of last year, and ineffective the previous season.
6.19 -
Bills

- WR

Marquez Stevenson

, Houston

After some early-career injuries, Stevenson broke out in 2018 as both a receiver and a returner. He returned two kickoffs for touchdowns in 2019, and was on his way to solid 2020 before an ankle injury held him to just five games. Stevenson is a bit undersized at 5-foot-10, 182 lbs, but he flashes big-play ability. His teammates call him speedy, and if he can land in a spot where he can get bubble screens and perhaps even some crafty jet sweeps, he could make some early big plays. He needs some work as a receiver though. His dances too much instead of relying on his long speed, something NFL corners won't let him get away with, and he easily gets pretty beat up against press coverage. His hands are suspect and he doesn't attack the ball. He's definitely more dangerous with the ball in his hands than he is at working to get the ball in his hands. He also needs to stay healthy. Stevenson's most likely NFL trajectory is in the return game, but there are some explosive traits to like as a developmental prospect as well.

Opportunity: F

Stevenson will battle with Isaiah McKenzie for the returner jobs, but I don't see any way he cracks the top-four receiver spots on the depth chart.
6.20 -
Panthers

- WR Shiyun (Shi) Smith, South Carolina

Smith was moderately productive the past three years, including 57 catches, 633 yards and four touchdowns as a senior last year. He played well against solid competition, with 12 catches, 85 yards and a touchdown against Florida, and he showed some versatility at the college level, lining up in multiple spots for the offense, and even taking some handoffs and shovel passes. Smith is on the smaller end at 5-foot-9, 186 lbs, but he's quick. He had a decent 3-cone at his pro day and ran a 4.43-second 40-yard-dash. Smith projects well as a slot receiver who can make plays after the catch. He has the agility to get open, even against press coverage, in short-to-intermediate zones, but he can get bogged down by physical corners on deep routes. He operates best when you get him the ball in space, and his deep-ball tracking looks like it needs work. Smith could earn a role early on based on his potential as a catch-and-run playmaker, but he has a ceiling as a fantasy asset, regardless of where he lands.

Opportunity: D+

The good news for Smith is the Panthers need to replace Curtis Samuel. That bad news is they already did yesterday with Terrace Marshall. Smith projects as a slot receiver for them though and he might get some looks in the offense, but the Panthers also signed David Moore, so snaps will be at a premium for him.
6.21 -
Titans

- WR

Racey McMath

, LSU

McMath is an excellent size-speed combination prospect. He's 6-foot-3, 217 lbs, and ran a 4.34-second 40-yard-dash at his pro day. His shuttle and 3-cone numbers were awful, and he has surprisingly small hands for his size, but the physical traits are there. McMath was buried on the depth chart up until last year, but caught just 14 balls before missing the rest of the season with a hamstring injury. He's a project, and solely an upside guy. He flashes body control and the ability to track and fight for balls downfield, but it's all projection at this point. He sits too far in his stance and lags off the line, which can sometimes keep him out of plays, but that looks more technical than physical, despite the bad times in the agility drills. McMath is known as a gunner, so that might be a way for him to make a roster spot as a WR5 as a rookie, but fantasy owners shouldn't expect much early on. He's a developmental outside receiver.

Opportunity: B

Good opportunity here for McMath, who profiles as an outside receiver and who I actually had a higher grade on than fourth-round Titan Dez Fitzpatrick. That being said, he's a project and the presence of Fitzpatrick with higher draft capital make it hard to think he plays early. I'll draft McMath in dynasty, probably ahead of Fitzpatrick, and hold him for a year or two, but I'm not super bullish on his redraft potential.
6.25 -
Jaguars

- WR

Jalen Camp

, Georgia Tech

Camp didn't do a whole lot in college. He got hurt in 2019 and then only had 29 catches in a pretty conservative offense last season. Camp is a phenomenal prospect from an athletic perspective, as he's 6-foot-2, 226 lbs, ran a 4.43-second 40-yard-dash, and put up 30 reps on the bench at his pro day! The combine record for a WR is 27 according to PFF. Camp flashes elite ball skills and is crazy strong blocking downfield, so he stands a good chance at earning a roster spot as a raw prospect with huge upside. Keep an eye on Camp in deep dynasty formats, as he has the framework of a legit WR1, despite the lack of production and likely tumble down draft boards.

Opportunity: D+

The Jags don't have a for sure WR1, but they have plenty of players who will be better than Camp as a rookie, so I can't get too excited about him. He'll be a nice developmental prospect for them, and another player I'll keep an eye on in dynasty formats, but will ignore in redraft leagues.
6.27 -
Browns

- RB/WR

Demetric Felton

, UCLA

Felton finished his career strong, with 668 yards and five touchdowns on the ground during his senior season last year, in just six games. Felton also added 159 yards and three touchdowns on 22 receptions. At 5-foot-9 and 189 lbs, Felton profiles as a change-of-pace back with third down capabilities. He didn't have much of a pro day, with a 4.55-second 40-yard-dash, and nothing that really popped out at you in any of the drills. Felton lacks the athleticism to be a true every-down back at the next level, but he plays hard and flashes the ability to line up in multiple areas of the field. He could fill a Jalen Richard-type of role for someone, adding production in the passing game while providing return ability. It's even possible he moves to a slot receiver position full time.

Opportunity: D

Felton I thought might be able to play a little slot or be a nice complementary back. The Browns have plenty of option at both spots, so this isn't an ideal situation for Felton to produce. He won't be a strong target for me in dynasty leagues, and is not at all on my radar in redraft formats. Hard to see him get snaps.
6.33 -
Bears

- RB

Khalil Herbert

, Virginia Tech

Herbert really shined last year after transferring over from Kansas, putting up 1,182 yards and eight touchdowns, including a nice outing against Clemson, and a great day against UNC, where he ran for 138 yards and a pair of touchdowns in a shoot-out loss. Herbert is 5-foot-9, 210 lbs, and ran a 4.46-second 40-yard-dash at his pro day, so he has the speed to make big plays, but it's his quick approach to the hole and play-strength that pops out on tape. Herbert keeps his legs churning through contact and is super decisive. He runs with a sense of urgency and would fit great in a zone-blocking scheme where he can make one cut and go. He has some experience returning kicks as well, which should help him get snaps as a rookie, but he's a good runner as well. He didn't catch a ton of passes but was able to leak out effectively on screens and make big plays. He flashes the ability to be a good receiver out of the backfield, as a hands-catcher who extends to compensate for inaccurately thrown balls. He can turn the corner against good athletes, which may go a long way toward his ability to succeed as a pro. Herbert might be a gem in this draft, and if he lands somewhere with an opportunity to compete.

Opportunity: C

Herbert wasn't going to be drafted to be a starter, but this spot gives him a legit shot at winning the backup job and entering elite-handcuff territory. I'll throw some stabs at him in the last round of best ball formats and I'll taxi him in dynasty because the Bears have really upgraded their run blocking in the offseason and I think he has the talent to put up numbers if anything were to happen to David Montgomery.
6.34 -
Colts

- QB

Sam Ehlinger

, Texas

Ehilinger is a 6'3, 225 lbs senior who played all four years in college. He had a 26/5 TD/Int ratio last year, 94/27 for his career. He had a 62.5% completion percentage, which went down his senior year to 60.2%. He really seemed to miss Devin Duvernay last season. He was a dual threat player in college, but looks more like a bull when he runs. He had 1,907 yards rushing and 33 TDs on the ground for his career, with 377 yards and eight touchdowns rushing last year. He'll run at the next level, but he won't be able to run over defenders so he doesn't seem like someone fantasy owners can expect to put up big numbers on the ground. He did flash some athleticism at his pro day with a 36.5-inch vertical. He has a long windup and I saw lots of underthrows when watching the tape. He can zip it when he gets his legs under him, but when he does, it looks like he's using every ounce of strength he has. He throws into coverage a lot, which could be that he trusts his WRs to make plays, but his highlight reel looks more like highlight reels for his WRs. Even in his Oklahoma overtime thriller, I walked away impressed with Joshua Moore, not with Ehlinger. He sees the field well, but will lock in on his receiver Accuracy isn't really a strength or a weakness, but the deep ball isn't pretty. He looks like a fringe backup to me, who could gut out an exciting, but sloppy win in occasional relief work.

Opportunity: D+

If Wentz can't get back to form, and Jacob Eason isn't the long-term answer, Ehlinger will get a shot. Those aren't out of the realm of possibilities, but Ehlinger just doesn't look like a starter to me, so I won't be putting any draft capital into him in dynasty formats, and definitely won't look his way in redraft formats.
6.35 -
Broncos

- WR

Seth Williams

, Auburn

Williams measured 6'3, 211 lbs at his pro day and ran a respectable 40-yard-dash for his size at 4.50-seconds. That time won't impress anyone, but it also shouldn't kill him as a big-bodied receiver. Coming out after his junior season, Williams was moderately productive the last three years for the Tigers, with 47 catches, 760 yards and four touchdowns last season, 59/830/8 last year and 26/534/5 as a freshman. Williams has some legit WR1 characteristics. He was productive in contested catch situations from the jump at Auburn, and I remember he popped out on Jarrett Stidham's highlight reels his freshman year. He shows an ability to extend his arms to beat press coverage, particularly in the red zone and has nice body control and feet discipline when he's near the sidelines. He has a nose for the end zone. Williams' tape with Stidham is better than his tape with Bo Nix the last two years, and he sometimes seems to lose interest when running routes. You can often tell if he's the hot read based on his release. If a coach can get 100% out of him, he could develop into a very good starting outside receiver. He's a boom-or-bust prospect.

Opportunity: D

Williams is a nice prospect and might actually be a good fit with someone like Drew Lock since he wins contested catches so well. However, there are simply too many talented targets ahead of him, and that makes it hard to project him to have much rookie production. I would consider him another interesting taxi squad addition, but not much as a rookie.
6.37 -
Bears

- WR

Dazz Newsome

, UNC

Newsome had a bad pro day, with poor marks across the board. As a 5-foot-10, 190-lbs prospect with small hands, he's a classic overachiever who does more on tape than his physical attributes would suggest. He plays with a high motor, and has a lot of wiggle on his routes, sometimes to his own detriment. He fights for positioning downfield and elevates his game and awareness when the ball is in the air. Newsome plays urgently, which helps him after the catch and could make him a solid return specialist at the NFL level. He's not fast enough to threaten the distance, but he could carve out a nice role as a career fifth receiver and steady punt returner on the right team.

Opportunity: C+

Newsome will contend for a job in the return game, which would ease the pressure of Darnell Mooney and Tarik Cohen. This is a pretty good landing spot for a receiver, since Anthony Miller's WR3 job is far from secure. Newsome has the motor to earn a role and is worth keeping an eye on in deeper formats as a flyer if he can beat out Miller.
7.01 -
Colts

- WR

Mike Strachan

, Charleston

Strachan is coming off two consecutive 1,000-plus yard seasons before Charleston was left without a fall football season in 2020. He's a huge target at 6-foot-5, 226 lbs and he flashes excellent downfield positioning and ball tracking. He struggles with his routes, looking slow and lumbering when trying to make cuts. His build-up speed might take him out of plays before the play develops at the next level, but he may be able to develop if he's coached into better route-running. Strachan was able to get by with size at Charleston, but he'll need more technique to box out NFL defenders. He's a developmental project.

Opportunity: D+

The Colts aren't a bad spot for a receiver to land, but Strachan needs time to develop and looks like a slightly bigger, slower, unpolished Michael Pittman. That doesn't sound like a spot where he'll see many snaps as a rookie. To use a basketball drafting phrase, he's about a year away from being two years away. That's best case scenario for him.
7.05 -
Rams

- RB

Jake Funk

, Maryland

Funk is a powerful back who really helped his stock with a good pro day. He ran a 4.43-second 40-yard dash, and posted solid numbers in the vertical and broad jump. He also put up 22 reps on the bench, which wasn't a surprise based on the style of runner he is. Funk is a 5-foot-11, 204 lbs runner with a thick frame and a really high motor. You can often see him throwing blocks downfield or chasing down defenders after a turnover. He demonstrates some solid running talent, with just enough shiftiness and foot agility to turn the corner. He'll fit well in an offense that runs a lot of stretch plays and allows him to see the defense in front of him before choosing where to attack. Funk had multiple torn ACL's on the same knee in college, so the medical is an issue, but he has some upside as a runner and a receiver. He does a great job securing the catch and can get up field. He has a finisher's attitude when he gets into the secondary. Funk might make a roster as a depth guy and special teams gunner, but he's a good enough football player and locker room presence to land on the final 53 somewhere in the league.

Opportunity: F

Two running backs ahead of him on the depth chart, so Funk is more likely to play special teams than offense as a rookie.
7.15 -
Patriots

- WR

Tre Nixon

, UCF

Nixon had a nice pro day, with solid marks in the 3-cone, broad jump and bench, as well as running a 4.44-second 40-yard-dash at 6-foot-0, 187 lbs. He's coming off a broken collarbone, but was productive as a junior in 2019 with 49 catches, 830 yards and a seven touchdowns. Nixon is precise on comebacks and button-hooks, which help out the quarterback. He's able to track the ball downfield and extends for receptions. His Pittsburgh tape gives a nice presentation of the array of catches he can make. His hands were a bit inconsistent, especially when the defense is in front of him, but when working his way back, he secures the ball nicely, and doesn't hear footsteps. Nixon looks like he can play in the slot or outside, but won't win many contested balls, and he can get knocked around a bit by physical corners when going deep. That might land him in the slot, where his short-area burst can be on display. Nixon looks like he'll find his way onto a roster, but has some work to do before cracking a lineup consistently, and his lack of experience on special teams won't help his case when teams cut down to the final 53.

Opportunity: C+

The Patriots need a receiver to step up, so Nixon has a chance to win a job in camp, but with a struggling offense and a lot of targets looking to go to the tight end positions, it's hard to imagine this as a great spot for Nixon. He looks like he'll be a roster bubble guy, so I'm not putting any real draft capital into him in any fantasy formats, despite the team needing help at the position.
7.17 -
Dolphins

- RB

Gerrid Doaks

, Cincinnati

Doaks popped out in a nice game against SMU last season, with 105 yards and a pair of touchdowns in a nice win. He had a leg injury that kept him from playing much in the AAC Championship Game, but he participated in the Cincinnati pro day and showed off an impressive vertical for a 228-lbs back. Doaks is 5-foot-11 and runs a 4.58-second 40-yard-dash. He's a thick runner with good lean and does an excellent job finishing runs strong. Doaks wasn't really used much in the passing game, and he looks like a two-down backup at the next level. He's always a step late identifying the hole, and he lacks the burst once he spots it.

Opportunity: C+

The Dolphins waited until the seventh round to take a running back, and I think Doaks is no threat to Myles Gaskin or to Malcolm Brown. It's still a better-than-average opportunity for Doaks, considering the lack of pedigree at the position in Miami, but Doaks just doesn't look like a legit NFL back to me. Watch the training camp battle and see if he pops in preseason, as I like his violent running style, but it's unlikely he rises higher than third - at best - on the depth chart.
7.22 -
Rams

- WR/TE Ben Skowroneck, Notre Dame

Skowroneck transferred to Notre Dame after a career at Northwester, and caught 29 balls for 439 yards and five touchdowns in 10 starts. Skowroneck is known for tough blocking outside, but he got bullied at the line at the Senior Bowl, and then got hurt, making it hard to justify drafting him. He does play physically downfield, and can make contested catches. He has a big frame at 6-foot-3, 220 lbs, with long arms and huge hands, but looks slow on tape. He actually might fit better in the NFL as a tight end. He looks lumbering when making breaks and smaller, pesky corners in the NFL are going to be less intimidated by his size advantage. His inability to separate will be a problem if he stays at wide receiver, even though he has really solid hands. He has way too much wasted movement for a guy with an already delayed release. Skowroneck is a developmental prospect and will likely be on the roster bubble.

Opportunity: D

This is the third pass-catcher the Rams have added in the draft, and the second WR/TE hybrid kind of player. Had they not grabbed Jacob Harris in the fourth, I might think Skowroneck has a shot at Gerald Everett looks, but Harris is a better version of what Skowroneck brings to the table - not to mention the presence of sophomore Brycen Hopkins, who is going to compete. All this competition for snaps behind Tyler Higbee? I'm out.
7.28 -
Saints

- WR

Kawaan Baker

, South Alabama

Baker looks the part at 6-foot-1, 210 lbs. He also had a great pro day, with excellent numbers across most of the tests, including a 4.44-second 40-yard-dash and an impressive 40-inch vertical. His shuttle was slow and he had a terrible 3-cone-drill, however, which matches the tape, where he sometimes struggled to separate, especially on short-to-intermediate routes. Baker runs a pretty good out-route and already has a double-move in his arsenal, which should get him some run as an outside receiver. He's also crafty in press coverage, using subtle head movements and good hand work to gain leverage. Baker has some work to do and I'd like to see him work as hard underneath as he does deep, but he flashes WR1 potential and could be a long-term steal if he can elevate his play coming from South Alabama.

Opportunity: B

Baker has higher upside than your usual seventh-round pick and the Saints need a WR2 to step up. Why not Baker? If Winston wins the job at quarterback and Baker can edge out Tre'Quan Smith and Marquez Callaway, he has a legit chance at fantasy relevance. Antoher best ball dart throw, and definitely watch that training camp battle.
7.29 -
Packers

- RB

Kylin Hill

, Mississippi State

Hill spent four years with the Bulldogs, having a breakout season in 2019 as a junior, rushing for 1,350 yards and 10 touchdowns on 242 carries. He opted out after three games last year. Hill is 5-foot-10, 214 lbs, and had a solid pro day. He didn't really stand out anywhere, but didn't show poorly in anything, including running a passable 4.51 40-yard-dash. He seemed more explosive than fast, which matches the tape. Hill is a punishing runner who fits best in a one-cut-and-go system, where he can make a quick decision and hit it with all he's got. He also demonstrated occasional receiving talent, with pretty good foot-awareness for a running back. He caught eight balls for 158 yards and a touchdown against LSU last season. Hill will push the pile and has just enough wiggle to make space inside, and he runs with a low center of gravity, giving him the edge when trying to eke out tough yardage. He lacks the long speed to be a difference-maker at the next level, and he lacks the patience as a runner to allow blocks to form in front of him. He'll need a simplified offense that takes advantage of his urgency, and doesn't ask him to see into the next level of the defense before attacking the hole. Hill should make an NFL roster, but looks like a backup with some short-yardage and deceptive upside as a receiver out of the backfield.

Opportunity: D

I think everyone expects A.J. Dillon to be the primary beneficiary from Jamaal Williams departing. Perhaps Hill develops as a receiver out of the backfield, but I don't think that happens in year one.
7.30 -
Lions

- RB

Jermar Jefferson

, Oregon State

Jefferson is a downhill runner who will drag would-be tacklers and always try to grind out extra yards after contact. He's a little light at 206 lbs and 6-foot-0, and he only put up 13 reps on the bench at his pro day, which is concerning for a supposed power back. On the flip side, he ran a 4.55-second 40-yard-dash, a little faster than expected and lends some credibility to the tape showing him beating linebackers to the edge. Jefferson will need to add some bulk to become a true inside runner in the NFL, and his lack of agility and explosiveness might limit his overall potential. However, he has the mindsight of a lead back and could be productive if forced into starter touches. Jefferson doesn't add much on third downs as he doesn't sniff out blocks well and his hands are suspect. He looks like a solid, long-term backup in the NFL.

Opportunity: C+

That bad pro day really hurt Jefferson, who slid all the way to the seventh round. That being said, Detroit isn't a bad place to land. He'll be vying with Jamaal Williams and Kerryon Johnson for complementary work behind D'Andre Swift. Watching the training camp battle here at the backup running back spot, because Jefferson has an opportunity to be a handcuff if he wins it. Kerryon might be the biggest contention there, with Wiliams likely to be the third-down back regardless.
7.31 -
Football Team

- WR

Dax Milne

, BYU

Milne struggled at his pro day, running a 4.54-second 40-yard-dash at 6-foot-1, 195 lbs. He had a decent enough 3-cone and shuttle, but struggled everywhere else. That makes sense, as he was primarily a punt returner and supplemental receiver up until he broke out last year in that big offensive boom that happened for the 2020 BYU team. Milne doesn't have much of a catch radius, lacks explosiveness and doesn't even have the build-up speed to contend deep. If he can get a clean release, he has clean enough footwork to play from the slot, but he looks like he'll need to make his way on special teams to land a roster spot in the NFL.

Opportunity: F

Washington signed Curtis Samuel and drafted Dyami Brown to go with Terry McLaurin. Milne's best-case scenario would be to beat out guys like Cam Sims and Antonio Gandy-Golden, but those guys both appear to have significantly more talent than Milne. I won't be surprised if Milne lands on the waiver wire by September.