2019 NFL Draft: Live Fantasy Recap (Rounds 4-7)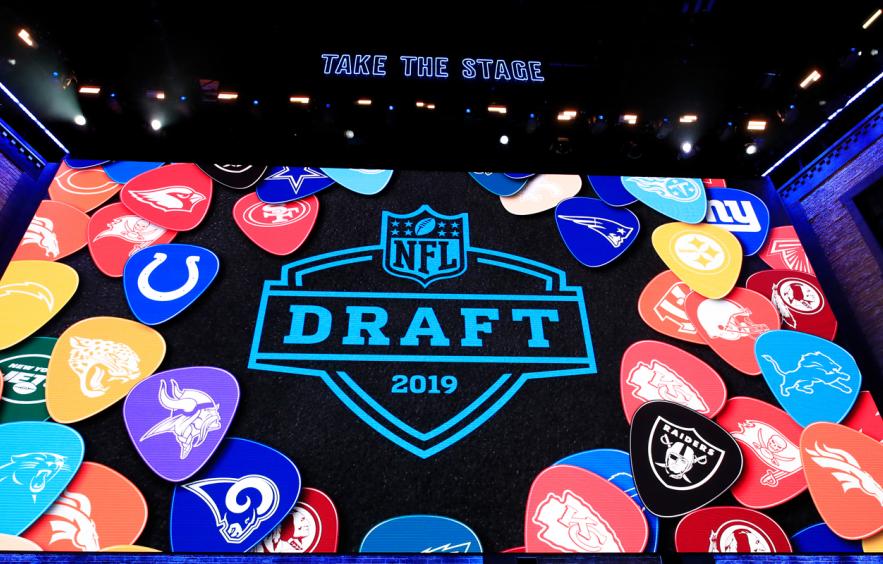 Andy Lyons/Getty Images
The third and final day of the 2018 NFL Draft (Rounds 4-7) begins Saturday at 12 p.m. ET.



Here at 4for4, I am taking the baton from John Paulsen, who covered Round 1 on Thursday and Rounds 2-3 on Friday. I will be updating this page with analysis of the fantasy implications of each skill position pick. Since opportunity is crucial for a rookie, we assign a grade for each, given the player's opportunity for playing time in 2018.
Don't get too excited about this crop of mid- to late-round rookies. While there may be a couple of players selected today who will beat the odds and prove valuable in 2018 fantasy football leagues, the odds are stacked heavily against them. Still, every year there seem to be a few late-round picks that find a way to contribute, so it's worthwhile to pay attention to the third day of the draft.
4.01 -
Cardinals

- WR

Hakeem Butler

, Iowa State

Butler is a tough, instinctive player who plays with a nasty streak and has excellent field awareness for both coverage and ball tracking. Butler shows excellent sideline discipline for a college player and is a versatile option both inside and outside the hash marks. He's a basket-catcher who needs to improve his hands at the next level, but his combination of 6-foot-5 height and 4.48-second speed in the 40-yard-dash make him an interesting prospect. He'd be a boom-bust type of player, but his competitive drive makes it hard to bet against him. With some work on his hands and some precision in his routes, he could develop into a top-level starter at the next level.

Athletic Comparable: Brandon Marshall

Opportunity: B

Butler lands in a good spot, as the Cardinals lack the kind of size and outside talent he brings to the team. With Christian Kirk, Larry Fitzgerald, and Andy Isabella all players with slot ability, Butler will get an opportunity to win a job outside early on. We don't know what the offense will look like with a new coach and quarterback, but we know the Cardinals will likely throw the ball, Butler should be targeted as a high-upside pick in dynasty formats.
4.02 -
Bengals

- QB

Ryan Finley

, N.C. State

Finley pops out at you when evaluating back-shoulder throws and general ball placement, and he throws a mean dart on post routes, allowing receivers to run after the catch. However, the ball hangs a bit on him, and he'll need to shorten his delivery and decision-making in order to succeed as a pro. Finley has an adequate arm and takes good care of the football, but often to his own detriment. He had talented options to work with at N.C. State, and he'll need excellent weapons at the next level as well. Finley is a good athlete, and rolls out well, keeping his eyes downfield. The right situation could make Finley a successful starter, but he's more likely to be a valuable backup in the NFL.

Athletic Comparable: Drew Stanton

Opportunity: B-

This is a great long-term spot for Finley, but unless the Bengals dump Andy Dalton, he'll likely sit for a year before being given the opportunity to start. The Bengals need to move on though, and Finley should be targeted as a dynasty stash.
4.10 - Redskins - RB
Bryce Love

, Stanford

Love is an explosive complementary back who struggled with injuries his senior season after rushing for 2,118 yards and 19 touchdowns as a junior and finishing as a Heisman finalist. He has exceptional quickness and runs away from people on tape. He's a big-play waiting to happen, as he runs with excellent lean and body control to avoid excessive contact when weaving his way through traffic. Love doesn't look built to handle every-down work, and he didn't catch a lot of balls in college, but he shows some natural pass-catching ability and could become a valuable contributor early on once he gets back from a torn ACL suffered at the end of last season.

Athletic Comparable: Duke Johnson

Opportunity: C+

This is an interesting spot for Love. Coming off an injury and going into a crowded backfield, Love may not make much of an impact as a rookie. However, Adrian Peterson is not a long-term option in Washington, and Chris Thompson's contract is up next year. Love could find himself taking over Thompson's role as early as 2020.
4.11 -
Ravens

- RB

Justice Hill

, Oklahoma State

Hill was a top performer at the combine with his 4.40 40-yard-dash, 40-inch vertical and 120-inch broad jump. He led all running backs in those three categories after a successful three-year career at Oklahoma State. Hill was productive his whole career, but really blew up in 2017 with 16 touchdowns and 1,657 yards from scrimmage, including 31 receptions. Hill is a game-breaker who plays with more physicality than his 5-foot-9, 198-pound frame would indicate. He finishes runs strong and has been effective on flare-outs throughout his career. Hill will need to be a little more patient to maximize NFL blocking and to avoid negative plays. He also is a liability in pass protection right now, but shows the willingness to develop that skill. In the right situation, Hill could become a phenomenal starter if given the opportunity. His floor looks to be as a complementary back who will break some big plays from time to time.

Athletic Comparable: Reggie Bush

Opportunity: B+

This a great landing spot for Hill, who complements Mark Ingram perfectly and should be used heavily in a run-based scheme. Hill won't be a 20+ touches guy, but he could easily see change-of-pace work and he's explosive enough to make the most of it. The Ravens are trying to make their own one-two punch in the backfield and Hill is a perfect fit for it.
4.18 -
Seahawks

- WR

Gary Jennings

, West Virginia

Jennings scored 13 touchdowns last season as one half of a dynamic receiving duo for the Mountaineers. Sharing targets with David Sills, Jennings was considered the possession receiver his junior year, but emerged as a big-play target as a senior. He averaged 17.0 yards per catch last year, before sitting out the bowl game with a foot injury. He tested well at the combine, with a 4.42-second 40-yard-dash and a 4.15-second 20-yard-shuttle, but his playing speed looks inconsistent on tape. When Jennings got a smooth release and was able to catch defensive backs in their back-pedal, he'd take the top off the defense and look fast doing it. When he got bogged down at the line, or when a defender with fluid hips tried to cover him tight, he struggled to disengage or to kick into an extra gear. Jennings has a ceiling as a possession receiver and potential return specialist, but he's a risky bet for teams counting on him to be a dynamic playmaker like he was last year.

Athletic Comp: Martavis Bryant

Opportunity: C

The Seahawks clearly identified WR as a need, with Jennings being the second player they've targeted at the position. There should be opportunities for Jennings with Doug Baldwin possibly retiring due to injuries. However, he's unlikely to challenge Tyler Lockett or fellow draftee D.K. Metcalf. As a result, he'll be working for a roster spot, contributions in the return game, and maybe snaps with David Moore.
4.19 -
Jets

- TE

Trevon Wesco

, West Virginia

Wesco is primarily a run-blocker, but his three-cone-drill – 7.18 seconds – and his 20-yard-shuttle – 4.38 seconds – were better than anticipated at the combine, giving him potential as a receiving option at the next level. Wesco looks like someone who may be able to leak out or move around the inside of the formation to run short, outside routes or perhaps be the fourth receiver in a slot against nickel defenses. His potential versatility might give him a chance to play in the right offense.

Athletic Comp: Richard Rodgers

Opportunity: C+

Chris Herndon showed promise last season as a rookie, but he's far from a sure-thing as the permanent option in New York, giving Wesco a shot at contributing. Still, his talent level and the fact that tight ends rarely produce as rookies make him a long-shot for immediate fantasy output.
4.20 -
Steelers

- RB

Benny Snell Jr.

, Kentucky

Snell was super productive for the Wildcats, rushing for over 1,000 yards in each of his three years, including 1,449 last season. He also scored 48 touchdowns over his career and he fights for the end zone on every carry. Snell runs like a battering ram and is exceptional at breaking tackles. However, he offers very little in the passing game at this stage in his development, and his lack of speed and elusiveness may limit him to part-time work as a pro. His intensity and low center of gravity should carve him a role somewhere, even if it's ultimately as depth in a committee.

Athletic Comparable: Corey Clement

Opportunity: D+

Snell has the talent to contribute as a rookie, but the Steelers very likely grabbed him with the idea of being a backup behind James Conner. He doesn't catch the ball well enough to supplant Jaylen Samuels either, so this is not the ideal spot for him. He'll likely be a handcuff at best for as long as Conner is around.
4.24 -
Bears

- WR

Riley Ridley

, Georgia

Ridley ran a disappointing 4.58-second 40-yard-dash at the combine, but he plays faster than he times and shows route-savvy and quickness in and out of his breaks. Ridley wasn't as productive at Georgia as his brother Calvin Ridley was at Alabama, but part of that was being in a less prolific Bulldogs offense. Ridley led the team with 44 receptions and 570 yards last year. Ridley is instinctive and has excellent hands, helping him overcome separation issues, and his physicality after the catch might make him a natural fit as a slot receiver in a spread offense.

Athletic Comparable: JuJu Smith-Schuster

Opportunity: C-

The Bears have a crowded depth chart, and Anthony Miller showed potential as a top-level slot reeiver, making it hard to imagine Ridley finding a role early. His best chance might be to challenge Taylor Gabriel on the outside, but he could be buried on the depth chart in Chicago.
4.26 -
Cowboys

- RB

Tony Pollard

, Memphis

Pollard is a high-cut runner with long strides and shifty hips. He lacks natural instincts as a runner however, and he's unpolished as a receiver, particularly when asked to do anything other than run downfield. However, Pollard scored seven touchdowns as a kick returner during his college career, and he'll get his chance to make an NFL roster as a depth guy in the backfield and a return specialist. Pollard only returned two punts in three years in college, so he'll need to do more than just return kicks to make it, but his playmaking will warrant him a shot.

Athletic Comp: Kenyan Drake

Opportunity: B

The Cowboys need a backup running back and they need a kick returner, so this couldn't be a better spot for a guy like Pollard. He should win the return job immediately and might get some change-of-pace work to keep Ezekiel Elliott fresh. He's not going to get big touches to be a top fantasy option, but for Pollard's skill set, he couldn't be a better fit.
4.31 -
Patriots

- QB

Jarrett Stidham

, Auburn

Stidham was a fairly efficient quarterback for the Tigers the last two years after transferring from Baylor, completing 63.6 percent of his passes and throwing 36 touchdowns to 11 interceptions. Stidham was at his best throwing bubble screens and short out patterns, letting his receivers make plays after the catch. When he has the time to get his feet under him, he's deadly accurate, particularly on touch throws in the short and intermediate areas of the field. He needs to work on ball placement on his deep ball, often losing accuracy when he tries to heave it. NFL defensive backs will quickly grow wise to his inside ball placement on fly routes. Stidham needs to learn how to adjust to pressure and speed up his progressions, or he's going to take way too many hits when he ducks and runs. Stidham could be effective in a ball-control offense with good protection, but he projects as a top-level backup for most teams.

Athletic Comparable: Case Keenum

Opportunity: B-

While it's hard to believe Tom Brady will ever stop playing, he'll be 42 years old in August and the Patriots don't have a long-term replacement in place. Stidham could very well be that guy as a heady player with nice touch accuracy. He's a dynasty stash player at this point with no redraft value.
4.35 -
Raiders

- TE

Foster Moreau

, LSU

Moreau is a versatile player who showed an ability to track defenders at the second level when blocking and also to hold up at the point of attack. He made clutch catches and demonstrated excellent field awareness. Moreau doesn't look explosive on film, and his long, lanky legs look awkward when he's trying to cut upfield, but he timed much better than expected in the speed drills at the combine, including a position-leading 4.11-second 20-yard-shuttle. Moreau projects as a nice combo tight end who should stick in the league as a backup, with a chance at developing into a starter. He'll never be a top-notch receiving option, but could leak out and move the chains with some level of regularity.

Athletic Comp: Owen Daniels

Opportunity: A-

Jared Cook vacated 101 targets when he left for the Saints in the offseason, and Derek Carrier and Lee Smith are underwhelming options to replace him. Moreau doesn't project to be an elite fantasy option, but he couldn't have landed in a better spot with a more open chance to earning a starting job as a rookie. The Raiders added a lot of weapons in the passing game this offseason, but the opportunity here should make Moreau a priority target in dynasty drafts with some potential as a streaming option in redraft formats.
5.02 -
Jaguars

- RB

Ryquell Armstead

, Temple

Armstead is an instinctive runner who plays with good lean and has enough burst to break away once he finds a crease. He's a high-effort player who plays with a low center of gravity. He packs a lot of power in his 5-foot-11 frame and ran a 4.45-second 40-yard-dash at the combine to go with 22 reps on the bench press. Armstead gets bent back in pass protection though and will grab speed rushers if he misses in his initial punch. He also only caught 29 balls in his entire college career, so he wasn't used much in the passing game, making him a likely two-down complementary player at best.

Athletic Comp: Lamar Miller

Opportunity: B-

Armstead is immediately better than Benny Cunningham, so he should have no trouble winning the backup job behind Leonard Fournette, who has struggled with injuries through two seasons in Jacksonville. He has some sneaky upside as a playmaker if Fournette continues to have troubles staying on the field, and he may be a priority handcuff in redraft leagues come September.
5.03 -
Steelers

- TE

Zach Gentry

, Michigan

Gentry caught 32 balls last season, but he scored only two touchdowns, disappointing for a 6-foot-8 player. His combine numbers weren't great, including only 12 reps on the bench press, despite his significant size. Gentry is a pure upside player who will need to work on virtually every aspect of his game to turn into a good pro. He has long arms and excellent size, but needs to bulk up a little if he's going to use those traits in pass protection or as a red zone target.

Athletic Comp: Levine Toilolo

Opportunity: C

Jesse James left 39 targets when he bolted for Detroit, but Vance McDonald should remain the primary tight end in Pittsburgh, making it unlikely Gentry earns a job early on. He's a development prospect who may end up on the practice squad for a couple of years.
5.07 -
Buccaneers

- K

Matt Gay

, Utah

Gay was 37-of-38 inside 40 yards over the past two seasons and made all 85 extra point attempts. He's a former soccer player with a big leg, and he won the Lou Groza Award in 2017. He missed three field goals in the 40-49-yard range, but he has high upside.

Athletic Comp: Zach Hocker

Opportunity: A+

Tampa Bay has been looking for a kicker for a long time, and Gay will get every chance to win that job immediately. In a Bruce Arians offense, he could be a sneaky good option at the position.
5.11 -
Raiders

- WR

Hunter Renfrow

, Clemson

Renfrow is an undersized slot receiver with very good hands who overachieves with short-area quickness. He plucks the ball away from his frame and can find the soft spot in the defense. Renfrow won't run away from anyone, but he can make the first defender miss and he fights through press coverage at the line. He has the potential to contribute in a spread offense as a move-the-chains slot receiver.

Athletic Comp: Jeremy Kerley

Opportunity: D+

The Raiders lost Seth Roberts and they don't really have a traditional slot receiver on the roster, but they added Antonio Brown, Tyrell Williams, J.J. Nelson and Ryan Grant in the offseason, leaving very little room on the depth chart. Watch the camp battle between Renfrow and Grant, as I doubt there's room for both of them on the roster. Even if he makes it, he's unlikely to see a lot of targets.
5.14 -
Falcons

- RB

Qadree Ollison

, Pittsburgh

Ollison runs with a physical demeanor, but he's too upright and takes too much punishment. He lacks suddenness in his cuts and doesn't have breakaway speed. Ollison was productive last year with 1,213 yards and 11 touchdowns on the ground, but he looks like a career backup at the next level. Ollison is functional in pass protection and caught 50 balls in college, giving him some potential on passing downs, but he looks like an incomplete player who will need to contribute on special teams to stick on a roster long term.

Athletic Comp: James Conner

Opportunity: C+

The Falcons have had injury issues at the running back position the last couple of seasons and they lost Tevin Coleman in free agency, giving Ollison a chance at earning some playing time if he can beat out Ito Smith for a complementary role behind Devonta Freeman - who is coming off an injury. Ollison is a long-shot as a prospect, but his tough running style woudl complement Freeman well, so this isn't a bad spot for him.
5.16 -
Panthers

- RB

Jordan Scarlett

, Florida

Scarlett is a strong, thick running back with more straight-line speed than expected. He ran a 4.47-second 40-yard-dash at the combine and he's a tough-as-nails inside ball-carrier. Scarlett has terrible hands and will offer very little in the passing game, and he doesn't have natural vision, often missing the hole and jumping ahead of his blocking. Scarlett has some explosive athleticism going through the line however, and some team is going to like the physicality he brings at the position, even if he has limited versatility.

Athletic Comp: Wayne Gallman

Opportunity: B

This is a good spot for Scarlett, where the Panthers might be looking to complement Christian McCaffrey with some raw power. Cameron Artis-Payne is 27 years old and under contract only through next season, so Scarlett could easily become the number-two back there in a hurry.
5.28 -
Chargers

- QB

Easton Stick

, North Dakota State

Stick is an intangibles guy who was a big winner for the Bison, including a victory over Eastern Washington in the FCS Championship last season. Stick ran for 121 yards and scored five touchdowns – three on the ground, two passing – in a decisive victory. Stick runs well and is considered an excellent team leader, but he doesn't have a big-time arm and doesn't put enough zip on the ball when throwing outside the hashmarks. He's too quick to take off and run with it when he faces pressure, and he won't be able to outrun defenders as easily when he gets to the next level. Stick looks like a potential long-term backup who may have some great preseason moments but will ultimately be better in the locker room than behind center.

Athletic Comp: Thad Lewis

Opportunity: C-

On the plus side, Stick could be viewed as the heir-apparent to Philip Rivers. On the otehr hand, he looks like a backup to me, and Tyrod Taylor was signed to play that role this season. With only a fifth-round pick, Stick is likely a development guy for the Chargers. He'll be a practice squad candidate.
5.29 -
Eagles

- QB

Clayton Thorson

, Northwestern

Thorson was a four-year starter for the Wildcats, setting school records in virtually every major passing category. He's a confident passer who puts the ball in places his receivers can make a play on and isn't afraid to challenge opposing defensive backs. This can sometimes get him in trouble trying to force the ball into coverage, as evidenced by his 27 interceptions over the last two years. Thorson is a tough kid who fought back from a torn ACL in the Music City Bowl following the 2017 season. He has good size at 6-foot-4 and showed functional mobility against lesser competition, giving him upside as a long-term project. Thorson projects best as a backup however, with the potential for late-game heroics as well as game-changing mistakes.

Athletic Comparable: Josh Rosen

Opportunity: D

The Eagles need a backup, and Thorson figures to be that for them. There's no risk of Thorson supplanting Carson Wentz as the starter.
5.32 -
Browns

- K

Austin Seibert

, Oklahoma

Seibert is an interesting prospect because he could potentially make a roster as either a kicker or a punter. He's done both and was a better option as a punter early in his career, to mixed success. He was scattered from beyond 40 yards however and there's questions about his leg since he only attempted a limited number of 50-yard kicks in his career – one-of-three. He's a project who will likely make a few camps, but is unlikely to stick.

Athletic Comp: Chris Boswell

Opportunity: D

Seibert might challenge Greg Joseph, but he's unlikely to beat out Britton Colquitt. This was a puzzling pick, and possibly a waste of a fifth-rounder.
5.33 -
Giants

- WR

Darius Slayton

, Auburn

Slayton is a big-play threat every time he touches the ball. He wasn't particularly productive at Auburn, but he averaged an incredible 22.2 yards per catch on 29 receptions in 2017 and made big catches against Alabama and Texas A&M last year. Slayton has inconsistent hands and didn't run much of a route tree for the Tigers, but his 4.39-second 40-yard-dash at the combine and his 40.5-inch vertical will help him get a shot at an outside receiver job in the NFL.

Athletic Comp: Courtney Roby

Opportunity: B

Slayton has a shot to get early snaps outside on a Giants team that is loaded with players who stylistically fit best in the slot. Slayton might be worth a flier in best ball formats, as he can get downfield and may catch a few long touchdowns as a rookie.
6.01 -
Cardinals

- WR

KeeSean Johnson

, Fresno State

Johnson was a productive player for the Bulldogs and a big part of their successful 2018 campaign, catching 95 balls for 1,340 yards and eight touchdowns. Johnson locates the ball well and fights to make contested catches. He's shifty in and out of his cuts and was a very good kick returner as well. Johnson telegraphs his routes and can ease up on running plays at times, and his lack of speed might be hard to overcome, but he has NFL upside if he lands in a good spot and gets the opportunity. He most likely winds up a depth guy who contributes on special teams.

Athletic Comp: Willie Snead

Opportunity: D+

Johnson has a chance to compete for a job in Arizona, but the problem is he's the third receiver drafted by the team. He'll struggle to beat out Hakeem Butler, but if he does, he'll get some downfield looks. For now, he's likely to be fighting for a roster spot or for kick return duties.
6.03 -
49ers

- TE

Kaden Smith

, Stanford

Smith is an interesting prospect because the tape on him is so inconsistent. He shows drive and tenacity blocking, but he's out of position so often that he'll need work to be effective as a pro. He shows exceptional hands in tough situations, but his route-running can look slow and lumbering at times. Smith has a lot of upside and could very well develop into a great combo tight end, but he'll need to be more consistent. His tape against Washington and USC over the past two seasons is great, and if he can channel that kind of production as a pro, he'll have a shot at earning a starting job down the line.

Athletic Comp: Richard Rodgers

Opportunity: F

Smith's likely viewed as a blocker only in San Francisco. He has no chance of supplanting George Kittle, and the 49ers added two other pass-catchers in the draft.
6.05 -
Jaguars

- QB

Gardner Minshew

, Washington State

Minshew was a productive quarterback for ECU before transferring last year for one post-graduate year as the Cougars' starter. Minshew has the reputation of being a high intangibles guy and a leader in the locker room. He was very productive in his one season in Pullman, throwing for 4,779 yards and 38 touchdowns. He's accurate, has a quick release, and can dissect a defense. Minshew lacks elite arm strength and athleticism, and his low release point could be a problem at the next level. He would make an excellent long-term backup.

Athletic Comp: Kellen Clemmons

Opportunity: D

Minshew will be brought in solely as a backup behind free agent acquisition Nick Foles. He may be third on the depth chart until Cody Kessler's contract is up next year, and may even wind up on the practice squad.
6.09 -
Bengals

- RB

Trayveon Williams

, Texas A&M

Williams was reasonably productive his first two years for the Aggies, but really blossomed last season as a junior, taking on a full load and finishing with 1,760 yards and 18 touchdowns on the ground. Williams is a little undersized at 5-foot-8, but he has a strong lower body and runs with a good center of gravity. He lacks initial power when he drives through would-be-tacklers and can be tight-hipped in space, but there's no questioning his versatility or his ability to find the open hole and hit it decisively. Williams caught 66 balls in college, and he's a willing and capable pass-blocker, so there's reason to think he can be an every-down player in the NFL. If he lands in a spot with opportunity, he has the talent to take advantage of it, but teams may see him in a complementary third-down role. If he lands in a zone-blocking scheme with opportunity, watch out!

Athletic Comparable: Ito Smith

Opportunity: C

The Bengals are pretty set with Joe Mixon and Giovani Bernard, but with Mark Walton's off-field issues, Williams is likely seen as a long-term change-of-pace back behind Mixon. Bernard's contract is up after this year.
6.11 -
Lions

- WR

Travis Fulgham

, Old Dominion

Fulgham is a big-bodied receiver at 6-foot-2, 215 pounds who caught a lot of contested and poorly thrown balls for the Monarchs. He may not be able to gain separation from NFL defenders, but his ball skills should earn him a chance to compete for a job somewhere. Fulgham projects as a potential sub-package or depth guy, but he has a chance to turn into a possession receiver on the outside with the way he attacks the ball. He caught nine touchdowns last season and has skills that could translate into an eventual red zone target if he gets paired with a good quarterback.

Athletic Comp: Michael Gallup

Opportunity: C

The Lions are trying to add pass catchers in this draft, and Fulgham provides them with a big target, something they've been lacking lately. While he's unlikely to supplant Kenny Golladay or Marvin Jones, he has a good chance to get some red zone looks and earn some snaps in sub-packages.
6.13 -
Lions

- RB

Ty Johnson

, Maryland

Johnson is an undersized overachiever who played a complementary role for the Terrapins. He's an instinctive runner with good vision and balance, but he lacks the physicality or the speed to be an impact player at the next level. Johnson projects as a special teams gunner or a depth guy, who has just enough shimmy to make the first defender miss, but won't outrun the defense. He's unlikely to become a starter in the league.

Athletic Comp: Kenyan Drake

Opportunity: F

This is a baffling pick. The Lions signed C.J. Anderson in the offseason to back up Kerryon Johnson, and they still have Theo Riddick around. Johnson will be fighting with Kerwynn Williams and Mark Thompson for a roster spot and has very little chance of getting touches as a rookie.
6.15 -
Broncos

- WR

Juwann Winfree

, Colorado

Winfree wasn't particularly productive in college, catching only 60 balls in his three-year career, including a year at Maryland. Winfree is a big-bodied player at 6-foot-3 and he does a fantastic job adjusting to poorly thrown balls. He walls off defenders well and climbs the ladder. Winfree will fight for contested balls and shows some fluidity in his hips, though his speed doesn't pop out at you on tape. He didn't attend the combine, but he figures to be a fourth receiver at best at the next level as a developmental possession receiver.

Athletic Comp: Maurice Harris

Opportunity: F

Winfree seems redundant in Denver behind Courtland Sutton, DaeSean Hamilton and Tim Patrick. He'll be fighting for fifth on the depth chart and may need to contribute on special teams in order to make the roster. Practice squad seems likely for this project.
6.22 -
Packers

- RB

Dexter Williams

, Notre Dame

Williams scored 12 touchdowns for the Fighting Irish last season and he had monster games against Florida State, Virginia Tech and Navy. He struggled against a tough Clemson defensive line in the Goodyear Cotton Bowl Classic, averaging only 3.4 yards per carry, but he demonstrates all the traits you look for in a starting running back. His lateral quickness is good and he can beat most linebackers to the sideline. He plays with patience for a back with only one year in a feature role, and his growth into an every-down starter was impressive. Williams ran a 4.57-second 40-yard-dash at the combine, but he accelerates well once he turns the corner and seems to have an extra gear when he hits the secondary. Williams has some character concerns with an arrest in 2016 and a suspension for four games last year, but the talent is there if he can continue to develop his instincts as a runner.

Athletic Comparable: Bilal Powell

Opportunity: C

Williams is talented, but with Aaron Jones and Jamaal Williams ahead of him on the depth chart in Green Bay, he's going to have a hard time earning a job. He's worth putting on a taxi squad in dynasty leagues however, because he's versatile enough to take Williams' job if he gets the opportunity to show what he can do.
6.25 -
Ravens

- QB

Trace McSorley

, Penn State

McSorley accounted for 105 touchdowns over the last three years for the Nittany Lions, including 30 on the ground. He was a lethal dual-threat option and a fan favorite, and he made full use of a slew of weapons around him during his time as a starter. McSorley is an intangibles guy who makes his way as an overachiever and an improviser. He throws a pretty deep post when he gets his feet under him and is given time to look downfield, but when he gets to his second read or the play breaks down on him, his fundamentals suffer for it. Without excellent talent in the receiving corps, many of his heroic underthrown balls would be picked, particularly by NFL corners. McSorley might find himself playing a gadget role at the next level, even though he insists he's a quarterback. He's a developmental prospect either way.

Athletic Comp: Seneca Wallace

Opportunity: C-

McSorley will likely be a gadget player for the Ravens this year, as well as the third-string quarterback behind Robert Griffin III. This is a good fit for him though, as he'll be in a run-based offense with an established starter. He's got a shot to win the long-term backup job over Griffin, who can be cut next year without incurring a large cap penalty.
6.31 -
Falcons

- WR

Marcus Green

, Louisiana-Monroe

Green is an undersized slot receiver at 5-foot-8, with unpolished speed that helps him be explosive but isn't always contained within a play. Green will likely make his way as a kick returner at the next level. He runs with intensity and aggressiveness, despite his diminutive size. You worry about his durability given his size and style, but he's competitive enough to make a roster as a sub-package player who contributes heavily on special teams.

Athletic Comp: Sterling Shepard

Opportunity: D+

The highest Green can climb on the depth chart in Atlanta is fourth if he beats out Justin Hardy, which he might if he wins the return job outright. That's not going to be good for fantasy production in most leagues however, with Julio Jones, Calvin Ridley and Mohamed Sanu firmly entrenched ahead of him on the depth chart.
6.32 -
Seahawks

- RB

Travis Homer

, Miami

Homer led a crowded backfield for the Hurricanes last season with 985 yards, but he scored only four touchdowns and wasn't used often in short-yardage situations. Homer can make defenders miss but lacks vision and won't wait for plays to develop in front of him. Ball security could be an issue and he'll need to learn not to immediately bounce outside, but he has some homerun ability if he can tighten up his fundamentals and make a roster as a complementary back.

Athletic Comp: Matt Breida

Opportunity: D

Homer might get some work as a speed guy for the Seahawks, but he is unlikely to make it any higher than third on the depth chart behind Chris Carson and last year's first-round pick Rashaad Penny, and there's a crowd of players vying for that spot as well. Look for Homer to be in contention for two roster spots with J.D. McKissic, C.J. Prosise and Bo Scarborough.
6.34 - Redskins - WR
Kelvin Harmon

, N.C. State

Harmon is a big, 6-foot-2, 221 lbs, physical receiver who tracks the ball well downfield and will outmuscle defenders to win one-on-one matchups. Harmon plays with intensity and swagger and can adjust to poorly thrown balls, giving him a wide catch radius, despite difficulty separating. His lack of speed is concerning, and he may not have enough explosiveness to overcome press coverage. His cuts are rounded and he lacks any suddenness to take advantage of off-coverage. Harmon does an excellent job finding spots in zone coverage however, and he could be a fantastic red zone target with his ability to win contested balls. Harmon ran the 40-yard-dash at the combine in 4.6 seconds, a slow time to be sure, but was better than anticipated. If his quarterback trusts him and he can stop having elongated battles off the line, he could develop into a top outside receiver in the vein of Keenan Allen or Brandon Marshall.

Athletic Comparable: Laquon Treadwell

Opportunity: B

If Harmon can get any kind of separation in camp, he could win the WR1 job in Washington and be a steal in the sixth round. Paul Richardson and Josh Doctson have struggled to be difference-makers, so Harmon and third-rounder Terry McLaurin will be given every chance to win jobs. Keep an eye on Harmon during training camp to see if he rises up the depth chart. It wouldn't be shocking to see Washington start two rookies outside.
6.36 -
Buccaneers

- WR

Scott Miller

, Bowling Green State

Miller ran a 4.39-second 40-yard-dash at his pro day and has exceptional explosiveness in and out of his breaks. He plays without fear, but he's undersized at 5-foot-9 and 174 lbs. He has good hands and looks like an ideal fit as a slot receiver, but he has trouble getting off the line considering his speed, which will take him out of plays at the next level. Miller is a project who could develop into a functional sub-package receiver out of the slot if he can work on his pre-snap release and learn to take less contact.

Athletic Comp: Tyler Lockett

Opportunity: B

The Bucs don't have anyone to replace Adam Humphries in the slot, who worked very well with Jameis Winston, so Miller couldn't have landed in a better spot. He's no guarantee to make the roster and he'll be fighting with Justin Watson and Bobo Wilson for a roster spot, but if he can climb the depth chart during training camp, he's got a shot at the primary slot role in what should be an explosive offense. Miller might have a lot more opportunty than your average late-sixth-rounder.
6.39 -
Bengals

- RB

Rodney Anderson

, Oklahoma

Anderson looks explosive when he's healthy, running with a nice combination of speed and power. He breaks tackles easily, especially once he breaks into the secondary, and has just enough wiggle to make defenders miss in the open field. The questions with Anderson are whether he has a top gear, if he can contribute in the passing game and if he can stay on the field. Anderson broke his leg as a freshman, injured a vertebra as a sophomore and missed most of last season with a knee injury. His upright running style makes it hard to believe he'll suddenly become super durable in the NFL, but if he can stay off the injury report, he has the talent to be a starter.

Athletic Comparable: Knowshon Moreno

Opportunity: D

Anderson is too good to be buried on the depth chart in Cincinnati, but here we are. He's the second running back taken in this draft by the Bengals, and he'll struggle to get touches behind Mixon and Bernard. Don't be surprised if Anderson makes the roster with how talented he is, but this is not a good spot for him to land if fantasy owners were hoping he'd get early touches.
6.42 -
Chiefs

- RB

Darwin Thompson

, Utah State

Thompson has a nose for the end zone and can hide well behind the line with his compact, 5-foot-8 frame, choosing his holes wisely to maximize blocking. However, Thompson lacks any explosiveness and runs essentially like a bowling ball. He has functional hands to catch dump-off balls, but he's not likely to make a big splash in the passing game. Thompson will likely live on the roster bubble at the next level and will need to find a specific role as a between-the-tackles runner if he's going to get snaps in the NFL.

Athletic Comp: Charcandrick West

Opportunity: C

Thompson isn't what I would call an NFL back, but the Chiefs present an interesting opportunity for him. Damien Williams and Carlos Hyde are both ahead of him on the depth chart, but their roles aren't so rock solid that Thompson can't win over the coaching staff in training camp. If he makes the roster, he'll have a shot at snaps in this offense. That may be a big if though.
7.04 -
Cowboys

- RB

Mike Weber

, Ohio State

Weber didn't look fast at Ohio State, but he ran a 4.47-second 40-yard-dash at the combine, making scouts interested in what kind of upside he might have. At 5-foot-10, 211 lbs he runs with good strength and a low center of gravity, and he's thickly built in his core, making him sturdy running inside. Weber lacks natural running skills and looks unbalanced when trying to navigate through tight space. Weber caught 21 balls last year, so he has upside as a receiver, but he projects as a backup fighting for a roster spot at the NFL level.

Athletic Comp: Sony Michel

Opportunity: D+

Weber is the second running back the Cowboys have taken in this draft, though he fits a little different role than Tony Pollard as a banger. With Rod Smith still unsigned, he'll be vying with Darius Jackson for a strict backup role.
7.06 -
Texans

- FB

Cullen Gillaspia

, Texas A&M

Gillaspia was pretty much purely a blocker at Texas A&M. He's eager to make contact but doesn't always put himself in the best position to do so. He can get bent back as a lead blocker, which is troubling for a guy that doesn't shy away from physicality. If he can play with more leverage and become a battering ram, he could steal some goal line touches at the next level, but he's primarily going to be counted on to block if he makes a roster.

Athletic Comp: John Kuhn

Opportunity: F

Gillaspia may start at fullback in Houston if he makes the roster, but he'll be blocking if he does. The Texans are trying to protect the quarterback. If the Texans play more two-back sets featuring Gillaspia, Lamar Miller could see a small bump, but that's the closest we'll get to fantasy impact from this pick.
7.08 -
Bears

- RB

Kerrith Whyte

Jr., Florida Atlantic

Whyte was a complementary player behind Devin Singletary, but he scored eight touchdowns and really distinguished himself as a kick returner, averaging 26.1 yards on 81 career returns. Whyte has one-cut talent and hits the hole with explosiveness, but he's not a patient runner and won't always diagnose the right hole. Whyte doesn't have the instincts to become an every-down back, but he can function as a backup in a zone-blocking system. Whyte will likely make a roster based on his return skills.

Athletic Comp: Fitzgerald Toussaint

Opportunity: D

Maybe the Bears are trying to get a designated kick returner? Whyte is the second running back the Bears have taken in this draft, and there's no way he wins the job over David Montgomery or Tarik Cohen. Probably not Mike Davis either, which means fourth is the highest he can climb on the depth chart.
7.10 -
Lions

- TE

Isaac Nauta

, Georgia

Nauta is an effort guy with functional strength and route-running who was likely a better college player than a pro. He struggles to maintain leverage on his blocks, an issue that will only be more apparent at the next level, and he may not be quick enough to gain separation against more athletic defenders. Nauta projects as a quality backup, with the ability to play inline and help with pass protection, but he'll need to get stronger to be a factor in the run game. He can leak out and be productive as a receiver, and can even split out a bit, but he's best suited as a third-read rather than a guy you game plan around.

Athletic Comparable: Jack Doyle

Opportunity: D+

Nauta will be a pure backup and maybe an extra pass-protector for Detroit, who already invested a first-round pick in T.J. Hockenson and signed Jesse James in the offseason.
7.14 -
Bills

- TE

Tommy Sweeney

, Boston College

Sweeney runs pretty good routes for a lumbering big guy, and he has good hands with excellent eye discipline for the position. He was primarily a blocker for the Eagles, with his receiving talents on display in primarily short crossing routes and drops into the flat. Sweeney will make an NFL roster for his blocking ability, but his sure hands and high catch-point should make him a viable red zone target in the right scheme. He'll need to work on sustaining his blocks and keeping his arms inside before he disengages, but he's a physical mauler who should help the running game early in his career.

Athletic Comparable: Jim Dray

Opportunity: C-

The Bills need a tight end for sure, but they signed Tyler Kroft and already drafted Dawson Knox, so the depth chart is suddenly looking a bit crowded. Sweeney looks more likely to help the running game than the passing game, so his fantasy value is low, but he could get some snaps in formations with multiple tight ends.
7.17 -
Saints

- TE

Alize Mack

, Notre Dame

Mack has a nice frame at 6-foot-4, 249 lbs, and he demonstrates the ability to line up in multiple spots on the offense. Mack is baffling as a prospect because his lack of blocking – he was a turnstile against Clemson – and his ability to line up in the slot would suggest he's a receiving tight end, but he has stiffness in his hips that make it hard to believe he'll make it as a route-runner. Additionally, he plucks the ball away from his body on difficult receptions, showing good adjustment, and then he drops easy passes. A good coach will be able to work with the good and mitigate the bad, but Mack looks like a practice squad guy at the next level.

Athletic Comp: Jordan Akins

Opportunity: C

Mack wont' challenge Jared Cook for a starting job, but he could develop into a long-term answer for the Saints if the coaching staff can make him more consistent. It's a good spot for him as a prospect, but outside of deep dynasty stash leagues, he holds little fantasy value as a rookie.
7.19 -
Dolphins

- FB

Chandler Cox

, Auburn

Cox is a tough blocker who held up well in pass protection over the past few seasons. He started 41 games for the Tigers and diagnoses blitzers well for a young player. Cox scored two touchdowns on the ground last season, but only carried the ball three times, so he'll be looked at to block at the next level. His versatility lining up should help him, as he even blocked inline occassionally.

Athletic Comp: Patrick DiMarco

Opportunity: D+

The Dolphins don't really have a short-yardage guy entrenched on their roster, so it's possible Cox carves out a role there. However, it's more likely that he winds up purely a blocker who helps pave the way for Kenyan Drake and helps protect Ryan Fitzpatrick and/or Josh Rosen.
7.20 -
Dolphins

- RB

Myles Gaskin

, Washington

Gaskin is a shifty, undersized back who runs with excellent vision and functional strength due to his strong base and always-churning legs. Gaskin was extremely productive for the Huskies, putting up over 1,000 yards on the ground in each of his four years, and rushing for 57 touchdowns over his collegiate career. Gaskin didn't time as well as expected at the combine, with a 4.58-second 40-yard-dash, but he's quick and elusive and has loose hips as he weaves through traffic. Gaskin fits best as a third-down back at the next level and will be vying for change-of-pace work.

Athletic Comp: Ronald Jones

Opportunity: B

Kenyan Drake doesn't look like an every-down back and Kalen Balage looks like just another guy, so Gaskin will be given every opportunity to earn a role in the offense, despite being drafted so late. Gaskin was very productive in college, and it's be surprising if he doesn't make this roster come September.
7.22 -
Seahawks

- WR

John Ursua

, Hawaii

Ursua is an undersized slot receiver with great hands who needs to prove he can be explosive if he's going to make it in the NFL. He offers very little in the return game, which hurts his chances of making a roster, but he was very productive last season with 89 catches, 1,343 yards and 16 touchdowns. Ursua runs strong after the catch but may not be big enough to get a clean release without using motion to break free. He's likely a roster-bubble guy with some upside if he can find the right situation.

Athletic Comp: Davone Bess

Opportunity: C-

The Seahawks need a slot receiver, but Ursua is the third receiver they've drafted and he'll be a long-shot to make the roster. Watch the camp battle between him, Jaron Brown and David Moore.
7.23 -
Panthers

- WR

Terry Godwin

, Georgia

Godwin has good hands and is a very good route-runner from the slot position. He flashes excellent cutting and start-stop ability but is inconsistent in his release out of his breaks. Sometimes, he looks like he can start and stop on a dime, and other times, he struggles to re-ignite. Godwin needs to bulk up if he's going to beat press coverage, and he'll need to clean up his occasional sloppy play, but he has upside to develop into a starting slot receiver if given the opportunity.

Athletic Comp: Nate Washington

Opportunity: D+

The Panthers signed Chris Hogan in the offseason and they have Curtis Samuel, Jarius Wright and Torrey Smith in the mix to go with last year's first-round pick D.J. Moore, so it's going to be an uphill battle for Godwin to make the roster. That being said, he has a skill-set the Panthers need if he can become a consistent slot option, so watch the training camp battle. Even if he makes the roster however, there won't be enough balls to go around in the Carolina offense.
7.25 -
Vikings

- WR

Dillon Mitchell

, Oregon

Mitchell can play ball. He doesn't always show consistency in his hands, but he makes some really tough catches and often controlled some poorly thrown balls as the primary target of quarterback Justin Herbert. Mitchell caught 75 balls for 1,184 yards and 10 touchdowns for the Ducks last season, he has functional playing speed and is fearless running across the middle. Mitchell demonstrates excellent vision with the ball in his hands, making him a high-upside pick if he can put it all together. Consistency could keep him off a roster, but the right coach will help him clean that up.

Athletic Comp: Justin Blackmon

Opportunity: C+

This is a great spot for Mitchell to earn a roster spot, as he'll be contending with the likes of Chad Beebe and Brandon Zylstra for the fourth receiver spot. Watch the training camp battle between Mitchell and former first-round pick Laquan Treadwell, as Mitchell's tenacity might earn him some time early on. The Vikings may have gotten a steal here.
7.33 -
Vikings

- WR

Olabisi Johnson

, Colorado State

Johnson has a reputation as a good locker room guy, and he runs with physicality and a competitive fire. He has good running instincts with the ball in his hand and plays bigger than his 6-foot-0 frame. Johnson lacks explosiveness however, with limited top-end speed and clunky short-area movements. He tracks the ball well though and has a shot to make a roster based on motivation alone. He's likely a fourth or fifth wide receiver in the NFL.

Athletic Comp: Josh Bellamy

Opportunity: C

The Vikings double up at the wide receiver position in the seventh round after nabbing Mitchell. Johnson actually has a pretty good chance of winning a job as a depth guy in Minnesota, as the coaching staff will love his work ethic. The problem might be in the return game, as neither he nor Mitchell contribute much as a returner, and if they don't want to use cornerback and last year's first-round pick Mike Hughes in that capacity, they may want to keep Zylstra around.
7.40 -
Cardinals

- TE

Caleb Wilson

, UCLA

Wilson ran a much better 40-yard-dash than expected at the combine, at 4.56 seconds. He looks slower on tape, but clearly can stretch the seam and will go up and get the ball in the air. He offers very little as a blocker and may need to line up mostly in the slot. He doesn't disengage well and has poor hand movement, making him a liability on running downs or even when trying to chip pass rushers before leaking out. Wilson is a high-upside receiving option who should make a roster based on his athleticism.

Athletic Comp: Julius Thomas

Opportunity: B-

It's not often Mr. Irrelevant has a pretty good chance at being relevant, but Wilson's recieving ability, going to a team that should throw the ball should give him a leg up on most guys taken this late. Plus, Ricky Seals-Jones has been a disappointment and free agent acquisition Charles Clay has struggled to stay healthy. Oddly, Wilson has a shot at starting as a rookie if he has a great camp. He holds little value in redraft leagues, but in dynasty formats, he has potential as a stash or taxi squad player.