The Training Room: Week 9 Injury Recap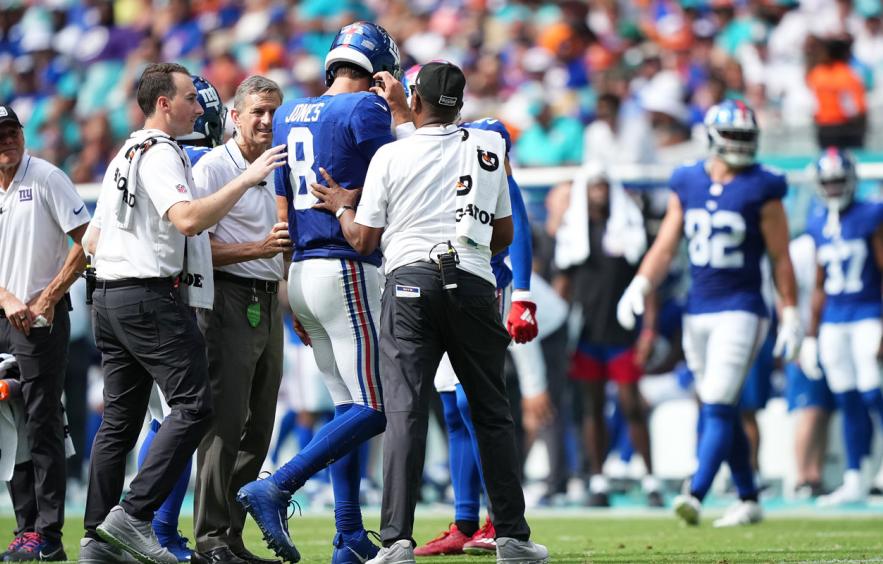 Jasen Vinlove-USA TODAY Sports
Daniel Jones

, QB NYG
Injury: Right Knee
Projected Timetable: Season-Ending
Initial Thoughts:
The initial concern is a right ACL tear after Jones' knee buckled inwards while scrambling to his right side. Remarkably, he stayed in the game and attempted to take another snap, but his knee buckled again underneath him as he dropped back and was then removed from the game. Anticipating that his season will be over.
Jalen Hurts

, QB PHI
Injury: Left Knee
Projected Timetable: Week 11
Initial Thoughts:
The Eagles' bye week comes at the perfect time after Hurts suffered a likely aggravation of his prior left MCL sprain after a defender fell into him and bent his knee inwards. Thankfully he was already wearing a brace which likely absorbed the majority of the impact and was able to play the remainder of the game. He will use this next week to get back to health and we can likely expect to see a near-100% healthy Hurts in week 11.
Jaren Hall

, QB MIN
Injury: Concussion
Projected Timetable: TBD
Initial Thoughts:
Unsure about Hall's return to play considering it will very likely be Joshua Dobbs at the helm for the remainder of the season, especially after the remarkable stories coming out about his lack of practice time and managing the play calling in real time.
Cam Akers

, RB LAR
Injury: Achilles
Projected Timetable: Season-Ending
Initial Thoughts:
In a continued popular theme this season, Akers has unfortunately suffered a contralateral (opposite side) Achilles tear and will be done for the remainder of the season. Odds are low that he will be able to make it back from this one for a fantasy-prominent role, so he is likely droppable in your leagues.
Christian Watson

, WR GB
Injury: Head, Back, Neck
Projected Timetable: Week 10-11
Initial Thoughts:
Watson landed fairly hard down onto the turf while attempting a contested catch and was listed as questionable to return with all three injuries. He seemingly cleared concussion protocol, which is good news considering he has a history of past concussions. My assumption is that these injuries will not cost him game time and we will see him in Week 10. He will remain a boom/bust player though with one of the higher reinjury risk profiles.
Treylon Burks

, WR TEN
Injury: Concussion
Projected Timetable: Week 10-11
Initial Thoughts:
Thankfully, Burks had motion and sensation in all of his limbs after suffering a concussion and appearing to have lost consciousness. He entered concussion protocol after Thursday night and will have to clear all steps, but it won't surprise me if he still misses Week 10 even with the extra time to clear protocol.
Josh Downs

, WR IND
Injury: Knee Re-Injury
Projected Timetable: Week 12
Initial Thoughts:
After being ruled out with an aggravation of the knee injury that he entered Week 9 with, I am projecting him to miss Week 10 and return after the Colts' Week 11 bye week. It is hard to project any production dip while awaiting more details of what the actual injury is, but assuming a mild to moderate MCL sprain he may have a 10-15% production dip upon return to play. Monitor his status moving forward.
KJ Osborn, WR MIN
Injury: Concussion
Projected Timetable: Week 10-11
Initial Thoughts:
Somewhat similar to Burks' concussion but seemingly less severe after seeing Osborn able to stand and get onto the cart under his own power, I will not be surprised if he misses at least one game while in concussion protocol. If Justin Jefferson is not quite ready to return yet, this may lead to a small boost to Brandon Powell, though Josh Dobbs may only be able to sustain production for T.J. Hockenson and Jordan Addison each week.
Joshua Palmer

, WR LAC
Injury: Right Knee
Projected Timetable: Short-Term IR
Initial Thoughts:
Palmer will miss the next four weeks after being placed on IR, making room for Quentin Johnston to slide into the WR2 role starting this week. If you need a dart, especially in Best Ball leagues, Jalen Guyton was removed from IR and is set to play as well.
Dallas Goedert

, TE PHI
Injury: Right Forearm Fracture
Projected Timetable: Week 15-17
Initial Thoughts:
Prepare for a multiple-week absence as we await news on Goedert. He is likely getting imaging done, but there is some concern for a fracture or radial head dislocation after having his forearm pulled and landed on. The best-case scenario would be a hyperextension/sprain that would allow him to play in Week 11 after the Eagles bye week. The worst case could be a 4-6 week absence. Monitor for news.