The Training Room: Week 16 Injury Updates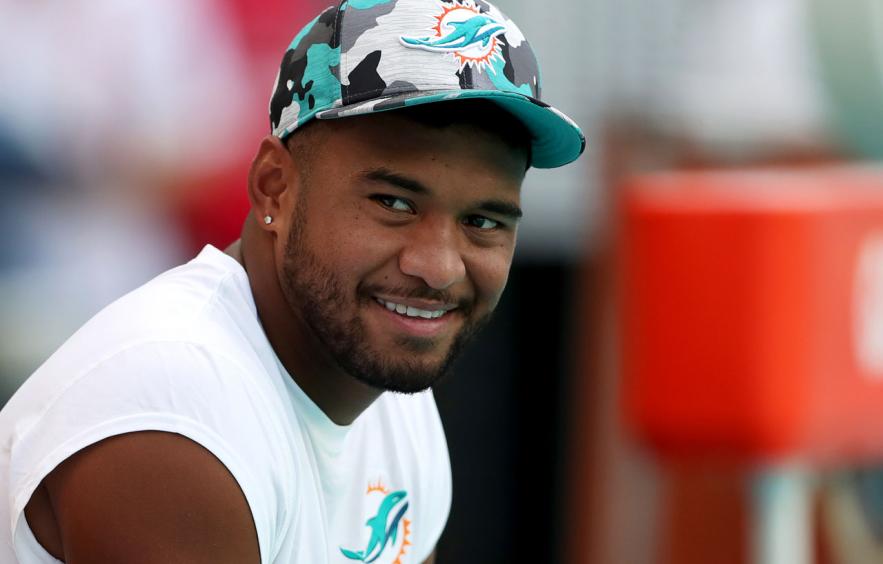 Megan Briggs/Getty Images
After injuries kicked our butts all season long, Week 16 finally provided some line-up nirvana. This week, the week most leagues either started their playoffs or were in the semifinals, there were minimal injuries. Good news for you and good news for the guy writing the injury column for 4for4. Still, there were a few situations that bear mentioning. I do so below.
Tua Tagovailoa

, QB Miami

Dolphins
Injury: concussion
Projected Timetable: 1-2 weeks
Potential Replacement(s):
Teddy Bridgewater
Initial Thoughts:
Once again, Tua Tagovailoa is in the concussion protocol, and once again, there may be some controversy around Miami looking the other way when their quarterback sustains a head injury…
Saw this live. And I recorded it because I knew as soon as I saw it. This happened late in the 1st half. And I believe Tua played 2nd half with a concussion. His head bounced off the ground. And it was very similar to the hit in Cincinnati. 3 INTs in the 4th qtr. proved it to me. pic.twitter.com/Djl0xkGToX

— Michael Williams (@SelfMade0602) December 25, 2022
Does Tagovailoa actually have a concussion, or is he just in the protocol as a precautionary measure? Time will tell. Expect the NFL and the public to be monitoring this situation closely. If there is any doubt that the Dolphin QB is symptom-free, then he should be out in Week 17.
I have mentioned this in past Training Rooms, but for whatever reason, QBs tend to miss less time than skill position players after a concussion.

Christian Watson

, WR Green Bay

Packers
Injury: hip injury
Projected Timetable: 0-1 week
Potential Replacement(s):
Romeo Doubs

,

Randall Cobb
Initial Thoughts:
The "Christian Watson Experience" has been an absolute roller coaster this season. After a slow-injury-plagued start, Watson went nuclear in Weeks 10-13. Now the former North Dakota State wideout is injured again with a hip injury. By video Watson's injury appeared to be nothing more than a hip contusion. Hip contusions typically don't result in much, if any, time missed. It sounds like because Green Bay is still in the playoff hunt, Watson's chances of playing in Week 17 are looking good.
Hunter Henry

, TE New England

Patriots
Injury: knee injury
Projected Timetable: 1-2 weeks
Potential Replacement(s):
Jonnu Smith
Initial Thoughts:
Even in an ugly TE landscape, Hunter Henry has been far too risky to consider in most fantasy leagues. Henry's fantasy stock just became a lot more fragile as he is not dealing with a knee injury. The early word out of New England is that Henry is "day-to-day" but looking at the average time missed for TEs with a knee injury, most miss at least a week (avg. = 2.2 weeks). Even when tight ends play through knee injuries and don't miss any time, typically, they see a ~36% dip in fantasy production. All of this points to you looking for another TE in Week 17.
Tyler Boyd

, WR Cincinnati

Bengals
Injury: finger injury
Projected Timetable: 0-1 weeks
Potential Replacement(s):
Trenton Irwin
Initial Thoughts:
Tyler Boyd had a quiet game Sunday, and a portion of his poor fantasy performance could be attributed to his finger injury. Boyd originally dislocated his finger back in Week 14 but has been playing through the injury. Despite a decent Week 15, this is the risk that comes with starting players in your fantasy lineup who are nursing injuries, as Boyd aggravated his injured finger again and saw his season-low snap share (minus Week 14, where Boyd left the game early).
Trenton Irwin benefited from Boyd staying on the sidelines and broke paydirt not once but twice! If you are in a deep league or one where you start 3-4 WRs and have been rostering Boyd, due to his finger injury, I am not sure you can trust him next week.