11 NFL Draft Predictions With Fantasy Implications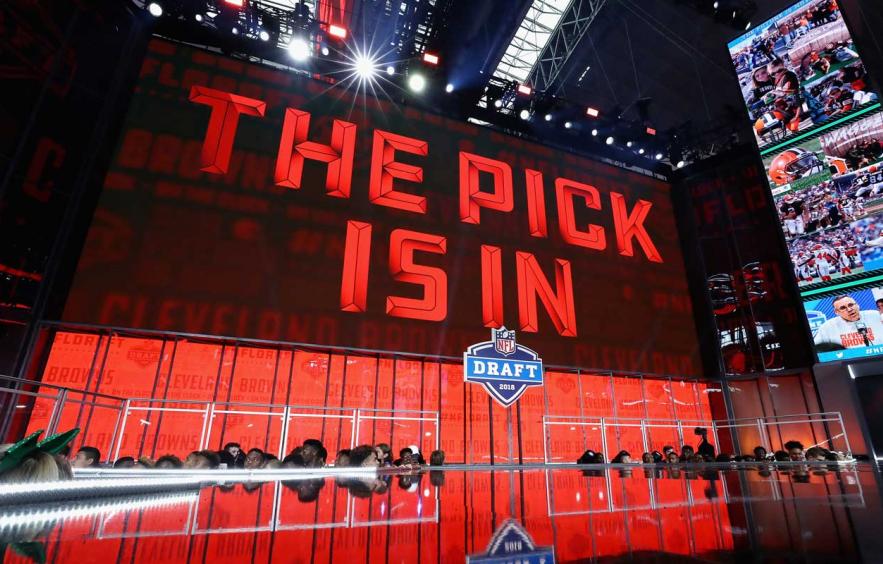 Ronald Martinez/Getty Images
After the usual circus that is NFL Draft season, we're finally just days away from the 2022 version. Countless mock drafts and big boards have been written and redone, and we will finally see where these rookies will call home in the NFL. To celebrate draft week, the staff at 4for4 got together in a virtual draft room, to share predictions they believe will have fantasy implications in 2022.
4for4 will have a live YouTube show which will also be on Twitter, covering every pick in the first round, plus a written tracker with player blurbs and the fantasy impact of each relevant player as the picks come in on our site. Be sure to subscribe to our YouTube channel so you don't miss it!
---
NFL Draft Resources: Mock Draft 3.0 | Final Big Board | 10 Dynasty Players to Trade Before the Draft | Under the Radar Dynasty Rookies | Dynasty League Football |
---
2022 NFL Draft Predictions
The Pittsburgh
Steelers

will Draft their Week 1 Quarterback (Justin Edwards)

The offseason of quarterback musical chairs left the Pittsburgh Steelers behind and the only QBs still standing on the market are Ryan Fitzpatrick and Cam Newton. Either of those signings would come as a shock, so the Steelers will most likely be left with Mitchell Trubisky and Mason Rudolph as their only in-house options as they head into the NFL Draft. Neither of those options makes sense at the helm of a team that still believes they can contend for a playoff spot in the AFC North. While in-state option Kenny Pickett could make for a sensible option, I believe the better pick would be Malik Willis; a high-ceiling, big-play quarterback that could grow into a position to rival another explosive QB in the same division. Willis is perceived as a raw prospect coming out of Liberty but it wouldn't take a mind-blowing training camp to see him leapfrog both Rudolph and Trubisky.
The
Patriots

Will Draft Another Early-Round WR to Fade (Brandon Niles)

The Patriots are a wildly successful franchise and they know how to build a team. What they don't do well is draft wide receivers. In the Bill Belichick era, the Patriots have drafted seven wide receivers in the first three rounds, including most recently, N'Keal Harry at the end of the first in 2019. Only Deion Branch turned into a solid contributor, and that was 20 years ago. This year, the draft is ripe with boom-or-bust wide receiver prospects. Despite trading for DeVante Parker, wide receiver is still a need for New England. Whomever they draft, whether it's Treylon Burks or Christian Watson in the first round, or George Pickens in the second, history suggests the pick will miss and fantasy managers will regret buying in. Also, the Patriots were tied for 25th in the league in pass attempts last season and lost the only guy in the building (Josh McDaniels) who likes to throw the ball. That means even if the Patriots find a good player, the opportunity is lacking. Let someone else get excited about a newly-minted Patriots receiver. I'll pass.
The
Chiefs

get a Wide Receiver...in the 2nd Round (Jeff Hicks)

The loss of Tyreek Hill is an impossible void to fill, especially with one player/rookie pick. The trade of Hill to the Dolphins gets the Chiefs back-to-back picks at the end of the first round which is an area where a wideout run could happen. It is okay if the Chiefs are at the end of that run or pass on receiver. Their needs are vast and adding to their offensive and defensive lines is paramount. There are a lot of offensive linemen available that are first-round talent, and the D-line prospects should be there at the end of the first round. That leaves pick 50 as the place for the Chiefs to target a wideout. There could be a gap between WR picks once the picks get into the 40s. What K.C. can do is target the best of the next tier - John Metchie, Calvin Austin, Wan'Dale Robinson, Khalil Shakur, etc. - after adding to other positions of need. Patrick Mahomes was running for his life more than anyone would like. Get help on the lines and then give him another pass catcher.
At Least Five Wide Receivers Will Be Drafted in Round One (Salvatore Stefanile)
Betting markets at the start of the NFL Draft process set the over/under of first-round wide receivers drafted at 5.5. That line has since jumped to 6.5, with the assumption at least five wideouts will find new homes in the first round. Amr Gabr has noted some NFL Draft insiders think the real number could end up being as high as seven, possibly, eight by the time the night one of the draft concludes.
Jameson Williams, Garrett Wilson, Drake London, Chris Olave, and Treylon Burks, in some order, appear to be first-round locks. When you throw in other high-profile receivers such as Skyy Morre, Christian Watson, George Pickens, and Jahon Dotson into the mix, coupled with the number of teams in need of receiver help or linked to drafting a wideout (Chiefs, Saints, Commanders, Bills, Packers, Cardinals, Eagles, Patriots, Jets, Falcons), it's a safe bet we'll see at least five first-round receivers. Our mock drafters agree, with Anthony Staggs, Ryan Noonan, and John Daigle mocking between six-to-seven receivers in the first round of their respective mock drafts. A slew of receivers with high-draft capital will surely shake up WR ADP, and possibly QB ADP, depending on landing spot. If teams like the Jets or Falcons grab a wideout early (in the top 10), Zach Wilson & Marcus Mariota will look more appealing to late-round quarterback aficionados.
Carolina
Panthers

Don't Take a QB in the First Round. (Amr Gabr)

I know this may surprise some people since basically everyone that's connected in the football world has said in some shape or form that the Panthers are taking a QB at the sixth overall pick. The Panthers might have the largest gap between picks in the draft, as their next pick after No. 6 is pick 137, and for a team that's in dire need of multiple positions, it seems suboptimal to take a QB at six. Their GM Scott Fritterer traded back four times last year in his first year as the Panthers GM and I'd expect similar results this year, especially with no second or third-round draft pick in 2022. If you've also been a reader of the NFL Draft Podcast notes most of the podcasts I've listened to have said in some way that no QB from this class is worthy of a top-10 pick and instead have mentioned that the Panthers might be in on Jimmy Garappolo or Baker Mayfield instead of going QB in the first round. I expect the Panthers to take an OT or trade back and accrue more assets to help fill out the rest of their roster.
The Philadelphia
Eagles

will Draft a First-Round Wide Receiver...AGAIN (Neil Dutton)

There's only one thing better than spending a first-round draft pick on a wide receiver in two straight seasons, and that of course is spending a first-round draft pick on a wide receiver in THREE straight seasons. Only one team has dared pull off such a sequence in NFL history, and to be honest, it's probably not the smartest policy to attempt to mimic anything the Matt Millen Detroit Lions did. But the Philadelphia Eagles will, in my opinion, spend one of their two first-round picks this year on a wide receiver, after drafting Jalen Reagor in 2020 (while as we all know Justin Jefferson was still on the board) and Devonta Smith last year.

The "need" to select another wideout may seem, on paper, to not exist, given how run-heavy the Eagles were in 2021 plus the fact that they have the lowest number of vacated targets among all NFL teams (just 31) while only losing 6.1% of their 2021 air yards. But there is plenty to suggest that Nick Sirriani does not want to become a fully paid-up member of Team #Establish and would like to see his side take to the air more often. Whether this is with Jalen Hurts at quarterback or another player in 2023, remains to be seen. But whoever is tasked with throwing the ball, adding another weapon alongside Smith and Dallas Goedert would not be a terrible idea for the Eagles.

Jameson Williams

will be the First Wide Receiver Selected (Adam Hutchison)

Whether you think it is right or not, it is going to happen. Jameson Williams is going to be the first wide receiver drafted. The NFL for the last few years has been telling us they value speed at the wideout position above all. It started in 2017 with John Ross, then again in 2019 when the Ravens selected Marquise Brown. More recently Henry Ruggs was drafted 12th overall by the Raiders and promptly followed by Jaylen Waddle coming off the board at No.6 to Miami.

In today's NFL, WRs that can separate and have the straight-line speed to stretch the field are highly coveted. Every team is out to find the next "Tyreek Hill." Even though he did not test at the NFL combine, still recovering from a torn ACL, we all know that Jameson Williams possesses these traits. The ACL tear was the only roadblock. But with recent videos surfacing online of Jameson Williams working out and being ahead of schedule, the hype train is catching some steam.

The debate on whether other wide receivers are more deserving of that number one spot is for another discussion. Personally, I have my doubts. Vegas on the other hand…does not. On Draftkings Sportsbook Williams has slowly been creeping up on Garrett Wilson with odds set at +175 as of Monday morning - a week ago he was listed at +200/+250 depending on the source. It would not be shocking to see Williams' line drop even more the closer we get to Thursday. Expect to hear Jameson Williams' name early.
Treylon Burks

Becomes the Dallas

Cowboys

' New No. 2 (Raju Byfield)

The Dallas Cowboys are in the market for a new top-three receiver. James Washington was signed this offseason to soften the blow of losing Amari Cooper and Cedrick Wilson, but the Cowboys, most notably Jerry Jones, will not pass up the fellow Arkansas product if he is still on the board when Dallas is on the clock. Things could change if one of the top three receivers slips to the 20s but failing that, Burks should be a strong consideration. He has the tools to be an ideal modern NFL weapon and should hit the ground running in the short and intermediate levels of the field, quickly becoming a go-to target for Dak Prescott.
Kenneth Walker III Gets Drafted by the Houston
Texans

(Jordan Vanek)

The Texans land Doak Walker winning running back Kenneth Walker III in the second round, giving Davis Mills a running back that can help continue his development and turn negative plays into positive ones. During Walker's college career, he played two years at Wake Forest before transferring to Michigan State, and the reason for the transfer was feeling limited by the type of offense they ran at Wake Forest. The stats showed that Walker went from 119 carries to 263 and 4.9 yards per carry to 6.2 at Michigan State. According to PFF, this transfer led to Kenneth Walker leading the country in 15+ yard carries (30) and missed tackles forced (89).

As for fantasy, he will find an easy way into getting a massive share of the workload with the backfield only containing Marlon Mack, Royce Freeman, and Rex Burkhead. With Pep Hamilton installing his offense this upcoming year, getting input on what Walker feels comfortable with as a running back can go a long way for them. The concern here is his ability to catch passes and this offense's ability to get in the red zone to score touchdowns. I do not believe he will see the receptions needed to be a must-have in PPR leagues; however, I could see his usage being similar to Sony Michel as a starter for the Rams, which will have fantasy relevance.
Packers

Trade-Up for a WR ( Billy Riccette)

In my final mock, I have the Packers trading up with the Eagles to select Chris Olave. You typically don't want to pigeonhole yourself into a position in the draft, but having two first-round picks gives the Packers some flexibility and it just makes all the sense in the world for them to move up and get a guy that fits so well with them. And it's all about keeping Aaron Rodgers happy, right? So it just feels right that the Packers trade up for Chris Olave.
Chris Olave

gets drafted by the

Chiefs

, Becomes New No. 1 (Raju Byfield)

Regardless of what one thinks about his tape, talent, and production, Chris Olave has the toolset to thrive in the right offensive scheme. He may not be an ideal number one or two receiver in the NFL, but if he gets drafted by the Chiefs, he could have WR1 seasons in store for dynasty managers and redraft managers alike. Armed with two first-round picks, Kansas City should have their choice of tier-three receivers like Olave, Christian Watson, George Pickens, Justyn Ross, and others. The Chiefs would love to land Jameson Williams but will likely need to trade up to do so. If they stand pat and tier-two receivers like Jahan Dotson and Treylon Burks are already selected, expect them to tap Olave as a welcomed consolation prize. With only JuJu Smith-Schuster and Marquez Valdez-Scantling to compete with for full-time snaps (Mecole Hardman likely remains a part-time player), Olave could make an instant impact for the Chiefs.