Ryan Noonan's 2022 NFL Mock Draft (Version 1.0)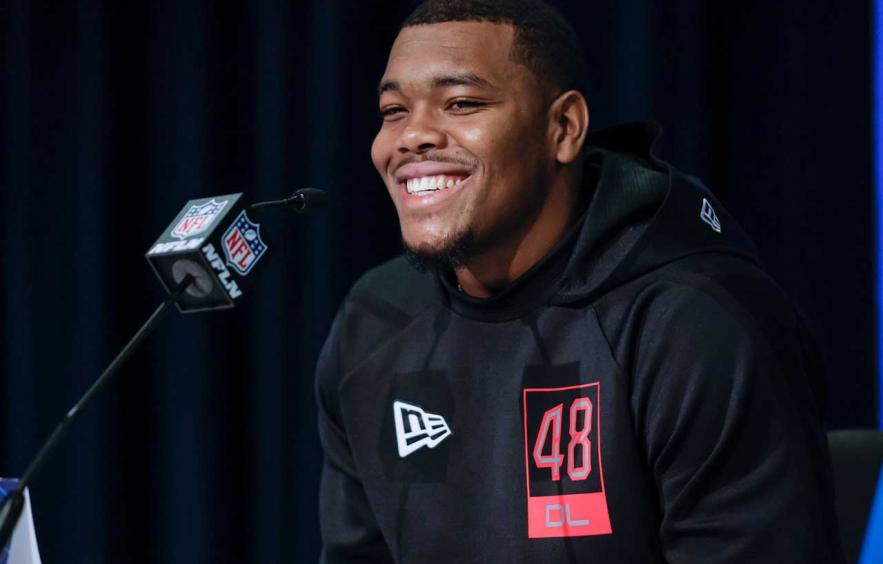 Michael Hickey/Getty Images
It's Mock Draft Season, and I'm excited to submit version 1.0 of my 2022 NFL Mock Draft. We're less than two weeks away from the draft and the little birdies are chirping louder and louder as we get closer to one of the best betting events of the year.
This is an exciting draft class and draft as a whole. We're missing the surefire quarterbacks at the top of the draft, and we have eight teams with multiple first-round selections. That adds a level of intrigue and speculation that makes accurate mocking difficult. Still, I feel good about this first run through the top 32 picks. I've had success with mocks in the past, finishing 15th out of 181 'Mockers' last season.
Let's jump in.
---
2022 Draft NFL Draft Date & Time
Date: Thursday, April 28 (Round 1), Friday, April 29th ( Rounds 2 & 3) & Saturday, April 30th (Rounds 4-7)
Time: 8:00 PM EST (Round 1), 7:00 PM EST (Rounds and 3), &12:00 PM EST (Rounds 4-7)
Channels: NFL Network, ESPN & ABC, also FuboTV Livestream
---
More 2022 NFL Draft Resources: Anthony Staggs' Mock Draft | John Daigle's Mock Draft | Big Board | Dalton Kates' Prop Bets | Draft Podcast Notes | Move the Line Props Betting Tracker | Draft Betting Odds & Tracker
---
2022 NFL Mock Draft
*Last Updated: April 15, 2022
1. Jacksonville
Jaguars
Travon Walker, DE, Georgia
Mock-based Positional Needs: EDGE, OT
I'm not convinced this is Aidan Hutchinson, though the current betting market disagrees. Protecting and building around your franchise quarterback makes too much sense to me. This market shifted after Jacksonville extended another franchise tag offer to left tackle Cam Robinson. Still, even with that signing, the Jaguars lack depth up front after the departure of Andrew Norwell to Washington in free agency. Reports from Jacksonville show an internal debate is still being waged, with new Head Coach Doug Pederson pushing for Ikem Ekwonu. At the same time, the front office is torn on the pass-rushers. However, the Travon Walker steam is real, and I have to acknowledge it.
Travon Walker is the ultimate shorts-and-t-shirt-guy. The Georgia defensive end tested off the charts, with a 9.99 (10 scale) Relative Athletic Score (R.A.S) according to ras.football, and the drumbeats on him going early, even at the 1.01, are getting louder and louder. I just don't get it. I know prospect evaluation shouldn't be the focus when trying to handicap how the first round will go. Still, Walker's lack of production in the nation's top defense is troubling. According to PFF, Walker's pass-rush win rate was just 12% over the past two seasons. That's a massive gap between what we saw from Hutchinson (24.3%) and Kayvon Thibodeaux (20.7%). Still, NFL front offices are known to fall in love with sexy Pro Day and combine performances, and few were sexier than Walker's.
2. Detroit
Lions
Aidan Hutchinson, DE, Michigan
Mock-based Positional Needs: EDGE, QB, S, CB
The Lions would love for this to happen. They'd fill one of their most significant needs with the local college star, a kid who checks all the boxes on and off the field. Detroit got next to nothing from Michael Brockers last season, and Charles Harris is coming off of his best year, with 7.5 sacks to lead the team. He's a serviceable compliment to Hutchinson, who comes in on Day 1 and makes your defense better.
If Hutchinson goes No. 1 to Jacksonville, Detroit will still likely take an EDGE rusher here. We've seen quarterbacks, mostly Malik Willis, mocked to Detroit, but I think the Lions like Jared Goff more than you and I do. The Lions also have picks 32 and 34, so if they want to address the position, they can move up into the mid-first or even hold tight and see if their target falls to them at 32.
3. Houston
Texans
Evan Neal, OT, Alabama
Mock-based Positional Needs: EDGE, OT, S
Suppose the Jaguars believe offensive line is the way to go at the top spot. In that case, Evan Neal is very much in play at the top because of his experience and willingness to play right tackle or guard. Of course, that's part of his appeal with the Texans as well. After bringing Laremy Tunsil back and drafting Tytus Howard in 2019, Neal would likely slot into a guard position as a rookie and develop into the left tackle of the future for the Texans.
I think Houston's focus here could be on the defensive side of the ball, with needs at EDGE rusher and in the defensive backfield. The Texans also hold Cleveland's pick at 13.
4. New York
Jets
Kayvon Thibodeaux, DE, Oregon
Mock-based Positional Needs: EDGE, CB, OT, WR, S
New York has been linked to numerous positions, mainly because they also hold the 10th pick in this year's first round. They could go several ways depending on how the board shakes out ahead of them. Joe Douglas knows Robert Salah was able to lead one of the league's best defensive units in San Francisco on the back of a dominant front-four. We're not far removed from Kayvon Thibodeaux being this draft's consensus top prospect.
If Hutchinson goes No. 1 to Jacksonville, I think Thibodeaux goes second to Detroit. That domino would bring offensive tackle into play here for the Jets since that likely means the three defensive EDGE players went 1-3. Ahmad "Sauce" Gardner has been a name attached to both New York teams, though Connor Hughes, who covers the Jets for The Athletic, is adamant the Jets will pass on a corner in the first round.
5. New York
Giants
Ikem Ekwonu, OT, North Carolina St.
Mock-based Positional Needs: OT, EDGE, CB
The free-agent additions of Jon Feliciano and Mark Glowinski shouldn't prevent the Giants from continuing to address the team's biggest need with one of their two top-seven picks.
With the top three defensive EDGE prospects off the board, taking the top offensive lineman ahead of the Panthers seems optimal if the Giants consider Ahmad "Sauce" Gardner here instead. Local N.C. State product should, and likely would be in consideration for the Panthers at six, while cornerback is one of the lone bright spots on Carolina's roster. Gardner makes little sense for them.
6. Carolina
Panthers
Charles Cross, OT, Mississippi State
Mock-based Positional Needs: QB, OT
Handicapping the Panthers here is quite challenging. The constant steam has been at the quarterback position, particularly Kenny Pickett. Yada, yada, yada, Matt Rhule, Temple, David Tepper, Pitt alum, etc.
I believe the Panthers would love to trade out of this pick since they don't have a second- or third-round pick. I'm not sure how a rookie quarterback, one no one in the scouting community is exceptionally high on, can save Matt Rhule's job. I also don't know why new general manager Scott Fitterer would factor this into his decision-making process. This is the first pick he'll make as a G.M., and Matt Rhule appears to be a lame-duck coach. I'm having trouble finding a home for Kenny Pickett in the first round if he doesn't land here, but that's a problem for another time.
If the Panthers cannot trade out of this pick, addressing their porous offensive line is a must. Last season, Carolina ranked 29th in ESPN's pass-block win rate and didn't fare much better on the run-blocking side, coming in at 26th overall. The knock on Cross is that he's coming out of an Air Raid system under Mike Leach at Mississippi State, so he's a work-in-progress when it comes to run blocking.
7. New York
Giants

(from Chicago)
Ahmad "Sauce" Gardner, CB, Cincinnati
Mock-based Positional Needs: OT, EDGE, CB
Look, you don't go by "Sauce" publicly if you can't ball. There's a big difference between "my friends call me Sauce" and, "Screw this. I'm dropping Ahmad and going by Sauce." That alone would excite me if I'm a Giants fan. The 6-foot-3 Bearcat didn't allow a single touchdown pass while at Cincinnati, and his abilities as a press coverage specialist would be a massive plus in new defensive coordinator Wink Martindale's blitz-heavy scheme that forces man coverage on the outside. It all makes too much sense. We also took a strong position on Gardner Under Pick 7.5, so this works. This feels like his floor.
8. Atlanta
Falcons
Jameson Williams

, WR, Alabama

Mock-based Positional Needs: WR, EDGE, QB, CB

Don't cheat. Name three wide receivers on the Falcons. (Calvin Ridley doesn't count, and I'm sorry, Kyle Pitts is a tight end.)

It's bad, folks. It was ugly before the unfortunate Ridley news, and now it's dire. The Falcons have a number of needs, but they can't pass up a wide receiver here, and Jameson Williams is the best in this class. I was of the opinion the Falcons, and most of the other receiver-needy teams in this range, might not be willing to wait on Williams' delayed return to the field after a late-season ACL tear. Still, the drumbeat on Williams continues to get louder and louder each day. The most optimistic reports have him ready to go in Week 1.

The Falcons have so many holes to fill I'm not sure I'd be surprised by anything here. If Gardner is available, he should be in consideration. Also, they had one of the league's worst pass rushes last season, so a move for Florida State's Jermaine Johnson would make sense here.
9. Seattle
Seahawks

(from Denver)
Trevor Penning, OT, Northern Iowa
Mock-based Positional Needs: OT, QB, EDGE, CB
Like the Falcons, the Seahawks have so many holes on their roster, so nothing would surprise me here. They're certain to lean into a run-first offensive identity without Russell Wilson under center, so a 6-foot-7 run-mauling athletic freak like Trevor Penning is a perfect fit. Penning scored a 9.96 out of 10 in R.A.S, which ranks sixth out of 1,146 offensive tackle prospects over the past 35 years. The Seahawks need to address the offensive line in this draft, and Penning's skill set pairs nicely with what Pete Carroll wants to do.
Sidney Jones and Justin Coleman are a serviceable duo at cornerback. Still, I wouldn't fault the Seahawks for taking a long look at Derek Stingley Jr., who calmed any concerns about his health at last week's Pro Day. He's an ascending name as draft day approaches. With Drew Lock penciled in as the Week 1 starter, Seattle will do their due diligence on all of this year's signal-callers.
10. New York
Jets

(from Seattle)
Drake London

, WR, USC

Mock-based Positional Needs: EDGE, CB, OT, WR, S

Again, I'd have no issue with Jameson Williams here. I think everyone's encouraged by the early recovery trend he appears to be showing post-ACL surgery. Drake London's catching a lot of Mike Evans and Michael Pittman Jr. comps heading into the draft, and a big-bodied receiver compliments Elijah Moore and Corey Davis well in New York. I believe he's a better fit for the Jets than Chris Olave, who's also been mocked to the Jets often in the weeks leading up to the draft.

I'd be surprised to see the Jets make two picks in the top 10 and not come away with a pass-catcher. After swinging and missing on Tyreek Hill in the trade market, the Jets have shown us that adding weaponry to Zach Wilson's arsenal is a priority.
11. Washington
Commanders
Garrett Wilson

, WR, Ohio State

Mock-based Positional Needs: WR, QB, CB, S

The Carson Wentz deal crosses quarterback off the list of immediate needs. This pick feels increasingly like a choice between whichever wide receivers remain on the board come pick 11. In this case, it's a decision between Ohio State wideouts, and my lean is Garrett Wilson. The only knock on Wilson is his size, but he's an electric playmaker with strong hands who's shown an ability to line up all over the field at Ohio State. I think there's something to the fact Ron Rivera attended the Ohio State Pro Day. As Josh Norris noted in his first mock draft, Rivera's presence at Pro Days is few and far between. Past appearances have resulted in selections of Cam Newton and Christian McCaffrey while Rivera was in Carolina. Wilson and Chris Olave feel like the clear options, considering the club got little to nothing out of Curtis Samuel and Dyami Brown last season.

I think Derek Stingley Jr. and Kyle Hamilton are in play here, with Hamilton also checking the 'Rivera attended his Pro Day' box.
12. Minnesota
Vikings
Derek Stingley Jr., CB, LSU
Mock-based Positional Needs: CB, EDGE, DT
Derek Stingley Jr.'s star isn't nearly as bright as it was after his freshman year when he seemed like a lock to be a future top-five NFL Draft pick, but an ankle injury in 2020 was followed up with a more severe Lisfranc injury that led to just three games played in 2021. The injury concerns remain, but his current health status was put on display at last week's LSU Pro Day. Nevertheless, Stingley Jr. showcased the same natural athleticism that pops on his 2019 game tape and instantly turned from a sliding talent to a rising prospect.
If Stingley isn't available, one of the other top corners could be in play, but this feels like a defensive addition no matter what.
13. Houston
Texans

(from Cleveland)
Kyle Hamilton, Safety, Notre Dame
Mock-based Positional Needs: EDGE, OT, S, WR
We're only a couple of weeks removed from Kyle Hamilton being the betting favorite at No. 2 to Detroit. A mediocre Pro Day, highlighted by a less-than-impressive 40-yard dash time, is at the heart of Hamilton's slide down the board. Scouts and film grinders love him, though, and at 6-foot-4 and 220 pounds, I'm not overly concerned he doesn't run 4.5 flat. Unfortunately for Hamilton, there isn't much precedent for safeties being drafted in the top five, which is also leading to his slide. Still, I think the Texans consider him at third overall and get a gift here at pick 13.
Adding a wide receiver opposite of Brandin Cooks should also be a priority, but the Texans pick early in the second round (37 overall). Suppose Houston selects one of the tackles at pick No. 3, or Hamilton is off the board. In that case, this could be one of many other defensive options still available.
14. Baltimore
Ravens
Jermaine Johnson II, EDGE, Florida State
Mock-based Positional Needs: DT, EDGE, OT, C, CB
The betting markets have Jermaine Johnson II as a prohibitive favorite to go inside the top 10. The Florida State prospect is more Travon Walker than Adian Hutchinson, with Pro Day and measurables buzz, that doesn't exactly match his output on the field. However, taking a swing on athleticism and tools in the teens is quite different from doing so at the top of the board, so this would be an outstanding addition to Baltimore's defense. I think Atlanta and Seattle are first-round wild cards, but if books offered a two-way market on Johnson inside the top 10, I'd play "No" at even odds.
Trevor Penning could be the pick if Seattle passes on him at No. 9. Georgia's DT Jordan Davis is very much in play with this pick.

15. Philadelphia
Eagles

(from Miami)
Trent McDuffie, CB, Washington
Mock-based Positional Needs: WR, CB, LB, DT, EDGE
The Eagles can go in a variety of ways here. They also pick again at 18. Adding Haason Reddick in free agency helps lessen their need to add a pass-rusher here, but there's a gaping hole at right corner opposite of Darius Slay. McDuffie has garnered a lot of pre-draft buzz after allegedly crushing the interview portion of the NFL Combine and Pro Day. He's a versatile defensive back who won't blow you away with his size but fits defensive coordinator Jonathan Gannon's zone-heavy scheme.
The Eagles could—and probably should—ring the bell at wide receiver again in the first round. Selecting one ahead of the Saints is perhaps the best move unless they have multiple options still on the board they're comfortable with.
16. New Orleans
Saints

(from Indianapolis through Philadelphia)
Chris Olave

, WR, Ohio State

Mock-based Positional Needs: WR, QB, OT

The Saints need to add offensive talent to the roster. Even with Michael Thomas' return, New Orleans lacks depth at the position to support Jameis Winston. The addition of Chris Olave would slide everyone into a more comfortable role on the depth chart. He's in play anywhere from the Jets at 10, all the way down to the Cardinals at 23.

The Saints are also in the market to add an offensive lineman after Terron Armstead left for Miami in free agency. There are reports they're willing to take a quarterback if one falls into their lap.
17. Los Angeles
Chargers
Jordan Davis, DT, Georgia
Mock-based Positional Needs: DT, OT, WR, CB
The Chargers have already added Sebastian Joseph-Day and Austin Johnson in free agency, but I'm not sure they'd be able to pass on Jordan Davis here. With Brandon Staley willfully neglecting to defend the run last season, adding Davis would allow Staley to maintain his defensive principles while shoring up a known weakness.
A right tackle should also be in consideration, and I could see them adding depth at the cornerback position if Davis isn't available.
18. Philadelphia
Eagles

(from New Orleans)
Treylon Burks

, WR, Arkansas

Mock-based Positional Needs: WR, EDGE, CB, LB, DT

Just because the other guys didn't pan out doesn't mean you don't have a need at the position. Yes, this is three straight years of first-round receiver picks for Philadelphia. But, as I said with the Saints, adding a talent like Burks, a great complement to DeVonta Smith's skill set, allows everyone else on the depth chart to slide down to where they belong. It also gives Jalen Hurts another weapon in the passing game.

Devin Lloyd is another name some have linked to the Eagles, but some folks plugged into the team insist Howie Roseman and company would never take an inside linebacker in the first round. He's still too talented to be on the board, but finding a home for him is complicated.
19. New Orleans
Saints

(from Philadelphia)
Tyler Smith, OT, Tulsa
Mock-based Positional Needs: WR, QB, OT
Similar to Trevor Penning, Tyler Smith is a big-bodied athletic freak who's a bit underrated because he played at Tulsa and not Oklahoma. The Saints have a glaring need to fill Terron Armstead's spot on the line, and Smith has been moving up draft boards after his robust athletic testing in the pre-draft process. He's not a flawless prospect, but he just turned 21 last week and has the foundation of a decade-long starter.
I believe the Saints would have moved up higher in the first round if a quarterback is genuinely a priority. However, I'd understand why they'd pluck Kenny Pickett up here if he was still on the board.
20. Pittsburgh
Steelers
Malik Willis

, QB, Liberty

Mock-based Positional Needs: QB, OT, G

The reports out of Malik Willis's Pro Day were glowing and had him a viable option near the top of the board. As we get closer to draft day, though, that seems to be a contrarian take. According to ESPN's Todd McShay, Steelers head coach Mike Tomlin told Liberty coach Hugh Freeze Pittsburgh would be very interested in Willis if he's available at pick 20. Installing an offensive that's friendly for a mobile quarterback allows the Steelers to start Mitchell Trubisky to begin the year as the starter and fit Willis in seamlessly when he's ready.

I'd peg an offensive lineman here if Willis is off the board.
21. New England
Patriots
Devin Llyod, LB, Utah
Mock-based Positional Needs: CB, WR, LB
I could see the Patriots going in a lot of different ways here, and I still believe their first priority would be to trade back and acquire more picks. The Patriots still lack playmakers on offense and have lost free agents at cornerback and along the offensive line.
They also have issues at linebacker, with Dont'a Hightower and Jamie Collins' statuses up in the air. Devin Llyod is a talented ballhawk who can blitz and drop back into coverage, and his versatility is something New England has historically coveted.
22. Green Bay
Packers

(from Las Vegas)
Quay Walker, LB, Georgia
Mock-based Positional Needs: WR, EDGE, OT, DT
There's been a lot of discussion around Green Bay's double-tapping wide receiver in the first round. That's always seemed improbable to me, and the recent addition of Sammy Watkins all but assures that won't be the case. Now, it's still a hole that needs to be filled, but I think they add to the defensive side of the ball with Quay Walker, an athletic off-ball linebacker who is terrific dropping into coverage. He's been a riser throughout the draft process because of his impressive 4.52 40-yard dash performance and leadership skills shown during the interview process.
Green Bay could elect to go receiver here. However, even with the Watkins addition, they need to add depth to the position, and there are numerous fits still on the board.
23. Arizona
Cardinals
George Karlaftis III, EDGE, Purdue
Mock-based Positional Needs: EDGE, CB, G, WR
J.J. Watt is no spring chicken, and Chandler Jones took his talents to Las Vegas, so this is a perfect marriage between falling prospect and team need. George Karlaftis III was often pegged as an early first-round pick early in the pre-draft process, and he still could be. He's at his best when utilizing his strength and bull-rushing style to power through opposing offensive lineman. Still, he has tremendous speed for his size as well. He's set to visit Arizona in the coming days.
The Cardinals have a few other needs that would make sense and likely wouldn't force an EDGE rusher if someone like Karlaftis is off the board.
24. Dallas
Cowboys
Zion Johnson, OL, Boston College
Mock-based Positional Needs: G, OT, EDGE, LB, C
With Connor Williams taking his talents to south beach, the Cowboys have a big hole on the offensive line that needs to be addressed. I give Zion Johnson the slight edge over Kenyon Green, another internal lineman prospect out of Texas A&M. Reports also have Dallas leaning Johnson over Green. Johnson has above-average length for a guard, and his athletic testing secured his spot in the first round.
Give Jerry Jones a microphone, and he'll give you a headline. He's talked about a desire to add to the receiver room, but I don't see that happening unless Treylon Burks is still on the board.
25. Buffalo
Bills
Daxton Hill, DB, Michigan
Mock-based Positional Needs: CB, WR, DT, G, LB
Daxton Hill's versatility has caught the attention of NFL front offices, and he'd be a terrific pick here for the Bills. Hill played safety in college but is quick enough to play slot corner or even on the outside as he develops. His swiss-army-knife positional flexibility allows the Bills to do a variety of things both on and off the field. Jordan Poyer is heading into the final year of his contract and recently brought on Drew Rosenhaus to represent him. That rarely translates to an extension with your current club, but Hill would lessen that blow.
The Bills have a talented roster and can go the "best player available" route. I think it's a defensive back regardless. I'll adjust if the drumbeat on a running back gets louder over the coming days.
26. Tennessee
Titans
Kenny Pickett

, QB, Pittsburgh

Mock-based Positional Needs: WR, LB, OT, G, QB

This is more about having Kenny Pickett in the first round than it is fit. Still, there have been an increasing number of discussions around the Titans nabbing a falling quarterback in this spot. In this mock, that's Kenny Pickett. Ryan Tannehill's play fell off a bit last season and he could easily be a cap casualty this time next year.

Offensive line help would also make sense here.
27. Tampa Bay
Buccaneers
Kenyon Green, OL, Texas A&M
Mock-based Positional Needs: G, DT, EDGE, CB, WR
With Tom Brady returning and Ali Marpet retiring, Tampa Bay's focus should be maintaining depth along their offensive front. Kenyon Green makes too much sense here if he's available because of his ability to play inside.
Adding to the defensive line is in play, too. Still, I believe the Buccaneers can find a viable option later and prioritize protecting Brady in the first round.
28. Green Bay
Packers
Christian Watson

, WR, North Dakota State

Mock-based Positional Needs: WR, EDGE, OT, DT

After scoring a 10 out of 10 Relative Athletic Score, Christian Watson has been trending up and is a viable trendy addition to the bottom of the first round discussion. At 6-foot-4 and 208 pounds, Watson's athletic profile fits the archetype Green Bay has focused on historically at the position. Therefore, I give him the edge over Skyy Moore or Jahan Dotson.
29. Kansas City
Chiefs

(from San Francisco through Miami)
Jahan Dotson

, WR, Penn State

Mock-based Positional Needs: WR, EDGE, S, CB, DT

The Chiefs have overhauled their wide receiver room this offseason and need to add depth and talent to make up for the loss of Tyreek Hill. Jahan Dotson, who showed an incredible ability to get open at Penn St., would be an excellent fit in Kansas City's offense. He's a bit small but ran a 4.41 40-yard dash and rarely dropped the ball despite being a target hog for the Nittany Lions.

With back-to-back picks, the Chiefs could look to move up, but the wide receiver position would still be the focus based on everything we're hearing.
30. Kansas City
Chiefs
Kyler Gordon, CB, Washington
Mock-based Positional Needs: WR, EDGE, S, CB, DT
Kyler Gordon possesses elite physical tools. Across from Trent McDuffie in Washington's zone-heavy scheme, Gordon showed short-area quickness and ball skills that translate well to the NFL. In addition, Gordon is physical and versatile, making him a fit for any defensive system.
If the Chiefs sit here and make two picks, I'm confident receiver and defensive back are their priorities.
31. Cincinnati
Bengals
Tyler Linderbaum, OT, Iowa
Mock-based Positional Needs: G, CB, OT, C, DT
The Bengals entered the offseason with a clear need along the offensive line. They've done a terrific job at addressing it. La'el Collins, Alex Cappa, and Ted Karras have been added this offseason. In addition, they can add depth and versatility here with Tyler Linderbaum. The Iowa center can play guard in the short term while being the team's long-term answer at the center position.
There are a handful of first-round talents available at defensive back, and that's another option for them here late in the first.
32. Detroit
Lions

(from Los Angeles

Rams

)
Desmond Ridder

, QB, Cincinnati

Mock-based Positional Needs: WR, QB, LB, S

This could be the Lions or another team that values Desmond Ridder and the fifth-year option they'd get by adding him at the end of the first instead of early in the second round. His arrow is pointing up, and he's a nice long shot to be the first quarterback selected. The Lions also have the second pick in round two.