4 Under the Radar Dynasty Players to Target Late in Rookie Drafts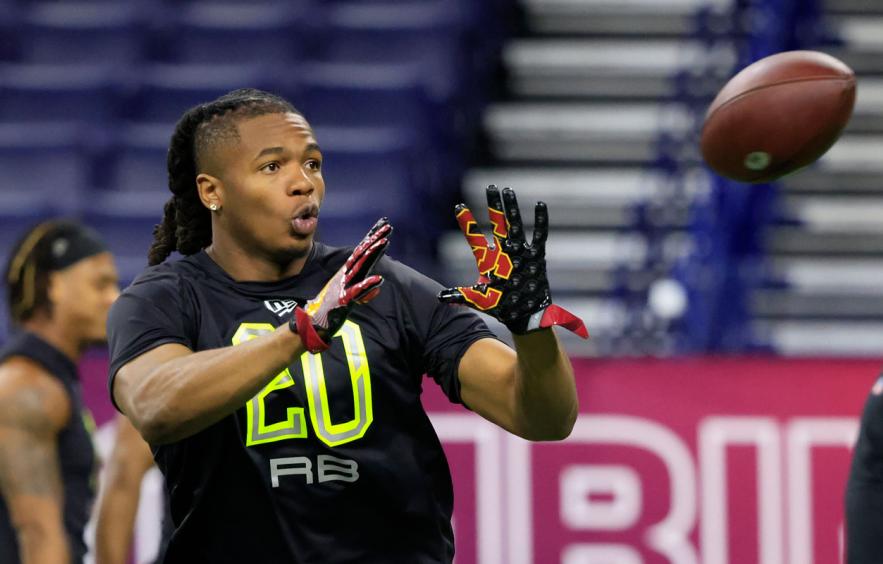 Justin Casterline/Getty Images
In today's age of fantasy football there really is no such thing as a "sleeper" even when it comes to rookie drafts. The fantasy football community has access to more content creators than ever who all produce a variety of content, even some that focus solely on college football in an effort to help inform the public about the incoming rookies.
---
More Dynasty Content: Dynasty League Football | 10 Dynasty Players to Trade Before the NFL Draft | Keys to Running a Keeper League | More to Come!
---
Nevertheless, there are always a few players that seem to slip through the cracks, and as dynasty managers, we make finding these players our mission. Investing in the next James Robinson or Elijah Mitchell could pay tenfold for your dynasty roster. Below are a few of my favorite soon-to-be rookies that are flying under the radar.
Keaontay Ingram

- RB University of Southern California (USC)

Quick Analysis: Potential three-down back going late in rookie drafts.

In-depth Analysis: The first thing you need to know about Keaontay Ingram is that he was essentially forced out of Texas by a younger running back who commanded more RB touches and was more efficient with this workload than Ingram. The second thing you need to know about Keaontay Ingram is that this younger running back was Bijan Robinson. If you are not familiar with Robinson then you will be shortly, because in 2023 he will likely be the 1.01 across all formats in dynasty rookie drafts. Robinson is the epitome of a slam dunk prospect. You may have already noticed some managers in your league pulling the ripcord on the 2022 draft class and flipping 2022 picks for 2023 picks. A big reason some are using this strategy is because of Bijan Robinson.

This isn't a puff piece on Robinson, but it's worth mentioning why Ingram left Austin. With all that said, I like Ingram because he is a running back with the build and skill set to function as a three-down back in the NFL. This is rare to find later in drafts. At 6'1, 221lbs Ingram handled nearly 50% of USC's rushing attempts amongst running backs and was by far the most efficient, averaging 5.8 yards per carry. Nothing exemplifies this more than Ingram's 79th percentile box-adjusted efficiency ranking per Breakout Finder's very own Noah Hills (@noahmoreparties) which factors in rushing efficiency based on the number of defenders a running back faces in the box. Ingram's box-adjusted efficiency numbers are better than that of Najee Harris and Jonathan Taylor when they were in college.

While Ingram's frame suggests he would be a between-the-tackles grinder, he managed to average a respectable 2.2 receptions per game. Although passing involvement varies based on offensive scheme, a solid threshold of 20 receptions per year typically translates well to the NFL. Ingram was up to the passing role task, meeting this mark three times, which is another feather in Ingram's cap to support that he could be a true three-down threat on Sundays.
Bo Melton

- WR Rutgers

Quick Analysis: Athletic wideout who was hampered by a poor functioning offense in college, but offers big-play ability in the NFL.

In-depth Analysis: Bo Melton is a relatively unknown player heading into the 2022 NFL draft and to be completely honest, even as an avid follower of Big Ten college football, I had not heard of him. The more I started to look at his profile, the more intrigued I became.

Melton was an afterthought because he did not put up the same flashy numbers compared to other wide receivers in this draft class. Rutgers passing attempts per game ranked amongst the bottom half in college football. Combine the low-volume passing attack with subpar quarterback play and you get a wideout that never crested 650 receiving yards his entire college career. However, when the Scarlet Knights were throwing the ball (albeit not very accurately) Bo Melton managed to lead his team with >20% of target share in both his junior and senior year illustrating how important he was to his team's offense

What is most exciting about Bo Melton came after his college football career was over. At the Reese's Senior Bowl Melton caught the attention of NFL scouts and talent evaluators alike with his ability to separate from defenders while running routes. Even Jim Nagy, Director of the Reese's Senior Bowl and former NFL scout of 18 years, mentioned that Melton's athleticism and footwork made him an "underrated playmaker." Melton entered the Senior Bowl as an unknown but left as one of the more impressive WRs from the weekend.
Some of best releases have a skate or glide to them. Filthy footwork here by Rutgers WR Bo Melton. @getbusy__bo is one of most underrated playmakers in 2022 draft.#BestoftheBest #TheDraftStartsInMOBILE™️ pic.twitter.com/dV7FBupGtt

— Jim Nagy (@JimNagy_SB) February 17, 2022
The athleticism Bo Melton displayed at the Senior Bowl was not a fluke either. Melton solidified that he has special traits with a 4.34 40-yard dash and 38-inch vertical. Kent Lee Platte (@MattBomb) gave Melton a Relative Athletic Score (RAS) of 9.24/10. Based on projections, Melton would rank top-5 in RAS amongst WRs expected to get drafted. RAS score is a way to gauge how athletic an NFL prospect is compared to others at this position. And although it does not tell you everything about a prospect, it can be a good indicator of when a player will be drafted. Since 2017, WRs selected in the top-4 rounds of the NFL draft have an average RAS of 7.7. This is what fantasy managers who draft Bo Melton hope for, that Melton gets selected by the 4th round, competes in training camp, and gets on the field due to his athleticism. This is how opportunities are taken and late in a dynasty rookie draft opportunity is all you can hope for.
Tyler Goodson

- RB Iowa

Quick Analysis: Prototypical third-down back with breakaway speed.

In-depth Analysis: In a school known for its ground and pound/hard nose offense, Tyler Goodson is a bit of an anomaly. Goodson is not your typical Hawkeye back. His speed and pass-catching chops are what make him an intriguing prospect at the next level. Similar to Bo Melton, Goodson also checked a lot of the athleticism boxes at the NFL Combine. Unlike Melton, this athleticism was on full display during Goodson's time in Iowa City.

Tyler Goodson was always a big play waiting to happen, especially in 2021. 34% of Goodson's rushing yards came on big plays of 10+ yards. Meaning that Goodson was consistently breaking off big runs. Among other running backs in this class, Goodson's big-play rate ranks third behind only Breece Hall and Kenneth Walker III - without a doubt the RB1 and RB2 in this class.

Goodson's smaller stature (5'9, 197lbs) probably means he gets very limited work on early downs in the NFL however he is well suited to be a pass catcher and be involved on third downs. Goodson is one of four RBs in this draft class that averaged >10% of his team's receptions and receiving yards (listed as "dom_rec" and "dom_yds" below).

Past running backs that have hit this mark the past two seasons include Eno Benjamin, Zack Moss, Demetric Felton, Kenny Gainwell, and Travis Etienne. And although to this point none of those players have lit the world on fire when it comes to fantasy production, they all for the most part have carved out a role in their respective offenses. Tyler Goodson reminds me a lot of Gio Bernard and if he could find an NFL team that uses him as such, there is certainly a path to fantasy relevance.

Sincere McCormick

- RB University of Texas-San Antonio (UTSA)

Quick Analysis: Super late dart throw with a minimal draft capital investment that offers fantasy production in PPR leagues.

In-depth Analysis: To be fully transparent, Sincere McCormick is an absolute dart throw. McCormick is currently projected to be a Day-3 pick and there is a non-zero chance that he completely goes undrafted. If that happens to be the case then McCormick could be your very last pick if not added off waivers depending on the size of your fantasy league. I've included him here because every time I watched him play I was impressed.

At UTSA McCormick was an early producer. He technically "broke-out" his true freshman season despite failing to hit the 1,000-yard rushing mark. He promptly eclipsed 1,400 yards on the ground the next two seasons and elected to forgo his senior season and enter the 2022 NFL draft.

It should not come as a surprise that UTSA was not playing the stiffest competition but when they did, McCormick rose to the occasion. Some of his game logs include rushing for 87 yards and two TDs vs. Baylor, >200 total yards and three TDs against Memphis, and steamrolling Illinois on the ground for 117 yards. Games like these are what initially drew me toward McCormick.

Much like Goodson, McCormick does not look like an every-down RB, and will likely need to find a special niche to become fantasy viable. He does have the makings of a pass catcher as well, ranking top-10 in this RB class in team reception share, ahead of players like Kenneth Walker, Zamir White, and the aforementioned Keaontay Ingram.

Sincere McCormick is certainly a long shot to even make an NFL team let alone be anywhere on your fantasy roster, but he will require minimal investment come rookie drafts. If he can stick around the NFL he might be worth a stash on your bench.