Running Back Market Shares: Week 6 Report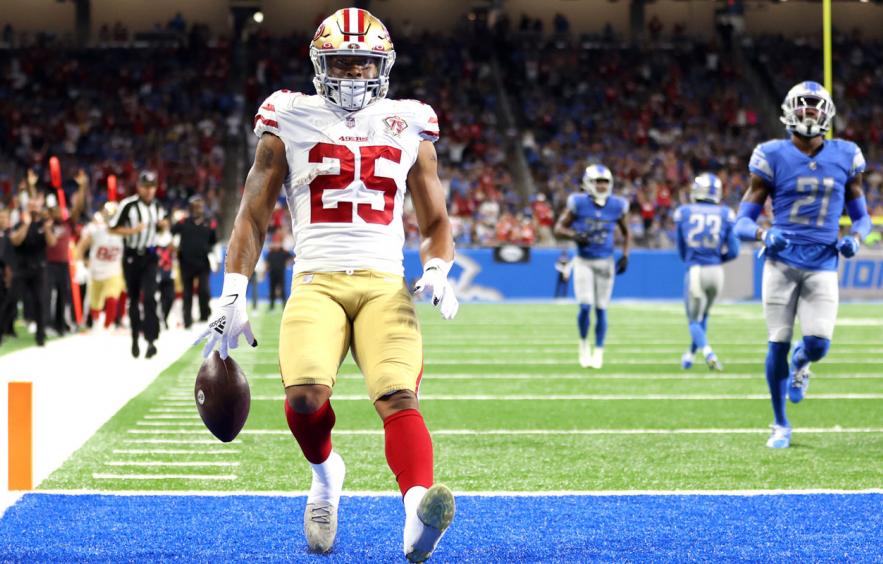 Gregory Shamus/Getty Images
In the modern NFL, the running back is no longer the focal point of an offense. Gone are the days where a 400-touch rusher is the norm, and now is the age of the running back-by-committee. With carries and targets being diluted between backs more than ever, it's important for fantasy managers to know which backs are seeing usage and how they're being utilized.
This column will explore the landscape of running back rushing and receiving through team market shares – the percent of a team's running back rushes or the team's passing targets. By looking at these rates of usage rather than raw totals, we help to strip away some of the noise of game script and pare our data down to the truer representation of how each offense thinks about its backfield.
Without any further ado, let's ring the bell and open the markets: which running backs had a significant change in usage in Week 5?
Carries
Elijah Mitchell

, San Francisco

49ers

, +81.8% running back rushing share

Look, I know that running back draft capital matters much less for predicting workload than other positions, but color me stunned that San Francisco 49ers sixth-round rookie rusher Elijah Mitchell is apparently "the guy" in that backfield. The Niners also happened to trade up for third-round back Trey Sermon in this same rookie class, but that doesn't seem to matter. Mitchell has been a usage black hole: whenever he's present, he's sucking up all the touches.

After a few weeks off the field due to injury, Mitchell returned to nine rushes and two catches; Sermon was demoted to just one touch overall. It's worth noting that Mitchell's passing-game workload was also a solid 8.7% team target share, and it looks like he is the Niners' lead, three-down back until further notice. Perhaps he'll get more volume of work if and when Jimmy Garoppolo returns as the starting quarterback, but either way, Mitchell's return makes Sermon nothing more than a handcuff.
Khalil Herbert

, Chicago

Bears

, +44.1%

I spent most of my article space last week talking about how Damien Williams dominated touches for the Chicago Bears in Week 5 when David Montgomery went down with a multi-week knee injury. I, fortunately, did think to mention that sixth-round rookie running back Khalil Herbert could also see some run, but he was a major afterthought to me. Now, though, it's clear that there will at minimum be a committee approach to replacing Montgomery. Williams saw the greater backfield target share and took 75% of the team's goal-line running back work, while Herbert saw the lion's share of rushing work. Williams is still the more valuable of the two due to his role, but Herbert is even more worthy of prospective stashing now.
Rhamondre Stevenson

, New England

Patriots

, +40.7%

In Rhamondre Stevenson's first game back on the active roster after his Week 1 fumble, he was the go-to rusher in the second half of the New England Patriots Week 5 tilt due to a Damien Harris chest/rib injury. Harris is expected to be fine going forward, but he did fumble in this game – a big no-no in New England. Stevenson is worth a speculative add for now, especially in deeper formats, despite the Patriots' trademark unpredictability when it comes to their backfield usage.
James Robinson

, Jacksonville

Jaguars

, -11.7%

A return from injury for Carlos Hyde means Jacksonville Jaguars' top running back James Robinson will of course see slightly less work. It's actually positive for Robinson that he didn't lose nearly as many touches as he could have to the veteran Hyde, but Robinson's target share also dropped by more than six percentage points. This situation is worth keeping an eye on, and Robinson might be worth dangling in a trade if you don't want the headache of prognosticating the Jaguars' backfield workload going forward.

Others of Note: Devontae Booker, NYG (+77.1%); Mark Ingram II, HOU (+32.1%); Cordarrelle Patterson, ATL (+26.0%); Damien Harris, NE (-14.8%); Leonard Fournette, TB (-19.8%); Darrell Henderson, LAR (-21.6%).

Targets
Samaje Perine

, Cincinnati

Bengals

, +11.1% team target share

The Cincinnati Bengals gave lead back Joe Mixon a breather in this game, as he has been dealing with a nagging ankle injury for a few weeks. The team had already been reducing his receiving workload, however, after a strong 15.4% team target share in Week 1 dropped to the 5-7% range it has been hovering in ever since. This week, that number dropped below a 3% team target share, as the Bengals have officially rolled out Samaje Perine and Chris Evans as receiving back complements to Mixon.

In total, these two saw 16.8% of Cincinnati's targets in Week 5, making Perine an obvious target for waivers this week. The one complication is his current placement on the COVID-19 IR list, which leaves Chris Evans as the only other running back on the active roster with Mixon. Evans may end up seeing a strong target share in Week 6, and – if he impresses – he could earn a longer audition for the scatback role going forward.
Miles Sanders

, Philadelphia

Eagles

, +8.5%

I've been starting to write off Miles Sanders everywhere because the Philadelphia Eagles just don't seem to trust their young running back in the receiving game. Rookie Kenneth Gainwell has been gaining ground as the Eagles' receiving complement, but Sanders earned a solid 15.6% team target share in this game, temporarily silencing the calls for his demotion to second string. Philly abandoned the run game quickly and still only got Sanders five catches in Week 5, but it's hard to look a gift horse in the mouth here. Sanders' receiving value might be stabilizing a bit just in time for his rushing value to crater against the Tampa Bay Buccaneers in Week 6.
A.J. Dillon

, Green Bay

Packers

, +8.4%

After Week 5's wild win, Packers head coach Matt LaFleur lavished praise on second-year bruiser back A.J. Dillon – not for his power running, but for his deft receiving skills that have developed. Many compared Dillon to Derrick Henry when he was drafted for having similarly powerful rushing styles and minimal passing-game profiles, but it seems that the Packers may be looking to increase their backup's workload through the air.
Michael Carter

, New York

Jets

, +4.3%

The New York Jets finally fed rookie running back Michael Carter, whose peripheral profile over the past few weeks has done nothing but impress. He saw nearly 60% of the team's running back rushes and a team target share of over 10% in Week 5; the problem is that those peripherals haven't meant much in real volume of work. The fourth-round first-year back rushed just 10 times and saw only three targets, as this Jets offense continues to flounder and they inexplicably rotate Tevin Coleman and Ty Johnson in for crucial goal-line work. Carter is a dynasty hold because of these solid underlying numbers but is probably droppable in most redraft formats.

Others of Note: Elijah Mitchell, SF (+8.7%); David Johnson, HOU (+7.3%); Kyle Juszczyk, SF (+6.9%); Nyheim Hines, IND (-3.1%); Derrick Henry, TEN (-4.5%); James Robinson, JAX (-6.3%).
Goal-Line Work
Myles Gaskin

, Miami

Dolphins

, +100.0% running back goal-line share

I'm no huge fan of Myles Gaskin; he seems to be in a "right place, right time" situation with his Miami Dolphins, but hasn't done enough to secure their ironclad trust going forward. Still, it's heartening to see one of this summer's big sleepers getting strong usage across the board in Week 5. Gaskin didn't score on either goal-line rush, but he was among the week's biggest risers in all three categories we break down. The Dolphins have shown some affinity for Salvon Ahmed and Malcolm Brown, so be careful, but Gaskin might be on the upswing once again.
Damien Harris

, New England

Patriots

, +60.0%

Despite suffering an injury late in the first half, Damien Harris still saw the majority of the Patriots' goal-line touches in the game, punching in one of his three goal-line rushes for a score. He plays a valuable role even though the Pats don't trust him in receiving situations and third-down work. If Harris misses any time, this goal-line usage could easily transfer over to fellow power back Rhamondre Stevenson in the near term.

Others of Note: Ty Johnson, NYJ (+41.7%); Leonard Fournette, TB (+33.3%); Nick Chubb, CLE (+20.0%).