TJ's #Taek: Week 1 NFL DFS GPP Recap
Gregory Shamus/Getty Images
Week 1's winning lineups from the biggest contests on FanDuel and DraftKings can be used to tease out lineup-building strategies and offer clues on how you could have landed on a similar team. Reviewing your hits and misses each week is imperative if you want to be a profitable DFS player but examining winning lineups is also a useful exercise in cultivating a winning approach.
---
More GPP Strategy: QB | RB | WR | TE | DEF
---
DraftKings Week 1 Millionaire Winning Lineup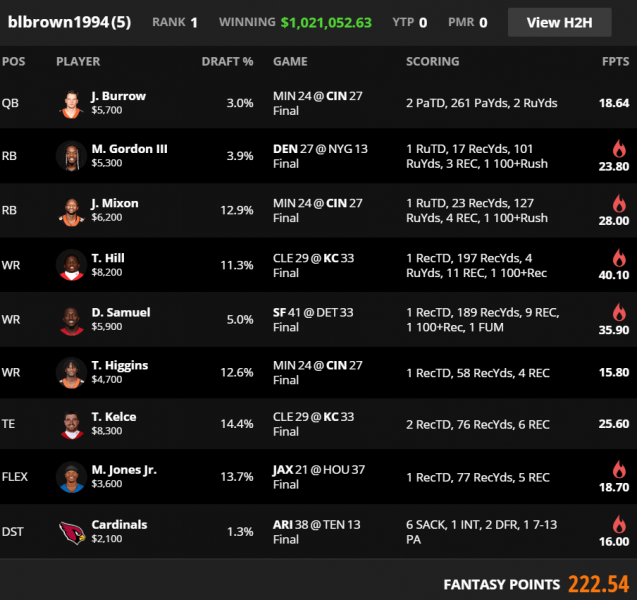 Most Rostered Players
Five Most Popular Player by Position, Week 1 Millionaire

| Player | Roster Position | Salary | Ownership % |
| --- | --- | --- | --- |
| Jalen Hurts | QB | $6,400 | 10.5% |
| Patrick Mahomes | QB | $8,100 | 9.0% |
| Kyler Murray | QB | $7,600 | 7.1% |
| Ryan Tannehill | QB | $6,500 | 7.0% |
| Aaron Rodgers | QB | $6,800 | 6.9% |
| Raheem Mostert | RB | $5,800 | 23.6% |
| James Robinson | RB | $6,400 | 22.8% |
| Christian McCaffrey | RB | $9,500 | 21.5% |
| Alvin Kamara | RB | $8,600 | 20.5% |
| Dalvin Cook | RB | $9,100 | 16.6% |
| Marquez Callaway | WR | $3,400 | 20.1% |
| Calvin Ridley | WR | $7,900 | 14.9% |
| Marvin Jones | WR | $3,600 | 13.7% |
| Davante Adams | WR | $8,300 | 13.4% |
| Michael Pittman Jr. | WR | $4,100 | 12.8% |
| Kyle Pitts | TE | $4,400 | 27.8% |
| Travis Kelce | TE | $8,300 | 14.4% |
| George Kittle | TE | $6,300 | 8.5% |
| Robert Tonyan | TE | $4,200 | 6.7% |
| Logan Thomas | TE | $4,600 | 6.6% |
| Falcons | DST | $2,000 | 14.6% |
| Broncos | DST | $3,300 | 11.3% |
| Bills | DST | $2,500 | 8.6% |
| Jaguars | DST | $2,700 | 8.1% |
| 49ers | DST | $4,200 | 6.4% |
Looking at the $5 Millionaire (there was also a $100 buy-in version), it's clear that leaning into the unknown paid off in Week 1. User Blbrown1994's lineup carried an average ownership of just 8.7%, lower than all but two Millionaire winners last season—last year's Week 1 winner also had a team with sub-10% average ownership.
With so much still to be determined—depth charts, touch shares and new coaching impacts, to name a few—it makes sense that DFS tournament players should go against the grain early in the season. Even Vegas struggled, with underdogs going 12-4 against the spread on the week.
Similarly, there will be plenty of leverage opportunities in Week 2 with people overreacting to what happened in Week 1.
This lineup wasn't unique just because of its player selection, but also in its roster construction. The decision to pay for these particular running backs in the mid-to-low salary tier ran contrary to the field that made three of the seven most popular players on the slate running backs with a salary of $8,600 or more. Those that did roster mid-tier backs often opted for James Robinson or Raheem Mostert, who were both on over 22% of rosters. The most rostered player on the slate, Kyle Pitts, was priced low and in twice as many lineups as the expensive Travis Kelce.
Stacking the Bengals passing game with Joe Mixon offered massive leverage off of Dalvin Cook and his top-seven ownership percentage while pairing Tyreek Hill and Kelce without Mahomes was likely a very unpopular way to access almost all of the Chiefs scoring.
Deebo Samuel offered leverage against the aforementioned Mostert as the 49ers implied total climbed all the way to the third-highest number on the slate by the time betting markets closed. San Francisco tight end George Kittle was also expected to be relatively popular while Brandon Aiyuk's status was uncertain with a hamstring injury—we later found out that he has fallen out of favor with his head coach.
Rostering the Cardinals defense is something that was obviously going to fly under the radar with Arizona-Tennessee expected to be one of the highest-scoring games and both offenses drawing significant ownership. We know that high-scoring games can offer upside for fantasy defenses, though. This was also a leverage play off of the min-salary Falcons, who showed up in 15% of lineups.
Denver was only a small favorite but playing Melvin Gordon was a perfect example of taking a stand on an ambiguous backfield early in the season.
It's not always necessary to be this contrarian in every spot, even in the large tournaments, but having a couple of these against-the-grain builds from top to bottom is good to have in your weekly repertoire.
FanDuel Week 1 Sunday Million Winning Lineup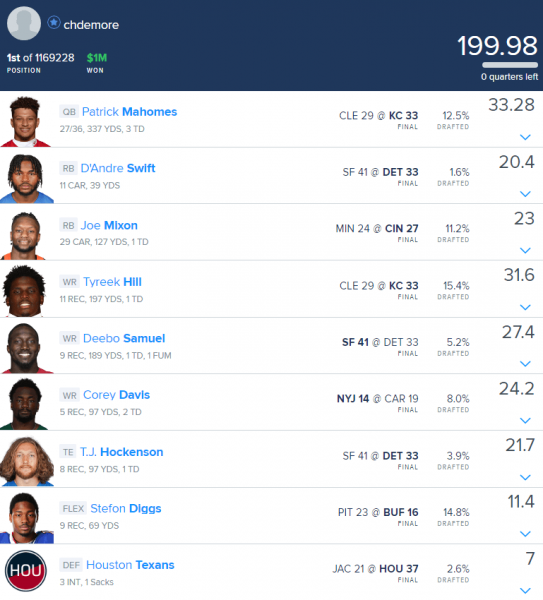 The FanDuel winner obviously had different players than the DraftKings winner but many of the same concepts were applied while being even more contrarian—user chdemore built a team with an average overall ownership of just 8.4%, lower than any Sunday Million winner over the last two seasons. After the late-breaking Trey Sermon inactive announcement, this lineup tripled down on the leverage against the expected Mostert chalk, playing Deebo but running it back with D'Andre Swift and T.J. Hockenson—a Kitlle leverage play as well.
Corey Davis offered leverage on both sides of the ball with his teammate Elijah Moore expected to be a relatively popular low-salary receiver and Christian McCaffrey on a significant number of rosters on the Jets' opponent, but Davis's 8% ownership was surprisingly high.
DFS players were high on the Jaguars as James Robinson was on over a third of Sunday Million rosters while Marvin Jones was a popular cheap receiver. The masses were focused on the potential dumpster fire in Houston, forgetting that the Jaguars were a one-win team in 2020 with a rookie head coach and quarterback, leading Houston's defense to being largely ignored.

TJs Final #Taek
It's often said that building tournament lineups is an exercise in figuring out just a few spots to be right (stacking the right games) while finding ways to get leverage on the field. What Week 1 exemplified is that it might be best practice to look for situations where you can find the MOST leverage, not just any leverage.
Playing D'Andre Swift and Joe Mixon together on FanDuel got away from builds that contained one popular back while fading the chalky, similarly priced Mostert and Robinson—Swift was a price pivot and leverage play against Mostert while Mixon offered leverage off of Dalvin. Rostering the Cardinals was a pivot off of the Falcons but also benefited against the huge percentage of lineups that targeted the Titans and Cardinals offenses in some form.
This is important to keep in mind as even the newest players can see a high ownership projection on a running back and play that team's quarterback. Look for opportunities to benefit from multiple unexpected occurrences with one move.
At 4for4, there are plenty of tools to help with that. Obviously, knowing individual player ownership projections is insanely valuable, but maybe the most powerful tools on the site are the cumulative offense and passing game projections. By seeing how popular offenses are as a whole, we can quickly pinpoint situations to leverage the field multiple times over. Other potential contrarian moves such as price pivots can be easily identified by simply sorting by salary in the player ownership projections and we can often infer popular roster builds by looking for high individual ownership projections within a single salary tier.
As we progress through the season, we will build on each of these concepts in this space and look for more season-specific trends to exploit.