Breakout Receiver Model: Week 16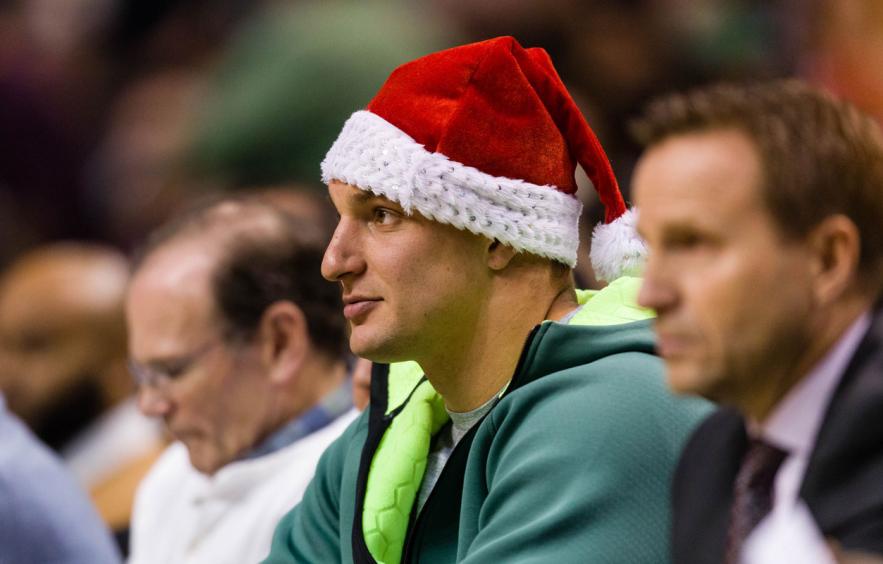 Omar Rawlings/Getty Images
The Breakout Receiver Model returns for Week 16. We had another 30%-plus hit rate week in Week 15, and players in the model, on average, scored 98% of their expected fantasy points. That's the second straight week we've seen that rate top 90%, a strong indicator the model is improving with more in-season data. Let's touch on some hits and misses from last week, and then dig into the week ahead.
About the Breakout Receiver Model
The 4for4 data science team, in conjunction with our award-winning projections expert John Paulsen, have recalibrated and reconfigured the receiver "buy-low" model from years past in order to better identify under-performing wide receivers and tight ends who might be on the verge of a breakout performance. For the uninitiated, the breakout receiver model utilizes historical data and recent player performance to help determine players who have received opportunity that is typically more valuable than their recent production would indicate. This particular model's features include air yards and routes-run data as a means of determining opportunity. It also utilizes a proprietary efficiency metric that looks back at the past 10 weeks of individual player performance, all to better help predict the likelihood of a bounce-back in a player's future production. The model most heavily-weights the last three weeks of data.
Last Week's Results
Hits
Misses
Breakout Receiver Model Recommendations
Breakout Receiver Top Candidates
Note: Click the image to view it in a higher resolution.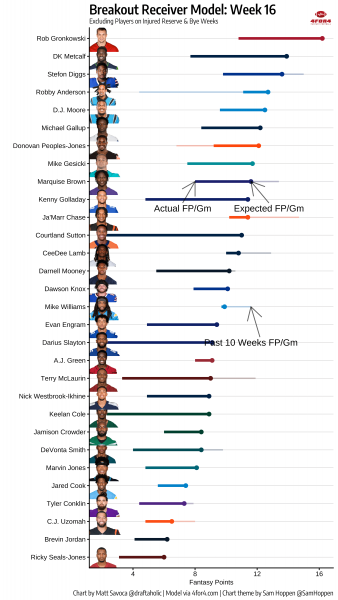 Insights and Takeaways
A season-high 17 players are on this list from a week ago, suggesting that the players the model has identified in the past that haven't hit yet are still looking like strong breakout candidates. Of those 17 players, five of them have averaged more than a dozen expected fantasy points over the last three weeks, and 12 have averaged double-digit expected fantasy points during that same span.
The Ravens' Tyler Huntley played admirably in place of the injured Lamar Jackson, and nearly pulled off a miraculous upset against the Packers last Sunday afternoon. But like the starter he's backing up, it's been difficult for both Andrews and Marquise Brown to play up to expectations over a three-game sample, and Brown shows up on this list for a ninth time this season. Up to this point, Baltimore has led the NFL in breakout model appearances, averaging 1.7 underachieving players per week.
Mike Gesicki had another decent day against the New York Jets last Sunday, catching five of eight targets, but he's failed to top 50 yards receiving in every start since Week 10, and he hasn't had more than 54 yards receiving since Week 8. Gesicki, despite ranking second on the Dolphins in target share, hasn't scored more than 8.1 fantasy points in seven straight starts and has now appeared on this list an unfortunate eight times this season.
Marvin Jones, while unofficially canceled from this list weeks ago, reaches a new unceremonious milestone this weekend. With his inclusion in the Week 16 model, Jones has now appeared on this list a stunning 10 times this season, most of any player. A product of the porous Jacksonville Jaguars' offense, Jones has caught three touchdowns this season, which accounts for 33% of the team's passing touchdowns this season.
Breakout Receiver Model: Week 16
We split the breakout candidates into two categories. The first is the primary model results, also visualized in the graph above, which highlight players who are under-performing their expected fantasy point value by more than five percent. Next, we'll offer some dart-throw plays for DFS players and for season-long teams struggling with injuries who need a last-minute replacement. Use this in conjunction with John Paulsen's sneaky starts column each week.
Key:
`XFP` is expected fantasy points, the model's projected average half-PPR fantasy points per game.

`Diff` is the difference between a player's actual half-PPR fantasy points per game and their expected fantasy points per game

`Efficiency Score` uses a proprietary blend of individual efficiency metrics to create one singular efficiency value. Higher numbers indicate more efficient past performance.
Dart Throws
While the players listed below likely belong on the waiver wire for most, these are the players who are underperforming their already-low expected fantasy points. For DFS players focused on large-field GPP tournaments, this table can serve as a starting point for finding low-salary contrarian plays.
Top Breakout Candidates for Week 16: