The Training Room: Week 13 Injury Updates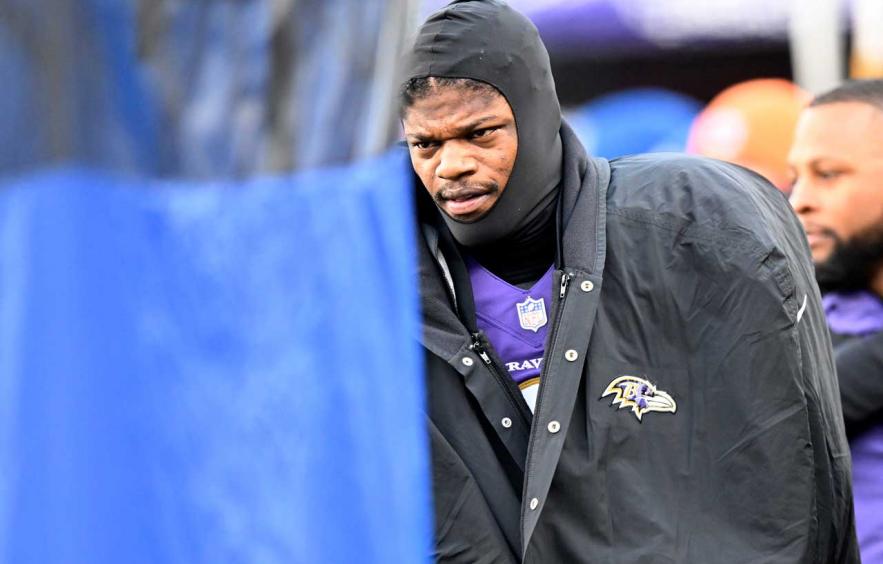 Greg Fiume/Getty Images
We are almost there. While some of us are limping more than others, the fantasy football playoffs are on the horizon. If you have come this far, there is not much more to go. Here are injuries from Week 13 of the NFL season and advice on what to do moving forward.
Lamar Jackson

, QB Baltimore

Ravens
Injury: knee injury - PCL sprain
Projected Timetable: 3-4 weeks.
Potential Replacement(s):
Tyler Huntley
Initial Thoughts:
This one hurts, especially given the timing, but it is looking like Lamar Jackson's knee injury (PCL sprain) is going to cause him to miss a few weeks, and very likely this week. PCL sprains can be more problematic for skill position players, but for a mobile QB like Jackson, it can also be quite limiting.
With a PCL sprain there is concern about a bone bruise which would be the most limiting factor for when Jackson could return. Although not exactly the same, this injury is similar to Zach Wilson's preseason knee injury that required surgery and caused him to miss seven weeks. Therefore it's very possible Lamar Jackson will be sidelined till the end of the regular season.
Ken Walker

, RB Seattle

Seahawks
Injury: ankle sprain
Projected Timetable: 1-2 weeks
Potential Replacement(s):
Tony Jones

Jr.,

Travis Homer
Initial Thoughts:
Although Pete Carroll downplayed the ankle injury for Ken Walker Monday, it's possible that the stud rookie will miss some time. Although the head coach refused to label it a true sprain, it would appear that Walker's ankle injury is a minor sprain that can result in ~ 2 weeks missed.
#Seahawks RB Ken Walker will have tests today on what coach Pete Carroll called a "jammed" ankle. The injury -- the hope is it's not serious -- is different from a sprain because the joint jammed down and not one side or the other. Strange injury. Anyway, tests coming.

— Ian Rapoport (@RapSheet) December 5, 2022
Additionally, as David Chao from Sports Injury Central points out, it's possible Walker is dealing with two injuries.
Here he is earlier in the game asking to come out with an apparent issue with his left groin pic.twitter.com/l7Datgjsoq

— Sports Injury Central (@SICscore) December 4, 2022
Should Walker be dealing with a groin strain, it could be related to his sports hernia from earlier this since. This would certainly complicate things and could double his time missed.
DeeJay Dallas filled in admirably but sustained his own injury - high ankle sprain. As a result, I expect Dallas himself to be sidelined for 3-4 weeks meaining that Tony Jones Jr. and Travis Homer remain the lone RBs. Homer did not play in Week 13 due to a knee injury so for my money if you're looking for a Seattle RB this week, Jones Jr. is your man.

Jimmy Garoppolo

, QB San Francisco

49ers
Injury: foot fracture
Projected Timetable: season-ending
Potential Replacement(s):
Brock Purdy
Initial Thoughts:
After Trey Lance sustained a season-ending ankle injury, the injury bug sunk its teeth into another 49er QB - this time Jimmy Garoppolo. The veteran QB exited early with a foot injury, did not return, and then after the game, word broke that his season would be over. San Fran will likely look to add some depth to their QB room, but in the near future, it is going to be the Brock Purdy show.
At this point in the season, you likely are not looking to make any drastic moves, but in Superflex/2QB leagues, you could probably do worse than Brock Purdy. The 49ers have plenty of weapons that could boost Purdy's fantasy numbers.
Treylon Burks

, WR Tennessee

Titans
Injury: concussion
Projected Timetable: 1-2 weeks
Potential Replacement(s):
Robert Woods
Initial Thoughts:
After what has been an up-and-down season for the rookie wideout, Treylon Burks is back on the injury report with a concussion. Looking at the NFL averages for WRs is ~two weeks, and with the NFL tightening their restrictions on return to play following a concussion, it feels like Burks will likely be out Week 14.
Courtland Sutton

, WR Denver

Broncos
Injury: hamstring strain
Projected Timetable: 3 weeks
Potential Replacement(s):
Kendall Hinton
Initial Thoughts:
Towards the tail end of a rather disappointing season, Courtland Sutton is unfortunately injured. Sutton is dealing with a hamstring strain which causes NFL WRs, on average, to miss 2.8 weeks. Looking at the data, WRs typically struggle their first few games following a hamstring strain, so if your bench is really strapped, I understand wanting to move on from Sutton. Fantasy football playoffs are rapidly approaching, and the Denver passing game has never really taken off in 2022.
Hayden Hurst

, TE Cincinnati

Bengals
Injury: calf (gastrocnemius) strain
Projected Timetable: 2 weeks
Potential Replacement(s):
Mitchell Wilcox
Initial Thoughts:
Hayden Hurst was unable to finish Sunday's contents with what was reported as a calf strain. These tend to be problematic for TEs and can result in >30% in fantasy production when they return. Therefore Hurst likely can't be trusted for the next 2-4 weeks.