July Underdog ADP Risers & Fallers and Cheap Stacks to Draft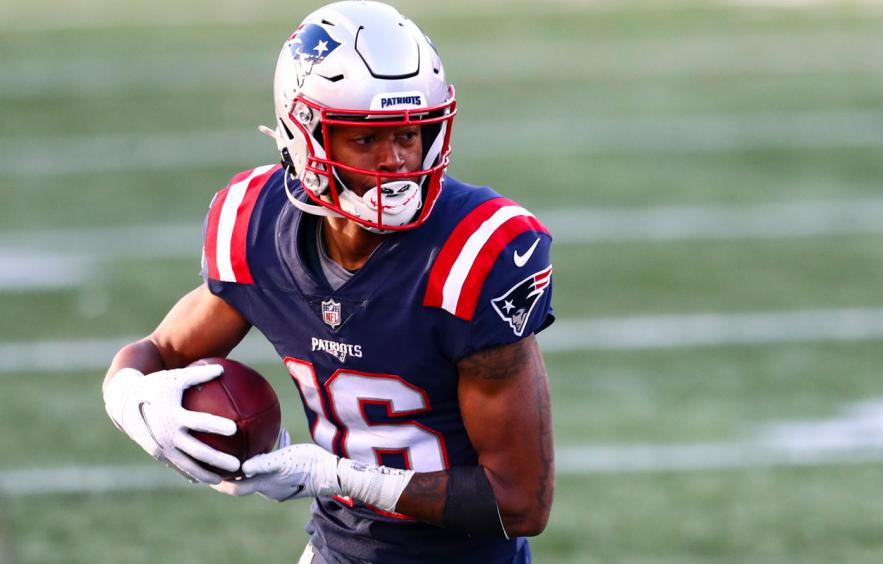 Adam Glanzman/Getty Images
Our annual countdowns are nearly over. We're just a couple of weeks away from training camps. The Hall of Fame game is just around the corner. Preseason action is less than a month away. Live football is coming, folks.
And, it can't get here any sooner.
---
Underdog Fantasy Resources: Get a Free Pro Subscription | Half PPR Rankings | Roster Construction Strategy |More Best Ball Content | 12 Late-Round Underdog Targets
---
Our collective excitement invites hypersensitivity to every piece of news. Any blurb and any sound byte seep into the market. For better or worse, we've been conditioned to react. The last month has shifted the ADP for many of our favorite players over on Underdog Fantasy. I dove into some of the biggest movers at each position and how we should approach each situation as we get closer to the season.
Quarterbacks
Nearly a month ago, we saw an almost-even split in the ADP deltas for both risers and fallers. Now, it's as if we have more confidence in the 2021 quarterback landscape. A few names stuck out.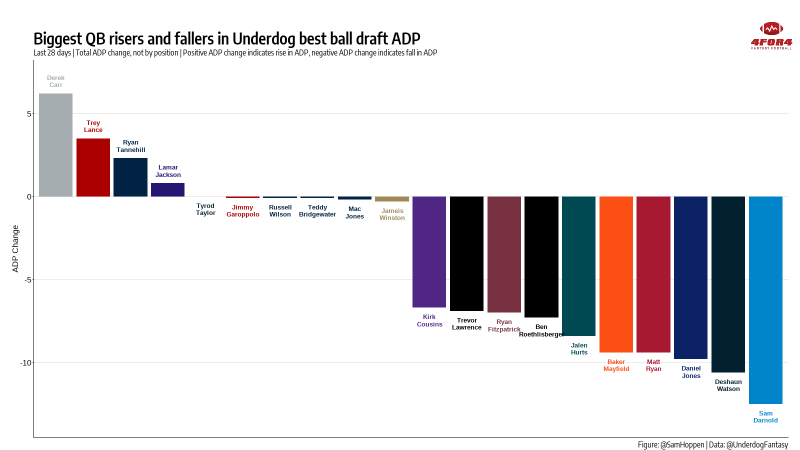 QB Risers
Derek Carr

,

Raiders

(ADP: 186.9, +6.2)

I'm willing to bet that Carr unwitting beneficiary of 10 quarterbacks dropping a half-round or more. And six out of that group were already being drafted later than the 12th round already. Regardless, let's make the case for the Raiders' signal-caller who's moved up a half-round.

Las Vegas was 25th in neutral passing rate and 20th in red-zone passing rate. But where Carr lacked in volume he made up for in efficiency. He was eighth in EPA per Play and 11th in CPOE amongst all quarterbacks in 2020. You can argue his offensive line has degraded, but increased and diverse work for Henry Ruggs along with a healthy Bryan Edwards points to a fantasy-friendly offense. There are only so many paths to keeping up with both the Chargers' and Chiefs' offenses on a yearly basis.
Trey Lance

,

49ers

(ADP: 118.3, +3.5)

The number of games Lance will start is still up for debate. But one workout video can be all we need to continue to draft him ahead of ADP albeit a few spots.

San Francisco has the eighth-highest average weekly implied total and, without injuries, were seventh in EPA per play. Lance's passing ability and mobility are what the offense has been missing. Given their schedule to end the fantasy season, Lance is a strong QB2 option in any roster build.
QB Fallers
Sam Darnold

,

Panthers

(ADP: 190.1, -12.5)

Darnold is a casualty of our fantasy bubble. With stacking becoming the predominant approach to drafting, Darnold doesn't hold much appeal outside of being connected to his receivers. The specter of Adam Gase still hovers over the former third-overall pick. His struggles with inaccuracy balanced with a Joe-Brady offense presents too much risk for drafters unless paired with D.J. Moore or Robby Anderson. But given the relative ADPs of the primary pass-catchers and their level of productivity in 2020, Carolina should be an offense we continue to target this year.
Running Backs
The "RB Deadzone" discussion has clearly had an effect on the market. Kareem Hunt and Myles Gaskin were both being drafted in the fifth round until the discourse on mid-round running backs changed. They've both moved a full round along with some other notable players. Let's look at a few.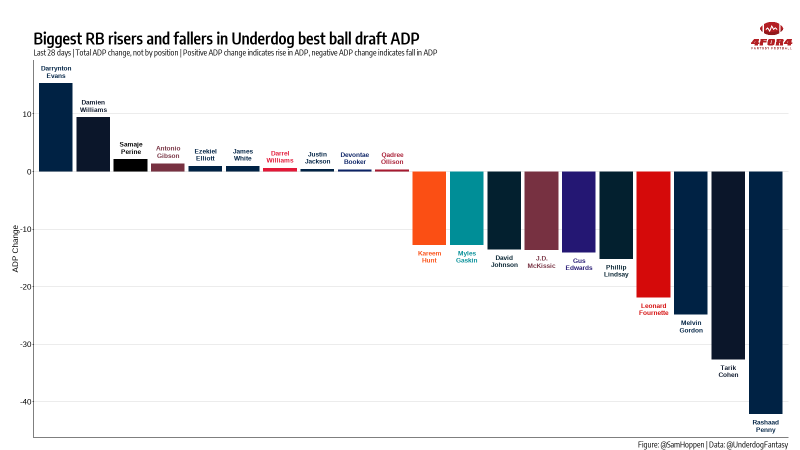 RB Risers
Darrynton Evans

,

Titans

(ADP: 187.0, +15.3)

Evans' rise in popularity has the air of our fantasy football bubble hyping a player into relevance. He only played five games and never saw more than 20.0% of Tennessee's offensive snaps. But, a jump of 15 spots has to be more than a social media boost. While keeping small-sample sizes in mind, let me make the bull case for Evans.

Evans was hampered with hamstring issues throughout most of his rookie season. He wound up on Injured Reserve for eight weeks and didn't return until Week 15. Over the final weeks of the season, he ran a similar number of routes as Jeremy McNichols (9 versus 13) who was operating as the backup to Derrick Henry out of necessity. Additionally, Evans was more efficient with targets he earned. His third-round draft capital and athletic profile are both conducive to the third-down, two-minute drill running back that the Titans need behind Henry. Evans should continue to be targeted as the RB4 or RB5 to wrap up most builds.
Damien Williams

,

Bears

(ADP: 200.2, +9.4)

The case for Williams all offseason has been simple. His workload, albeit minor in comparison to David Montgomery's, should include both rushing attempts (with red-zone carries) and targets. He's also the beneficiary should Montgomery get injured. At his prior ADP, he was a fine draft pick in the 17th round. But then we got some news out of OTAs that's got the former Super Bowl champion moving up from beat writer Mark Grote that Cohen was walking stiff-legged with his right leg wrapped.

There's nothing earth-shattering in the idea that a two-man backfield holds more value in fantasy football than a three-headed committee. Couple a condensed rushing rotation with Cohen's relative inefficiency as a receiver and Williams becomes the better option. Cohen, despite the 17.9% target share in 2019, had just 4.4 Yards per Target. Williams has averaged 6.3 YPT over the last his last two seasons. Chicago's quarterback situation clouds the entire offense, but Williams remains a viable late-round target.
RB Fallers
Rashaad Penny

,

Seahawks

(ADP: 207.8, -42.2)

Pete Carroll confirmed reports that Penny had another procedure to clean up his left knee earlier in the offseason. Penny has missed a total of 18 games since tearing his ACL and meniscus in Week 14 of 2019. To boot, we've been inundated with Chris Carson workout videos to further erase Penny from our minds.
MORE Chris Carson WORKOUTS 😤



(via @SeedmanJoel, @ccarson_32) pic.twitter.com/V7SJc4s8Re

— B/R Gridiron (@brgridiron) July 8, 2021
Training camp may surprise us, but there's nothing to suggest the former first-round pick will be ready for the season or capable of contributing to the Seahawks in a fantasy-relevant way.
Melvin Gordon

,

Broncos

(ADP: 122.6, -24.9)

Gordon is a casualty of the mid-round running backs falling into the later rounds. However, the market has overreacted regarding the Broncos' running back. Reports have continued to speculate that rookie Javonte Williams will either "be the Week 1 starter" or "lead the team in attempts and yards". Denver trading up during the second round to select Williams certainly lends credence to the reports. As a result, Gordon is now being drafted behind Tony Pollard, Leonard Fournette, and A.J. Dillon. Each requiring an injury to be an RB1 on their own team. At worst, Gordon splits the rushing work on a team that was 26th in neutral passing rate last season. Regardless, his dip in value presents an opportunity to drafters at his new cost.
Wide Receivers
Notice how the wide receiver chart is almost the inverse of the running back chart. The risers rose multiple rounds while the fallers were minimally impacted. Let's start with the guys gaining steam over the last month.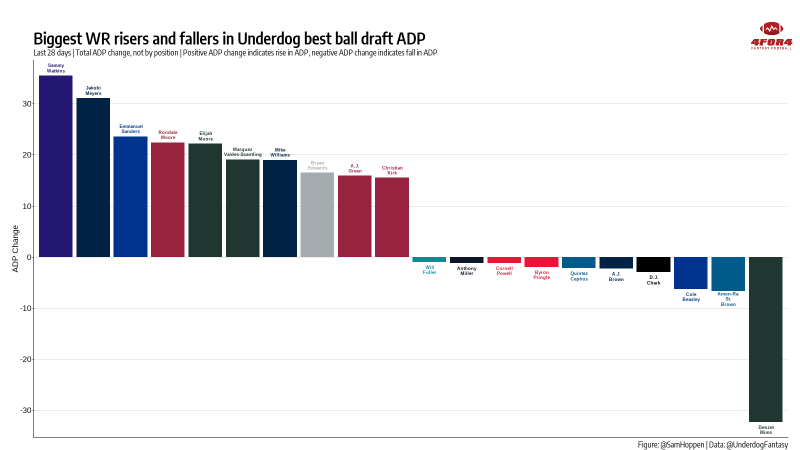 WR Risers
Sammy Watkins

,

Ravens

(ADP: 170.5, +35.5)

Nobody should be surprised Watkins shined in camp. It's a (semi) annual tradition. Camp videos give us hope that the 2014 first-rounder still has some juice. We draft Watkins with the thought his situation is too good to fail. And then, we're left holding the bag after an early-season injury. His new ADP, up nearly three full rounds since June, may be too costly, but there's still some reason for optimism.

Being on an offense that's ranked 32nd in neutral passing rate two years in a row doesn't help. Bottom three in red-zone passing dents Watkins' value, too. But the peripheral stats surrounding the Ravens' passing offense are favorable. Baltimore used "11 personnel" (three-receiver sets) on 47.0% of their plays last season. Watkins projects to play opposite Marquise Brown in those packages with rookie Rashod Bateman in the slot. Lamar Jackson also favors the deep ball. Jackson attempted a pass of 15 air yards or more at the eighth-highest rate in 2020 (he was 11th the prior year). Watkins was targeted on all but one of his deep routes from Patrick Mahomes. Watkins doesn't have to be a large part of your draft portfolio, but he's still a viable dart throw should you find him in the late rounds.
Jakobi Meyers

,

Patriots

(ADP: 155.6, +31.1)

Nelson Agholor's contract will be the constant data point against Jakobi Meyers. However, his rise of two and a half rounds can be traced back to two other data points: targets and efficiency. Meyers' 32.4% target share from Week 8 was second amongst all receivers. It's clear that New England's quarterback situation last season was less than ideal, so let's focus on what Meyers did with those targets. Air yards, or how many air yards a player earns, are a fair measure of talent. The ability to convert those air yards into actual receiving yards is a separate skill. It's also more predictive of future success. Meyers turned 93.0% of his air yards into fantasy-relevant production which is on par with the top receivers in the league. So while Agholor may have been crowned as the top receiver for the Patriots, Meyers still presents a value late in drafts.
Emmanuel Sanders

(ADP: 139.5, +23.6)

Sanders has jumped up nearly two rounds amid the offseason news cycle. Josh Allen was noted for looking Sanders' way during camp workouts in an effort to fill the void left by John Brown. Like his teammates, Stefon Diggs and Cole Beasley, Sanders ranks inside the Top 50 for Average Yards of Separation. Buffalo's rates of using three and four-receiver sets are already top-6 in the league giving Sanders a floor. Any time missed by the ancillary receivers makes Sanders a priority target in an efficient passing offense.
WR Fallers
Denzel Mims

(ADP: 190.6, -32.3)

The second-year receiver was seen working with the second-team offense in OTAs and his stock plummeted as a result. He's a stylistic mismatch in this new Jets' offensive scheme. Robert Saleh and Mike LaFleur will incorporate more West Coast concepts similar to what we've seen in San Francisco. Offseason moves like drafting Elijah Moore and bringing in Corey Davis and Keelan Cole align with how the team will operate. Mims' 16.2 aDOT from last year doesn't fit in an offense predicated on intermediate routes reliant on yards after the catch. However, his drop presents a value to drafters. He becomes a "better in best ball" candidate as he'll still rotate in on the perimeter and the potential for spike weeks can be all we need for him to pay off his ever-falling draft price.
Tight Ends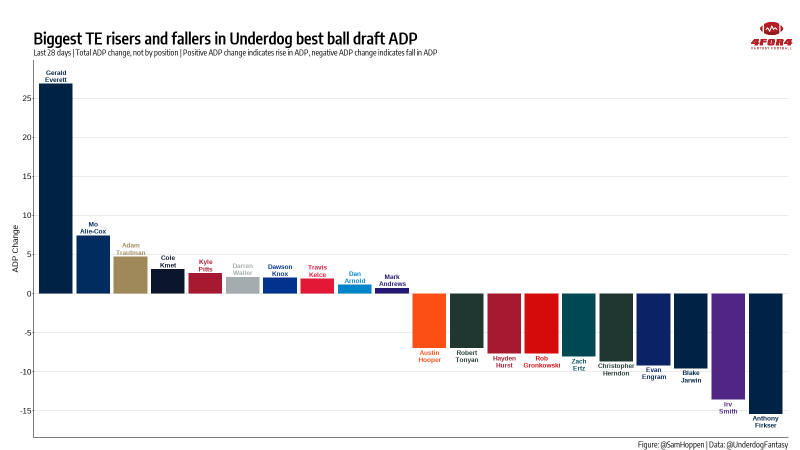 TE Risers
Gerald Everett

,

Seahawks

(ADP: 141.9, +26.8)

Everett's ties to the Seahawks' new offensive coordinator were the quick connection we all made when the acquisition was made. But the potential for growth we've seen from Everett over the last year coupled with Seattle's need for a third reliable pass-catcher explains much of his two-round spike in value. Everett was used all over the formation (including snaps out of the backfield) while nearly matching Tyler Higbee in routes run. Plus, the Seahawks moved on from David Moore, who had just three fewer red-zone targets than Tyler Lockett or DK Metcalf while rotating tight-ends. Russell Wilson has thrown over 30 touchdowns in four consecutive seasons. The wide receivers will surely get their share, but Seattle's above-average usage of the tight end position lends itself to Everett being a vital portion of the passing game in 2021.
TE Fallers
Anthony Firkser

,

Titans

(ADP: 169.5, -15.4)

Firkser continues to fall as the Julio Jones trade continues to reverberate through the market. His projected target share may have been fragile back in March, but a TE21 cost becomes more palatable. He ran just 6 fewer routes per game than Jonnu Smith and the Titans have been Top 10 in targeting their tight ends over the last two seasons. If you miss out on the primary Titans' pass catchers, a skinny stack with Tannehill and Firkser is a viable option.
Irv Smith Jr.

,

Vikings

(ADP: 134.1, -13.6)

After Mike Zimmer's quote on Smith Jr.'s role, his stock has continued to fall. But, notably, Tyler Conklin's ADP isn't on the rise. The third-year tight end still ran the most routes at his position on the team and matched Justin Jefferson in red-zone targets. Without reliable pass catchers outside of the primary receivers, Smith Jr. sets up as a value pick given his usage on the team.
Cheap Team Stacks to Target
Stacking, as a way to approach large-field tournaments, has become the norm. Contests like the Best Ball Mania II and The Puppy will be filled with drafters looking to capture the value from their favorite offenses. The popular stacks will come with a high opportunity cost. But here are a couple that I'll be targeting to fill out my rosters as we slide into training camp season.
Indianapolis
Colts
We should stack offenses that will be productive. We want to stack offenses that will be in positive game environments. Being cheap is an added bonus. The Colts meet all of those requirements.
Every team's average implied point total for all 18 weeks compared to how many players each offense has with an ADP in the top 100 on @UnderdogFantasy



Teams with high average implied totals and players with low ADPs might be worth targeting as cheap stacking options pic.twitter.com/sehoWvW21l

— TJ Hernandez (@TJHernandez) July 6, 2021
Indianapolis has the fourth-highest average weekly implied team total. But Jonathan Taylor is the only member that we're drafting in the first eight rounds. Admittedly, the passing game is riddled with uncertainty. Regardless, the team has one of the easiest schedules and the opportunity cost to acquire any stack in the passing game is minimal.
For squads relying on an early-round quarterback or tight end to start your draft, a Colts' stack including Wentz or Alie-Cox would mitigate most of the risk associated with their current seasonal outlook while securing a cheap stack.
New Orleans
Saints
Jameis Winston is still the rumored favorite to be the Saints' starter. But how he's progressed as a passer is still yet to be seen. Similar to the Colts, the uncertainty at quarterback, along with question marks outside of the priority pass catchers, has suppressed the value of the ancillary players giving them value.
The Saints operated at a 62.0% neutral pass rate over Brees' final five healthy seasons. When placed on Injured Reserve in 2019 and 2020, the team fell back to 59.3%. We're anticipating a balanced offense as it'll likely keep the pressure off Winston and buoy the team's overall efficiency. Regardless, drafters can fall back on a Saints' passing stack in nearly every draft given their reduced cost.