12 Late-Round Underdog Best Ball Targets for 2021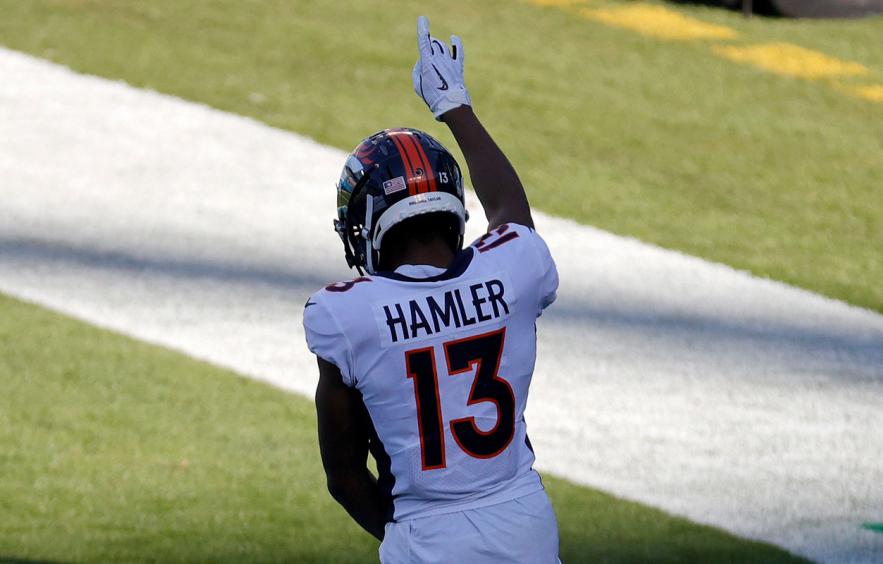 Jared C. Tilton/Getty Images
The popularity of the best ball format in fantasy football is seeing a rise with each passing year, probably due to the short attention spans and busy schedules as a society. The beauty of an Underdog best ball league is the draft-and-do-nothing approach, as selecting your team can be way more of a rush than actually running a fantasy Football Team on a week-to-week basis.
---
Underdog Fantasy Resources: Get a Free Pro Subscription | Underdog Rankings | Roster Construction Strategy | Underdog ADP | More Best Ball Content
---
With the shift in format must come a change in managers' mentalities as they approach the draft, especially when you reach the latter part of Underdog's 18-round draft. In redraft or seasonal leagues, you're usually looking for bye week fill-ins at the end of your draft, players who'll possibly put up a few points when your go-to starters are resting.
In best ball leagues the waiver wire does not exist—in fact, there are zero moves made throughout the season, so you're looking to fill those last spots with players who boast high ceilings with a plethora of upside, not a safe backup who we know exactly what their potential is coming in. It may make you a tad uneasy, but it is supposed to. League winners happen when late-round players post massive weeks, spiking that manager's team to the top of the points list.
Here's a look at some of my favorite Underdog late-round targets at each position for 2021. These may and probably will change as training camps progress, but I will keep this list fresh and updated as ADP moves around until at least August.
Note: For this article, players' Underdog ADP is outside of 132 (12th round or later).
Quarterbacks
Kirk Cousins

(MIN) - ADP 152.0

Fantasy managers just don't want to believe in Cousins, despite the fact that they are taking his weapons very early in Underdog drafts. Justin Jefferson and Adam Thielen are leaving boards as WR6 and WR21 in the second and fifth rounds, respectively, and Irv Smith is the 12th TE taken so far this season. Oh, and Dalvin Cook who was RB10 in receiving yards last year with 361, is the No. 2 pick overall.

He may not be sexy or use his legs a ton like some other QBs, but Cousins has been among the Top 16 in fantasy points since joining the Vikings in 2018. The Minnesota signal-caller also bested Matthew Stafford's fantasy output by a total of 24 QB spots over the past three seasons, yet is being drafted over three rounds after him in Underdog leagues this season. Sure, Stafford is in a new situation, but that much disparity seems egregious.

Cousins has the arsenal to put up solid fantasy numbers and makes for an affordable stack if you started out with Cook or Jefferson and added Smith as your TE in the 10th or even 11th round.
Tua Tagovailoa

(MIA) - ADP 144.7

His rookie campaign was slightly roller coaster-esque, but the Dolphins made moves to dress Tua Tagovailoa for success in 2021. They added explosive playmaker WiIl Fuller during free agency and selected WR Jaylen Waddle with their first pick in this year's draft. Add in DeVante Parker, and a starting TE in Mike Gesicki and you have an undervalued group that's ripe for stacking.

Tagovailoa has QB1 potential for a QB2 price tag. He's being priced at his floor, without accounting for the upgrades, his recovery from a hip injury, and the wonky season that was 2020.
Ryan Fitzpatrick

(WAS) - ADP 159.8

He may not be the most consistent producer, but Ryan Fitzpatrick is an ideal best ball QB because he provides those pockets of fantasy goodness that tend to propel your team to the top. He's supported fantasy WR1s all over the NFL in his 16-year career, and he inherits Terry McLaurin and Curtis Samuel, two guys who can make him look really good in 2021.

Washington passed the ball at the ninth-highest rate last season, (with four different QBs), and with the addition of Fitzpatrick and Samuel, that number could easily increase. We also can't forget that the 38-year old has some wheels, too. In every season that he's started at least 15 games, he's ended as QB11 or better in rushing yards. He's basically free in Underdog drafts right now and makes for a great grab if you went early with your QB1, or are going with two later-round targets as a strategy.
Running Backs
It's harder to get those big spikey weeks from running backs and you're not getting a starter past the 11th round without an injury, but finding a back who can put up decent numbers throughout the season this late can be advantageous.
Jamaal Williams

(DET) - ADP 137.0

Speaking of sleeping on a player, Jamaal Williams is leaving draft boards as RB43 in the 12th round which seems really low for his potential in 2021. He's on a new team in Detroit, sans both Kerryon Johnson and Adrian Peterson. That leaves 239 touches that all can't be handled by D'Andre Swift.

The Lions signed him to a hefty $7.5 million contract over the next two years—they likely intend to get him involved in this offense, particularly in the passing downs where they're lacking the weaponry. Williams could potentially see close to 175 carries with another 45 targets this season, putting him in fringe-RB2 territory, for the price of an RB4. That's some best ball love right there.
Damien Williams

(CH)) ADP 165.4

We last saw Damien Williams posting 290 all-purpose yards and six touchdowns over three post-season games in 2019, before deciding to sit out the 2020 season due to COVID-19 concerns. Williams is now with the Bears where David Montgomery is the lead back, but there's certainly hope for the 29-year-old rusher this season. Tarik Cohen is still recovering from a torn ACL he suffered in Week 3 of 2020 and according to camp reports, Williams "doesn't seem to have lost a step" and "has seized his opportunity to be a mismatch nightmare in the pass game".

This bodes well for his involvement in this offense and heightens his appeal, especially in any type of points-per-catch format. His ADP most likely won't remain this late for too long so grab Williams now while he's still a 14th-round pick.
Phillip Lindsay

(HOU) - ADP - 171.4

It still feels really gross to write Texans when speaking about Phillip Lindsay, but it is what it is. I'm not thrilled with his landing spot, but he does have the potential to outperform his ADP by quite a bit in 2021. The guy only showed up to the NFL undrafted and busted out two 1,000 yard seasons in a row, before getting injured last year.

Lindsay finds a way to make plays and despite being on an offense that has as many question marks as answers this season, the 26-year old has legit potential to emerge as the team's RB1. David Johnson is there, who averaged 13.6 half-PPR points per game in 2020, along with Mark Ingram, but both guys are football old.

The Texans did do some work on their offensive line which is a positive for both rushers, but given the ADPs of both Johnson and Lindsay, my money is on the former Bronco at over 50 draft slots later than Johnson, to come out as the team's starter this season and do some damage in best ball formats.

https://www.4for4.com/2021/preseason/12-late-round-underdog-best-ball-ta...
Wide Receivers
Marquez Callaway

(NO) - ADP 141.3

With the Saints' receiving corps resembling a trauma unit, Marquez Callaway has a real chance of fantasy relevancy from the start. Michael Thomas is sidelined for at least six regular-season games and now Tre'Quan Smith is also banged up, paving the way for Callaway to emerge as the go-to wideout in this offense. His quarterback is still up in the air but it really doesn't matter since getting any team's possible No. 1 WR or even No. 2 WR (if Smith returns quickly) in the 15th round is a slam dunk no matter who's throwing the ball.
Nico Collins

(HOU) - ADP 200.2

I know I put Lindsay on this list and am about to semi-contradict myself here but both things can happen. The Texans depth chart at wideout is wide-open after Brandin Cooks, and rookie Nico Collins could emerge as the outside WR opposite Cooks.

The Texans are not going to be good offensively, especially if DeShaun Watson is a no-go, and will most likely be playing from behind in the majority of contests. Hello garbage time, and hello fantasy points from a last-round dart throw.
K.J. Hamler

(DEN) - ADP 190.1

The QB battle is not finished in Denver, but both Drew Lock and Teddy Bridgewater look like they may be able to support three WRs this season. After Courtland Sutton and Jerry Jeudy, it will be a battle for that third spot between Tim Patrick and K.J. Hamler. The 22-year old didn't do much his rookie season in 13 games, but Hamler came out swinging in the Broncos' first preseason game and appears to be the leader for the gig.

He caught two balls for 105 yards, including an 80-yard touchdown. While Hamler may not be a consistent fantasy scorer, there could be enough Mile High magic for him to make a difference as a last-round flier.
Tight Ends
Anthony Firkser

(TEN) - ADP 170.7

Jonnu Smith is no longer in a Titans uniform, paving the way for Anthony Firkser to inherit his workload. Smith saw 65 targets in 2020 which he converted to a 41-448-8 line. Sign me up for that kind of volume as a 12th rounder.

Tennessee also let Corey Davis and Adam Humphries go leaving only Josh Reynolds behind A.J. Brown in the pass-catching pecking order. This offense is reminiscent of Washington last season where Logan Thomas emerged as their second option after Terry McLaurin, with the TE seeing an insane 110 targets.

*Update - Since the Titans traded for Julio Jones, Firkser may not inherit as many targets as before, but still makes a nice late flier in a very productive Tennessee offense.
Adam Trautman

(NO) - ADP 136.6

It's surprising to me that Adam Trautman is being drafted so low (TE14), considering he's now the clear starter in New Orleans. He has better hands than his predecessor Jared Cook, as he nabbed 15-of-16 targets last year for 171 yards and a score.

There is plenty of work up for grabs in the Saints offense with the departure of Emmanuel Sanders and Cook, plus they also didn't re-sign the other TE who saw work last year, Josh Hill. Trautman could be set up for a TE1 workload in this new-look New Orleans offense, which could mean huge returns on your late-13th round investment.
Eric Ebron

(PIT) - ADP 202.8

I can hear your groans from here, but they won't be so audible when you're spending that fantasy money at the end of Week 17. Eric Ebron was TE12 in half-PPR points during the 2020 fantasy season, his first in Pittsburgh.

Ebron's name was near the top of the win rates column on several best ball sites last season and he's poised for a repeat due to his late-round ADP again. Partially due to the addition of rookie Pat Freirmuth and people just not liking to draft Ebron, he's leaving boards as TE26, which is super low for a guy in a potentially productive offense.

Freiermuth isn't much of a threat as rookie TEs rarely are, and there should be enough of a floor to make Ebron a great late-round target to pair with either an elite TE or as part of a later-round duo. If he does have a few multiple touchdown weeks, he'll be well worth that 17th round stab.