June Underdog ADP Risers & Fallers and Cheap Stacks to Draft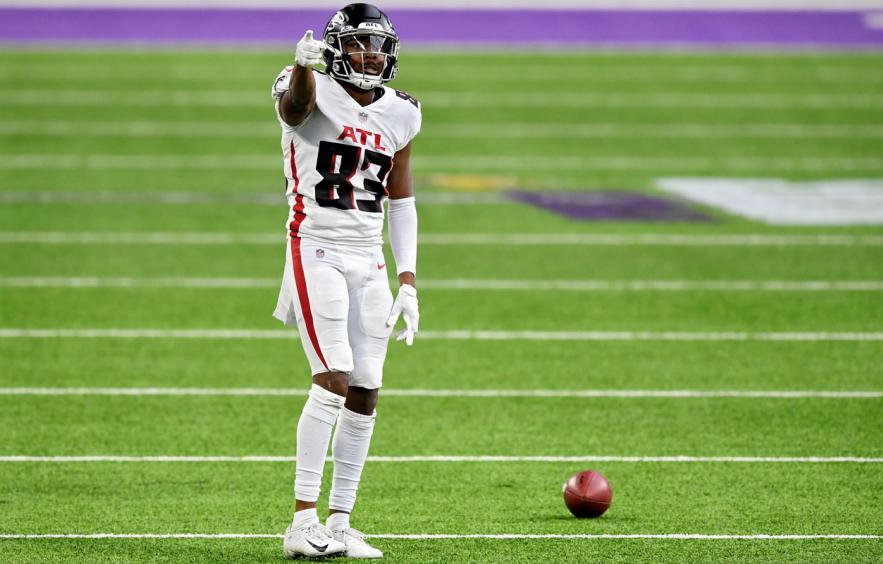 Hannah Foslien/Getty Images
Underdog best ball drafts are filling faster than they were a few weeks ago as more and more fantasy football folks are returning from whatever hiatus they self-implemented. With the NFL Draft a memory and the bulk of free agency over aside from a few outliers, changes in ADP at this point in the summer are usually courtesy of training camp hype or injury.
---
Underdog Fantasy Resources: Get a Free Pro Subscription | Half PPR Rankings | Roster Construction Strategy | More Best Ball Content
---
Let's take a look at the biggest risers and fallers at each position over the last several weeks in Underdog drafts, by comparing players' ADP from 14 days ago until now. I'll go position by position to tease out any relevant players' spikes or slides over the past fortnight.
*All ADP is courtesy of 4for4's Underdog ADP tool.
Quarterback

QB Risers
Ryan Tannehill

,

Titans

(ADP: 111.5, +13.5)

Despite QB9 finishes in both 2019 and 2020 in fantasy points per game, Tannehill was still undervalued as the QB16 off draft boards through May. It took a polarizing trade involving Julio Jones for fantasy managers to believe in Tannehill's potential production in 2021. The Titans' QB jumped up 13.5 draft spots and three positional places over the past two weeks, with an ADP of 111.5 as QB13.

Tannehill was a solid mid-round target before the addition of Jones and remains a fantasy asset due to the Titans' efficient offense and his low-key rushing ability. His ADP shouldn't creep up too much more, as there are plenty of people who seem to not accept that he's a good fantasy QB.
QB Fallers
DeShaun Watson,
Texans

(ADP: 199.4, -17.9)

The silence is deafening surrounding DeShaun Watson's potential to play this season for the Texans or at all, and drafters are losing hope. Watson went from a QB26 ADP down to QB29, falling 17.9 spots to 199.4 overall in the process. Based on how things appear to be going, Watson will be nothing more than a last-round stab for some in Underdog drafts by the time the season gets underway.
Matt Ryan

,

Falcons

(ADP: 125.3, -17.1)

The departure of Julio Jones seems to have drafters tapping the brakes on Ryan. He produced QB12 numbers last season with a non-healthy Jones in the mix for just nine games, but he's gained Kyle Pitts and Mike Davis as weapons. Ryan and Tannehill basically traded places in Underdog positional ADP, as the Falcon slid from QB13 to QB16, with a 1.5 round descent.

Defensively, Atlanta is not so great which should provide ample fantasy scoring opportunities for Ryan and his arsenal. While not sexy, Ryan is a safe choice for a later-round QB in best ball formats.
Aaron Rodgers

,

Packers

(ADP:103.2, -7.8)

There's not much to say here besides Rodgers' hold-out has become real in Packers camp and last year's NFL MVP is slipping in ADP as a result. At this point, it's tough to tell what the actual odds of Rodgers not playing this season really are, so drafters who don't want to gamble are letting someone else select the 37-year-old.

Running Backs

RB Risers
Giovani Bernard

,

Bengals

(ADP:187.9, +19.1)

As I mentioned above, training camp hype remains undefeated in affecting ADP and Gio Bernard's thighs moved the needle over the past two weeks.
Giovani Bernard. My goodness 😳



(via @ToriRichman, @Buccaneers) pic.twitter.com/lv1TM07pwU

— B/R Gridiron (@brgridiron) June 2, 2021
The 29-year old is still part of a very muddy backfield in Tampa Bay and is currently 4for4's RB51 in half-PPR formats, with a projected 53 rushing attempts and 53 receptions on the season.
Tevin Coleman

,

Jets

(ADP: 183.8, +18.6)

Coleman came to NY from the 49ers, where he worked with his new head coach Robert Saleh and OC Mike LaFleur. ESPN beat writer Rich Crimini declared Coleman has the "early edge because he's familiar with the system and has the most straightaway speed" in early June, which had some drafters excited for some clarity in that backfield.
Darrynton Evans

,

Titans

(ADP: 198.7, +10.5)

The sophomore back may have gotten a bump from the Julio Jones trade, or it could have been that it was reported that he lined up as a receiver during offseason workouts. Evans is someone I've been targeting late in drafts, as he has enormous upside if Derrick Henry gets injured, and he's an inexpensive part of a productive offense. Despite his recent hike, Evans still presents value as a later-round RB who could outperform his draft spot.
RB Fallers
Jeff Wilson

,

49ers

(ADP: 213.3, -43.8)

After a productive 2020 and a new one-year contract, Wilson underwent surgery to repair a torn meniscus in late May. The 25-year old will begin the season on the reserve/PUP list, sidelining him for a minimum of six games. With a Week 6 bye for the 49ers, that puts Wilson's return in Week 8 at the earliest. Trey Sermon gets a bump up, but the San Francisco backfield still remains murky.
Kenneth Gainwell

,

Eagles

(ADP:193.6, -10.5)

Gainwell's dip could be residual feelings about his landing spot after the NFL Draft or just the realization that the rookie is most likely buried on Philly's depth chart behind Miles Sanders, Boston Scott and Kerryon Johnson. With a rushing QB in a crowded RB room, Gainwell is nothing more than a dart throw in 2021.
Javian Hawkins

,

Falcons

(ADP: 208.8, -7.3)

It appears that Mike Davis will be the man in the Falcons' backfield and drafters are realizing that Hawkins probably won't see much action this season. In late-round running backs for best ball formats, we want guys with tons of upside that can put up a few big weeks or have the potential to become a workhorse if a team's RB1 goes down, and Hawkins is neither of those things.
Wide Receivers

WR Risers
Russell Gage

(ADP: 125.5, +20.4) &

Olamide Zaccheaus

,

Falcons

(ADP: 200.5, +13.5)

Once again the Julio Jones trade created waves in ADP. With the 10-year Falcon no longer on the roster, both of the WRs behind him saw a spike in their draft spot over the last 14 days. Gage jumped up almost two rounds and eight positional places, while Zaccheaus rose a little over a round and 11 WR spots.

Both players should see a small increase in volume with Jones in Tennessee, but Kyle Pitts and even Hayden Hurst should also gain from the trade. Gage is now flirting with WR4 territory, while Zaccheaus is still in WR7/8 zone.
Bryan Edwards

,

Raiders

(ADP:175.2, +10.7)

Once again, training-camp-physique Twitter is most likely the culprit in raising Edwards ADP. People are clamoring for a reason to like anyone in the Vegas offense after Darren Waller, and Edwards' arms do look pretty sculpted and ready to catch footballs.
Suns out, guns out ☀️💪

— Las Vegas Raiders (@Raiders) June 4, 2021
With Nelson Ahgolor and Tyrell Williams no longer in town and only John Brown added to the WR corps, Edwards could see an increased role, however, the Raiders only targeted wide receivers on just over 43% of their pass attempts last year. Despite his monstrous arms, Edwards remains a later-round flier in Underdog drafts.
WR Fallers
Josh Reynolds

,

Titans

(ADP: 188.2, -27.6)

Pour a few out for all those Reynolds shares drafted before the Tennessee trade with Atlanta. The former Ram was leaving boards as WR69 and dropped 10 positional places in the past two weeks. Before Jones became a Titan, Reynolds was set to function as the team's WR2 behind A.J. Brown, snagging a decent portion of the targets left behind by Jonnu Smith, Corey Davis and Adam Humphries.

He'll now take a backseat to Jones but still has some late-round appeal as the third option on an effective Tennessee offense.
Tight Ends

TE Risers
Kyle Pitts

(ADP: 49.9, +7.2) &

Hayden Hurst

Falcons

(ADP: 204.6, +9.4)

Just when you thought the Kyle Pitts' fever pitch couldn't get any larger, the Falcons go ahead and trade away their perennial WR1. The rookie TE was already being drafted as the TE4 but jumped up 7.2 spots to the fourth round. He was and still is too expensive for me as a rookie at his position in the NFL, but it appears I may be on an island with this one. Give me all the proven elite WRs in Round 4 instead of gambling on Pitts to defy all historical evidence of rookie TEs not hitting in fantasy football.

Hurst is someone that no one wanted before the trade. Without Jones, the 27-year old has some appeal due to two-TE sets which there should be plenty of in this offense, and if Pitts functions as more of a WR. Hurst went from TE31 to TE28 and makes for a really nice stab if you grabbed an elite TE and want to wait until very late for your second, or if you're going with a several late-round TE group as a strategy.
Zach Ertz

,

Eagles

(ADP: 188.4, +6.9)

Trade rumors have been swirling around Zach Ertz since right after the 2020 season but so far nothing has come to fruition. It was reported in the beginning of June that Ertz could be linked to three possible teams that were all in need of TE help. The idea of Ertz elsewhere this season had drafters pulling the trigger on the eight-year veteran a little earlier in recent weeks, but until there's a legitimate landing spot, Ertz is tough to trust in any format.
TE Fallers
No TEs really took too big of a dive over the past 14 days, and those who fell did so by only half of a round or fewer. Anthony Firsker took a small hit due to the presence of Julio Jones, and both Jonnu Smith and Hunter Henry continue to creep down due to the cloudiness of the entire offense in New England.
Cheap Team Stacks to Target
TJ Hernandez already covered some of his favorite inexpensive Underdog stacks a few weeks ago, but I figured I'd add a few based on recent ADP.
Along with watching movement in individual player ADP, tracking offenses as a whole can be valuable in best ball leagues, especially tournament-style ones like the Underdog Best Ball Mania ll since managers are drafting for the same tournament throughout several months.
By going after offenses that aren't quite as hyped this early or are perceived as fallen off a bit, early best ball drafters can snag some value that may not be there in the coming months.
Los Angeles
Chargers
Both Keenan Allen and Justin Hebert aren't exactly bargain-basement pricing, but Allen is still undervalued as he always is and Herbert's late-sixth round ADP isn't obnoxious. The real value in a Chargers stack is Mike Williams, who is being drafted in the ninth round as a WR4, but has the potential to outperform that as the team's WR2.
We can't forget about Jared Cook, who is super boring, yet seems to find a way to produce no matter where he is. Cook is basically free as TE21 right now on Underdog and can be paired easily with Herbert, Allen, Williams and even Austin Ekeler.
Washington
Football Team
Only one piece in this stack will cost you some real draft capital, and that's Terry McLaurin at 34.2. The beauty of a WFT stack is you can still easily pull it off without McLaurin if you're just not in the right spot to get him. Curtis Samuel is still undervalued, for now, and you can even throw in Logan Thomas in the ninth if you so desire.
Rookie Dyami Brown is also a player I've been throwing some darts at since he landed in Washington, as Ryan Fitzpatrick is a guy who can support multiple fantasy-relevant receivers. Speaking of Fitzpatrick, his ADP is pretty sweet right now most likely due to the chances of him not playing all 17 games but may rise when people see him in camp and realize there is no real QB competition there to usurp him that quickly in 2021.