Should You Draft Dyami Brown in 2021?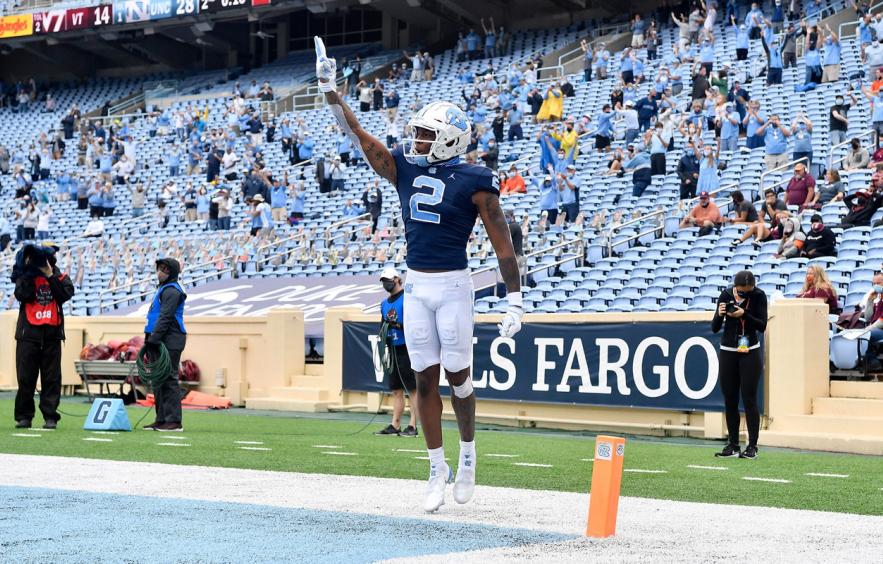 Grant Halverson/Getty Images
The Washington Football Team added another weapon to their pass-catching arsenal, selecting WR Dyami Brown with their fourth pick in the 2021 NFL Draft at No. 84 overall.
---
Editor's Note: Read more player profiles from the rest of the 4for4 staff!
---
He joins a Washington offense that will be led by 16-year veteran Ryan Fitzpatrick, who's on a one-year deal with his ninth NFL franchise. Fitzpatrick is certainly fun to watch and has a history of supporting multiple fantasy receivers.
Can Dyami Brown find his way to fantasy relevance in 2021? Let's explore the 21-year old's chances for success in his rookie season in the league.
Dyami Brown

as a Tarheel

After a quiet first-year at the University of North Carolina, Brown posted two 1,000+-yard seasons in a row with 20 total touchdowns between 2019 and 2020. He averaged an impressive 20.1 yards per reception and according to Pro Football Focus, was fifth among college pass catchers in both deep balls (12) and yards (543) in his final season at UNC.

While he excelled at running downfield in college, boasting a career average depth of target of a whopping 18.4 yards, Brown will need to prove that he can get open more in short and intermediate routes to make an impact early in his career.
Ryan Fitzpatrick

is a WonderBra for Fantasy Wideouts

Last year Washington ended the season ninth in pass attempts among NFL offenses with 601. Not only is that great for Fitzpatrick's fantasy value, but it helps all his surrounding weapons, including fellow newcomer Brown.

Fitzpatrick has supported fantasy wideouts around the league in his career and this season should be no different. Previous recipients of the Fitzmagic WR1 love have been Brandon Marshall and Eric Decker in New York, Mike Evans in Tampa Bay and DeVante Parker in Miami.

He's also endorsed several fantasy WR2s along the way—for more on all that check on my previous profile on the additions of Fitzpatrick and Curtis Samuel written before the NFL Draft.
Brown's Fit with Washington
Terry McLaurin and Curtis Samuel are firmly planted atop the WR depth chart, with that third spot up for grabs. Brown will have to compete with another newbie to Washington Adam Humphries, along with Steven Sims, Cam Sims and Antonio Gandy-Golden for the starting WR3 job.
Last year J.D. McKissic and Logan Thomas saw more targets than the team's WR2, which was Cam Sims, who only was thrown to 3.2 times per contest. In this new-look offense, it's tough to gauge exactly how the work will be distributed, as we also can't forget about Antonio Gibson, who 4for4's John Paulsen projects will have 47 catches for 369 yards in 2021.
One thing Brown does have going for him this season in Washington is that according to Pro Football Focus, Fitzpatrick was third among all QBs last year in completion percentage (52.4%) on deep balls (20+ yards), with a minimum of 18.2 throws in that range. Brown's deep-ball prowess should pay off for some big-time plays this year.
Should you Draft Brown in 2021?
For redraft leagues, the answer is no. With plenty of established pass-catchers in the WFT offense, it's tough to see him having enough work to be a weekly starter in seasonal leagues, even in the FLEX spot. However, keep an eye on him for a waiver wire scoop-up if he earns that WR3 spot and looks to have chemistry with Fitzpatrick.
Best ball leagues are a different animal, and his big-play potential is something that could be advantageous and a differentiator in Underdog Week 1- 17 leagues, as well as the Best Ball Mania ll tournament.
Bottom Line
Dyami Brown is a deep-ball threat when he takes the field and landed in a decent spot in Washington.
He's not draftable at this point in redraft formats, but if he has an impressive training camp, could sneak in as a contender for FLEX spots in deeper leagues.
Brown makes for an interesting later-round stab in best ball leagues such as Underdog, based on his big-play prowess and potential spike weeks which can be league-winning if they hit right.
He is going undrafted in Underdog leagues thus far, but that could easily change as we move closer to the season and camp-hype ramps up.