Tracking the 2020 Roster Cut Casualties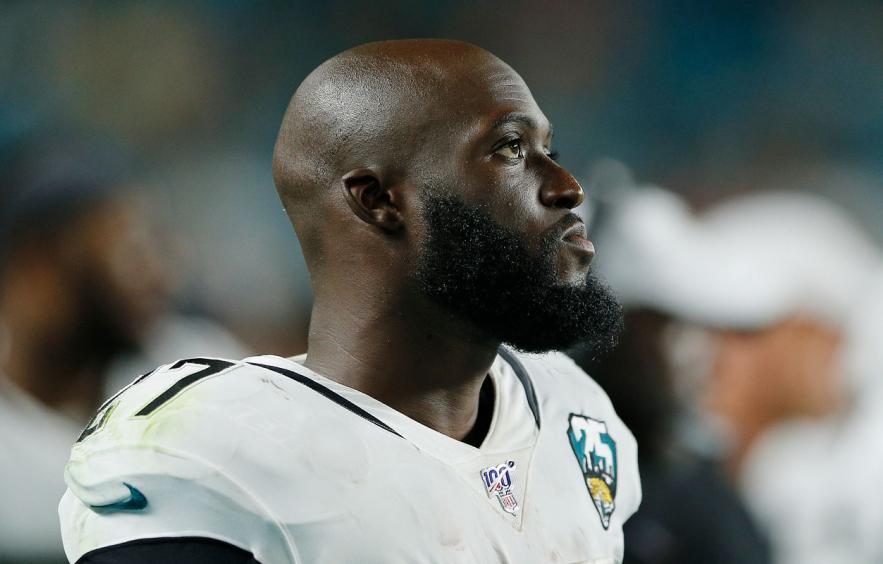 Michael Reaves/Getty Images
The sad day of final cuts is upon us once again, as NFL teams around the league trim their rosters to get down to the 53 players allowed for the regular season. This is a day when teams make the hard decisions that will ultimately decide whether a player lives out his dream, or has to start thinking about life after football. For many, this may be the last chance at a career in the NFL. For a few, this day marks vindication for a lifetime of hard work and struggle to reach this pinnacle of athletic achievement.
For fantasy owners, final cut day tells a different story. As teams finalize rosters, fans and fantasy owners are treated to a flurry of activity that could make or break a fantasy team. Did you draft the right handcuff? Did your veteran quarterback win the job? Is your kicker still employed? Add to that the excitement of the impending NFL regular season, and it's a good time to be a football fan.
To keep track of all these moves, 4for4.com has you covered! This article will be updated throughout the final cut weekend, including updates as players are scooped up off waivers, so check in before your fantasy drafts for any potentially impactful transactions. The below team-by-team brief analysis is not meant to be comprehensive, but will highlight any fantasy-relevant moves. Cuts will filter in over the next few days, with the final cut to 53 players due by 4:00 PM EST, this Saturday, September 5th.
Additionally, players placed on the physically unable to perform (PUP) list and placed on injured reserve (IR) during final cuts will be noted. The IR designation typically means a player's season is done—although, in some cases, a team may bring one player back after six weeks. Meanwhile, landing on the PUP list makes a player ineligible to play for the first six weeks of the season. Likewise, the Non-Football Injury (NFI) list allows teams to reserve a player for a non-football injury for the first six weeks of the season.
Arizona
Cardinals
Hakeem Butler

, WR

Hakeem Butler got some good preseason reviews a year ago, but the depth chart was too crowded this year. Look for him to land on a practice squad somewhere.
Atlanta
Falcons
No significant roster cuts at this time.
Baltimore
Ravens
No significant roster cuts at this time.
Buffalo
Bills
No significant roster cuts at this time.
Carolina
Panthers
Reggie Bonnafon

, RB

The previous regime liked Bonnafon a lot, but it looks like Mike Davis is going to be the RB2 in Carolina this year.
Chicago
Bears
Cairo Santos

, K;

Artavis Pierce

, RB

For now, Eddy Pineiro is still the kicker in Chicago, though Tom Pelissero indicated on twitter that this competition may still not be over. Either way, the Bears kicking situation isn't exactly full of opportunities for fantasy owners, and best to stream elsewhere until we know for sure. With Pierce off the roster, Ryan Nall becomes interesting in the event of David Montgomery missing some time. Cordarrelle Patterson could also see an uptick in backfield snaps early on.
Cincinnati
Bengals
Jake Dolegala, QB;
Brandon Allen

, QB

Ryan Finley has won the backup QB job behind Joe Burrow.
Cleveland
Browns
No significant roster cuts at this time.
Dallas
Cowboys
No significant roster cuts at this time.
Denver
Broncos
No significant roster cuts at this time.
Detroit
Lions
David Blough

, QB

The Lions will carry two QBs on the roster, with Chase Daniel backing up Matthew Stafford.

Additions: the Lions signed Adrian Peterson, likely as insurance for their two backs who have been hobbled the last few weeks. He's likely to siphon a little work in an already murky situation.
Green Bay
Packers
Jake Kumerow

, WR;

Dexter Williams

, RB

The release of Jake Kumerow is a bit surprising since he's always a camp favorite and the Packers aren't exactly loaded at the position. Allen Lazard remains the favorite to start opposite Adams. The release of Dexter Williams means Tyler Ervin is likely to be the fourth RB on the roster, primarily for his return ability.
Houston
Texans
No significant roster cuts at this time.
Indianapolis
Colts
Chase McLaughlin

, K

Rookie Rodrigo Blankenship has won the kicking job for hte Colts, and should get some opportunities kicking indoors for an offense that should be improved over last season.
Jacksonville
Jaguars
Leonard Fournette

, RB;

Mike Glennon

, QB; Josh Dobbs, QB

Fournette moving on has been rumored all offseason, but to be outright released caught many fantasy owners by surprise. Fournette's release leaves little for the Jaguars to be excited about in the run game, with Ryquell Armstead and Devine Ozigbo likely beneficiaries, along with Chris Thompson, who was already likely to see work on passing downs. Watch the Jaguars for waiver additions, as their best 2020 running back may not be on the roster yet. The Jaguars look as though they'll carry just two QB's into the season, with rookie Jake Luton backing up Gardner Minshew.
Kansas City
Chiefs
DeAndre Washington

, RB

DeAndre Washington's release means Darrel Williams and Darwin Thompson are the likely backups to rookie Clyde Edwards-Helaire, probably in that order.
Las Vegas
Raiders
Lynn Bowden

Jr., WR (TRADED)

The Raiders traded their third-round rookie, likely because of the numbers game in Las Vegas. Hunter Renfrow wasn't really in danger of losing the slot job, but Bowden was probably his only competition for slot snaps.
Los Angeles
Chargers
No significant roster cuts at this time.
Los Angeles
Rams
John Kelly

, RB

The release of John Kelly slightly un-muddies the backup RB role for the Rams, but he was likely in line for fourth anyway.
Miami
Dolphins
Chester Rogers

, WR;

Josh Rosen

, QB

Not a big shock the Dolphins dropped Rogers, who was a late addition to the roster anyway, but his release means Malcolm Perry might be on the final roster and the primary punt returner. This also could solidify Jakeem Grant in the slot, although there are rumors of Perry getting some looks there as well. The release of Josh Rosen isn't surprising, as many teams only carry two quarterbacks nowadays, and Rosen was handily third behind Ryan Fitzpatrick and Tua Tagovailoa.

Additions: Lynn Bowden Jr. was acquired via trade from the Raiders. The rookie third-round pick might push for work in the return game, but is a slash-type player with more football value than fantasy football value.
Minnesota
Vikings
No significant roster cuts at this time.
New England
Patriots
Mohamed Sanu

, WR;

Lamar Miller

, RB;

Justin Rohrwasser

, K;

Nick Folk

, K

Sanu never really caught fire in New England and the team released him after less than a year with the team. This could mean good things for last year's first-round pick N'Keal Harry, who has a similar skill set with a lot more upside. Miller found himself on the outside looking in on a crowded depth chart. Damien Harris truthers should be excited. Watch for who the Patriots sign at kicker in the coming days, as they cut both players that were currently on the roster.
New Orleans
Saints
No significant roster cuts at this time.
New York
Giants
No significant roster cuts at this time.
New York
Jets
Brett Maher

, K

Maher was brought in to battle for the kicking job, but with his release, it seems Sam Ficken will kick for the Jets.
Philadelphia
Eagles
No significant roster cuts at this time.
Pittsburgh
Steelers
Devlin Hodges

, QB

Hodges fell behind Mason Rudolph on the depth chart.

Additions: Josh Dobbs takes over as the QB3 for Hodges, but may be in line for backup work if Rudolph stinks again.
San Francisco
49ers
No significant roster cuts at this time.
Seattle
Seahawks
Anthony Gordon

, QB;

Danny Etling

, QB;

Rashaad Penny

, RB (PUP)

It looks like Geno Smith is going to be the backup to Russell Wilson once again. Penny will need to wait at least six weeks before he can try to pry away the backup job from Carlos Hyde behind Chris Carson.

Additions: The Seahawks signed Josh Gordon, who is now 29 years old and always only a moment away from suspension. He's worth a late-round dart in deeper leagues, but it's hard to imagine he steals many targets away from Tyler Lockett and D.K. Metcalf.
Tampa Bay
Buccaneers
Matt Gay

, K;

Dare Ogunbowale

, RB

Cutting Gay means the Buccaneers will go ahead with Ryan Succop as their kicker. This is a nice opportunity on a team that looks like it's going to score plenty of points this season. Succop immediately becomes a quality fantasy target. Dare Ogunbowale was expected to be a core special teamer and passing-down player, but his release likely means LeSean McCoy makes the final 53. This backfield is still likely to be dominated by Leonard for Fournette and Ronald Jones.

Additions: The Bucs signed Leonard Fournette, throwing a curveball at fantasy rosters with Ronald Jones as the RB2. Arians is still speaking highly of Jones, but for now, both players should be considered risky.
Tennesse
Titans
Greg Joseph

, K;

Trevor Siemian

, QB

Joseph was expected to win the job, but he couldn't beat out Tucker McCann, who will now battle the recently acquired Stephen Gostkowski for the job. This situation will change over the next week, and those drafting should probably avoid the Titans kickers until there's only one remaining. Cutting Siemian means that at least for now, Logan Woodside is the backup to Ryan Tannehill.
Washington
Football Team
Adrian Peterson

, RB;

Trey Quinn

, WR;

Hale Hentges

, TE;

Richard Rodgers

, TE

Adrian Peterson has taken the lion's share of carries the past couple of seasons, so this came as a bit of a surprise, but it bodes well for Antonio Gibson, who 4for4 has been high on all along. Also, Bryce Love, J.D. McKissic and Peyton Barber get a bump in value. Quinn was expected to be the slot receiver last year before injuries derailed his season. With Steven Sims likely to have that role as well as the punt return job, Quinn became expendable. Hentges and Rodgers were vying for work, but it looks like Logan Thomas and Jeremy Sprinkle should be the guys to target at TE, in that order.