TJ's #Taek: Week 4 NFL DFS Recap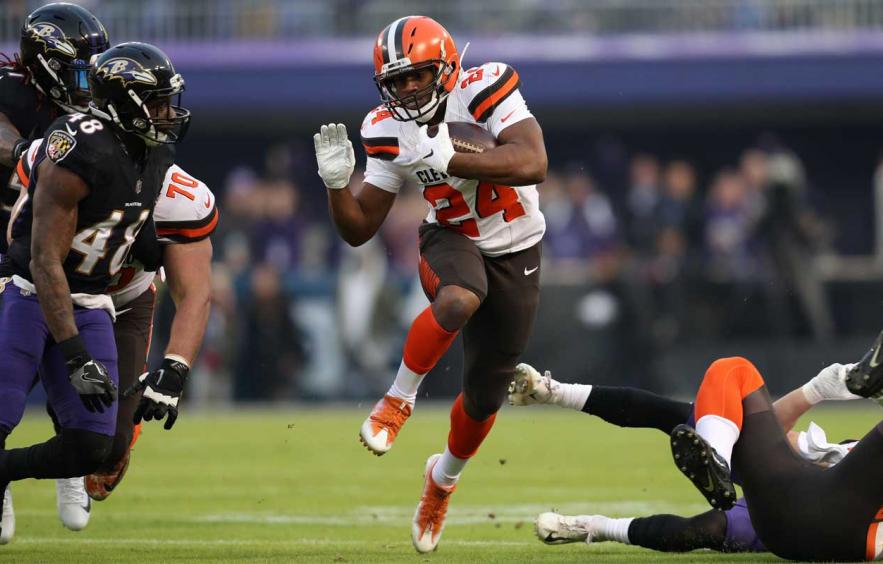 Patrick Smith/Getty Images
Week 4's winning lineups from the biggest contests on FanDuel and DraftKings can be used to tease out lineup-building strategies and offer clues on how you could have landed on a similar team. Reviewing your hits and misses each week is imperative if you want to be a profitable DFS player but examining winning lineups is also a useful exercise in cultivating a winning approach.
DraftKings Week 4 Millionaire Winning Lineup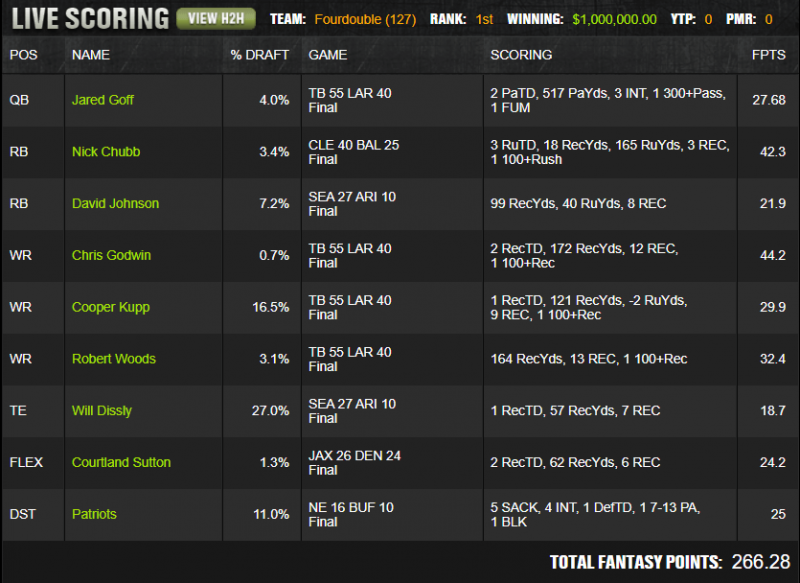 For the second week in a row, we saw the Millionaire winner roster contrarian running backs—this strategy hasn't worked much over the last couple of years but it makes sense now with some of the top backs dealing with injuries or in questionable offenses with backup quarterbacks. Fourdouble reminded us again that the game stack is a great play in large-field GPPs. By planting your flag in a single game and hoping that game blows up, you minimize the number of times you need to be right, as opposed to trying to hit on a bunch of low-owned, uncorrelated plays. As was the case last year, there isn't a dominant strategy for what position to roster in the flex—there have been two wide receivers and two running backs rostered in winning Millionaire lineups.
What Were the Indicators for the Low-Owned Plays?
Facing a terrible Buccaneers secondary, I was surprised to see Jared Goff come in at sub-5% ownership but there were three quarterbacks owned in at least 16% of lineups, so it makes it hard for other players at the position to draw very high ownership. As mentioned before, planting your flag in one game is a great way to get low ownership, especially in an offense like the Rams, where any of their top three receivers can go off in any week. This will naturally lead to cannibalization of each other's ownership. Running it back with Chris Godwin after a down week and mid-week injury struggles made sense after Mike Evans's monster Week 3 performance—this game did have an over/under at 49.
On last week's DFS MVP, I discussed following volume going ignored as a way to uncover low-owned plays. Coming into the week, only one player had accounted for a higher percentage of team touches than Nick Chubb. David Johnson saw nine targets in Week 3, indicating that his role would begin to expand in the Arizona offense, which it did, nearly hitting 100 yards through the air.
With Jalen Ramsey out, there were sure to be holes in the Jacksonville secondary, and Courtland Sutton was the beneficiary. Sutton was averaging just 0.3 fewer targets per game than Emmanuel Sanders coming into the week and it probably wasn't a coincidence he was almost a perfect price pivot off of Terry McLaurin, who was ruled out Sunday morning.
FanDuel Week 4 Sunday Million Winning Lineup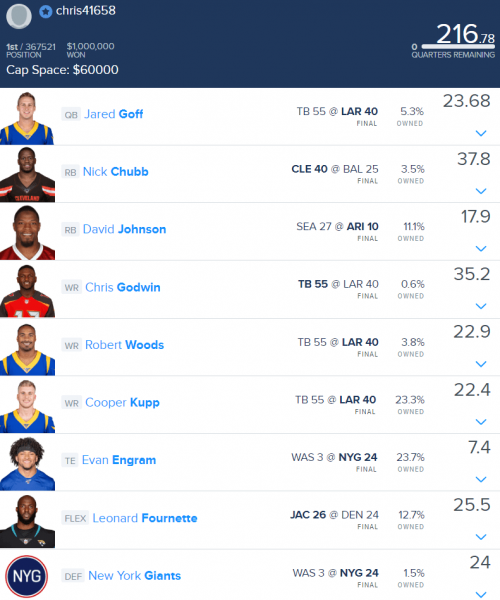 The Sunday Million lineup almost perfectly mirrored the Millionaire lineup, save two big differences—a relatively popular running back in the Flex and a contrarian defense. Since FanDuel implemented the Flex position at the beginning of 2018, 20 out of 21 Sunday Million winners have used a running back in their Flex—don't get cute here. As bad as the Giants defense has been, Washington had injury concerns surrounding their quarterback and number one wide receiver and they were already without their starting running back. In addition to Case Keenum's injury concerns, there were whispers Dwayne Haskins could start or take over if Keenum struggled. The latter proved true—this offense is challenging the Dolphins as the top target for your fantasy defense every week.
TJ's Final #Taek
We are already a quarter of the way through the season which means we still have a lot to learn about what is real and what's a mirage—at least on the team level—but we should have a decent idea of where volume is going on the player level. Looking for unrecognized volume or potential regression is always a way to get an edge in DFS and while we still have a relatively small sample for extrapolating touchdown expectation, we can start to think about which players are underperforming relative to their opportunity. One way to look for that is scoring expectation—yards per touchdown can sometimes give us an idea of players ready to explode, even with just a four-week sample. Here are some players who stand to find the end zone more than they have over the first month of the season based on their yardage totals.
Quarterbacks
Quarterbacks are averaging a touchdown every 166.2 yards this season. The following quarterbacks may be due for positive regression:
Running Backs
Running backs are averaging a touchdown every 135.5 rushing yards this season. The following running backs may be due for positive regression:
Wide Receivers
Wide receivers are averaging a touchdown every 163.5 receiving yards this season. The following receivers may be due for positive regression:
Tight Ends
Tight ends are averaging a touchdown every 141.1 receiving yards this season. The following tight ends may be due for positive regression: