Waiver Wire Watch: Week 2 Targets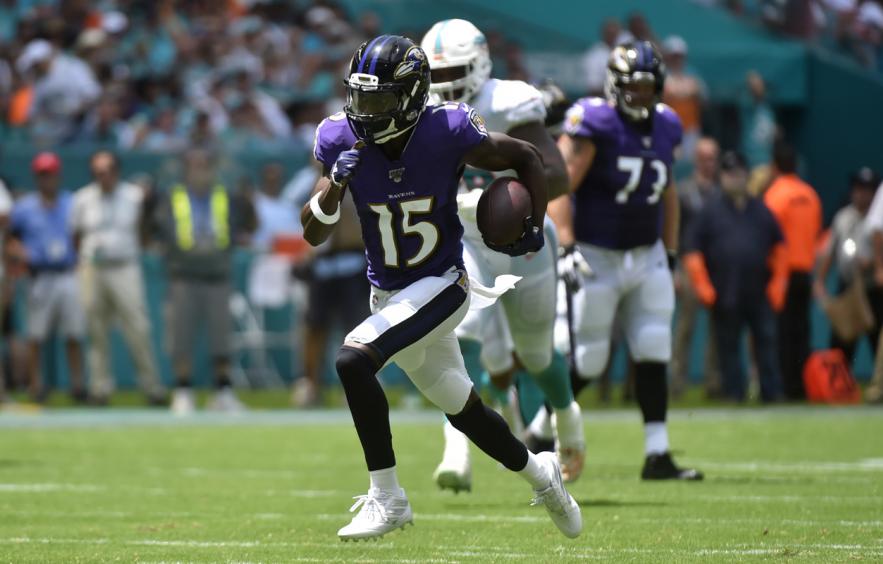 Eric Espada/Getty Images
At long last, the NFL season is here. Week 1 was filled with surprises, and as a result the Waiver Wire Watch is robust. Things can change quickly though, so be sure to follow this series all year as I'll do my best to keep you ahead of the curve and help you decide which players to go all-in on during the intense waiver-wire battles.
Before we get into the meat of the article, there are a few house-keeping items to clear up. Recommendations are based on a PPR-scoring, four-point passing touchdown, 12-team league, with ownership percentages coming from Yahoo. I try to mention when a player is a better streaming play (short-term/one-week starter) versus a long-term addition. Free-agent acquisition budget (FAAB) suggestions are based on a $100 season-long budget. Lastly, the great John Paulsen will edit this article every week and adjust rankings and prices if necessary. Essentially, you're getting two minds collaborating on this piece instead of one, so lucky you.
Now, with that out of the way, here are some players to target heading into Week 2.
Quarterbacks
3. Josh Allen
4. Sam Darnold
Jacoby Brissett

, Indianapolis

Colts

, 12% owned ($5)

Brissett was OK in a tough Week 1 spot on the road against the Chargers, throwing two touchdowns and 190 yards. Adding him is more of a long-term add, as he has another unsavory matchup in Week 2 traveling to face a Titans defense that just put the screws to the much ballyhooed Browns offense in Cleveland. More time as the starter will only help Brissett, and he has the benefit of a savvy coaching staff supporting him. He could find his stride in a few weeks when the (Falcons, Raiders, Chiefs, Texans) and become a borderline QB1, especially if his rushing yards increase (three carries for nine yards in Week 1).
Gardner Minshew

, Jacksonville

Jaguars

, 0% owned ($1)

It was unfortunate to see Nick Foles (5-for-8 for 75 yards and a touchdown) go down in Week 1, as many (myself included) were looking forward to seeing what he could do in Jacksonville's offense. However, Foles' injury forced Minshew into the spotlight, and he proved worth of the NFL stage completing 22 of 25 passes for 275 yards, two touchdowns and one interception. Next up for Minshew is a home matchup against the Houston Texans, who've yet to play as of the writing of this column but feature one of the league's weakest secondaries on paper. Houston gave up the sixth-most passing yards per game a year ago. Those in a pinch or in two quarterback leagues could look to Minshew for at least a week.
Josh Allen

, Buffalo

Bills

, 32% owned ($1)

Allen was lock in a battle to achieve mediocrity against his fellow sophomore gunslinger on Sunday, but Allen came out with the win and higher fantasy output thanks to a rushing touchdown. Next up for Allen is a trip to face a mostly young, unproven Giants defense that was absolutely eviscerated by Dak Prescott in Week 1. Allen offers a safe floor with his rushing ability and should have a high ceiling against the Giants in Week 2 as well.
Sam Darnold

, New York

Jets

, 26% owned ($1)

Darnold struggled against the Bills defense in Week 1 but has an opportunity to bounce back next week against a Cleveland defense that just gave up three touchdowns and 10.3 yards per attempt to Marcus Mariota. Darnold threw the ball 41 times in Week 1, and with a bit more luck against a less-fearsome defense that volume could make turn into solid streaming production.
Running Backs
3. Ronald Jones II
7. Gus Edwards
Malcolm Brown

, Los Angeles

Rams

, 10% owned ($35)

Much of the offseason for fantasy analysts was spent reading the tea leaves in Los Angeles to determine 1) the status of Todd Gurley's arthritic knee and 2) who would be the true backup – Malcolm Brown or Darrell Henderson. If Week 1 is any indication, Brown is the clear-cut No. 2 option, and might even be more of a 1b to Gurley's 1a. Gurley saw 14 carries to Brown's 11, but Brown was the one who found the end zone twice. The Rams have been saying they'd "manage Gurley's workload" all offseason, and this could be our first glimpse of what that will actually look like. Brown should be among the top adds for this week, especially for RB-needy teams. Don't be afraid to burn more FAAB if you feel you need to.
Adrian Peterson

, Washington Redskins, 37% ($20)

Apparently injured in Week 1, Derrius Guice is seeking treatment on his other knee (not the knee that caused him to miss most of the offseason program) and may try stem cell therapy to avoid surgery. None of this sounds good. Peterson was a healthy scratch in Week 1 and Jay Gruden was comically dismissive of questions about why that was, but now he's going to need Peterson in the lineup, at least for a few weeks. Peterson gained 1,250 total yards and scored eight touchdowns on 271 touches last season. He offered RB2 value in all formats last year and should be able to provide the same sort of production as long as Guice is out.
Ronald Jones

II, Tampa Bay

Buccaneers

, 28% owned ($20)

Jones set new career highs in rushing yards (75) and receiving yards (18) in a game. Granted, those are extremely low bars to hit given how disappointing Jones' rookie season was, but they could also be indicative of things to come. Jones looked spry and more like the player USC fans fell in love with during his college days. He led the Buccaneers backfield in touches with 14, but Peyton Barber was right behind him with 10. The Buccaneers travel on a short week to Carolina for Thursday night football. It's unlikely much changes philosophically on that timeframe, so Jones should be in the flex consideration next week in deeper leagues.
Raheem Mostert

, San Francisco

49ers

, 0% owned ($15)

Mostert had a solid showing in the preseason but entered the season off (most) fantasy radars. However, Tevin Coleman suffering a potentially serious ankle injury and Matt Breida living day to day with a "questionable" tag (this is mostly a joke), Mostert is firmly on our radar now. He touched the ball 10 times in a sloppy victory over the Buccaneers in Week 1, totaling a measly 40 yards. Last year showed us how potent the 49ers backfield can be, though, so if Mostert earns a more sizable role and this offense gets rolling, he'll have weekly flex appeal at least until Coleman returns, and more if Breida misses time as well.
Chris Thompson

, Washington Redskins, 32% ($7)

(Blurb written by John Paulsen. Alex is not too high on Thompson at the moment.) Thompson had the No. 11 per game average (PPR) at his position in 2017, turning 10.3 touches per game into 80.4 total yards and 0.60 touchdowns per game. Last year, he started the season with 24.8 and 22.3 fantasy points before a rib injury derailed his season. In Week 1, he turned 10 touches into 78 yards (14.8 fantasy points) against the Eagles, and now Derrius Guice is out for "a few weeks" with a meniscus injury. Now fully healthy, Thompson should resume his role on passing downs, and given the talent of this Washington team, they are likely to be playing catch up early and often.
Giovani Bernard

, Cincinnati

Bengals

, 13% owned ($2)

It sounds like Joe Mixon dodged a serious ankle injury on Sunday, but at this point in the week it is unclear if he'll miss any time or even be limited in the coming weeks. That uncertainty makes Bernard, the recent recipient of a new contract, a decent stash play this week. Bernard's numbers weren't noteworthy against a Seattle front seven that just added Jadeveon Clowney, but if Mixon misses any time Bernard will be a low-end RB2/flex play on volume alone. Next up for the Bengals are the 49ers, who just allowed a near-career performance from the aforementioned Ronald Jones.
Gus Edwards

, Baltimore

Ravens

, 3% owned ($2)

Edwards rushed the ball 17 times during the Ravens' blowout win over the Dolphins, but 12 of those carries came in the fourth quarter once the starters were out. Based on this, and what many suspected during the offseason, Edwards seems to have the No. 2 job on lock. The Ravens face a Cardinals defense next week that was shredded by the Lions in Week 1, so Edwards may have flex appeal in very deep formats. Regardless, he likely warrants a bench stash for now in the event Mark Ingram misses any time.
Wide Receivers
2. John Brown
4. John Ross
6. Chris Conley
7. D.J. Chark
10. Preston Williams
11. Randall Cobb
12. Travis Benjamin
13. Danny Amendola
Jamison Crowder

, New York

Jets

, 46% owned ($25)

Crowder, like John Brown, barely makes the cut for this article with a high 40% ownership total, but I wanted to give him some love in case your league is smaller or he was left on the waiver wire for some reason. Slot receivers have long thrived in Adam Gase's offense (see Jarvis Landry, for instance), and Crowder looks like the next man to fill that role. His 17 targets could be a season-high, but a close to double-digit average is not an outrageous ask. He posted 14 catches and 99 yards against a tough Bills defense and looks like an extremely safe weekly floor play. This Jets offense could improve as the season progresses and they face more favorable defenses, like the Browns in Week 2. Crowder is a top add in PPR formats this week (again, if available).
John Brown

, Buffalo

Bills

, 49% owned ($25)

The Bills made a point to add talented targets for Josh Allen, and Brown delivered right out of the gate. He was targeted 10 times, posting a strong 7-123-1 line on 45.8% of the team's air yards. As noted above, Allen and the Bills take on a Giants secondary next week that watched powerlessly as Dak Prescott and the Cowboys marched relentlessly up and down the field against them. In the off chance Brown went undrafted in your league, he's a plug-and-play flex or WR3 this week.
Terry McLaurin

, Washington Redskins, 3% owned ($24)

It was a good day for the rookie wide receiver class, and McLaurin made sure he got in on the fun. The speedy Ohio State alum hauled in five of seven targets for 125 yards and one touchdown, though Case Keenum just missed him on another deep touchdown. I mentioned this offseason that the Washington wide receiving corps could be a spot to target a breakout fantasy sleeper in the late rounds. Even though I overlooked McLaurin at the time (this was pre-Josh Doctson release), the analysis stood true. Washington's defense has issues, and the team could be in pass-heavy game scripts often. He led the team in air yards (nearly 43%), and if that keeps up his weekly upside will be high as the team's home-run hitter. Editor's Note: Looking at McLaurin's fundamentals (i.e. 40 routes run, the eighth-most air yards in Week 1, likely pass-heavy game scripts, etc.), we've moved him up a couple of spots
John Ross

, Cincinnati

Bengals

, 9% owned ($12)

In a week filled with surprises, Ross' monster performance against the Seahawks takes the cake. I could have made 1,000 predictions for this week, and Ross posting a seven-catch, 158-yard, two-touchdown performance would have never come up. He saw 12 targets in the Bengals new offense, leading the team, and it appears new head coach Zac Taylor has found multiple ways to get the speedster involved. A.J. Green is still weeks away from returning, making Ross an attractive add in a Bengals offense that showed much more fight in Week 1 than many analysts anticipated.
Marquise Brown

, Baltimore

Ravens

, 30% owned ($12)

Brown, the Ravens' first-round draft pick, missed some of the offseason program with a foot injury, likely contributing to his depressed ownership percentage. That's about to change after his impressive debut: 4-147-2 on five targets. No, the Ravens will not be throwing five touchdown passes every week, but this game was a great example of what type of ceiling Brown offers your lineup. He led the team with 33.8% of Jackson's air yards and his speed makes him a threat to score every time he touches the ball. Editor's Note: Brown's snaps played (18%) and routes run (8) are causes for concern, but his playing time should increase as the season wears on and he's enjoying better health. But he's likely to see significant ups and downs if he's playing so few snaps.
Chris Conley

, Jacksonville

Jaguars

, 1% owned ($3)

While D.J. Chark posted the flashier stat line, Conly could be the savvier add this week. Conley led the Jaguars in targets with seven, and five of those game once Minshew took over for the injured Foles. Conley finished with a 6-97-1 line, but most noteworthy, 42.4% of team's air yards, 12th-most after Sunday's games. Both wide receivers (Chark is below, don't worry) merit consideration this week as the Jaguars offense adjusts to its new reality with Minshew at the helm.
Other Options
D.J. Chark, Jacksonville Jaguars, 2% owned ($3): Chark posted four catches for 146 yards and a touchdown on four targets. His speed is an asset and if this Jacksonville offense stays pass-heavy he'll have plenty of appeal. He may have more upside than Conley, but for now Conley gets the nod since he seems to be a favorite target of Minshew.
Mecole Hardman, Kansas City Chiefs, 15% owned ($1): Early indications are that Sammy Watkins will be filling in much of the void left by Tyreek Hill's injury, but the team drafted the speedy Hardman as a potential Hill replacement amidst all of the offseason drama around the star wide receiver. Hardman is certainly worth an add, as he could develop into a No. 2 option as the season progresses and his playing time increases. He played 78% of the snaps in Week 1 but wasn't involved in the offense. That should change soon.
DeVante Parker, Miami Dolphins, 14% owned ($1): Parker led the Dolphins with seven targets, but only turned those into three catches for 75 yards. The reason he's here is as a deep league dart throw, as the Dolphins could once again be several touchdowns behind next week and forced to throw the ball often.
Preston Williams, Miami Dolphins, 2% owned ($1): Williams converted five Ryan Fitzpatrick targets into three catches for 24 yards and a touchdown. It's notable that FitzMagic was targeting him frequently because Williams showed a nice rapport with Josh Rosen in the preseason, but Rosen didn't target him on three attempts.
Randall Cobb, Dallas Cowboys, 10% owned ($1): The Cowboys signed Cobb in free agency for a paltry $5 million dollars, but if Week 1 is any indication the team will be getting a big return on its investment. Cobb was featured regularly in the Cowboys new aerial-focused assault, catching four passes for 69 yards and a touchdown on five targets. Amari Cooper and Michael Gallup appear to be ahead of Cobb in the pecking order, but the veteran looks healthy and set to produce in this new Dallas offense.
Travis Benjamin, Los Angeles Chargers, 0% owned ($1): Adam Schefter reported that "HC Anthony Lynn said today that he is concerned about WR Mike Williams' knee," and with Hunter Henry already dealing with a 4-6 week injury, there are going to be some targets up for grabs in L.A. Benjamin had his best season in 2015 when he caught 68 of 125 targets for 966 yards and five touchdowns for the Browns. The Chargers signed him, and he posted a couple of serviceable seasons (47-677-4 and 34-567-4) as the team's WR3, and that was with a healthy tight end (either Henry or Antonio Gates). The Chargers' WR2 saw 97 targets in 2016 (Dontrelle Inman) and 69 targets in 2017 (Tyrell Williams).
Danny Amendola, Detroit Lions, 6% owned ($1): If you're like me, you were quite surprised to see Amendola post a 7-104-1 line on 13(!) targets in Week 1. Now, those stats are partially inflated by Amendola's heavy involvement on two hurry up drives where he collected six targets. The Lions want to be a run-heavy team, so there's a chance this production is an aberration. Nevertheless, this Week 1 pop deserves some attention on the waiver wire.
Tight Ends
3. Jimmy Graham
4. Tyler Higbee
T.J. Hockenson

, Detroit

Lions

, 52% owned ($9)

Hockenson isn't technically eligible for this article since his ownership is above 50%, but we've had a few requests for a write-up so here it is: If you're looking for a tight end, Hockenson is a great pickup. He may be the rare rookie tight end that makes an immediate impact. He played 73% of the snaps and ran 37 routes en route to a 6-131-1 outing on nine targets. His 142 air yards were the most at his position and the ninth-most in Week 1 with two games still to play. It's clear that he's a big part of the offense and that Matthew Stafford will look his way.
Darren Waller

, Oakland

Raiders

, 42% owned ($7)

The Antonio Brown Saga leaves the cupboard pretty bare in Oakland, but one player who could really take advantage is Waller, who has been generating buzz all summer. He's a converted receiver and the team had enough confidence in his upside to let Jared Cook walk without even offering him a contract.
Jimmy Graham

, Green Bay

Packers

, 48% owned ($1)

Graham caught a touchdown in the red zone in Week 1, the only touchdown the Packers scored against the still-fierce Bears defense. His six targets were tied for second on the team with Marquez Valdes-Scantling. Graham is owned in plenty of leagues, but if he's available in yours he could be a solid pickup next week. The Packers host the Vikings, who just gave up nine catches for 77 yards to Austin Hooper. The Vikings pressured Matt Ryan regularly, and the veteran turned to his tight end as a frequent safety valve. If the Packers offensive line struggles in Week 2 (as it did at times in Week 1), Graham could be a big beneficiary.
Tyler Higbee

, Los Angeles

Rams

, 0% owned ($1)

Higbee caught four passes for 20 yards and a touchdown in Week 1, but while that stat line isn't super noteworthy, his five targets were. They were only one behind Brandin Cooks. Next up for the Rams is a potential shootout with the Saints, which could net Higbee a decent target share again. Those in tight end purgatory could look Higbee's way.