Fantasy Football: ADP Risers & Fallers (May 22nd- June 5th)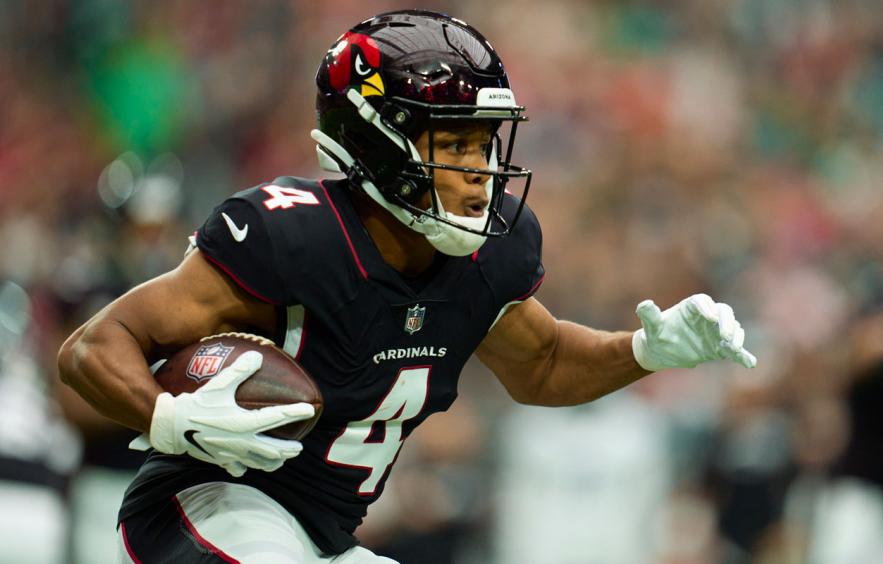 Cooper Neill/Getty Images
At this point in the summer, most ADP movement is due to coach speak and murmurs from OTA off-season workouts. We can't forget about photos featuring jacked players, either.
Let's take a look at the biggest risers and fallers at each position over the last two weeks in Underdog drafts, by comparing players' ADP from May 22nd to June 5th. I'll go position by position to tease out any relevant players' spikes or slides.
*All ADP is courtesy of 4for4's Underdog ADP tool.
Quarterback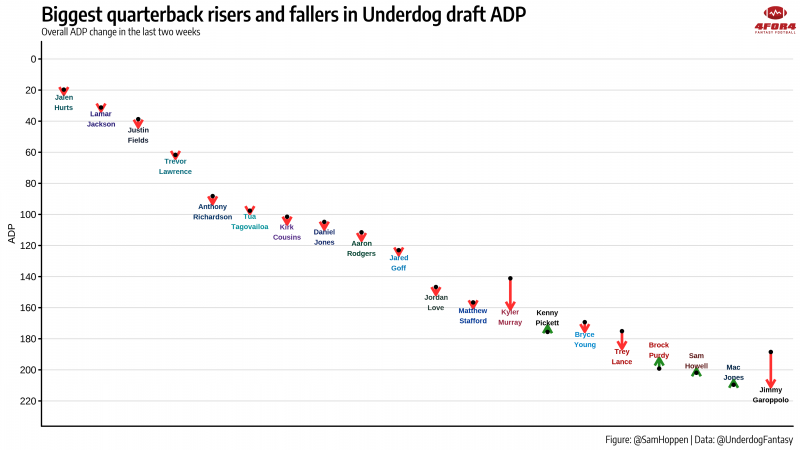 QB Risers
Brock Purdy

,

49ers

(ADP: 192.3, +6.9)

On May 31st, 49ers GM John Lynch told Sirius XM radio that Brock Purdy returned to throwing and "the early returns are good" and they're "incredibly encouraged" by his recovery. When asked if he was still the favorite to win the starting role as QB, Lynch stated "Brock is the leader in the clubhouse, as we said, but it's open for competition."

With many talented weapons in the San Francisco offense and that QB spot not fully solidified, drafters are excited by any information at this point and are taking Purdy half of a round earlier than they were previously this offseason. Trey Lance is still the first 49er QB off Underdog boards as QB25 followed by Purdy at QB27 and Sam Darnold with an ADP of QB36 in the final round.
Kenny Pickett

,

Steelers

(ADP: 171.5, +4.1)

Maybe Allen Robinson has more pull than we knew among the best ball drafting crowd, as perhaps the small ADP spike comes from his praise of the second-year QB via the Steelers' OTA Blog on May 25th. Robinson stated about Kenny Picket, "For a second-year quarterback he is definitely wise beyond his years. How he leads the charge. His work ethic day in and day out. Very focused. He is definitely beyond his years".

ARob's insight likely isn't why drafters are taking Pickett a few spots earlier, but he is leaving boards as the QB23 at the beginning of the 15th round instead of the middle. He does have some solid talent to work with and if the 24-year-old can make a jump in Year 2, could outperform his ADP as a fantasy QB2.
QB Fallers
Jimmy Garoppolo

,

Raiders

(ADP: 211.1, -22.6)

It was announced that Jimmy Garoppolo had foot surgery back in March and would not be participating in the team's OTAs as of May 25th. His recovery timeline is unknown but "the sense is that the Raiders aren't worried about Garoppolo being ready for the start of the regular season in September".

After news of the surgery hit, Jimmy G's ADP fell nearly two full rounds from the 16th to the final round of Underdog drafts. He's 4for4's QB29 currently with a positional ADP of QB31. Draft at your own risk as this situation could get ugly if he's not ready to go.
Kyler Murray

,

Cardinals

(ADP: 161.1, -20.0)

It's been fairly quiet on the Kyler Murray front in the past few weeks but he is still recovering from ACL surgery and also lost DeAndre Hopkins last week from the Arizona roster. Murray was cleared to resume workouts back in April but is unlikely to be ready by Week 1.

The fifth-year QB slid from the 12th round down to the 14th over the last few weeks and is the 22nd signal caller leaving Underdog boards. He's no more than a QB2 due to being sidelined for an unknown amount of contests but has the potential to fall to a QB3 with poor play upon return.

Other QB Fallers: Trey Lance, 49ers (ADP:186.5, -11.4), Bryce Young, Panthers (ADP: 175.5, -6.2)
Running Backs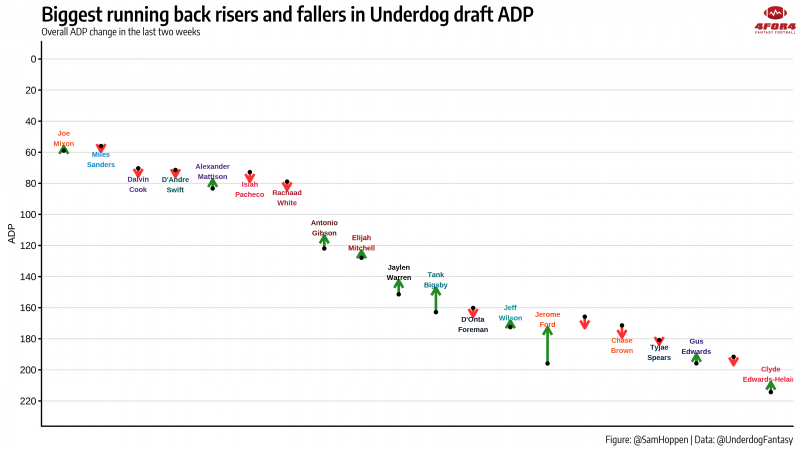 RB Risers
Jerome Ford

,

Browns

(ADP: 172.6, +23.3)

After climbing a full round in the two weeks prior, Jerome Ford saw another massive spike in ADP over the last fortnight. He's the Browns RB2 heading into the season and with Hunt no longer in town, Cleveland has 165 RB touches (9th most) available, presenting plenty of opportunity for the 23-year-old.

He's still affordable as a 15th-round selection but as more drafters realize his possible workload, Ford's ADP should continue to rise.
Tank Bigsby

,

Jaguars

(ADP: 147.1, +15.8)

I wrote about Tank Bigsby (and Ford) in my late-round best ball targets article last week, but it appears other drafters are into him as well since his Underdog ADP rose 16 spots over the last two weeks. With the Jags looking to give less work to Travis Etienne in 2023, Bigsby could earn that backup spot by leapfrogging D'Ernest Johnson and JaMycal Hasty. So far he's on track with a solid start to OTAs, showcasing his pass-catching chops early with several touchdowns.

His RB47 price tag is still affordable and there's legitimate potential to outproduce the 13th round as a backup, with league-winning possibility if anything were to happen to Etienne.
Jaylen Warren

,

Steelers

(ADP: 142.3, +9.1)

Without fail, every year a player's revamped physique transfers to fantasy football hype and it appears Jaylen Warren starts us out in 2023. He showed up to OTAs jacked and ready for NFL battle.
Jaylen Warren in 2022 vs. Jaylen Warren in 2023.



30 put the WORK in.



Look at this size difference, man. pic.twitter.com/7Bb08nnGRX

— Jared Kane (@BaddestBearJew) May 31, 2023
Warren is actually a solid late-round add as he posted 6.2 half-PPR points per game from Week 10 on last year with Najee Harris fully healthy, showcasing standalone value in the Steelers offense. If Harris were to sustain an injury he has fantasy RB1 potential coming from the 12th round.
Other RB Risers: Antonio Gibson, Commanders (ADP:113.7, +8.2), Clyde Edwards-Helaire (ADP: 207.8, +6.5), Alexander Mattison, Vikings (ADP: 77.4, +5.9)
RB Fallers
Chase Brown

,

Bengals

(ADP: 179.3, -7.9)

There was some hoopla after Chase Brown was selected by the Bengals with the 163rd overall pick in the 2023 NFL Draft, but that has since died down as not only is Joe Mixon still in the RB mix, but HC Zac Taylor spoke very highly of veteran Trayveon Williams during his post-draft pressers.

Brown will have his shot to impress during camp and for now, he's still a 15th-round selection going ahead of Williams in Underdog drafts. Give me Williams (RB74) in the last round though, as he's the favorite to take on the bulk of the 133 RB touches up for grabs from 2022.
Ezekiel Elliott

, FA (ADP:173.2, -7.4)

No news appears to be bad news for Ezekiel Elliot's draft capital, as the former Cowboy has fallen seven spots down to the 15th round over the last 14 days. After seven years in Dallas, Elliott is a free agent and should find work this season at some point. It may take a training camp injury or a mid-season replacement due to poor performance, but the 27-year-old should be employed in the NFL in 2023.

There has been chatter via Jeremy Fowler on SportsCenter that the Cowboys haven't "closed the door" on Zeke, which could cause a small spike along with annoyance in the fake football world, but the days of excitable fantasy relevancy are behind him.
Isiah Pacheco

,

Chiefs

(ADP: 78.9, -6.1)

Don't look now but the CEH hype train has refueled and is back for another spin around the offseason fantasy track. Managers were confidently taking Isiah Pacheco in the sixth round a few weeks ago as a Zero-RB darling, but word from the Chiefs beat at the end of May indicated that CEH appeared in great shape and HC Andy Reid spoke of the strength and quickness he witnessed at OTAs.

Pacheco is currently sidelined while recovering from two surgeries to repair a broken hand and torn labrum, allowing CEH to steal some thunder. There's no exact timeline for Pacheco's return but the second-year RB is reportedly trending in the right direction. CEH rose 6.5 spots in the past two weeks with Pacheco falling half of a round down to the seventh as the RB25. We've been here before with CEH, proceed with caution.

Other RB Fallers: D'Onta Foreman, Bears (ADP: 165.3, -5.6), Leonard Fournette, FA (ADP: 197, -5.4)
Wide Receivers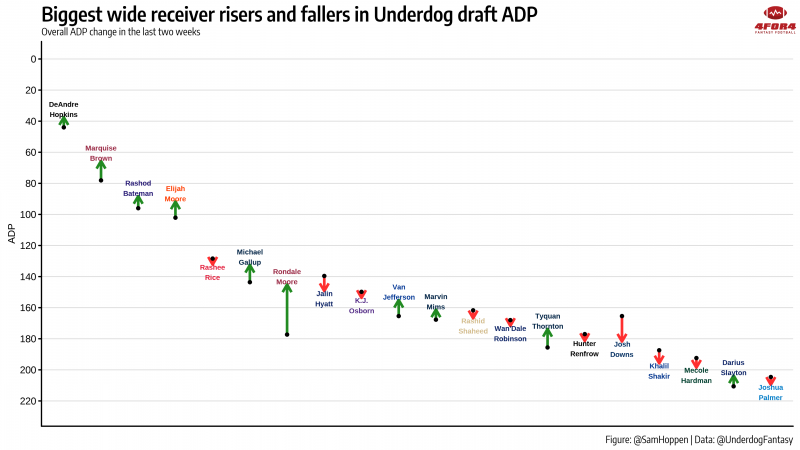 WR Risers
Rondale Moore

,

Cardinals

(ADP: 145.1, +32.2)



Marquise Brown

,

Cardinals

(ADP: 65.6, +12.5)

I've lumped the two biggest WR risers together because their big jumps are both due to the release of DeAndre Hopkins. There are now 165 WR targets available from 2022 with 1,847 air yards in the Arizona offense. The QB situation is still fairly suspect but the volume should be there for both receivers to benefit.

Moore's ADP climbed nearly three rounds from the 15th to the end of the 12th round, landing as WR65 for now. He has fantasy WR3 potential and is still fairly inexpensive, while Brown's 13-spot climb brings him to WR33 as a sixth-round selection.
Tyquan Thornton

,

Patriots

(ADP: 173.7, +11.9)

I was low-key excited to see Tyquan Thornton's name in this column as it's the first time I've even thought about him this offseason and I was looking forward to researching how he got here. It appears the Pats posted a video of a long pass from Mac Jones to Thornton on June 1st, reportedly the longest play of the day.
Mac ➡️ Ty@MacJones_10 | @Humble_Ty19 pic.twitter.com/d3FrgsPhyQ

— New England Patriots (@Patriots) June 1, 2023
I guess that's all it takes for drafters to get on board, but considering Thornton was an electric NFL prospect just a year ago and is still only a 15th-round pick, he's worth sprinkling into your best ball portfolio.
Other WR Risers: Michael Gallup, Cowboys (ADP: 132.5, +11.1), Elijah Moore, Browns (ADP: 91.7, +10.4), Van Jefferson, Rams (ADP: 155, +10.4)
WR Fallers
Josh Downs

,

Colts

(ADP: 181.8, -16.4)

Colts HC Shane Steichen mentioned that Josh Downs is dealing with a knee injury on May 27th which possibly caused drafters to let him slide nearly a round and a half in ADP. The rookie will compete with former Buffalo WR Isaiah McKenzie for the slot role in Indy when healthy.
Jalin Hyatt

,

Giants

(ADP: 149.3, -9.7)

The post-draft frenzy has died down and at the end of the day, Jalin Hyatt is buried in a WR room full of veterans. It could be tough to emerge to any sort of fantasy relevancy and there are already questions about his transition to the NFL.

Hyatt does boast plenty of explosiveness with big-play potential so if the rookie continues to fall, he's worth a stab for the possible spike week or two. Hyatt is 4for4's WR142 in half-PPR scoring and is leaving Underdog boards as the WR66.
Khalil Shakir

,

Bills

(ADP: 195.8, -8.4)

News of DeAndre Hopkins' release soon turned to possible landing spots and ESPN's Jeremy Fowler mentioned the Bills in a May 29th radio appearance. He reported that teams around the league also think he'll sign with Buffalo stating, "When you talk to other NFL teams, they believe the Bills are a threat here and have been for a while".

Shakir had a few moments last season filling in for Isaiah McKenzie but never took on a significant role in the Bills' offense. Even without Hopkins, he's a risky pick and nothing more than a late-round flier.

Other WR Fallers: Mecole Hardman, Jets (ADP: 198.6, -6.2), Rashid Shahid, Saints (ADP: 166.8, -5.1), Josh Palmer, Chargers (ADP: 209.6, -5)

Tight Ends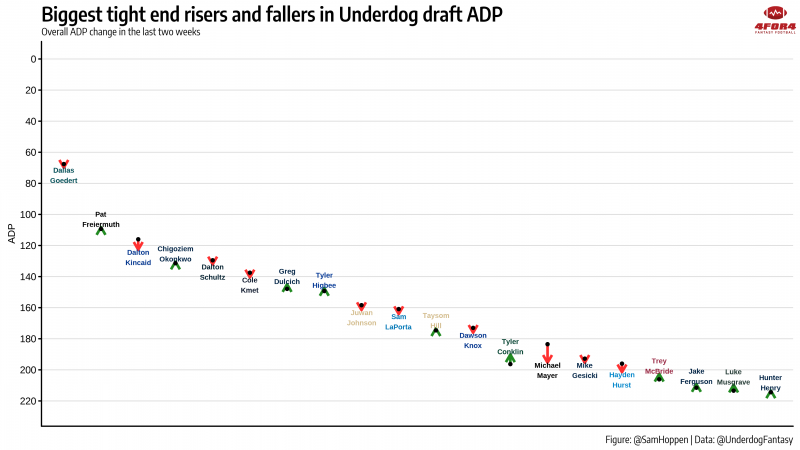 TE Risers
Tyler Conkin,
Jets

(ADP: 190.1, +6.2)

Let's chalk this up to a residual jump from the Aaron Rodgers trade at the end of April. Tyler Conklin finished the last two seasons as the TE22 in half-PPR points per game with just three touchdowns in each season. He does inherit a TE-friendly QB in Rodgers but shouldn't be considered anything more than a fantasy TE2 with such a bushy receiving tree in New York.

Conklin is 4for4's TE24 and is being selected as the TE23 in early Underdog drafts.

Other TE Risers: Luke Musgrave, Packers (ADP: 209.6, +3.8), Trey McBride, Cardinals (ADP: 202.6, +3,5)
TE Fallers
Michael Mayer

,

Raiders

(ADP: 195.4, -11.9)

News of Jimmy G's foot surgery possibly scared drafters away from taking Michael Mayer in the 16th round. Rookie TEs are inherently a gamble as it is, then throw in a questionably-talented QB with a foot issue and Mayer's ADP now sits in the 17th round.

The 21-year-old should still be considered a fantasy TE2 with upside if he hits, and makes for a nice dart throw as part of a two or three-TE build.
Dalton Kincaid

,

Bills

(ADP: 122.7, -6.7)

This rookie's half-a-round descent is likely due to the Hopkins rumors as well, and I'm here for it. Dalton Kincaid has solid potential as a pass-catcher in the Bills offense this season and the cheaper he gets, the more appealing he is as part of either a two-TE build with an elite guy, or a later-round committee approach.

Other TE Fallers: Hayden Hurst, Panthers (ADP: 201.5, -5.5)